Back to News
White House Internship Is 'an Amazing Opportunity' for Trinity Student
Academics
posted
by Andrew J. Concatelli
At the end of long days in the White House Office of Public Engagement (OPE) as a paid intern last fall, Cormac Bruce '25 might see his latest project featured online or the front page of a newspaper.
Bruce worked full time at his internship in Washington, D.C., throughout the semester, while also earning four Trinity College credits for independent studies and his once-in-a-lifetime co-curricular experience.
As a White House intern, Bruce served in the office responsible for creating and coordinating direct dialogue between the Biden-Harris administration and the American public. "It's a very important component of government—people want to be heard and recognized," said Bruce. "It was our job at OPE to make sure that people felt that way."
Bruce, who is from Lake Forest, Illinois, and plans to declare majors in economics and political science, shares reflections from his White House internship:
What kind of work did you do during your White House internship?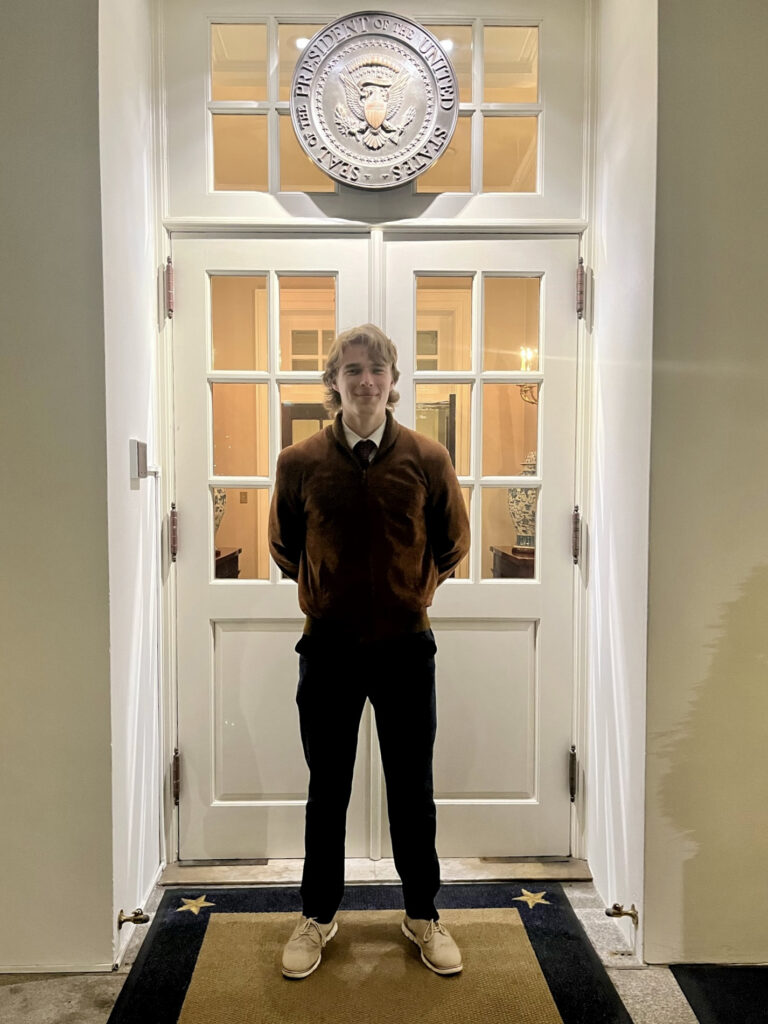 It was dynamic; interns in the OPE worked on all variety of projects and engaged with diverse groups of people. OPE oversees White House events and constituent engagements, such as receptions, group meetings, holiday tours, and roundtable discussions. My work focused on event logistics, research, creating presentations, and leading constituent groups. Constituency groups are representative bodies such as unions, faith groups, and veterans, which allow OPE to better manage communication with the diverse American citizenry.
In addition to its role as an emissary between the White House and American people, OPE also functions as a facilitator for inter-constituency communication. Our "Communities in Action" events, wherein the White House invites community leaders to discuss regional issues, encapsulates OPE's mission of communication via collaboration. "Communities in Action" events provide community leaders a platform to voice their concerns to the White House, an opportunity for leaders to engage with each other, and the chance for all three to develop solutions.
Did you get to meet President Biden and Vice President Harris?
I am lucky enough to have been in the presence of the president, vice president, and their spouses numerous times when staffing events. Unfortunately, all are very busy and do not meet one-on-one with interns. While I was privileged enough to help with events for the president, first lady, vice president, and second gentleman, our interactions and conversations were kept brief to avoid delays.
How did this internship opportunity come about?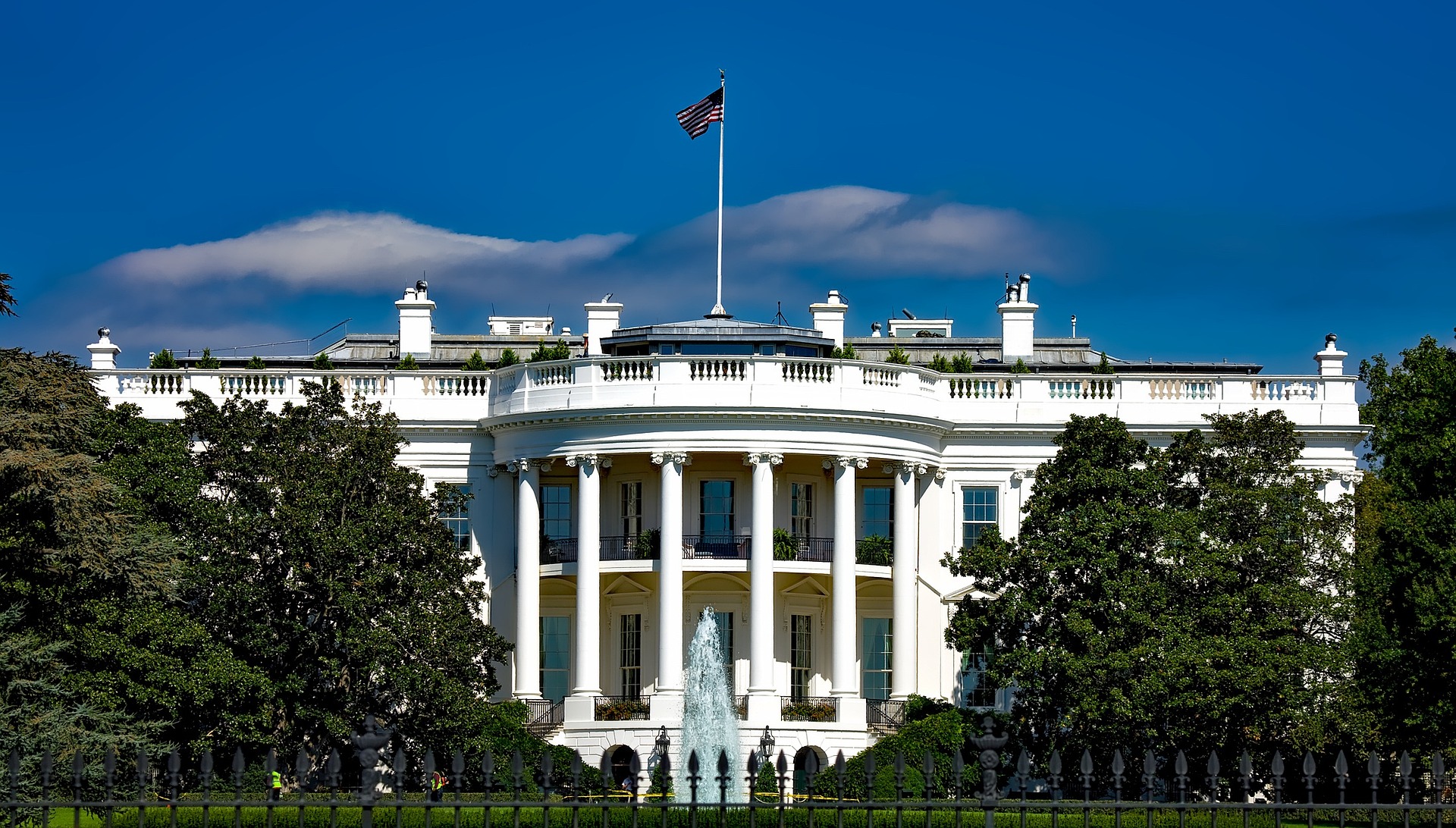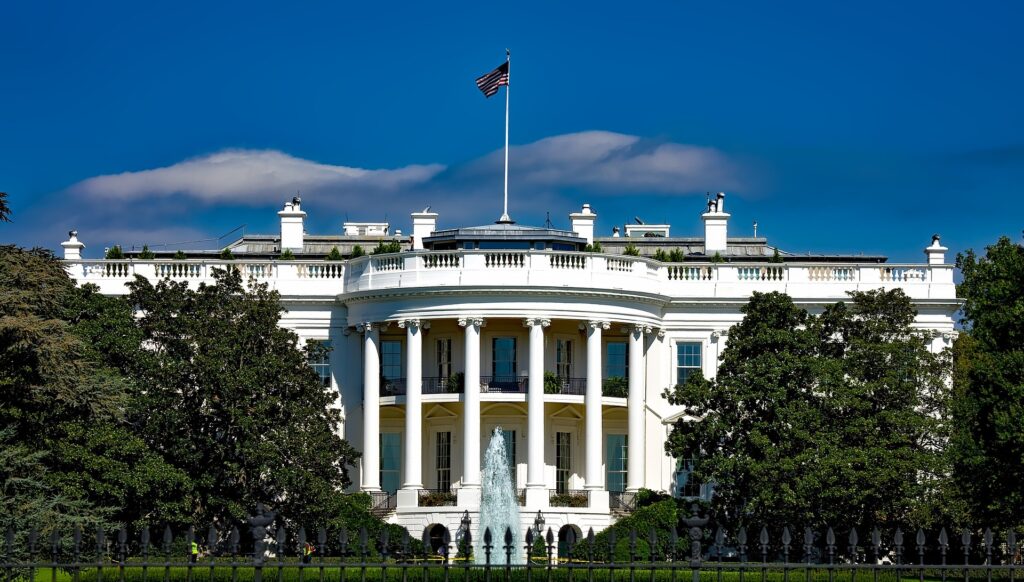 It was suggested to me that I apply online following my summer internship. I was supposed to graduate college in 2024, but because of COVID, I took a gap year [after high school] and worked on a farm. Following some volunteer work for a political campaign, I was offered the opportunity to intern last summer in the U.S. Senate for Sen. Dick Durbin of Illinois. What I believe truly helped my White House application was my experience in government, coupled with my farming and agricultural background. My farming experience aided me in communicating with the rural and agricultural constituent groups I engaged with during my time at OPE. It wasn't until after I had moved in at Trinity last fall when I was notified of my acceptance into the White House internship program.
Where does your interest in government come from?
I enjoy public service; I think it's a noble profession. It's extremely fulfilling work. Everything you work on has tangible benefits for Americans. There's nothing quite like seeing a project that you worked on, no matter how small, be featured in an article or the front page of a newspaper. There's a fantastic sense of accomplishment unique to working in government that not many students are exposed to.
How were you able to do this full-time internship while staying enrolled at Trinity?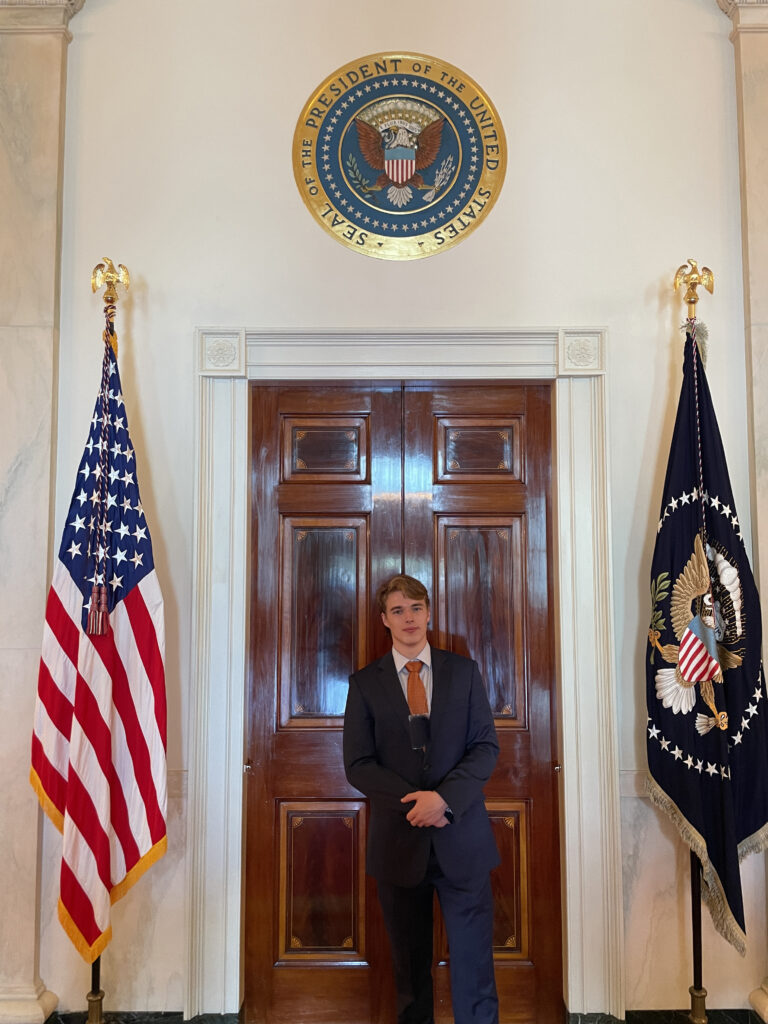 It was an unprecedented circumstance and an amazing opportunity. Plenty of Trinity students take advantage of internships every year. Traditionally, students either work an internship that allows for them to stay at Trinity and enroll in classes, or students take the semester off and do the internship full time. I worked 9 to 5, but also sought to stay enrolled and graduate on time. [Career and Life Design Executive Director] Joe Catrino and my professors were fantastic in helping devise a comprehensive method of incorporating class work with my regular day job. Although unorthodox and challenging, we made it work.
The independent study I did with Mr. Catrino focused on the growing field of research dedicated to the study of work culture. Washington, D.C., was an interesting case study given the short period of time in which people switch between political campaigns, government positions, and the private sector. I also worked on an independent study with [Associate Professor of Political Science] Andrew Flibbert on American foreign policy. It was more focused on the executive branch, where I was working, and included the decision-making process and the many influences on U.S. policy. The White House internship itself was counted as two co-curricular credits [under the new Trinity Plus curriculum].
What were some of your favorite experiences from your semester in D.C.?
I was beyond humbled to be able to staff White House events, such as the 32nd Anniversary of the Americans with Disabilities Act, the Respect for Marriage Act, and the Thanksgiving turkey-pardoning, all of which were very fun.
The characters from all aspects of American life who frequent the White House are the most impressive, interesting people you'll meet in your life. The opportunity to converse with and listen to the stories of the diverse American citizenry was the highlight of my day.
Outside of my time in the White House, I was preoccupied with my schoolwork. I had a very busy schedule. Whenever I could find time between writing essays and just regular adulting, I did some rock-climbing, occasionally went to work out, and met up with other interns.
What did you learn from this experience? 
I developed several important workplace technical skills: creating PowerPoint presentations, writing memos, or organizing Excel sheets, and enhanced my "soft skills" of hosting, leading, and greeting visitors to the White House. I also improved upon my organizational strategies and leadership styles by studying my co-workers at OPE, who are some of the most fantastic, hardworking professionals I've have ever had pleasure of working with.
How do you think your White House internship may influence your future studies or career path?
Government work is tough. Beyond the pomp and circumstance of the White House—the gates, the Secret Service, the cannons that go off when foreign emissaries visit—government work is a massive logistical undertaking that requires a dedicated staff. You have to be fully committed to putting your head down and working hard.
The hard work of government is offset by the knowledge that your contributions are making a positive difference in people's lives. Rarely are people given the opportunity to benefit others, and for that reason I could see myself working in government. However, I do believe it would be good for me to take a step back and investigate other areas prior to making a decision.