Back to News
Urban League of Greater Hartford Honors President Berger-Sweeney as Trailblazer
Trinity College President Joanne Berger-Sweeney recently was named a Trailblazer by the Urban League of Greater Hartford. She was honored as part of the organization's 56th Equal Opportunity Day (EOD) Celebration held in December. The event's theme, "A Moment in the Movement," recognized the unique urgency of efforts, sacrifices, allyship, and aid in 2020 within the long-standing fight for racial, social, health, and economic equity for Black Americans.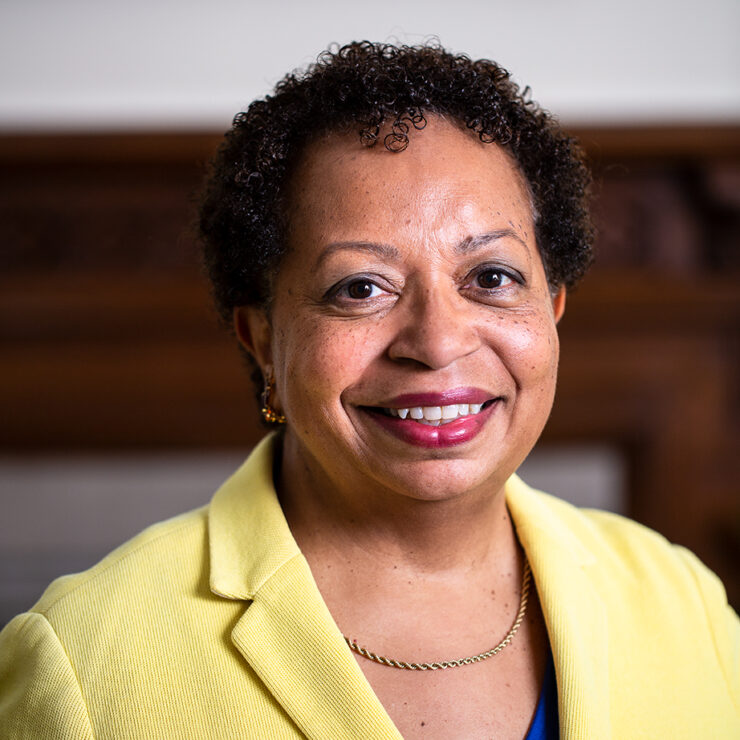 The Trailblazer Award honors local leaders who have continuously devoted leadership, time, and resources to pave the way for transformational and lasting impact to the benefit of others, particularly those from underserved populations. Honorees are inspiring mentors who also leave a legacy by passing on their vision to leaders of the future.
Berger-Sweeney, who is Trinity's first Black and first woman president, has overseen numerous accomplishments at Trinity, including the creation of the Bantam Network mentoring program for first-year students; the launch of the Campaign for Community, a campus initiative promoting inclusiveness and respect; and the expansion of Trinity's footprint to Constitution Plaza in downtown Hartford. Under Berger-Sweeney's leadership, the college founded the Center for Caribbean Studies at Trinity and became a key partner in the Hartford/East Hartford Innovation Places Planning Team, a program designed to develop the area as a thriving live/learn/work destination through investments and incentives to attract retail and hospitality industries.
"I'm honored and humbled to be named as the Urban League of Greater Hartford's 2020 Trailblazer," said Berger-Sweeney. "Our nation is standing together in a reinvigorated fight for equity. We have made great strides to bring us to this moment, but we still have much work ahead of us."
Additional honorees include:
Reginald Eadie, M.D., president and CEO of Trinity Health of New England, recipient of the Business Excellence Award
Susan Gunderman, interim director of re-entry services for the City of Hartford, recipient of the Community Champion Award
Richard and Doris Sugarman, president at Hartford Promise and CEO at The Connecticut Forum, respectively, recipients of the Community Service Award
June Archer, motivational teacher, author, and community empowerment advocate, recipient of the Cultural Heritage Award
Janice Castle ['03], director of community engagement for the City of Hartford, recipient of the Young Professional Stewardship Award
Archbishop LeRoy Bailey Jr., senior pastor of The First Cathedral in Bloomfield, recipient of the William (Bill) Brown Community Leadership & Service Award (Brown led ULGH from its establishment in 1964 through 1983.)
"As with every EOD, we are excited to highlight our work in the movement, celebrate commitment to equity, and honor leadership in empowerment," said David Hopkins, president and CEO of the Hartford-based affiliate of the Urban League. "Dr. Berger-Sweeney's pioneering in her field of study as a neuroscientist and meaningful leadership as president of a college, overcoming systemic and structural barriers as a woman of color, made her a clear choice to receive the Trailblazer Award."
For more information about the virtual ceremony, go to Urban League of Greater Hartford's YouTube page.