Back to News
TrinVotes! Initiative Encourages Trinity Community to Register and Vote
Announcement
posted
by Andrew J. Concatelli
Led by a group of Trinity College students, staff, and faculty members, a new initiative called TrinVotes! is designed to increase the college's voter registration and election participation, especially among students who are first-time voters.
A letter to the community in February from Trinity President Joanne Berger-Sweeney and Trinna Larsen '20, president of Trinity's Student Government Association (SGA), announced the establishment of TrinVotes! "No matter who we are or which side of the aisle we fall on, as citizens in a democracy, voting is our singular privilege and responsibility," Berger-Sweeney and Larsen wrote in their letter. "In the lead-up to the election in November, TrinVotes! will sponsor a number of events and efforts to encourage as many of us as possible to make our voices heard at the ballot box."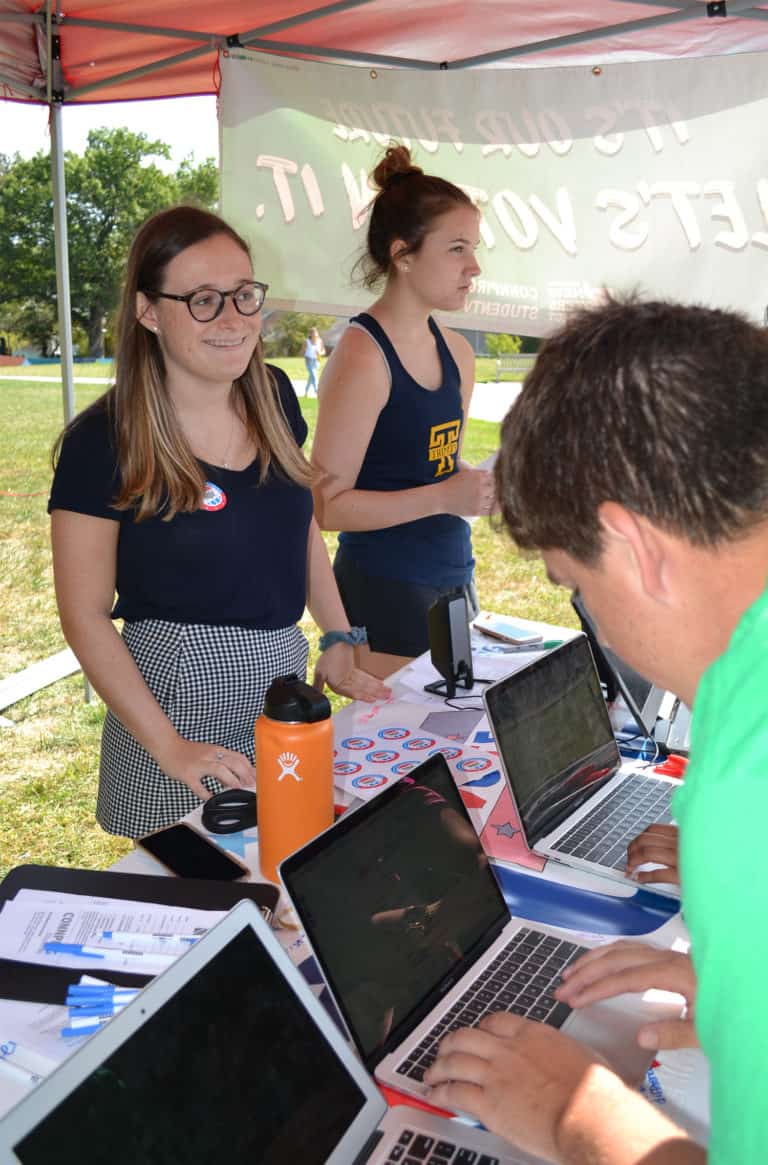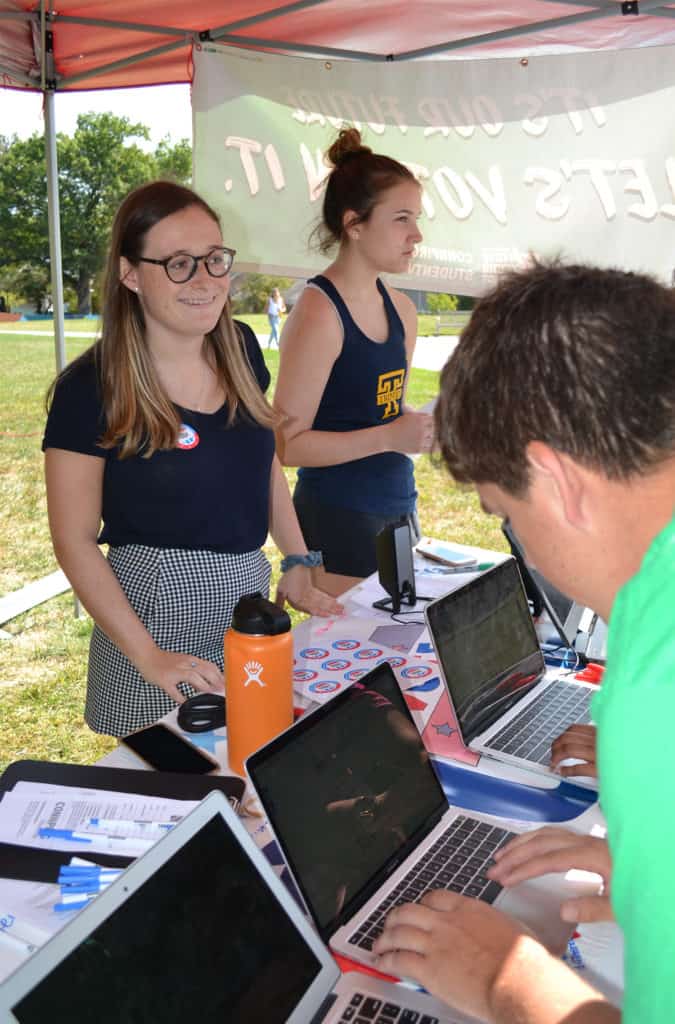 The first TrinVotes! event was a Super Tuesday Watch Party and voter registration event on Tuesday, March 3, at Vernon Social. On the same day, the Women & Gender Resource Action Center (WGRAC) hosted two Women's Herstory Month events on campus that included voter registration.
TrinVotes! member Maddy White '22, who is a double major in human rights and French, serves as a member of the SGA Senate and is on the state board of ConnPIRG, the independent, citizen-funded organization that advocates for the public interest. As the campaign coordinator for ConnPIRG's New Voters Project at Trinity, White wants to help students register to vote for the first time. "I think it's so important to vote and have a say in what happens. Every vote counts. Even the SGA elections at Trinity for Sophomore Senate were decided by one vote; they had to do a runoff twice," she said. "It can be hard to register to vote. What we're trying to do it make it easier and more accessible. Taking that extra step to register is really worth it."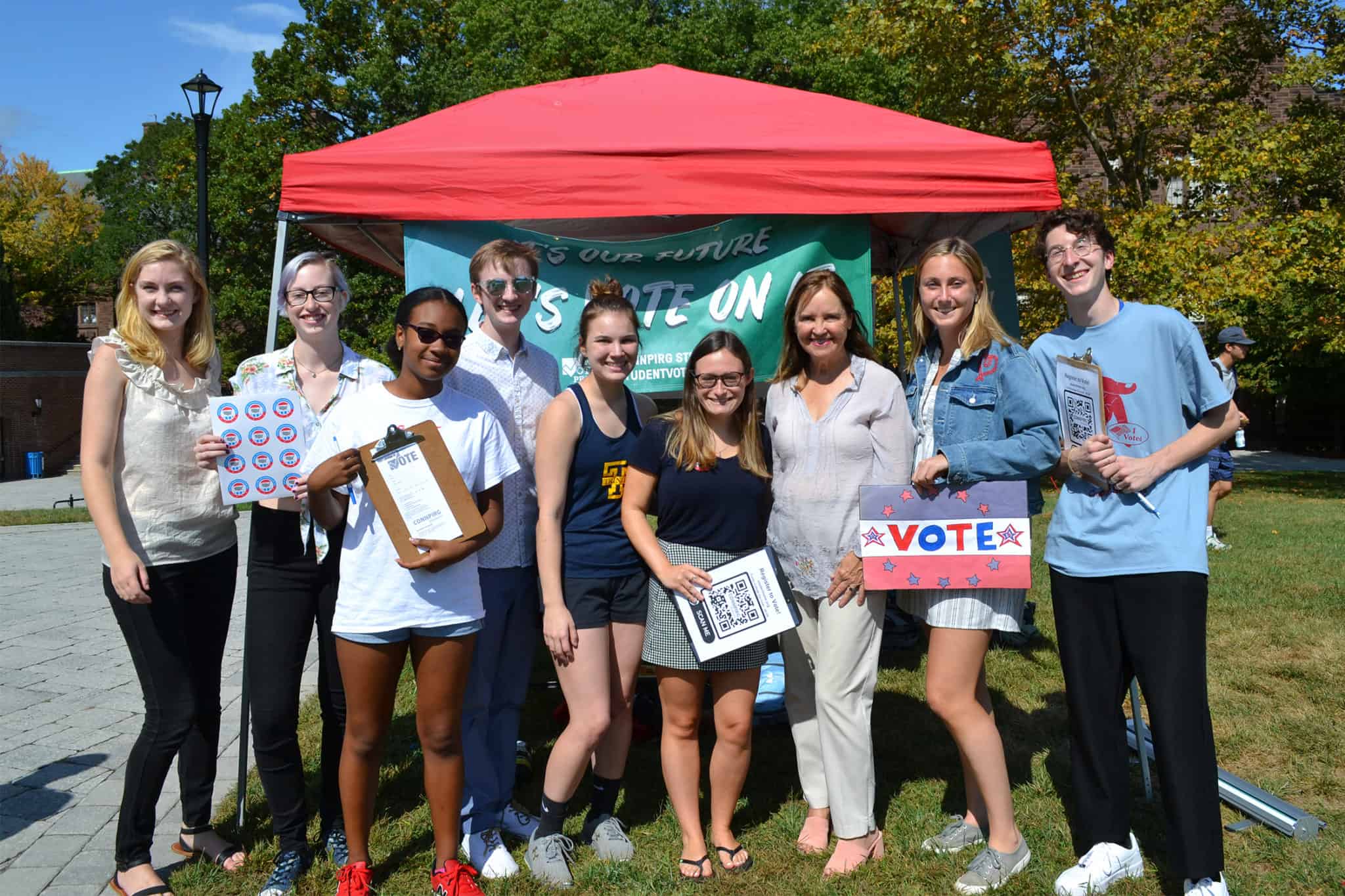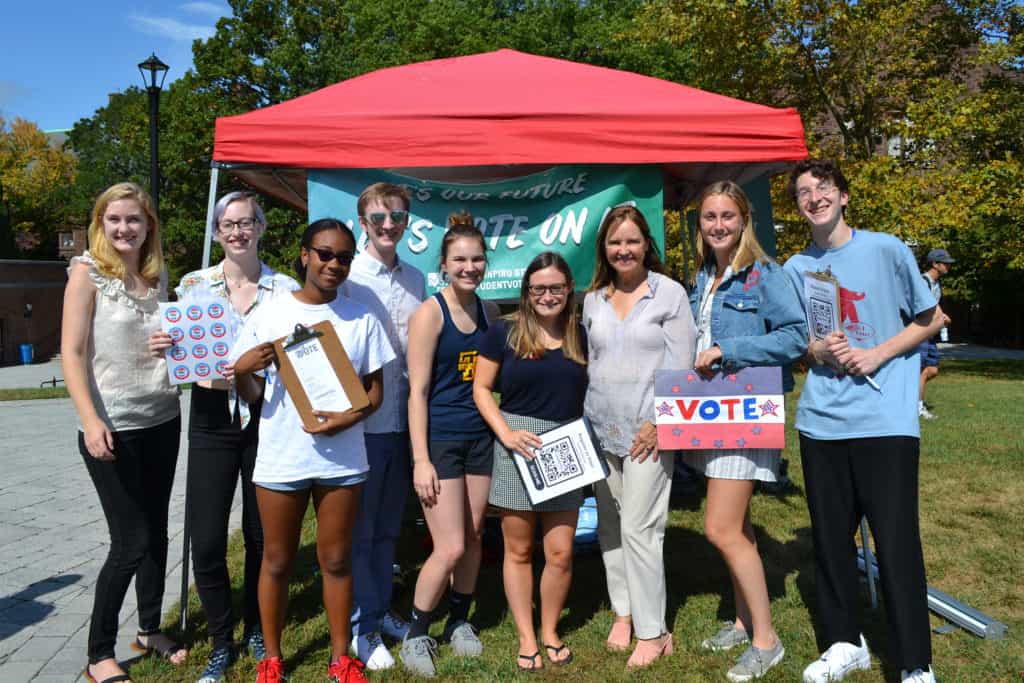 In addition to the Super Tuesday Watch Party, TrinVotes! will host other events to keep the Trinity community engaged during this election year, White said. A March 26 trivia night at Vernon Social will feature questions about voting, democracy, and civic engagement mixed in with general knowledge trivia.
Connecticut's presidential preference primaries will be held on Tuesday, April 28. In Connecticut, primaries are open to voters who are registered with a party affiliation and who are registered in the town where they reside or wish to vote. For Trinity students who have registered to vote in Hartford, the polling place is at Hartford Magnet Trinity College Academy (HMTCA) on Broad Street. Polls are open from 6:00 a.m. to 8:00 p.m. Get more information from the Connecticut secretary of the state.

TrinVotes! is part of the NESCAC Votes ALL IN Challenge, a larger effort that hopes to encourage and increase student civic engagement. NESCAC Votes aims to tackle the issue of low college student voter turnout by advancing nonpartisan civic learning and voter participation on each of the 11 NESCAC campuses.
Jason Rojas, who serves as Berger-Sweeney's chief of staff and assistant vice president for external affairs, said that the goal of the TrinVotes! initiative is in line with the college's mission of creating engaged and informed citizens. "One of the critical ways in which you can be an engaged citizen is by participating in an election," Rojas said. "What we want to do is ensure students are using their voices in whatever way they see fit and that they are prepared to do that by being informed about the issues and the candidates before choosing."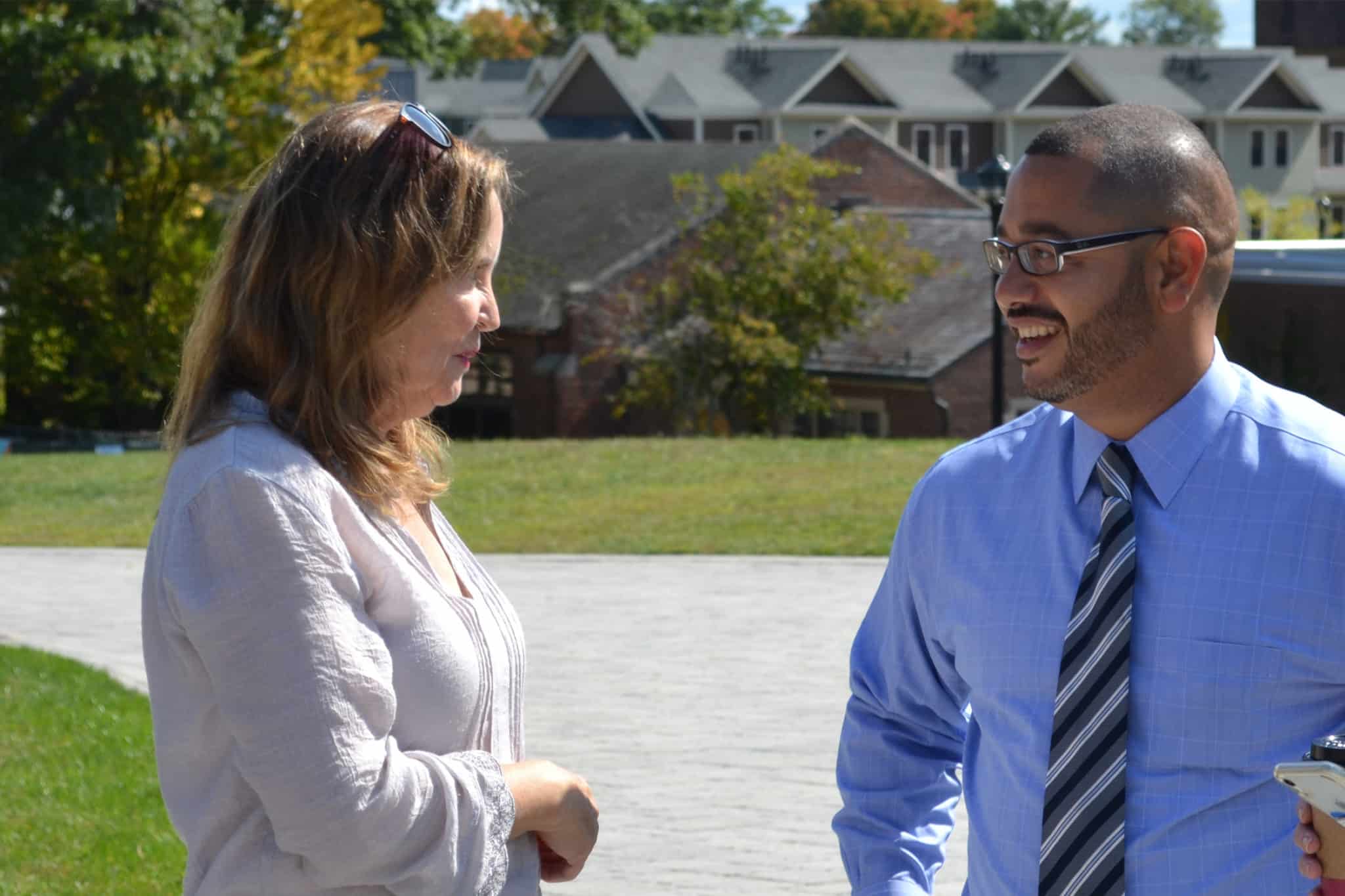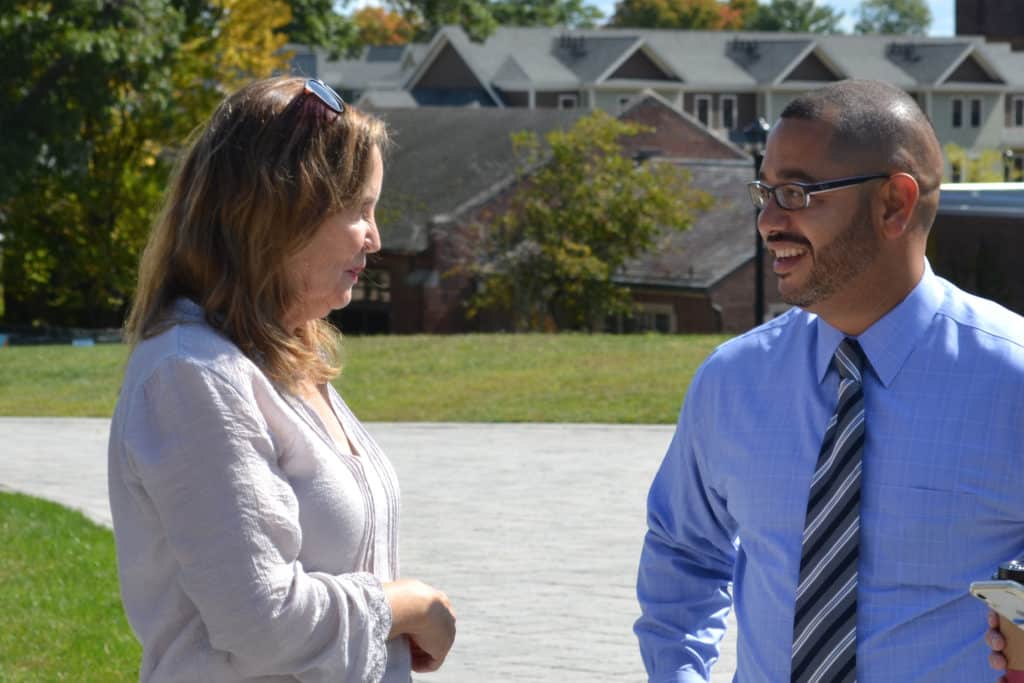 Rojas also is an elected state representative for his hometown of East Hartford and wants to see more participation in the political process from the newest generation of voters. "The sooner we can get more young people involved in the process, the better it is for everybody," he said.
Associate Professor of Legal and Policy Studies Adrienne Fulco, who is among the Trinity faculty members in the TrinVotes! group, said, "I encourage my students to register to vote and become knowledgeable about the policy positions their elected representatives at all levels of government hold on issues that matter to them." She added that research confirms that early voting habits have a lasting impact on future voting behavior. "I believe that students should register so that they can both participate in this year's very important federal, state, and local elections and become more engaged, better informed citizens—now and in the future," Fulco said.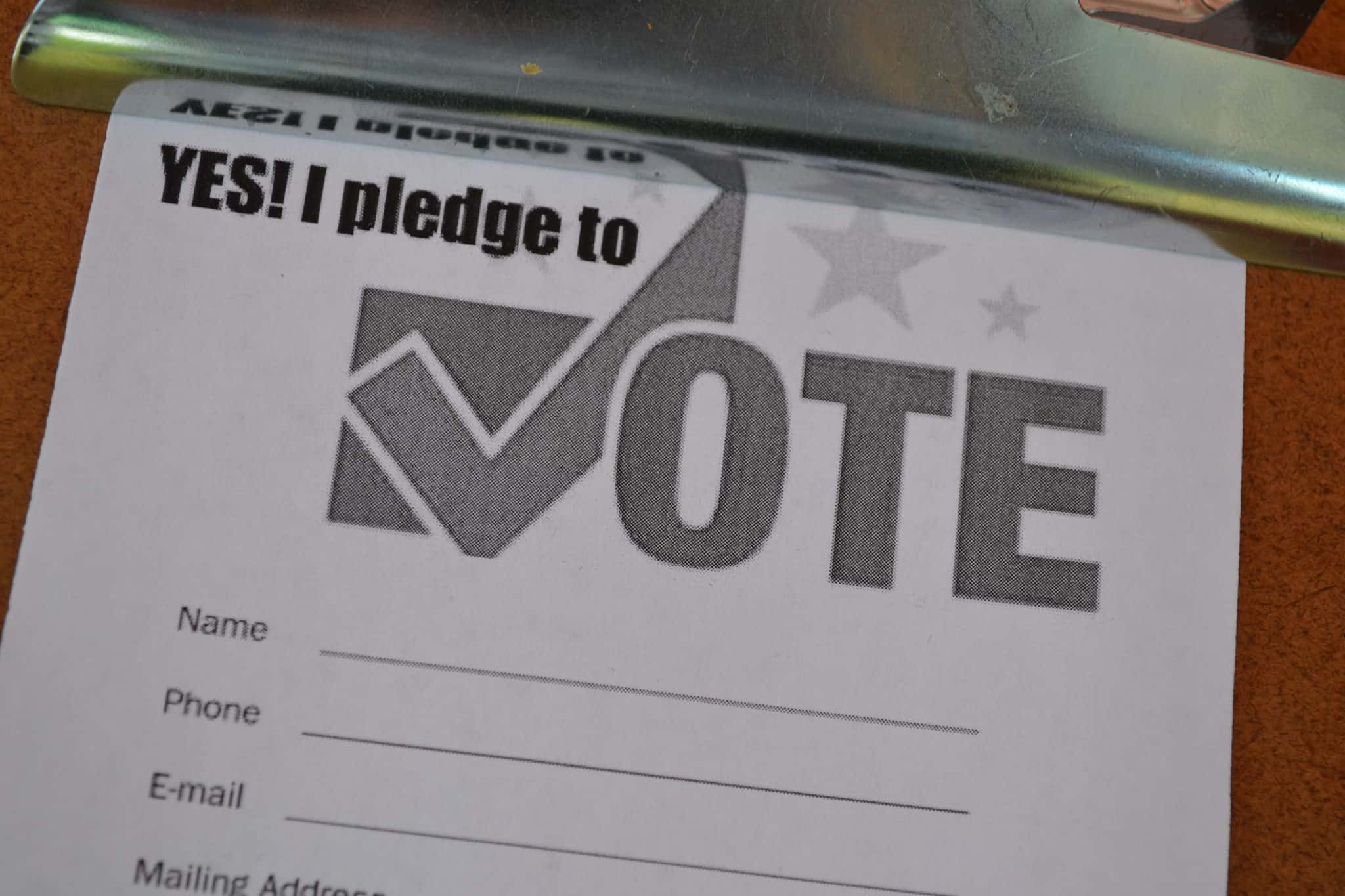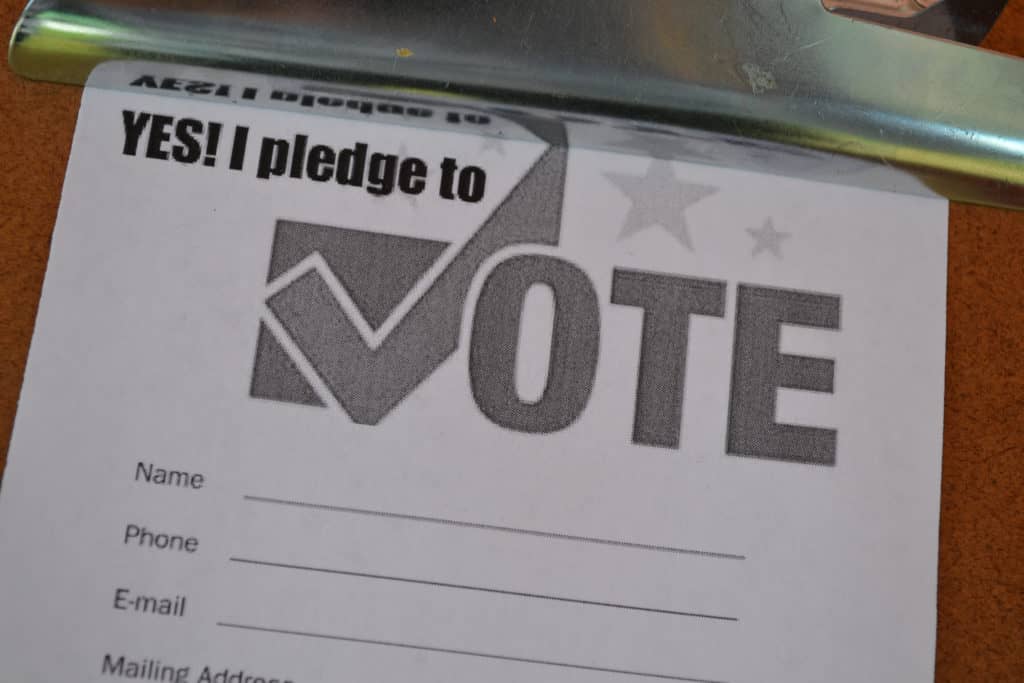 Professor of Political Science Stefanie Chambers added, "Voting is at the heart of our democratic system. For college students who are studying in a different state or abroad, awareness of voting rules at home and where they're attending college can be extremely complex; we see some of the lowest levels of voter turnout among young people." A new TrinVotes! website is designed to help clarify electoral rules and deadlines so students face fewer barriers in the voting process, Chambers said.
To register, check your registration status, get absentee voting information or ballots from your home state, or find deadlines or any other voter information, go to vote.org, a national online resource for voters. Follow TrinVotes! on Instagram and direct questions about TrinVotes! to Director of Community Relations and Trinfo.Cafe Carlos Espinosa at [email protected] or Director of Community Service and Civic Engagement Joe Barber at [email protected].