Back to News
Trinity's Writing Center Mentors Support International Students
Academics
posted
by Amanda Lafferty '21
For international students attending Trinity College, adjusting to a new country, culture, and way of life can present many challenges, especially to students who are non-native English speakers. To help ease the transition to living and studying on an American campus, a pilot program introduced in fall 2019 in Trinity's Allan K. Smith Center for Writing and Rhetoric connects first-year international students with mentors who provide academic and social support.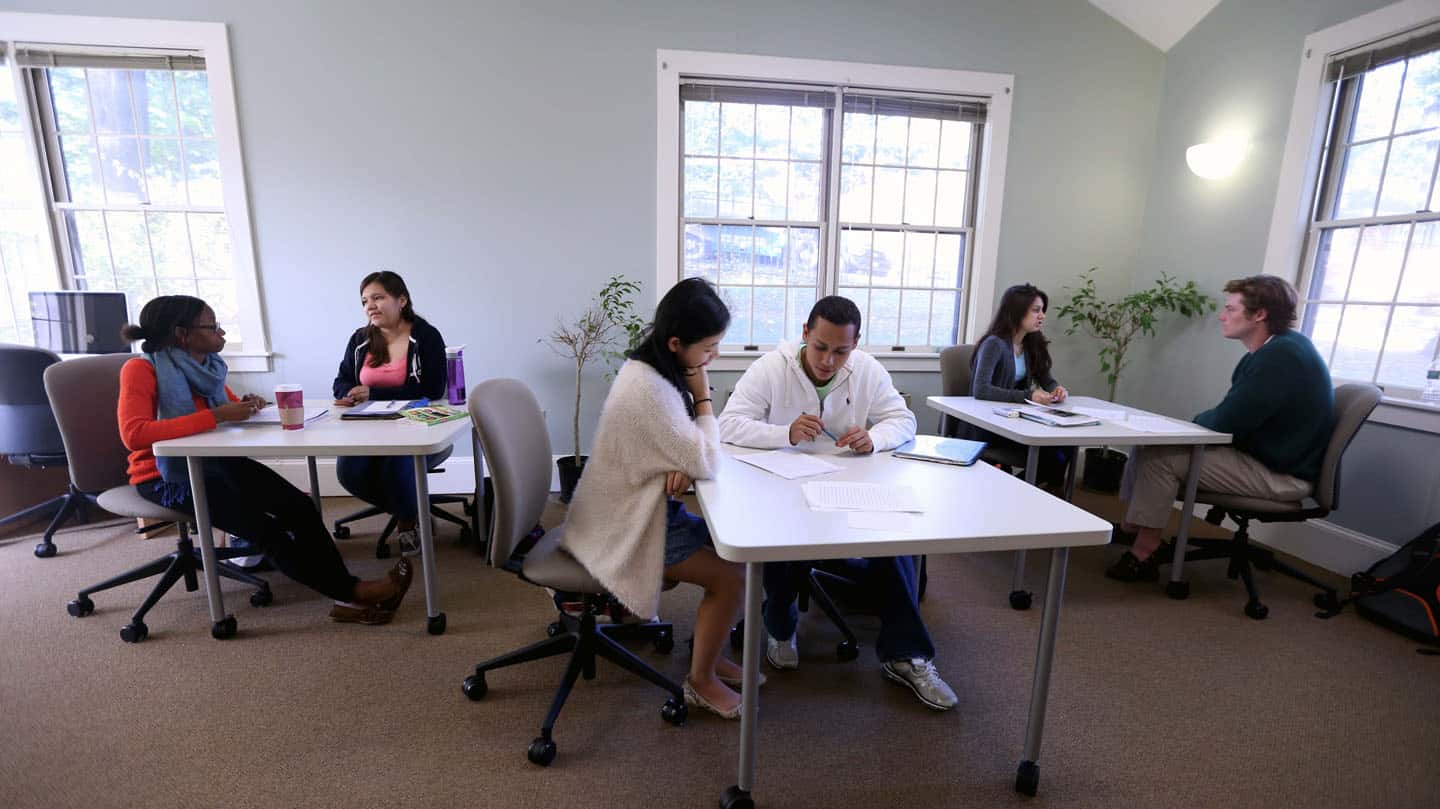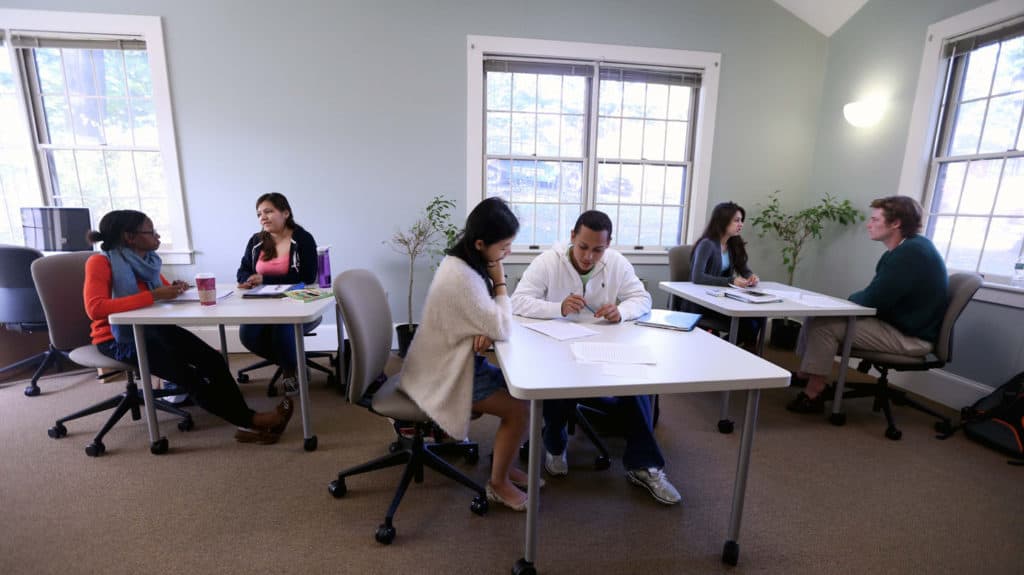 This new program focuses on providing international students—who make up approximately 15% of Trinity's annual incoming student population—support with writing skills, reading comprehension, conversational English, and communicating needs with professors. Tennyson O'Donnell, the director of Trinity's Writing Center and Allan K. Smith Senior Lecturer in English Composition, said, "This program helps international students become better acclimated to the Trinity environment as they navigate the social, cultural, and academic aspects of pursuing a college degree in another country."
Undergraduate students who work in Trinity's Writing Center as peer tutors are called writing associates. They have a passion for improving the writing of their peers using a collaborative approach and they undergo a rigorous, semester-long training curriculum. Prior to the start of the fall semester, seven writing associates were embedded in the International Student Orientation programming in order to facilitate more organic relationships with international students who are new to campus, and often new to the country. The writing associates helped international students move into their residence halls and gave presentations about the Writing Center as a campus resource. The groups attended a professional soccer game together and got together throughout the fall semester—including for an outing to a pumpkin patch.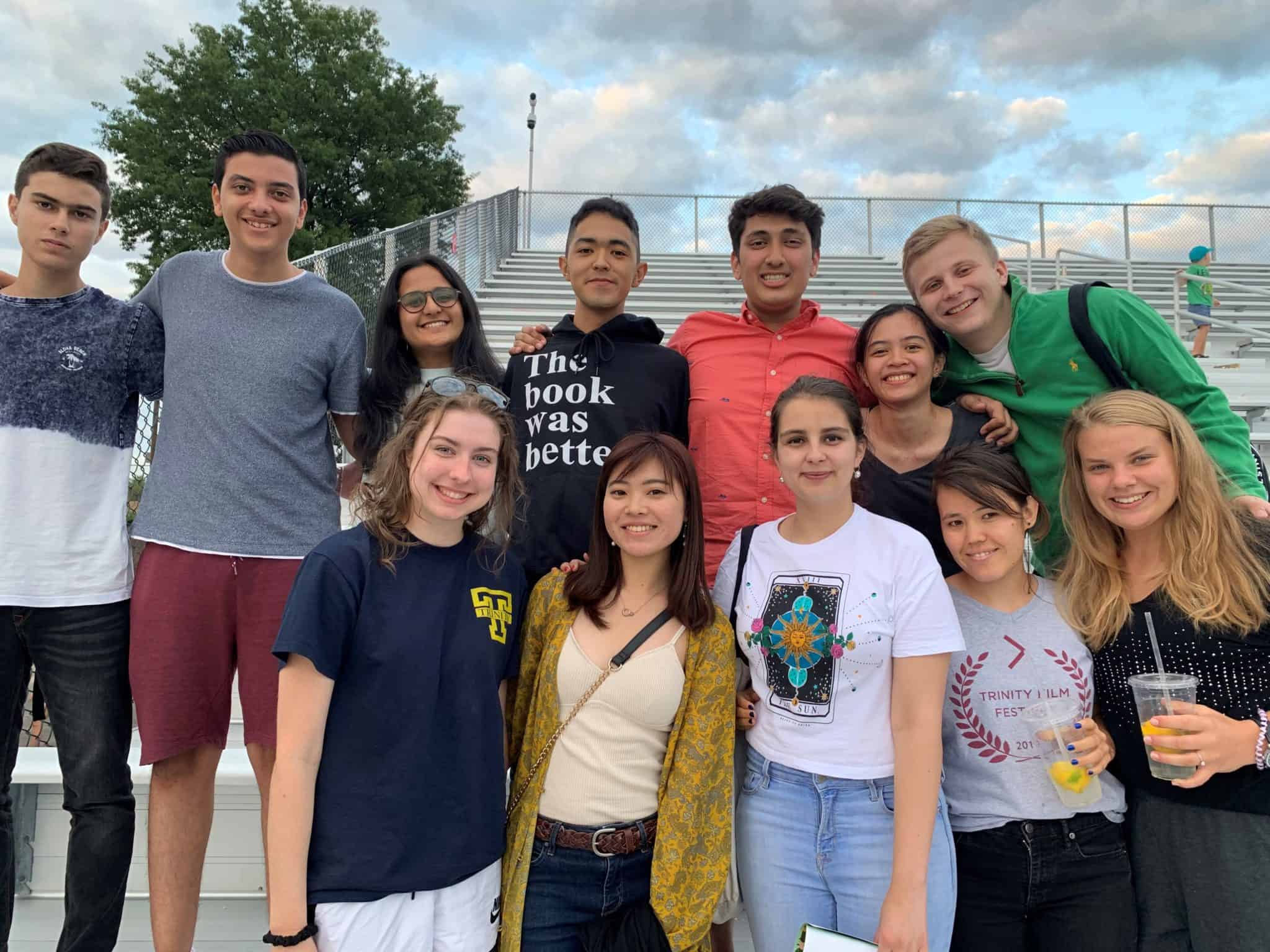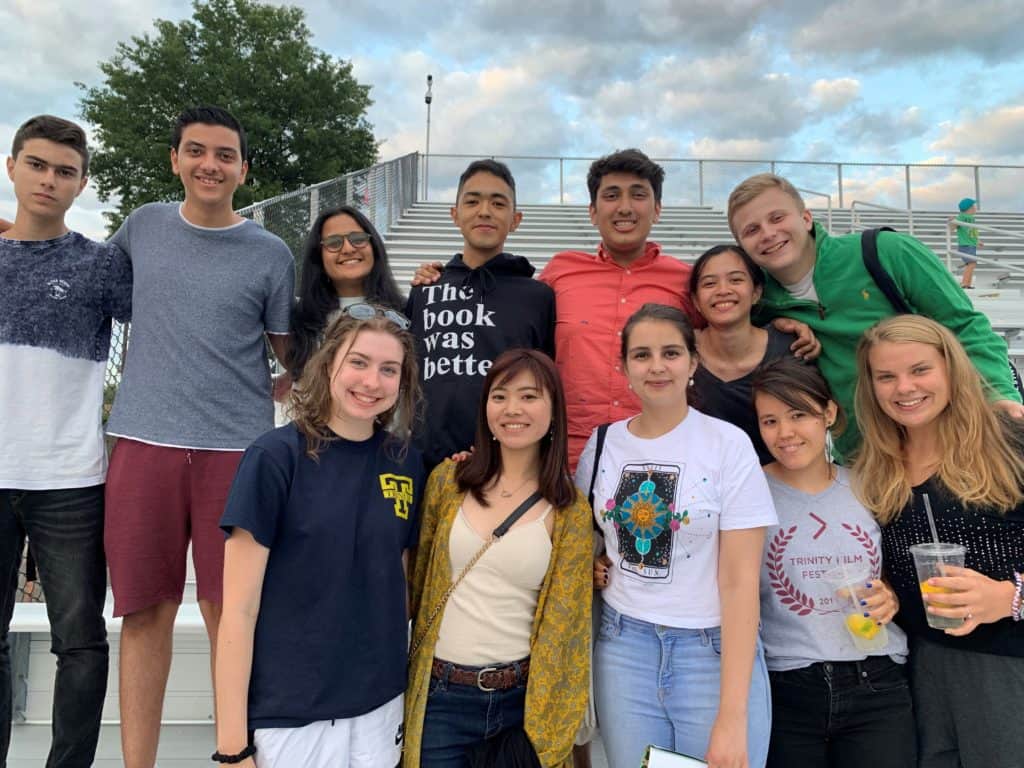 International Student Advisor Katharine Clair said the benefits of the new program helped to bridge academic and social needs of international students in a less formal way. "The key idea of the program was to provide opportunities for our international first-year students to get to know the student leaders who can serve as resources for them," Clair said. "It humanizes the writing associates and makes seeking help feel more natural and less intimidating."
Hannah Stebbins '20, a writing associate and participant in the mentorship program, said she was excited to help incoming international students adjust to Trinity. Stebbins already knew that many international students frequent the Writing Center, and hoped that the earlier interactions would encourage more frequent Writing Center visits. "I wanted to get to know some first-year students that I'd probably see at the Writing Center and make them feel welcome and comfortable. I feel it was a really beneficial process and I created friendships from this," said Stebbins.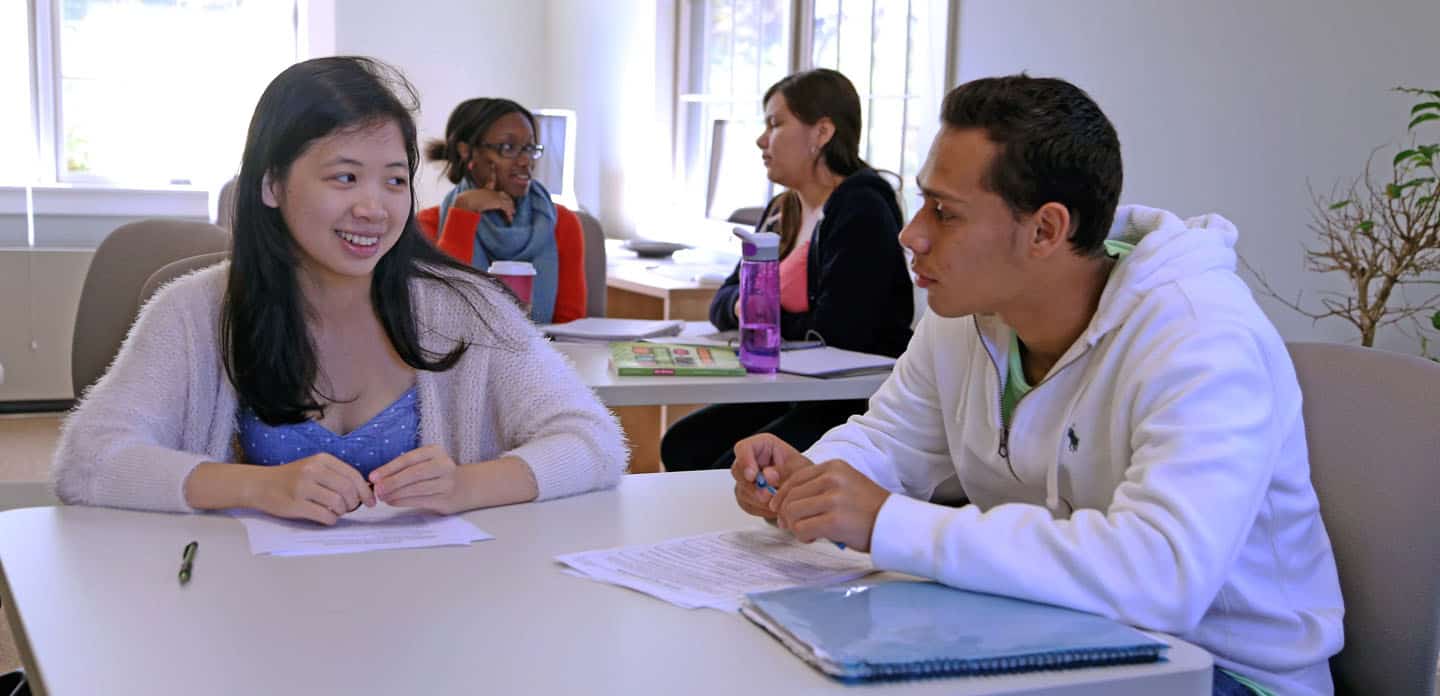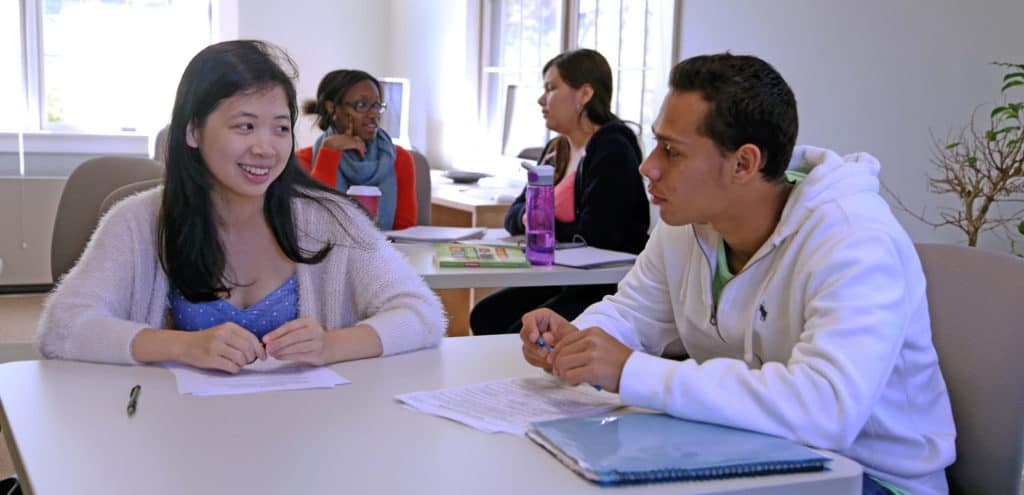 One of Stebbins's mentees was Matin Yaqubi '23, who is originally from Afghanistan. "With the writing associates being at orientation, it did help a lot for the international students to learn about some of the resources that are available on campus and get familiar with some of the people that are working there," said Yaqubi. "It can be a bit daunting when you first go to a place like the Writing Center and you don't know a bunch of people, but then you see someone from the International Students Orientation and think, 'When I come back next time I'll ask for them,' because you feel more comfortable with that person. That was definitely the case working with Hannah."
Another writing associate participating in the program, Kayleigh Moses '22, was grateful for the social-oriented events that allowed international students and mentors to get to know one another outside of an academic context. "The events let the international students and writing associates just be together—but separate from the writing process—and become friends," Moses said.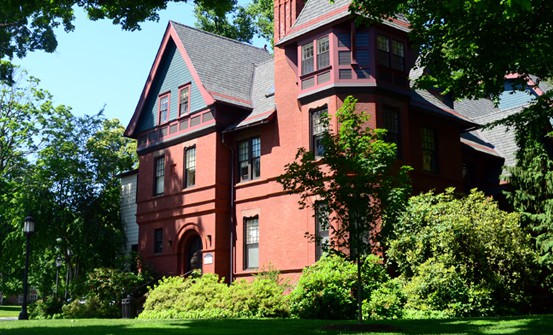 Amina Taher '22, who is from Egypt, has been a frequent visitor to the Writing Center and appreciates the dedication of the writing associates who help her strengthen her English writing skills. "The Writing Center has always played an essential role for me since I got here, because when I came here English was my third language," Taher said. "I used to go to Lillia Schmidt ['21] every single week. She taught me how to write and how to articulate the ideas I have."
This pilot program was supported by the vice president of diversity, equity, and inclusion, the vice president of enrollment and student success, the IDP Student Success Fund, the Dean of Students Office, the Allan K. Smith Center for Writing and Rhetoric, and the Office of International Students and Scholars.
The Writing Center is open to all students who desire to be better writers. Click here to learn more.