Back to News
Trinity Students Leading Campaign to Support Earthquake Survivors in Turkey and Syria
Trinity Community
posted
by Andrew J. Concatelli
After recent earthquakes left cities destroyed and thousands dead in Turkey and Syria, Trinity College students from Turkey quickly organized a fundraising campaign as a way to support the people in their home country whose lives have been severely impacted.
On February 6, 2023, two major earthquakes near the Turkish city of Kahramanmaras devastated southeastern Turkey and northern Syria, collapsing countless buildings and killing more than 40,000 people.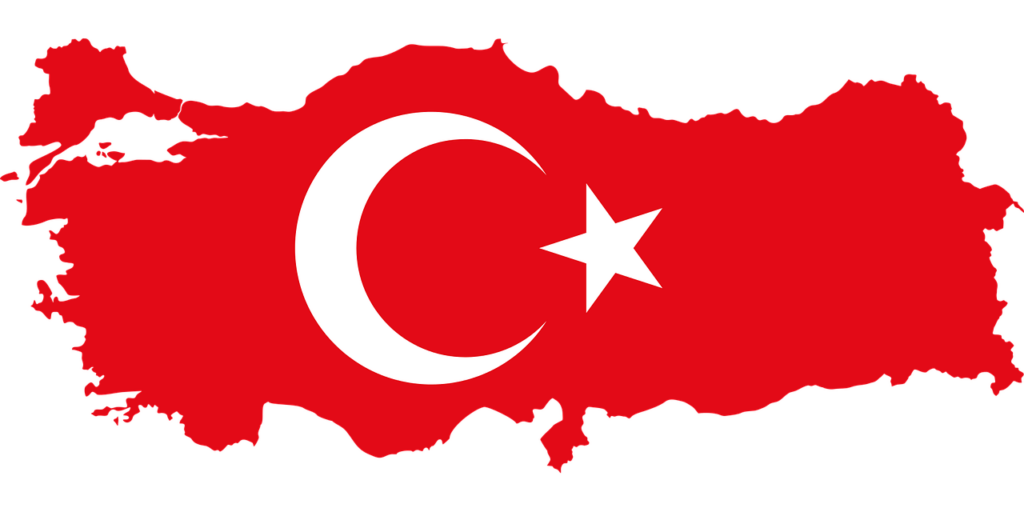 Zeynep Oguzer '26, from Bursa, Turkey, said the news of the earthquakes first made her scared for family and friends, who she confirmed were not in the area and were unharmed. But then she thought of the wider impacts on all the people in the region, many of whom were trapped in rubble for days and with many more now without homes. "I was just devastated. I don't know how to put it into words," Oguzer said. "People were not getting the help they needed. The government and nonprofit organizations just didn't have enough resources."
Oguzer said it was difficult for her and other Trinity students from Turkey to be far from home when the disaster struck. "It's such a hard thing not being there," she said. "You see the pictures and what people are going through, but from here, you feel like you can't really do anything. I really wanted to do something to help, but I was a little lost."
That's when Oguzer ran into her friend Ihsan Uyan '23, from Istanbul, Turkey, who was already working on a plan to launch a campaign to raise earthquake relief donations for the Turkish Philanthropy Funds, a 501(c)(3) nonprofit. The TPF allocates funds to help first responders meet survivors' immediate needs for food, fuel, clean water, medicine, and shelter, and then to assist longer-term recovery efforts run by local, vetted partner organizations in the impacted area.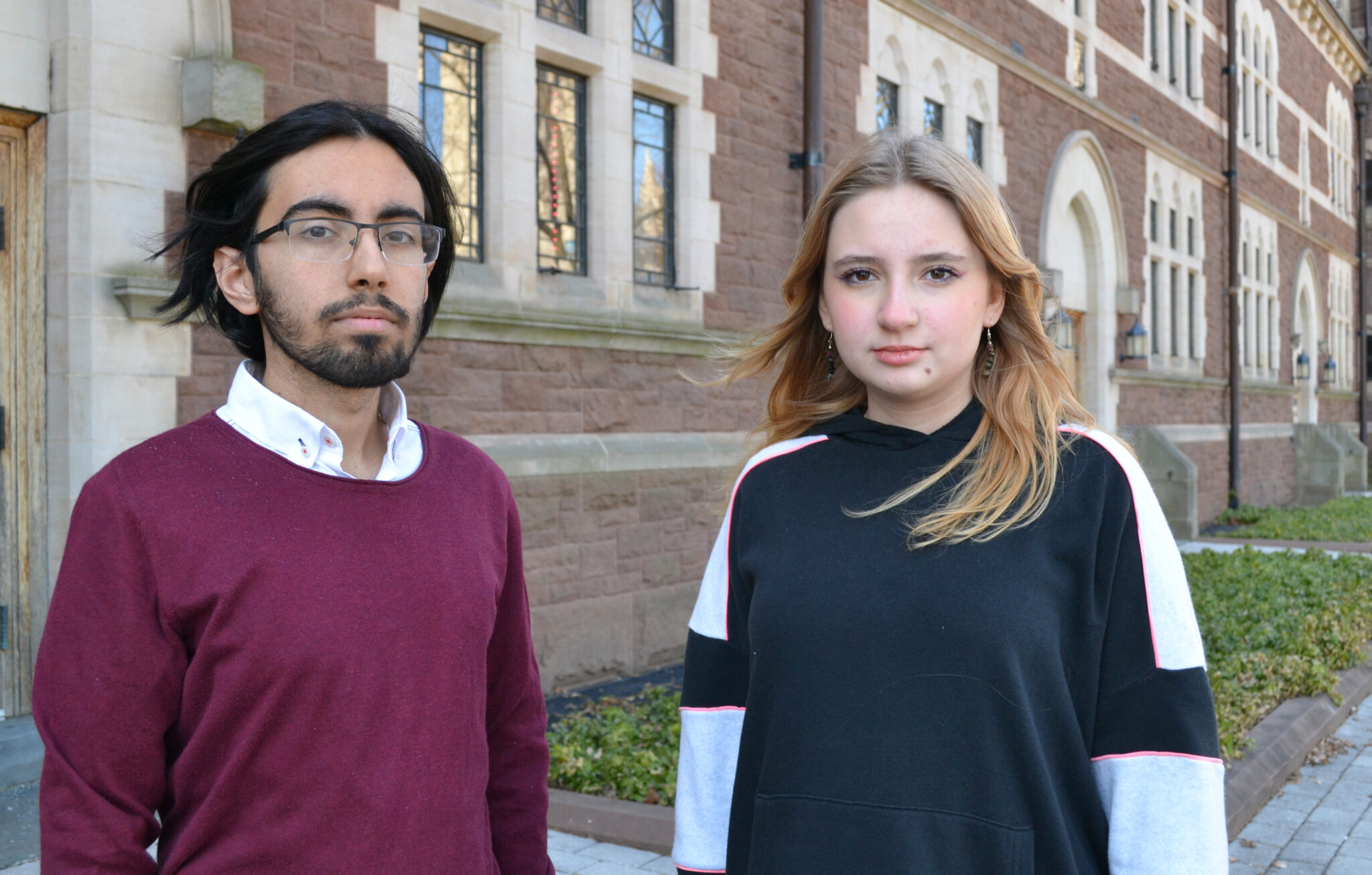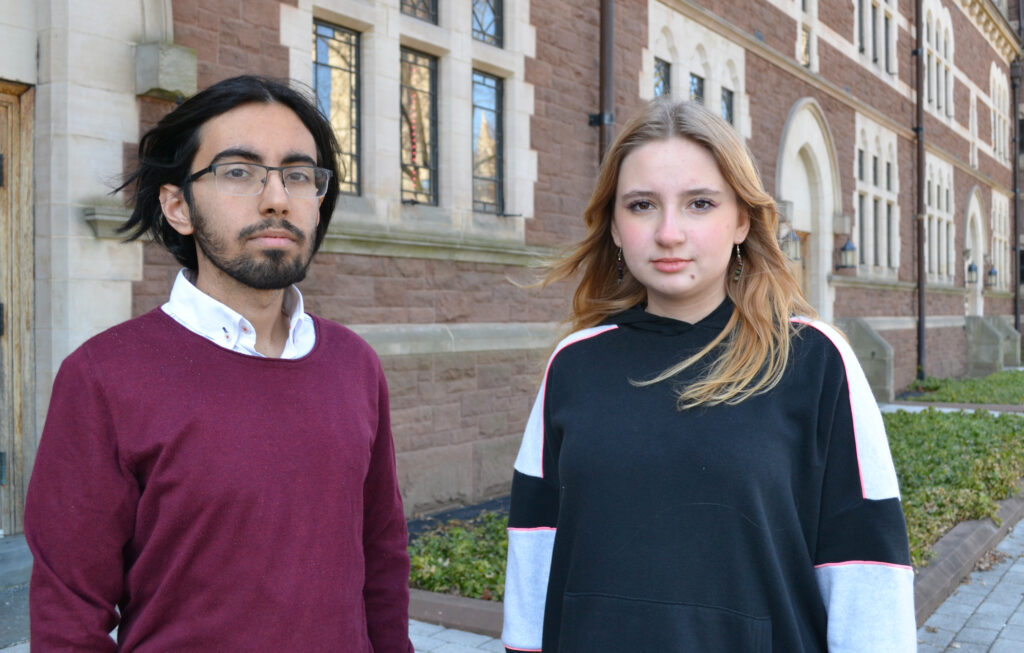 Uyan—who said his own family was not impacted by the earthquakes—was driven to action when he saw the news about the widespread devastation. "We understood immediately that it was going to be a big disaster," he said. "Millions were displaced from their housing, and the search and rescue operations were done in winter conditions. There's so much damage; the organizations providing support require monetary help so they can build temporary housing immediately and attend to medical needs and food needs. People who are not living in the region were not physically affected, but this affected the emotional state of all citizens of Turkey. It will have a social and financial impact on the whole country in the upcoming days."
Oguzer and Uyan worked with Trevor Beauford, Trinity's assistant dean of community life and restorative justice and director of Greek life and campus initiatives, to establish the fund and spread the word to other students. They created flyers, talked to students outside of Mather Dining Hall, shared links on social media, and partnered with Greek life organizations to help collect donations.
Aside from receiving monetary support for survivors back home, Uyan said that the Turkish student community at Trinity has received a great deal of support from faculty, staff, and classmates over the past two weeks. "Faculty and friends reached out to me right away," he said. "I had several conversations about things going on in Turkey."
Trinity currently has six students from Turkey and one from Syria, according to Maria Dyane, the international student program coordinator in Trinity's Office of International Students and Scholars and career and life design coach in the Career and Life Design Center. "After we heard about the earthquakes, we checked in with them individually and made sure they knew that someone is there for them," said Dyane, who works with students from the 89 countries represented on campus. "Anything we can do to help, our office is here—whether it's to help connect students to resources like the Counseling and Wellness Center or sit and listen as they sort through their thoughts and emotions. We support them as they develop initiatives that might help them and their families and loved ones, and work in collaboration with other offices across campus to raise awareness of this difficult time and best support our students through it."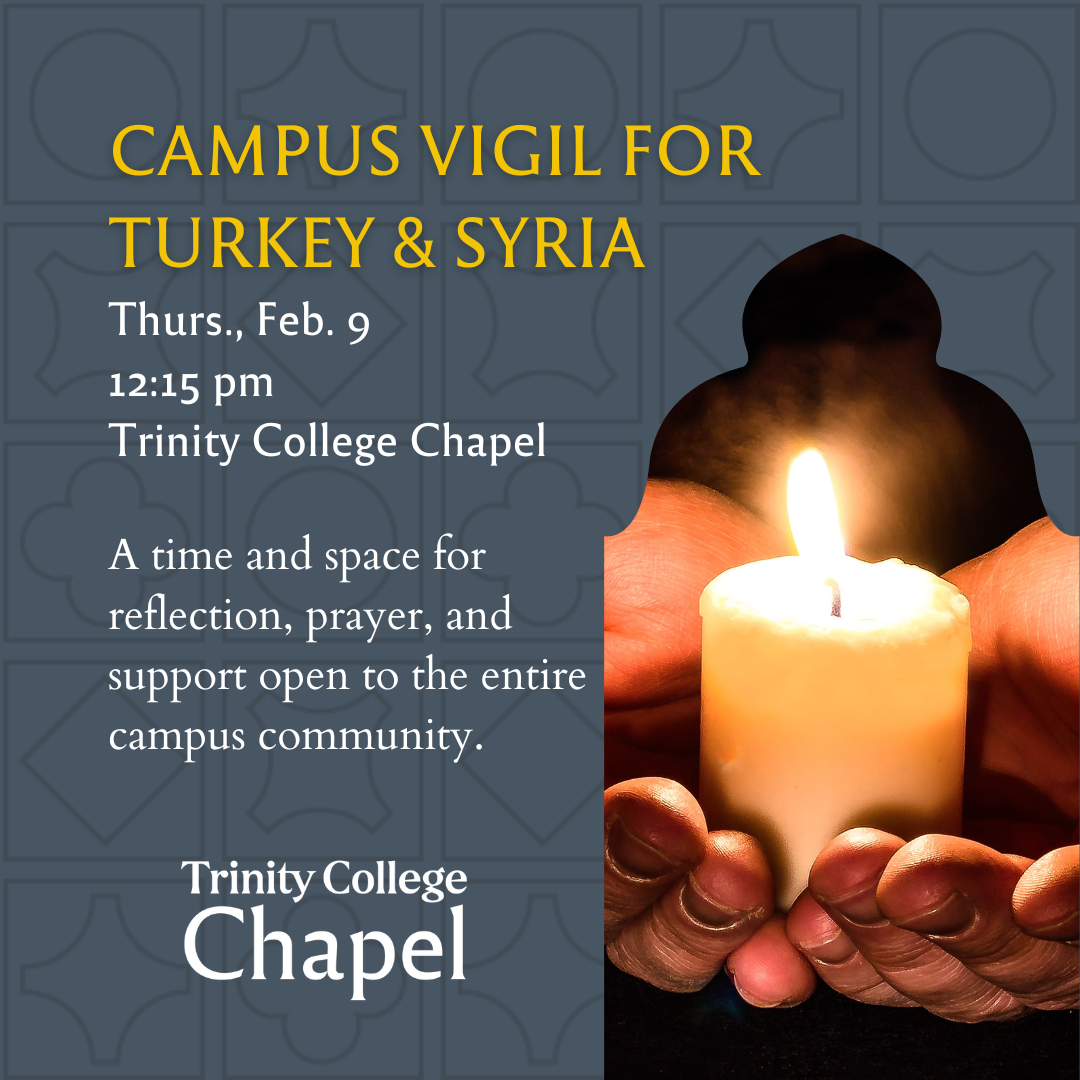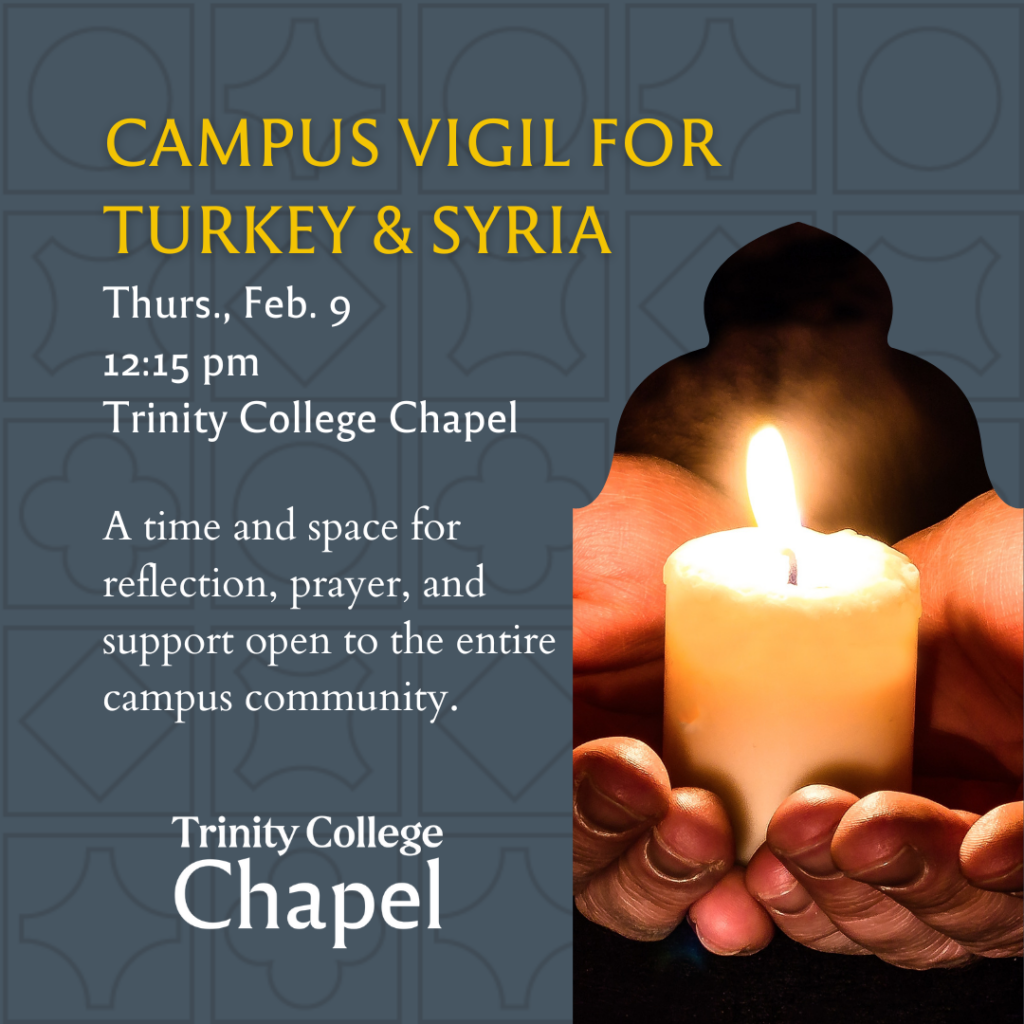 The Office of Spiritual and Religious Life hosted a Campus Vigil for Turkey and Syria on February 9, offering the Trinity College Chapel as a space for reflection, prayer, and support; the vigil was open to the entire Trinity community.
Oguzer said of the vigil, "I thought it was really important for the College to do something like that. We were praying with people, sharing the emotions that we were feeling, and telling people about the fund as a way to help. It was a great emotional support, so I'm very grateful for that."
While the search and rescue operations in the earthquake-stricken areas are coming to an end, the students will continue their fundraising efforts. "There are still so many ways to help, like reconstructing the cities, providing housing, and feeding people," Uyan said. "Turkish students from all over the world are fundraising like this within their own colleges and communities."
Oguzer added, "Even the smallest amount can mean a lot to people there, especially to know that people from the other side of the world are willing to help however they can."
To learn more about this campaign and how to get involved, contact Zeynep Oguzer or Ihsan Uyan.