Back to News
Trinity Students Explore Impactful Summer Internships in Health Care and Human Services
Academics
posted
by Andrew J. Concatelli
This is the second of three stories this summer featuring the internship experiences of Trinity students. Read more here.
This summer, Bantams are exploring opportunities across disciplines as they take on internships relating to their majors and future career goals.
Below, four Trinity students talk about their internships in the fields of health care and human services:
Alisha Aristel '24 – Summer Undergraduate Research Program (SURP) Intern at Mount Sinai Hospital in New York City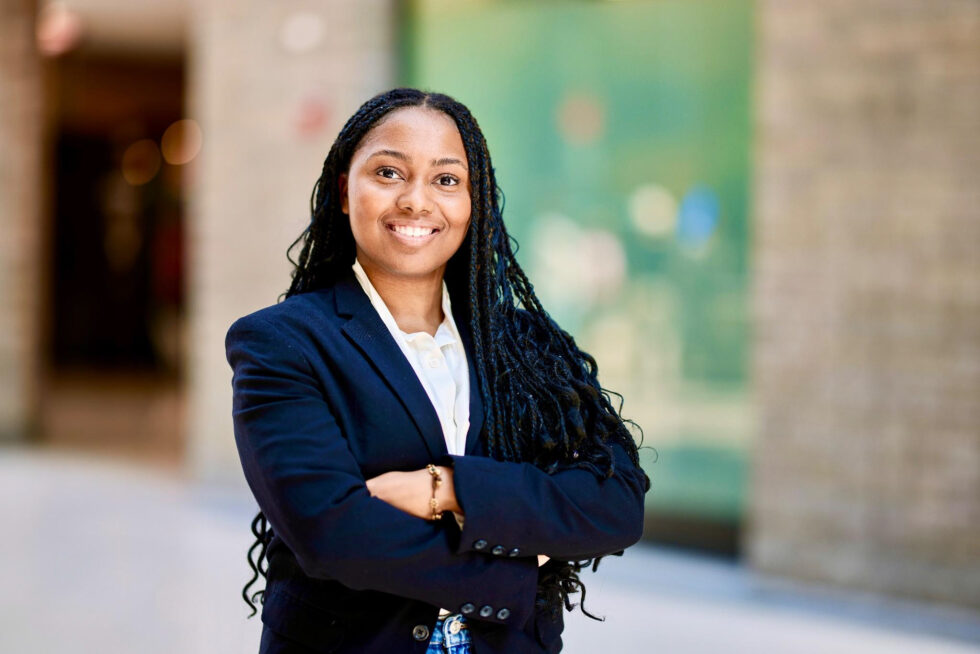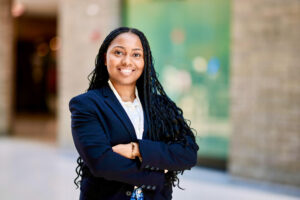 Major: Neuroscience
Hometown: Elmont, New York
Summer experience: Aristel's internship involves conducting research on a gene associated with schizophrenia. "Working on a project with real-world implications and the potential to impact personalized treatments has been incredibly fulfilling," she said. "Additionally, collaborating with experts in the field and attending career development classes has enriched my learning experience." The research in genetics and computational biology aligns closely with Aristel's study of neuroscience at Trinity. "Understanding the genetic basis of mental disorders like schizophrenia directly relates to my academic focus on the brain and behavior," she added.
Takeaways: "The skills I've acquired, such as data analysis and programming in R and Python, will undoubtedly benefit my educational journey and future career in as an M.D./Ph.D.," said Aristel, who added that the networking opportunities within the scientific community at Mount Sinai can open doors for further academic and professional growth. "I feel immensely grateful for the chance to work on such an impactful research project," she said. "The internship has been a transformative experience, not only enhancing my technical abilities but also boosting my confidence in presenting my findings. I look forward to what the future holds in my pursuit of scientific knowledge and understanding."
Zoe Kon '24 – Institutional Review Board Intern for HRTP: A Public Health Internship Program at the NYC Department of Health and Mental Hygiene in New York City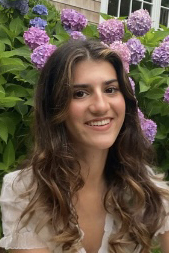 Major; Minor: Political Science; Interdisciplinary–Public Health and Bioethics
Hometown: Los Angeles, California
Summer experience: At Trinity, Kon created an interdisciplinary minor in public health and bioethics to provide a track of study that meets her academic interests, with an emphasis on how policy directly affects people. "This public health internship allows me to gain learning experience in the field, so I can see how my studies apply to the real world," she said. Kon's internship work includes formulating a summer research project to contribute to the Institutional Review Board and present to the Office of General Counsel. "Getting to work with the IRB and the OGC has been eye-opening and has given me the opportunity to see the legal, regulatory, and government oversight side of health and medical research, as well as all the contributing factors that play into public health," she said. "I also love being in New York City and getting to explore a new city."
Takeaways: Kon said that the internship supplements her Trinity curriculum with opportunities outside of the classroom. "I'm learning how to navigate the public sector and working for the government, which is valuable," she said. "And the relationships I'm forming with my colleagues and fellow interns are teaching me a lot and furthering my career path for my post-graduation future."
Daphne Lasher '25 – Remote Interdisciplinary Research Intern with Seattle Anxiety Specialists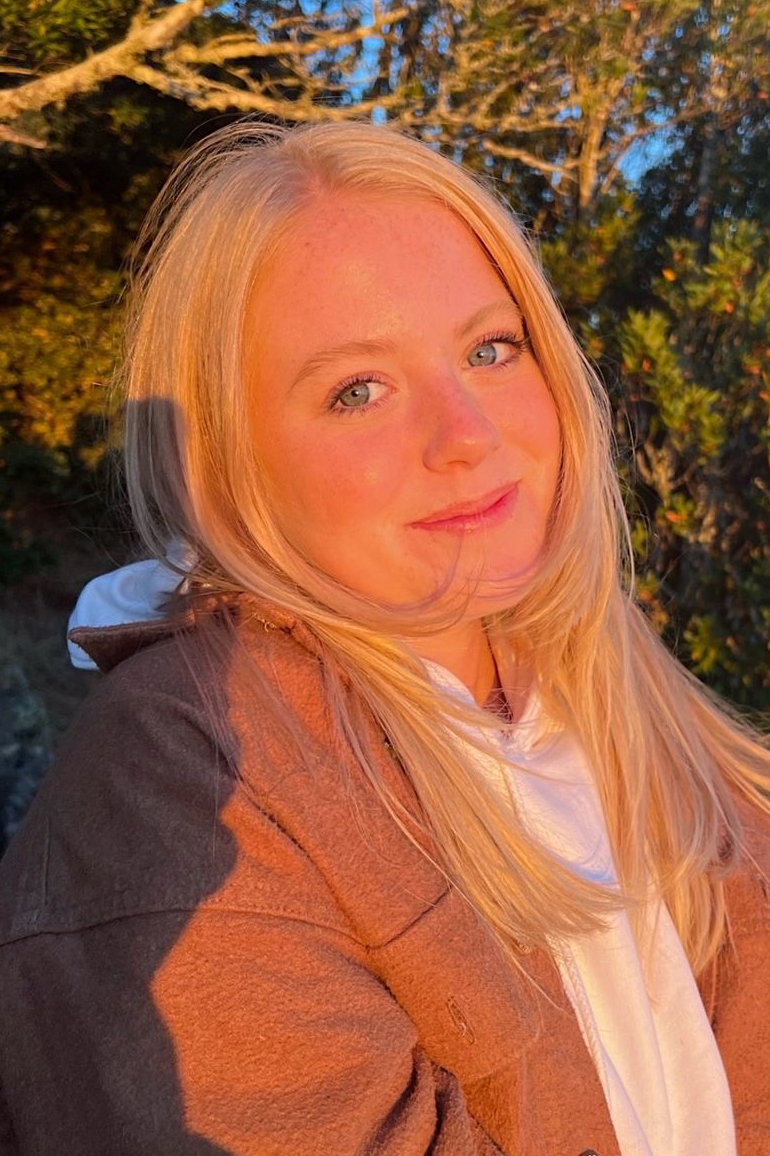 Major: Neuroscience
Hometown: Marin County, California
Summer experience: Lasher is working to improve public access to and understanding of clinical research in psychiatry and psychology by conducting literature reviews, interviewing researchers and clinicians, and writing and publishing articles for Seattle Anxiety Specialists' "Encyclopedia of Psychology." She said, "The best part of the internship has been choosing the topics I want to research, like how traumatic brain injuries affect the development of mental health disorders, how cognitive behavioral therapy can be used to treat anxiety, and how adverse childhood experiences relate to mental illness."
Takeaways: "It was through my background knowledge of mental health disorders and the brain, which I gained at Trinity, that I was able to start this internship one step ahead. This internship has given me the opportunity to explore these topics to a greater extent," said Lasher. She added that the internship has encouraged her to seek out more research opportunities. "This experience has made me want to pursue mental health, but in the medical field, combining my two interests into one," she said. "By bringing this experience with me into medicine, I believe I will be able to share awareness and knowledge of mental health in a new way."
Molly Simons '24 – Institutional Giving Intern with Sanctuary for Families in New York City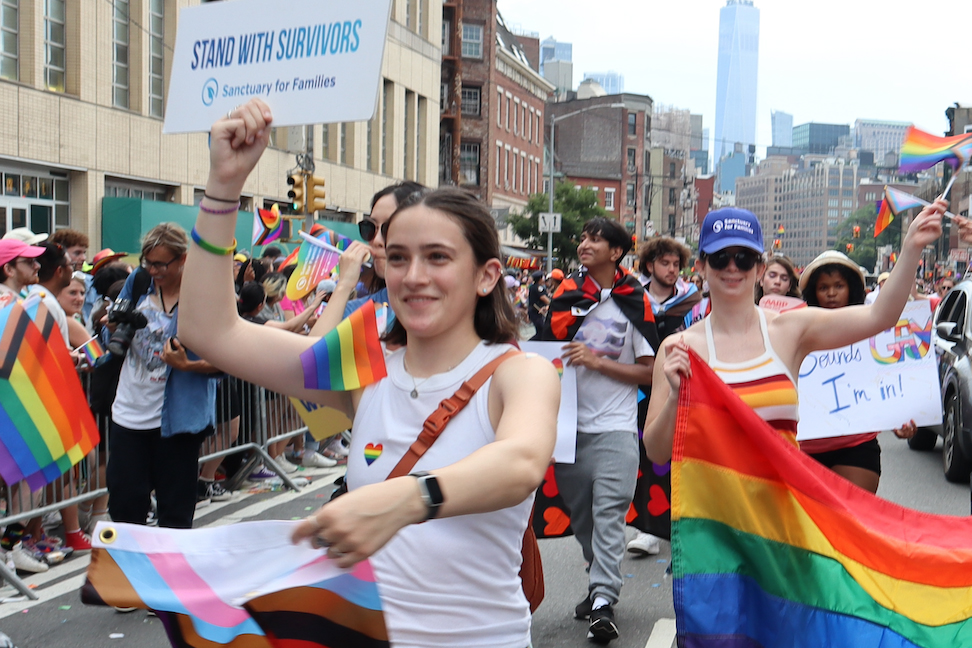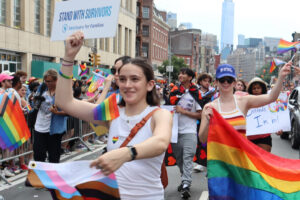 Summer experience: Simons is part of a team that oversees foundation, corporate, and government grants for the non-profit Sanctuary for Families, a service provider and advocate for survivors of domestic violence, sex trafficking, and gender violence. She has collected stories from survivors, worked on blog posts, assisted with the annual Zero Tolerance Benefit fundraising event, and marched in NYC Pride. "The energy at Pride was palpable and walking among huge, national corporations as a local non-profit was a great way to show support for the city and its survivors," said Simons.
Takeaways: "I am planning to write my senior thesis for American studies about the epidemic of violence against Indigenous women," Simons said. "Seeing the services offered by Sanctuary for Families first-hand will inform much of my thesis, as I combine my education in American studies and women, gender, and sexuality studies with real-world experience and issues I am passionate about." She added that working on grant proposals and reports showed her the direct impact her work had on running shelters, providing legal counsel, and offering therapy services. "This work has absolutely informed my post-grad plans, pushing me to look for positions at non-profits or in development," Simons added.
For more information about how Trinity supports students with their internships, on-campus jobs, post-graduation employment, and graduate schools, visit the Career & Life Design Center.