Back to News
Trinity Faculty and Students Reflect on CT Forum's 'Climate Crisis' Talk and Campus Sustainability Efforts
Hartford
posted
by Emily Wickles '20
Trinity College students, staff, and faculty members recently attended a Connecticut Forum event called "Climate Crisis" to hear from environmental researchers and policy leaders. The talk was moderated by journalist and radio host John Dankosky at the Bushnell Center for the Performing Arts in downtown Hartford on November 22. Trinity is an education partner of the Connecticut Forum, which supports open dialogue, lifelong learning, and the free and active exchange of ideas.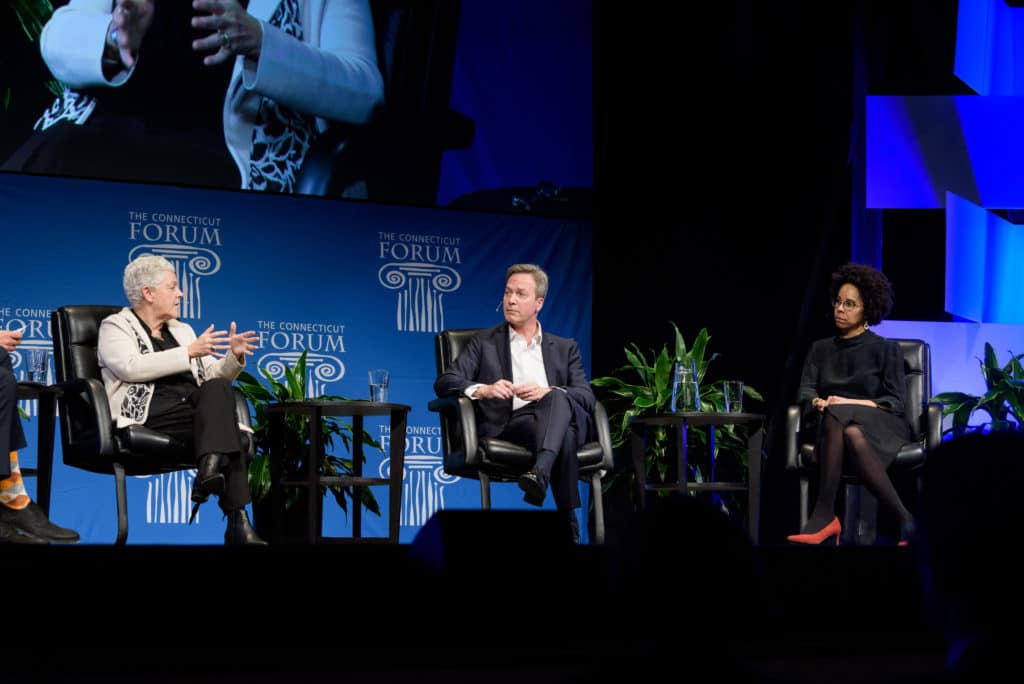 The conversation focused on the rhetoric surrounding climate change and the immediate impacts the environmental crisis has on society. The panel included: Ayana Elizabeth Johnson, a marine biologist and conservation strategist; Gina McCarthy, the former head of the Environmental Protection Agency; and Anthony Leiserowitz, a research scientist and director of the Yale Program on Climate Change Communication.
The panel began with a discussion of statistics related to climate change. Leiserowitz, who conducts research on the social and political consensus of America, said, "Climate change is more polarized than any other issue, including abortion." The interpretation of climate change as a current, emotionally-charged issue is essential to the implementation of solutions that will help the planet's future, he said.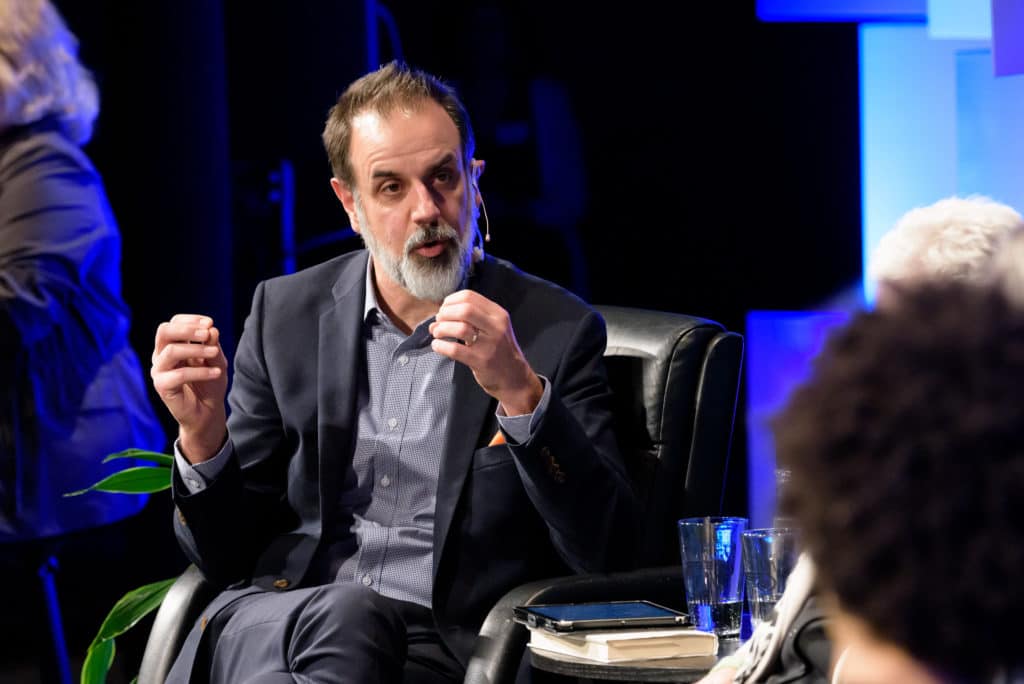 McCarthy added, "Today we have told a narrative of dystopia—fire, flood, disease, etc. What we haven't told is a clear counter story. We need to change the misconception that environmental agencies are only about the environment."
The reconstruction of climate change as a communal and scientific issue can reframe the conversation toward what Americans can do to take action, the panelists said. Johnson and McCarthy emphasized the importance of education on an individual and communal level. "Educating girls and empowering women is one of the top ten solutions to climate change," said Johnson, who added that realistic solutions cannot be found without the input of individuals from different backgrounds, communities, and perspectives.
Susan Masino, Vernon D. Roosa Professor of Applied Science at Trinity, attended the event with some of her research fellows and students. Masino is one of many people on campus interested in global climate change and in what Trinity is doing to address it. In reflecting on Trinity's environmental efforts, Masino said, "I think Trinity can do three things that will make it a leader and role model: 1. Sponsor events and invite our community, as well as communities in Hartford, to raise awareness on the issue; 2. Thoughtfully make our campus as green and sustainable as possible; and 3. Use our campus footprint as a piece of nature and connect to its landscape by planting native and edible plants and trees."
Within the past several years, Trinity has implemented a variety of programs and initiatives aimed at improving its environmental impact and decreasing its carbon footprint. The college recently hired Rosangelica Rodriguez '15 M'18 as its first sustainability coordinator and has introduced composting at its main student dining space, Mather Hall, and at the Crescent Street Townhouses housing community to decrease the amount of waste Trinity contributes to a landfill annually.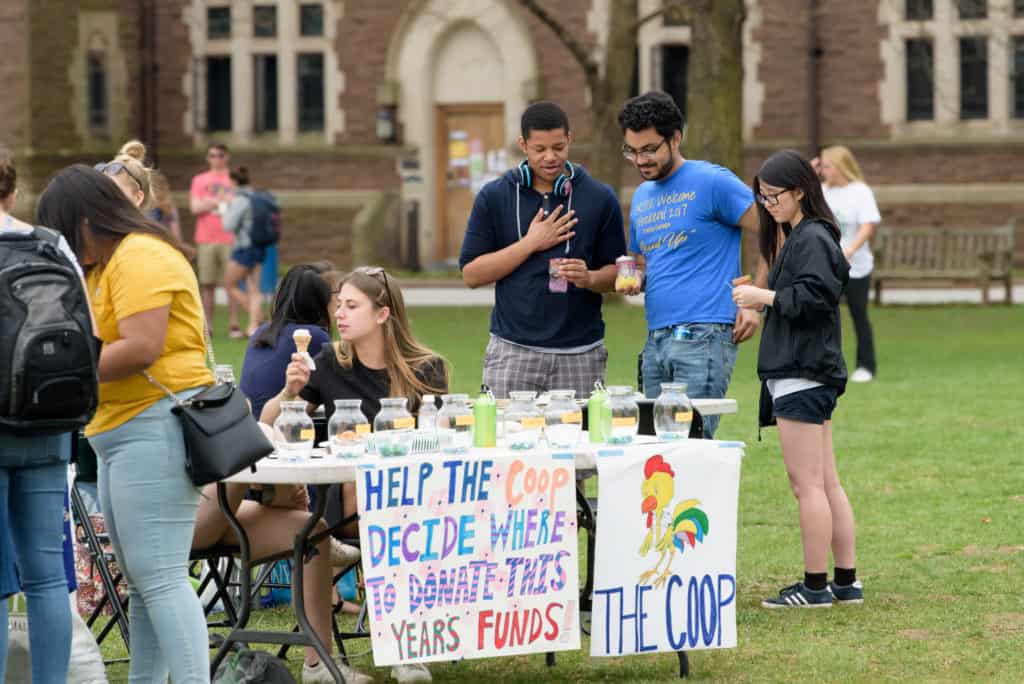 In addition, Trinity has installed several arrays of solar panels and a 1.4-megawatt fuel cell plant on campus to generate electricity and reduce carbon emissions. The fuel cells, located adjacent to the Ferris Athletic Center, have decreased Trinity's fuel consumption and now generate around 40 percent of the college's electricity and steam heat.
Trinity student groups, including the sustainability club Green Campus, are actively involved in raising awareness about sustainability and best practices. Green Campus Co-President Amelia Huba '22 said that students can get involved with climate initiatives in a number of different ways. "The main event for Green Campus is GreenFest in the spring semester. We collaborate with several other groups on campus to demonstrate the ways that sustainability can be incorporated across all aspects of life. There are food trucks, speakers, bands, and a really positive environment for the campus," she said. Other events include documentary film screenings and talks by Hartford area environmental leaders. "Trinity is definitely still a work in progress, but we are actively taking steps toward being a more sustainable campus," Huba said. "I am so proud to be a part of making Trinity a greener place!"
To learn more about sustainability at Trinity, click here.
Spring 2020 events in the Connecticut Forum season include "Debating Immigration" on March 19 and "Our Favorite Authors" on May 2.