Back to News
Students Promote Trinity's Sustainability Efforts at Second Annual GREENFest
Trinity Community
posted
by Katie Cort '19
Members of the Trinity community gathered recently to promote sustainability on campus and in Hartford during the second annual GREENFest, organized by the student group, Green Campus. The festival—which was held on Sunday, April 14, on the Main Quad—included live music, speakers, informational booths, food, giveaways, and activities, and encouraged students to remember to be more conscious of the environment.
In addition to organizing community events like this, Green Campus also encourages recycling and local food consumption, and educates students about sustainability and energy reduction. Nat Bush '19, president of Green Campus, explained that the festival allows for the topic of sustainability to become more accessible for the entire campus community. "The festival is a joint collaboration with other clubs. We want to make it not just about Green Campus, because obviously sustainability should be something everyone practices. Also, sustainability is a lot more than just recycling. We want to show that sustainability can be fun and show other simple ways that people can be 'green,'" Bush said, like participating in clothing swaps, using reusable bottles and mugs, and reducing excess use of water and electricity.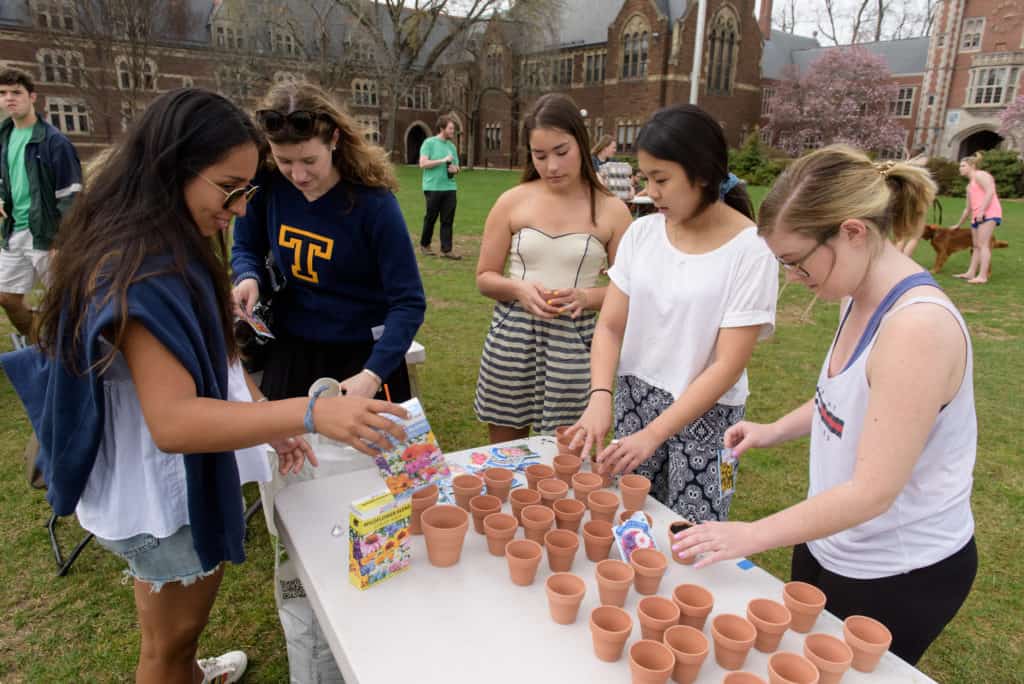 Myles Little '21 attended the event and is a member of both the Student Government Association's Sustainability Committee and Trinity's Summit Sustainability Committee, which is part of the college's strategic plan. He said GREENFest was successful in promoting sustainability because it was able to attract a larger audience by inviting many different groups to participate. "With having so many clubs represented on the quad, from Amnesty International to the Trinity Homelessness Project to the TREEhouse, there were activities that reached many different aspects of sustainability," he said.
GREENFest also welcomed members of the Hartford community, including local bands and representatives from Blue Earth Compost. "Although entities like Green Campus and the various campus committees are the foundation of sustainability at Trinity, it is important to realize that this goal cannot be achieved without the help of the entire Trinity community, as well as the greater Hartford community," Little said.
Another successful initiative launched by the Office of Sustainability and promoted by Green Campus this year was the implementation of composting at Trinity's main dining facility in Mather Hall. Bush said, "One of our biggest accomplishments and projects was to get composting in Mather. We also have been trying to push for composting in other places. We currently have back-of-the-house composting in all our dining facilities but only front-of-the-house composting in Mather. Front-of-the-house composting allows students to compost their food waste, while back-of-the-house composting is done in the food prep stations in the kitchens."
Rose Rodriguez, the sustainability coordinator at Trinity, oversees the composting efforts at Mather and is supported by students in Green Campus. "This is a very important project because it is an excellent way to divert waste from going to the city's incinerator. The incinerator is also known as a trash to energy plant," Rodriguez said. "We expanded our composting program, previously run by students, by hiring Blue Earth Compost. Our old programs required the help of student volunteers to drive buckets of food waste to KNOX Inc. Even though the program was successful, it limited what we could or could not compost and how much we could compost. By partnering with Blue Earth, we have significantly increased the amount of food waste composted and what can be composted. They are also responsible for hauling all of the food waste. Student volunteers are now only responsible for educating their peers on what is compostable."
All food waste is compostable, as are other specific materials, Rodriguez explained. "The most popular compostable materials are Mather smoothie cups and lids, uncoated paper plates and bowls, wood stirrers, and chop sticks," she said. "With constant education we hope to reduce contamination rates. The most common items thrown in compost bins that are not compostable are straws, take-out containers, and coffee cups."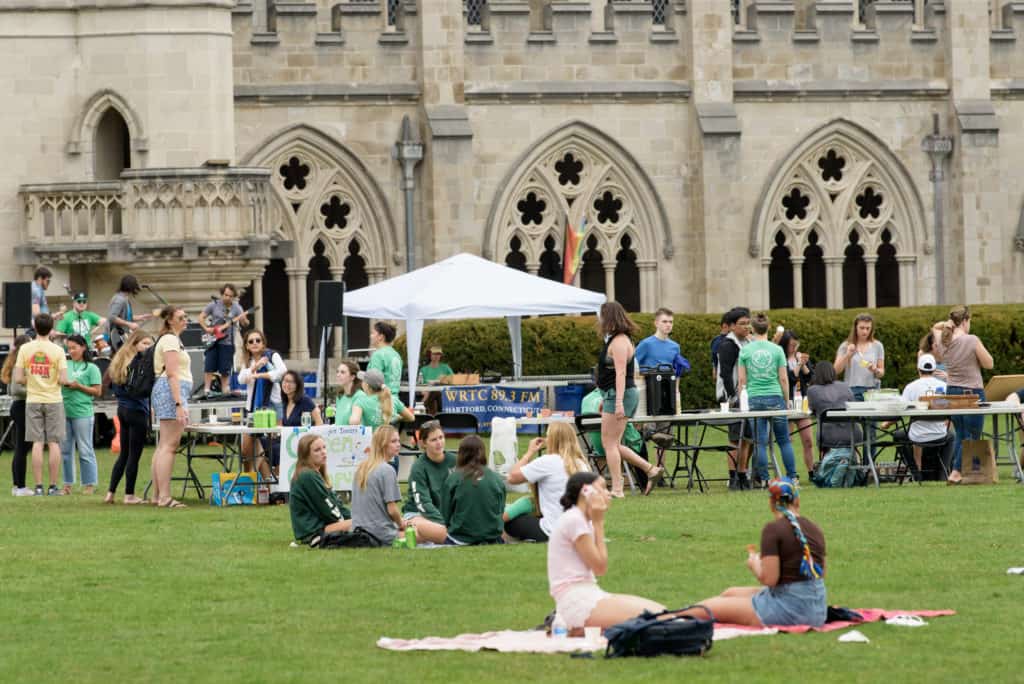 Bush mentioned that Green Campus encourages student volunteers in Mather, so that people know where to put their trash. "We've been really pushing for students to volunteer and stand by the compost bins to tell other students what they can and cannot compost. It's a big transition for a lot of people, and things like composting meat and smoothie cups are not immediately obvious to people," they said.
The results from the composting effort have been positive, Rodriguez added. In March alone, 11,000 pounds of food were composted; since the introduction of composting this semester, 45,000 pounds of food have been composted, Rodriguez said.
Rodriguez also discussed future plans for sustainability on campus. She wants students, faculty, and staff to think about different aspects of sustainability in everything they do. As an example, Rodriguez mentioned the integration of sustainability in academics. "There's a potential for research opportunities and the idea of treating our campus as a living lab," she said. "I envision experiential learning projects such as campus biodiversity studies, urban farming, cycling in Hartford, or 'green dining.' These would create partnerships between students, faculty, staff, and local community organizations, and would show all the different interdisciplinary aspects of sustainability."
The month of April is Earth Month, and there are a number of different campus events planned to promote environmental awareness. To learn more about these events and the sustainability initiatives on Trinity's campus, click here.
Explore the Gallery
GREENFest 2019
Explore the Gallery
GREENFest 2019