Back to News
Trinity College Welcomes Ten Tenure-Track Faculty Members
Announcement
posted
by Andrew J. Concatelli
Ten tenure-track faculty members will begin new appointments at Trinity College on July 1, 2021, bringing with them a wide range of research interests and expertise. According to Acting Dean of the Faculty and Vice President for Academic Affairs Sonia Cardenas, six of the new faculty members were hired through the college's Special Opportunity Hiring (SOH) initiative, which was launched during this academic year to help enhance faculty diversity.
The ten individuals are: Heather Bennett, Biology; Jordan Camp, American Studies; Elise Castillo, Educational Studies; Chandranil "Nil" Chakraborttii, Computer Science; Amanda Guzmán, Anthropology; Christina Heatherton, American Studies and Human Rights; Priscilla Meléndez, Language and Culture Studies; Kelly Patton, Physics; Sally Bernardina Seraphin, Neuroscience; and Leniqueca Welcome, International Studies and Urban Studies.
"This is an exceptional group of faculty members we're adding to our ranks," Cardenas said. "Trinity is committed to faculty diversity as a college, and the SOH initiative—alongside our ongoing practices and training around diversity, equity, and inclusion—has made a real difference. This progress reflects our commitment as a college to attracting and supporting faculty who represent a broad diversity of backgrounds, including multiple socio-economic and cultural backgrounds and life experiences. The research is clear: organizations that are more diverse and inclusive are also more innovative and open to new ideas. That's the kind of community we want to be."
Meet the 10 new tenure-track faculty members joining Trinity College in the 2021-22 academic year:
Heather Bennett – Biology
Heather Bennett is a neurobiologist completing her third year as an Assistant Professor of Biology at Bard College. Bennett earned a Ph.D. from Brown University's Molecular Biology, Cellular Biology, and Biochemistry Graduate Program and a B.S. in biology from Stockton University.
"My research aims to understand the neural and molecular mechanisms that allow organisms to adapt and survive oxygen deprivation," Bennett said. "My research draws upon a number of scientific disciplines including neurobiology, molecular biology, genetics, and developmental biology. This integrative approach allows me to view the science of my research from multiple angles and leverage the skills and techniques across multiple disciplines. This approach can be attractive to students interested in interdisciplinary strategies to address scientific questions. In addition, the use of C. elegans, a non-parasitic microscopic nematode, as a model organism in my studies allows for students in my lab to begin to address some of the fundamental questions regarding survival to oxygen deprivation and still feel like they are making contributions to conditions that impact human diseases."
After earning her bachelor's, Bennett completed a post-baccalaureate research program at the University of Pennsylvania. Her post-doctoral work was at the Children's Hospital of Philadelphia, and she was the recipient of an Institutional Research and Academic Career Development Award (IRACDA) post-doctoral fellowship from the National Institutes of Health.
"I am very excited to be joining the faculty at Trinity College," Bennett said. "I am most looking forward to engaging students in the classroom and in my research lab."
Jordan T. Camp – American Studies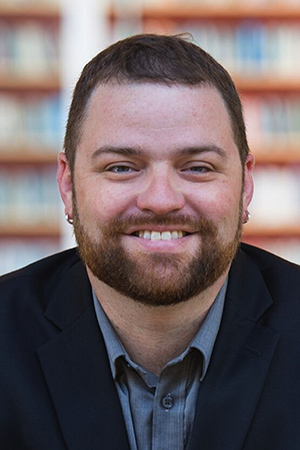 Jordan T. Camp, a sociologist by training, has a Ph.D. from the University of California, Santa Barbara, an M.A. from Humboldt State University, and a B.A. from the University of Mississippi. He has served as an assistant professor at the University of Massachusetts-Lowell and as a term assistant professor at Barnard College, and has held post-doctoral fellowships from Brown University, Princeton University, and the University of California, Los Angeles. He is currently a visiting scholar at Harvard's Charles Warren Center for Studies in American History, a lecturer in Public and International Affairs at Princeton, and co-director of the Racial Capitalism Working Group at the Center for the Study of Social Difference at Columbia University.
"I am extremely excited to join Trinity's American Studies program and to contribute to its public humanities mission," Camp said. His fall 2021 course, "The Prison & Public Humanities," will explore the structures and processes of the U.S. prison system through oral and public history, journalism, and social justice advocacy.
Along with Christina Heatherton, Camp will co-direct a new Social Justice Initiative, which will curate collaborative projects of urgent public interest. "I believe the public humanities can help students achieve theoretical clarity about pressing public issues of our time," Camp said. "I am interested in helping students become critical thinkers who can ask and answer questions about the world they live in. My approach to public humanities equips students with the analytical tools and critical theoretical frameworks necessary to research and write about issues such as systemic racism, mass incarceration, police violence, and now the COVID-19 pandemic. I look forward to developing this approach with Trinity students."
Elise Castillo – Educational Studies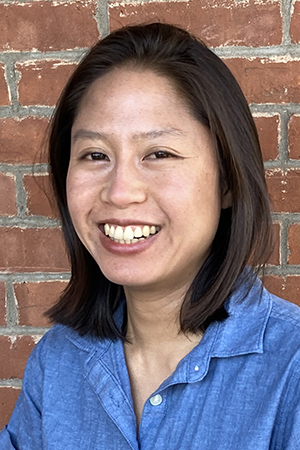 Elise Castillo was an Ann Plato Fellow in Educational Studies and Public Policy in 2019-20 and is currently a Visiting Assistant Professor in Educational Studies and Public Policy and Law at Trinity. She holds a Ph.D. and an M.A. in education policy from the University of California, Berkeley, an M.S. in teaching from Pace University, and a B.A. in English and creative writing from Barnard College.
After two years at Trinity, Castillo said she values the relationships among students and faculty that a small liberal arts college fosters. "I look forward to continuing to work closely with Trinity's amazing students and faculty in the coming years," she said. "In addition, I have learned so much from students' and colleagues' community-engaged work in partnership with various Hartford communities. I look forward to deepening my connections in Hartford in order to bring additional community learning experiences to my classes."
Along with colleagues from Yale University and City University of New York, Castillo received a grant from the Spencer Foundation to examine the pandemic's impact on activism around school integration in New York City. "My research focuses on how education policies can advance racially integrated, equitable, and democratic public education—issues that are particularly pressing today, as the COVID-19 pandemic magnifies longstanding inequities in our education system, at all levels," Castillo said. "In addition, as an interdisciplinary education policy scholar, I hope that I can model for my students how combining disciplinary and theoretical perspectives can enrich studies of education and other social policies."
Chandranil "Nil" Chakraborttii – Computer Science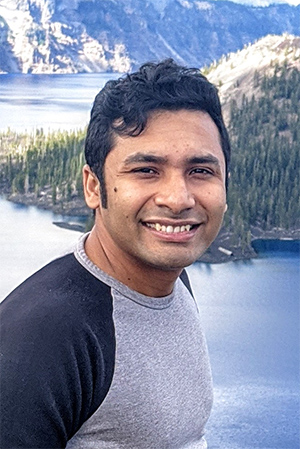 Chandranil "Nil" Chakraborttii earned his Ph.D. and master's degree in computer science from the University of California Santa Cruz and a bachelor's degree in information technology from West Bengal State University. Before starting his Ph.D. program, Chakraborttii spent three years as a software engineer in the IT industry. During graduate school, he taught at the Stanford Pre-Collegiate Summer Institutes for four years, where he discovered his passion for teaching. He has collaborated with industry partners Samsung and Intel on research projects related to cloud storage systems, and has jointly authored patents and publications.
His research interests lie at the intersection of artificial intelligence and storage systems. More specifically, Chakraborttii is interested in the performance optimization of flash-based solid-state drives for cloud systems using machine learning techniques. Research in this field inspires him: "Solid-state drives are being used everywhere in today's world—mobile phones, laptops, data centers—and improving their performance impacts millions of end-users," he said.
At Trinity, Chakraborttii is looking forward to starting his research group focusing on improving cloud storage systems. His fall course, "Data Structures and Algorithms," will introduce fundamental abstract data representations and algorithms used in computer science, and the students will be introduced to problem-solving by programming. "I am excited to join Trinity because of its reputation, rich heritage, and opportunity to work in a tight-knit community of faculty and students in a diverse liberal arts environment," he said.
Amanda Guzmán – Anthropology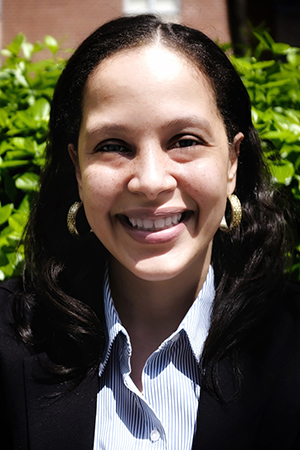 Currently an Ann Plato Fellow in Anthropology and American Studies at Trinity, Amanda Guzmán will begin an appointment as an assistant professor in Anthropology with a courtesy appointment in American Studies. Guzmán earned a Ph.D. and M.A. from the University of California, Berkeley, and a B.A. from Harvard University, all in anthropology.
As an anthropological archaeologist, Guzmán researches museum anthropology, cultural representation, and the material culture of Puerto Rico, among other areas. Bridging the social sciences, humanities, and the arts, Guzmán has already been engaged in the Trinity community. "I look forward to continuing to build and expand my collaborations in the development of new anthropological course areas and in the establishment of a material culture lab space," Guzmán said. "I'm also excited to directly connect with the Puerto Rican diaspora in Hartford and consider ways to both bring both community members and community knowledge into the Trinity classroom, as well as to bring Trinity students and college resources out into the community in sustainable partnerships."
Guzmán is passionate about having thoughtful and timely discussions with students and other members of the community. "One of my areas of specializations is the anthropology of museums," she said. "The contemporary dialogue around the difficult histories and debated futures of these traditional public sites of representation recalls unfolding national and global conversations about how we can more equitably remember and narrate the human experience in all its complexity and diversity."
Christina Heatherton – American Studies and Human Rights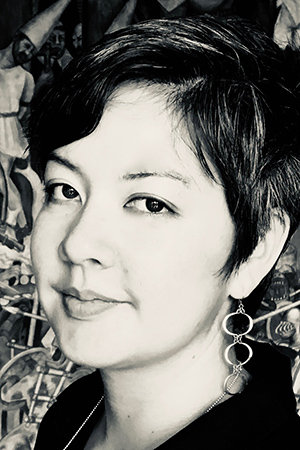 Christina Heatherton is currently Assistant Professor of American Studies at Barnard College and was previously an Assistant Professor of American Studies at Trinity from 2014 to 2017. "I could not be more excited to return to American Studies at Trinity College," Heatherton said. "I am also honored to be joining the Human Rights Program, where I will be jointly appointed. There have been big changes underway since I left in 2017. Students have been leading the charge for a more vibrant, equitable, and responsive campus. History teaches us that the process of transformation is long, hard, and collective work. I am eager to join old friends and make new ones across campus as we engage with students in this necessary work."
Heatherton earned a Ph.D. and M.A. in American Studies and Ethnicity from the University of Southern California and a B.A. from the University of California, Berkeley. Among other initiatives, she co-directs the New Directions in American Studies Initiative and the Oral History and Activism Project at Barnard College. Along with Jordan T. Camp, Heatherton will co-direct Trinity's Social Justice Initiative.
"My research and teaching concerns the histories of social movements. In past years, my students at Trinity have taught me about these histories on campus, in Hartford, and in the broader region. Students have done incredible projects about abolitionist rebellions in Connecticut, labor struggles in Hartford, and histories of student organizing on campus," Heatherton said. "Students are always excited to be grounded in the deep histories of struggle against racism, state violence, militarism, and gender oppression. I am always excited to learn with them!"
Priscilla Meléndez – Language and Culture Studies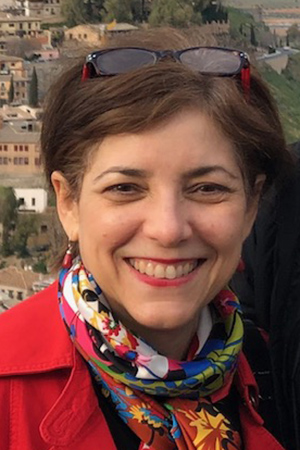 Priscilla Meléndez, currently Professor of the Practice in Language and Culture Studies at Trinity, has been at Trinity for more than eight years and has served as co-director of Trinity's Center for Caribbean Studies. She earned her Ph.D. in Romance Studies, Hispanic Literature from Cornell University and a B.A. from the University of Puerto Rico, Río Piedras. Specializing in Spanish American theater, Meléndez was previously a tenured faculty member at Michigan State University and Pennsylvania State University.
"Exploring the literature and culture of the Spanish-speaking world and acknowledging that the presence of the Latinx community continues to grow in Hartford and in the rest of the country gives me, as a Puerto Rican tenured faculty member, a forward-looking opportunity to contribute to the linguistic and cultural understanding and interaction of these diverse communities," Meléndez said. "As I also guide my students to navigate the rich cultural productions of Spain and Latin America throughout these regions' histories, I hope this may allow them to establish a dialogue between their own history and that of others. As someone who has taught at the university level for more than three decades, I also hope to continue my role as mentor of young scholars, and in the process learn from them."
Meléndez added, "My students and I have actively explored through theater, narrative, and film complex historical episodes mostly of the second half of the 20th century and of the new millennium. Although these are not easy topics to deal with, this gives students the opportunity to understand in artistic terms the challenges that surround us all, and how throughout history, human beings have esthetically expressed their deep concerns, fears and hopes."
Kelly Patton – Physics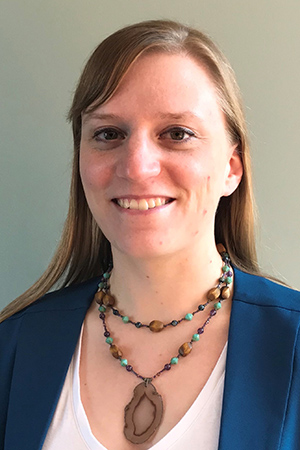 Kelly Patton, currently a Faculty Fellow in Physics and Astronomy at Colby College, said that she is looking forward to working with a motivated and talented group of students at Trinity, both in research and in classes. "I had the chance to speak with a small group of students during my interview and I was really impressed by not only their great physics questions, but also in how they seemed to form a really cohesive group," she said.
Patton holds a Ph.D. in physics from North Carolina State University and a B.A. in physics from the College of Wooster. She specializes in nuclear physics and astrophysics, especially in pre-supernova neutrinos. She previously held a research appointment at the University of Washington's Institute for Nuclear Physics and a two-year post-doctoral fellowship at Arizona State University. At Colby, she has been recognized for her excellence in teaching courses in classical and quantum mechanics.
"My research sits at several types of intersections," Patton said. "I do theoretical/computational research, but many of my calculations look at what experiments could measure. I focus on neutrinos and nuclear physics, but the problems I'm interested in are set in the context of astrophysical systems. Because of these intersections, my work gives students exposure to several specialties and types of research all at once. In a field like physics that has seemingly endless specialties, the chance to learn about several at once can open a student's eyes to research and career paths they might not have considered before."
Sally Bernardina Seraphin – Neuroscience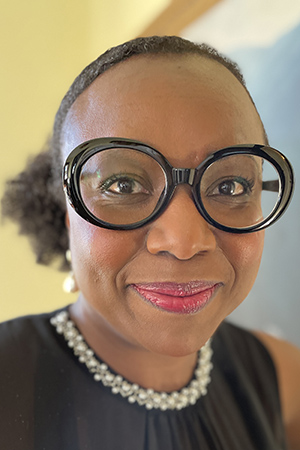 Sally Bernardina Seraphin is currently Visiting Assistant Professor of Neuroscience at Trinity. "Since my arrival, I've enjoyed engaging with Trinity's bright and diverse student body in the classroom, and through mentoring opportunities as a pre-health career advisor and the curator of a 'Minorities in STEM' website," Seraphin said. "I am most excited about embarking on integrative neuroscience research with students. As part of my Laboratory for Evolutionary Neuroscience, students will have the opportunity to comparatively examine the impact of early maltreatment using human neuroimaging, laboratory animals, and fieldwork."
Seraphin holds a Ph.D. in anthropology from Emory University, an M.Sc. in human biology from Oxford University, and a B.S. in psychology from the University of Massachusetts-Boston. She did post-doctoral training in the Department of Psychiatry at McLean Hospital and Harvard Medical School and was a National Institutes of Drug Abuse grant recipient. In addition to prior teaching at the University of Massachusetts-Boston, Pine Manor College, Harvard University, the University of Tennessee, and Centre College, Seraphin has been affiliated with the National Institute for Mathematical and Biological Synthesis and the Budongo Forest Research Project in Uganda's Budongo Nature Reserve, where she set up the project's first field endocrinology lab.
With a strong interest in innovative and inclusive pedagogy, Seraphin plans to continue showing students how science can be put to good use. "My sense is that millennials are not satisfied being passive receptacles of information," she said. "My work in neurolaw, the neuroethology of mental illness, and the evolutionary developmental neurobiology of stress invites students to translate neuroscience fundamentals for the betterment of society."
Leniqueca Welcome – International Studies and Urban Studies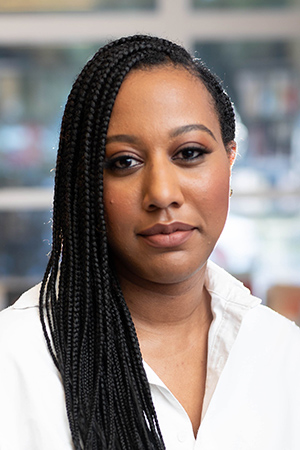 Leniqueca Welcome is a Ph.D. candidate in anthropology at the University of Pennsylvania, where she is also pursuing a graduate certificate in urban studies. Welcome joins Trinity at a moment when her scholarly work could not be timelier. "As an anthropologist whose research centers around criminalization, policing, race relations, and urban studies, I think my area of scholarship really engages with topics that are the center of college students' experiences and discussions at the moment," she said. "My classes will help students to better understand historically, politically, theoretically, and relationally some of the events they see in Minneapolis, Chicago, Hartford, other U.S. cities, and cities around the globe."
Prior to UPenn, Welcome was trained as an architect at the Fay Jones School of Architecture of the University of Arkansas, and she practiced architecture in Trinidad and Tobago, which is also the site of her urban fieldwork. She also received an International Research Dissertation Fellowship from the Social Science Research Council.
"I am drawn to the liberal arts higher education model because it allows professors to work closely with undergraduates and support them as they develop and hone critical thinking and problem-solving skills for the known and the unknown," Welcome added. "I enjoy and encourage working with other forms of media beyond text, such as photography, sound, performance, etc. I hope my classes will be a space for students to develop their writing skills, but also to express their ideas in other formats they desire."