Back to News
Trinity Alumni Help Seniors Plan for Post-Graduation Success in '2021 Connect' Career Mentoring Program
Alumni
posted
by Andrew J. Concatelli
"For students graduating from college, it's crucial that they have access to people who are working in the industries they want to be in and can tell them how it really is, what skills to focus on, where to look, and general advice that cannot be taught in a classroom," said Allyn Magrino '89, president and chief revenue officer of MAGRINO, a New York public relations firm. "I know the students are really hungry for this information and it's great that Trinity has set up the Connect program."

Magrino is one of the more than 350 Trinity alumni who volunteered this spring to be matched with a graduating senior through 2021 Connect, a four-week industry-based mentorship program offered by Trinity's Center for Student Success and Career Development. Students are paired with alumni based on their career goals, professional interests and skills, and desired location. All meetings have been held online or by phone during the COVID-19 pandemic. The program debuted last summer as 2020 Connect and has now linked hundreds of seniors with the individualized support and knowledge needed to successfully launch their careers.
Programs like this help Trinity students succeed after graduation. A recent survey shows a 93.3% positive career outcomes rate for the Class of 2020, based on information from 87% of 2020 graduates. This includes 70.9% of graduates who are employed full time; 15.7% are continuing their education; and 3.6% are employed part-time or engaged in volunteer or military service.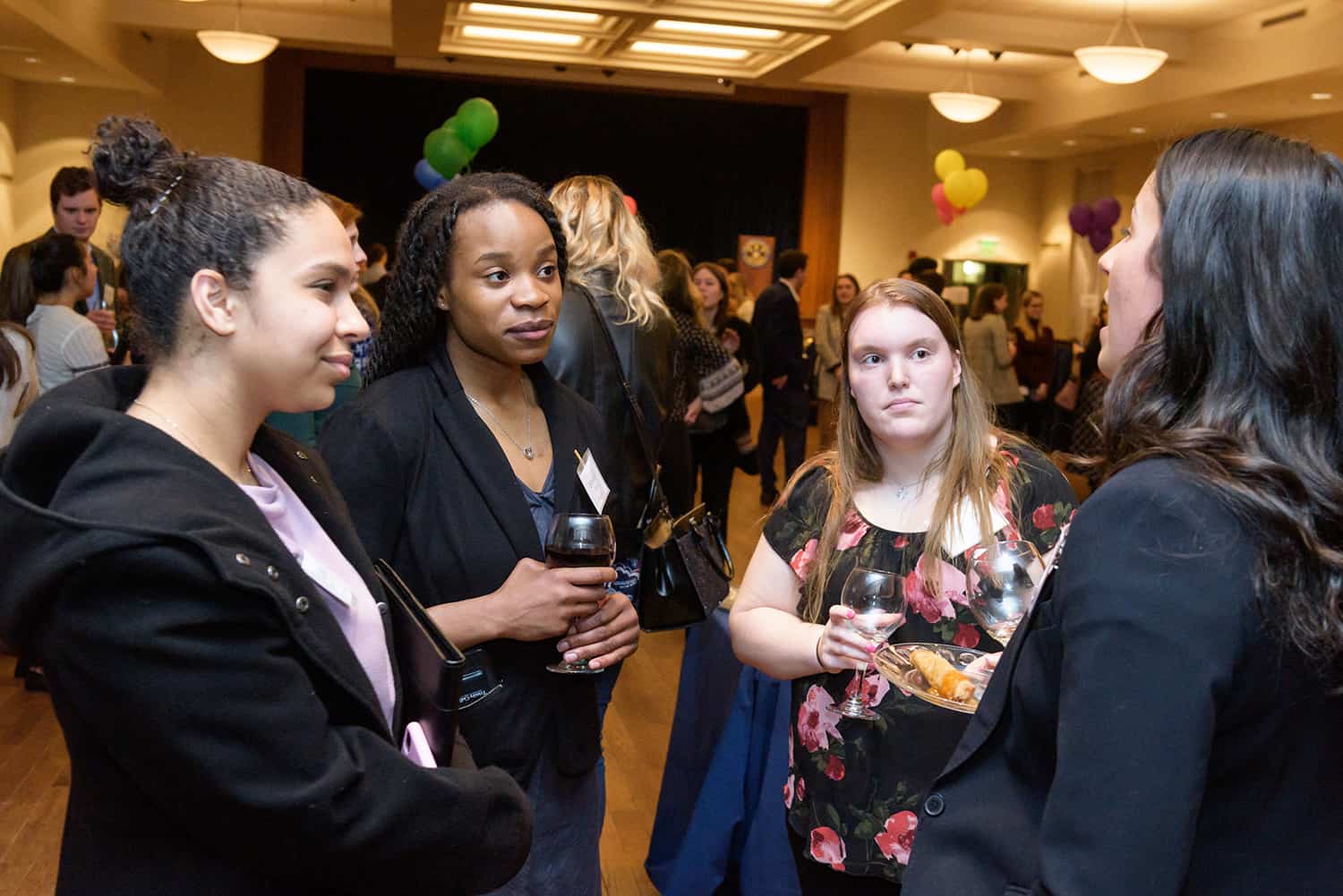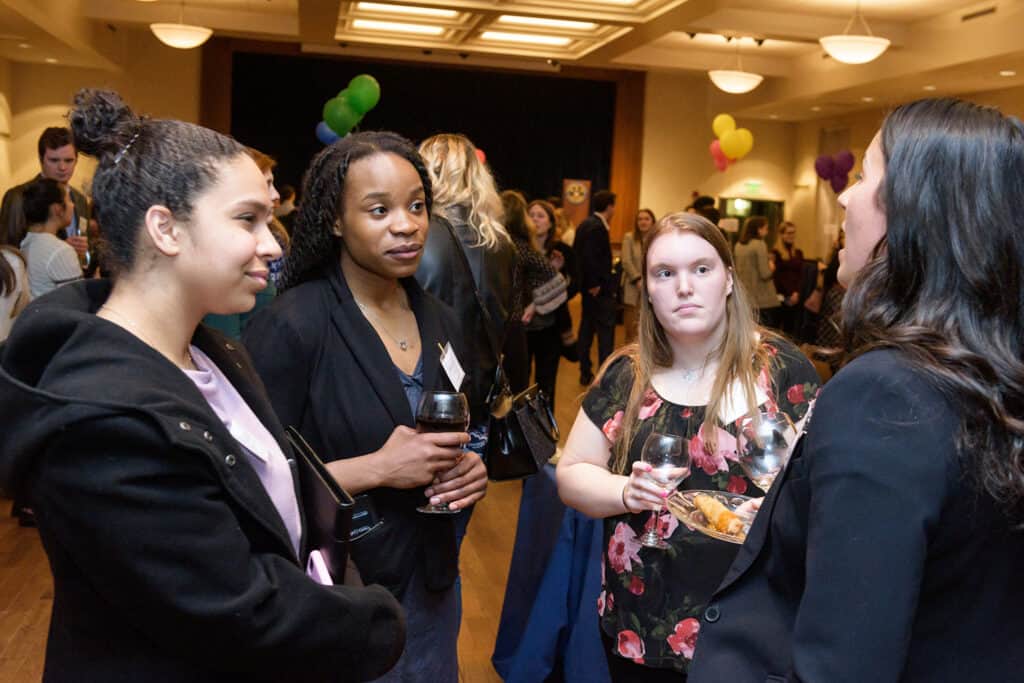 According to Emily Merritt, senior assistant director of career and personal preparation, the Connect program is unique in that it is short-term and industry-based, in order to keep all parties engaged. "The program benefits seniors by providing them tailored advice about the current job market and specific strategies that will be most useful for their desired career goals," Merritt said. "We developed tailored action items and goals to encourage pairs to discuss career materials, interviewing, and search strategy, while offering the flexibility to adapt to the student's individual needs and goals."
The program provides alumni with the opportunity for meaningful engagement with graduating Bantams by sharing their industry knowledge. Severn Sandt, assistant director of strategic partnerships and outreach, said, "2021 Connect is a way for even young alumni, who may not be in a position yet to contribute financially to the college, to give a gift that is just as—or more—important: credible guidance."
Madeline Melly '16, chief of staff to the vice president of U.S. merchant marketing at American Express, said, "One of the biggest challenges of navigating your career at first is knowing what type of jobs are out there. Networking is definitely the right place to start. This program provides a unique level of structure to networking, which creates meaningful, long-term relationships among Trinity students and alumni. It's all about paying it forward and passing along insight."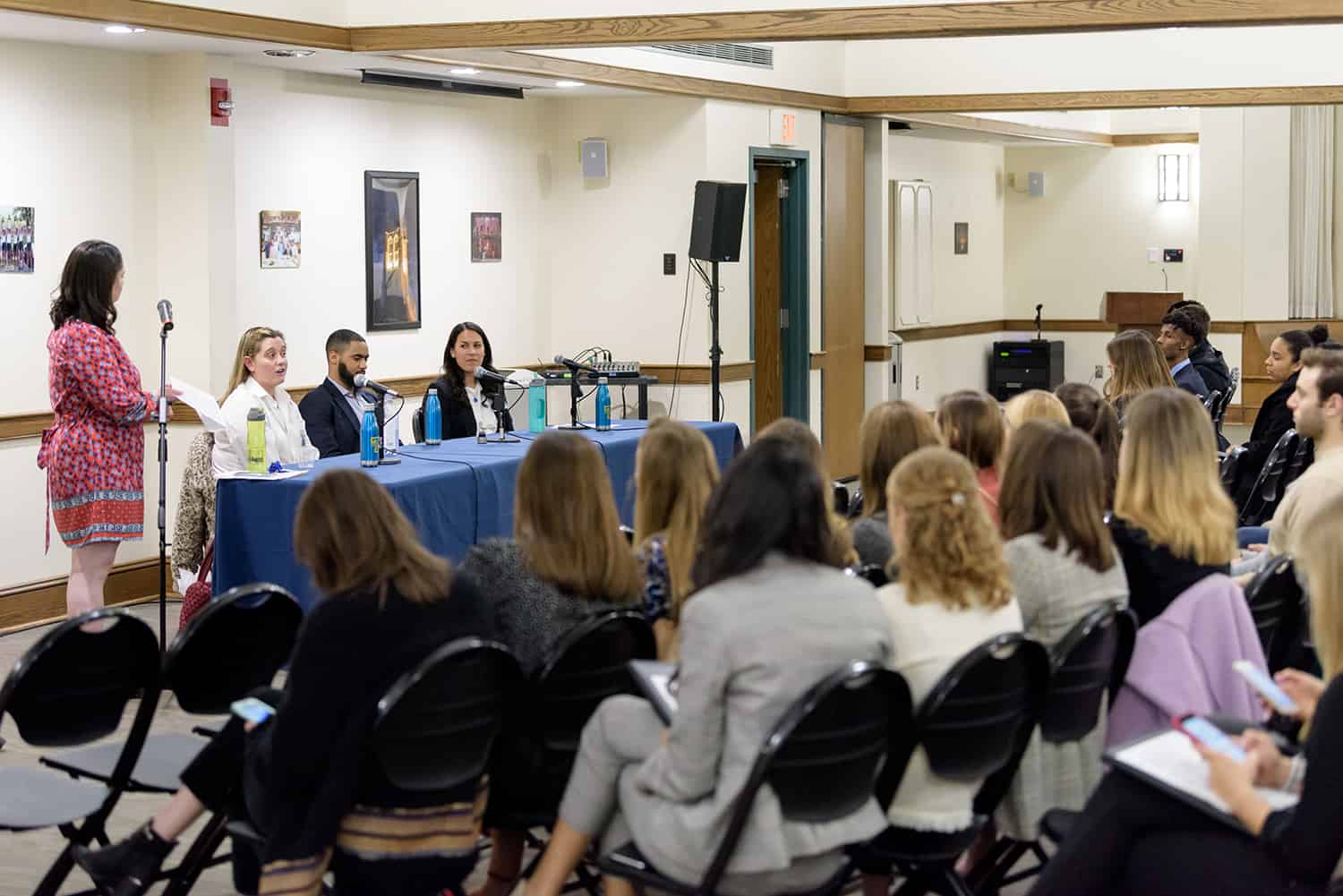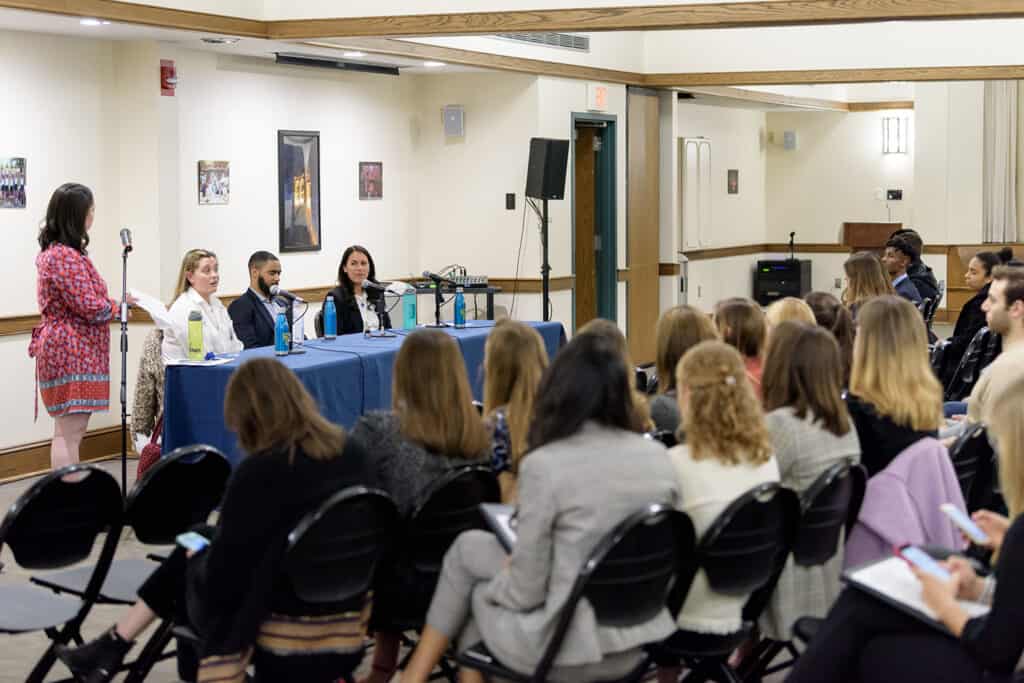 Jon Trevisan '93, senior vice president and national employee benefits practice leader at McGriff, added, "This program provides an opportunity for students to make a 'warm' connection with alumni who are very familiar with or even experts in an industry. Accessing the advice and input from those who know an industry—and who in many cases have made the transition from Trinity to that industry—can provide valuable perspective as students determine their next step after graduation."
Sandt said that alumni are encouraged to activate or update their Bantam Career Network profiles and notification preferences to ensure they receive invitations to be a part of this program in the future. "Members of the BCN get the first call to be mentors," Sandt said. Additionally, an updated BCN profile helps all students be more likely to find and reach out to alumni for informal networking.
The Center for Student Success and Career Development engages students throughout their time at Trinity. The programming includes: a drop-in Career Studio for peer-led assistance with resumés and cover letters; large networking events such as Career Connections during Homecoming weekend; the Career Communities model, which offers treks, alumni panels, and industry resources; and 1-on-1 career coaching.
Class of 2021 seniors can still join 2021 Connect on a rolling basis throughout the spring. The first iteration of 2022 Connect for Class of 2022 seniors will begin with a fall cohort at the start of the next academic year.
To learn more about the Bantam Career Network and the 2021 Connect program, click here.
Below, read more about the experiences of three alumni-student pairs in the 2021 Connect program.
Sunil Chhaya '12 and Preet Patel '21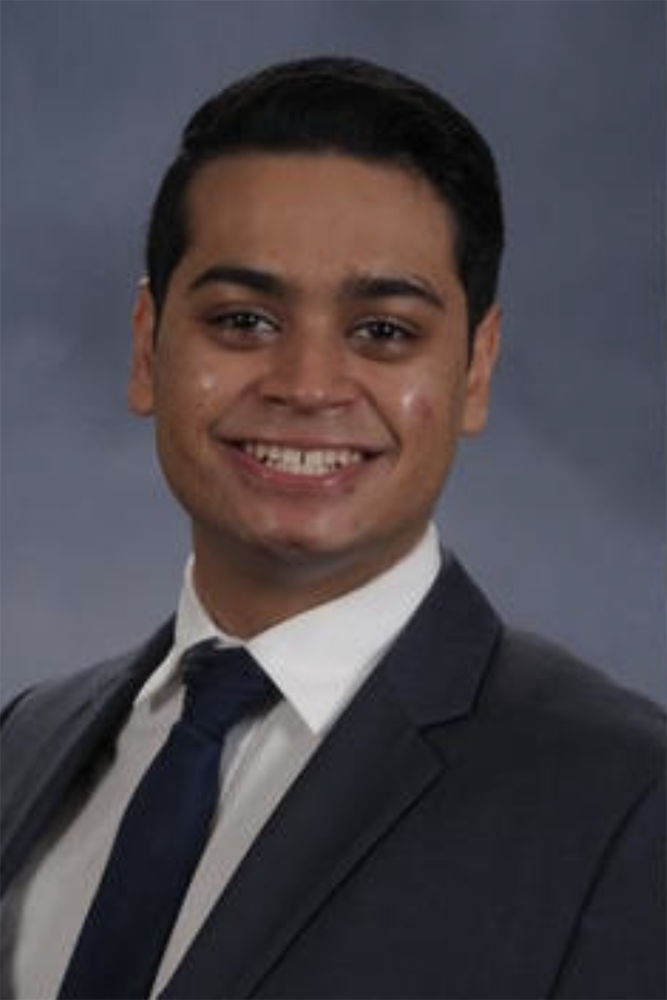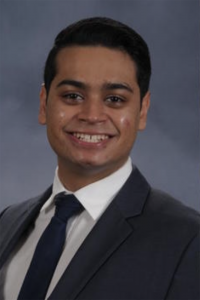 Sunil Chhaya '12, principal at Menlo Ventures in California, mentored economics major Preet Patel '21 in the spring 2021 Connect program. Chhaya offered important advice and helped Patel make connections that proved useful in pursuing a career as an investment banking analyst.  
Sunil Chhaya '12: Trinity's liberal arts education gives every student a fundamental base to thrive post-graduation. Being patient, working hard, and showing a high willingness to learn were the main takeaways I had for Preet. It is the small things that you do that people remember and recognize, and Preet scored highly in building trust. This made it really easy for me to start introducing him to my personal network and it only took him a matter of weeks to start receiving offers.
Preet Patel '21: The COVID-19 pandemic has unequivocally altered the job market landscape—consequently, Sunil taught me the importance of being tenacious, determined, and resilient during these unprecedented times. As Bantams, we are genuinely lucky to have a robust liberal arts education, access to a plethora of alumni, and the intrinsic passion to make a difference in the world.
Sunil Chhaya '12: Most students do not have strong mentorship when they are in college and the process of thinking through life post-graduation can be quite intimidating. The Connect program not only gives many students access to their first mentor, but also helps them widen their scope of opportunities, which they otherwise wouldn't have thought of. Students clearly look up to our alumni community; I certainly did and still do! I wouldn't be where I am today if the dozens of alumni weren't willing to take 30 minutes to chat with me and provide some advice. This program allowed me to give that same support mechanism that I once got when I was a student.
Preet Patel '21: This experience has taught me the importance of having a mentor in pursuing a career. Sunil has aided me through every single step in the process, whether it was interview preparation, networking, or jumping on a call late at night. I have genuinely made a friend for a lifetime!
Brian Howard '03 and Jeffrey Sagun '21: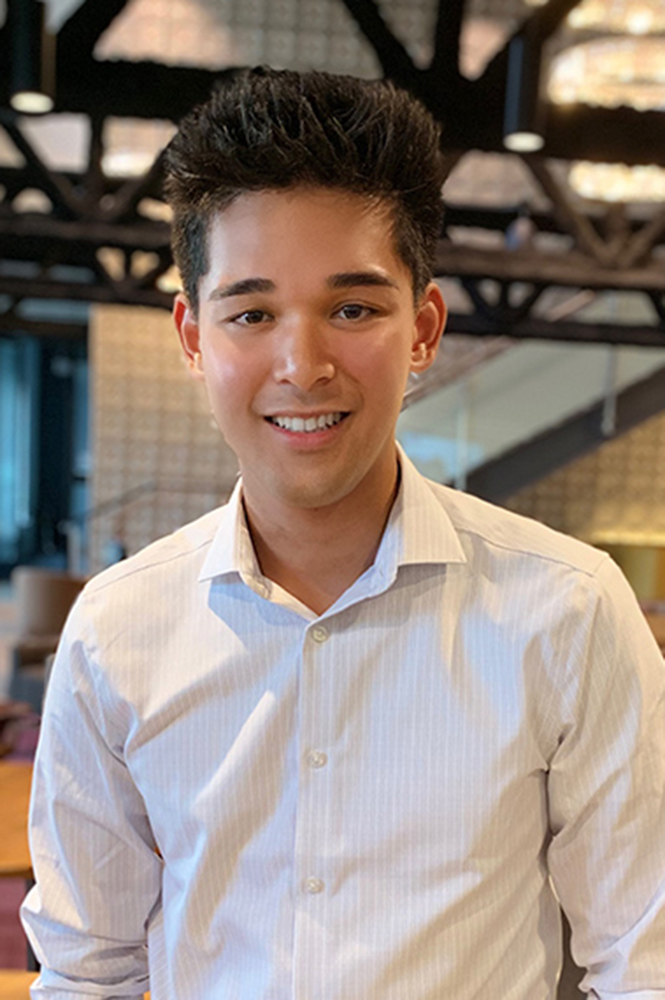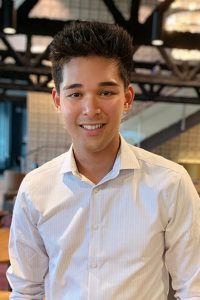 Neurosurgeon Brian Howard '03, M.D., assistant professor of neurosurgery at Emory University School of Medicine in Atlanta, mentored Posse Foundation Scholar Jeffrey Sagun '21, a neuroscience major, in the spring 2021 Connect program. Howard was able to connect Sagun with colleagues at the National Institutes of Health in Sagun's areas of interest and in the research program to which he is applying.
Brian Howard '03: I wanted to convey to Jeff that hard work is a given for those who want to pursue medicine, but the lessons and experiences that one accumulates along the way will make a better applicant for medical school, and more importantly, a more empathic physician. I think, too often, the stress of trying to "make it to the next step" can be overwhelming, but Jeff exhibits genuine excitement talking about his goals and aspirations.
Jeffrey Sagun '21: I learned that the path to medical school is not always a straight line. My original plan was to go straight through into medical school, but life doesn't always go according to plan. Brian's path to medical school wasn't linear either. He told me stories of conducting scientific research during his gap years, and emphasized how that allowed him to grow and made him a more competitive applicant. After that, I now see gap years as an opportunity for growth and maturity.
Brian Howard '03: As a world-class college, Trinity has a track record of educating future leaders across fields. I think the Connect program adds value in that graduating students benefit from the experience and perspective of an alumnus or alumna who has reaped the rewards of a Trinity education, and has lived the daily travails of getting from Trinity to his or her ultimate career goal. The program holds the potential to expand the graduating student's career network, and no one walks the long road to success alone. Alumni have a responsibility to help Trinity students reach their maximal potential and a stake in who they become.
Jeffrey Sagun '21: My mentorship with Brian gave me perspective as to what "life beyond the Long Walk" would look like and how much value a Trinity degree holds. We spent the first part of the Connect program preparing my applications for research positions at the National Institutes of Health and doing mock interviews. My goal is to become a physician-scientist. I plan to take two years off to conduct cancer research prior to medical school. My goal is to bridge the gap between biomedical research and health disparities, to improve treatment access for underserved populations.
Lara Novak '11 and Kayla Milofsky '21: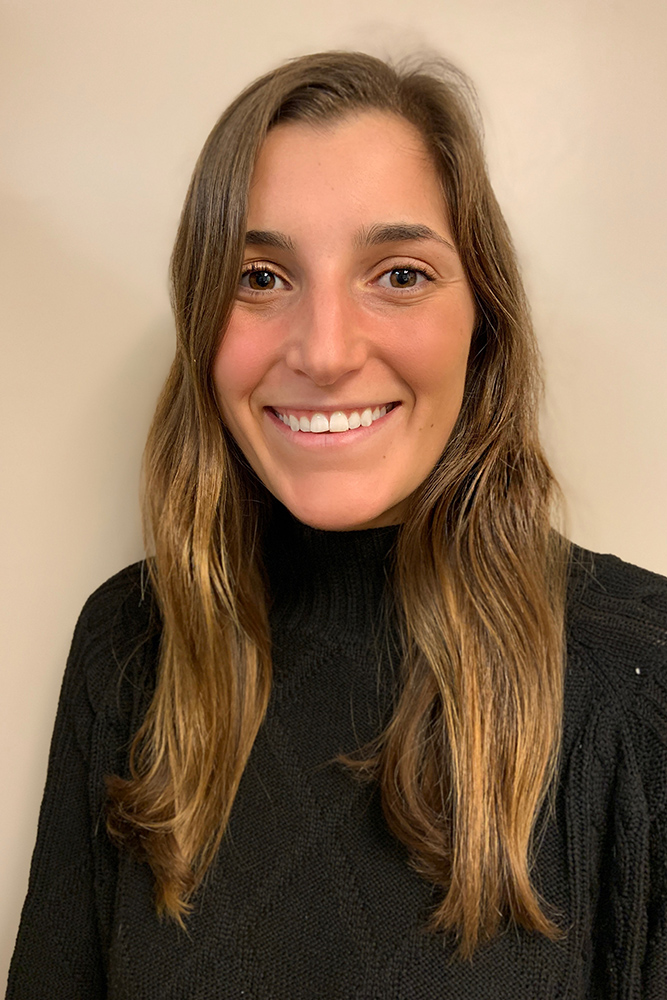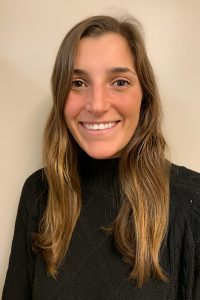 Lara Novak '11 mentored neuroscience major Kayla Milofsky '21 in the fall 2020 Connect program. Novak is a senior physician assistant at Brigham and Women's Hospital in Boston and Milofsky's goal is to become a physician assistant. With Novak's help, Milofsky was hired as a clinical assistant at the Dana Farber Cancer Institute Breast Oncology Unit. She was trained in January and will start the job after graduating from Trinity this spring. 
Lara Novak '11: In this experience, I wanted to convey that becoming a PA was a great career choice for me, as it allows me to practice medicine and develop meaningful relationships with my patients. I wanted to let Kayla know that this is feasible for her as well, since we were both neuroscience majors and she will have an excellent foundation to succeed. I was impressed with Kayla's knowledge of the PA profession and the requirements needed to apply to PA school. Kayla is extremely motivated and bright, so I was happy to help her gain patient care experience to help her achieve her goals. I was encouraged by her drive to succeed and know she will do great things in the future.
Kayla Milofsky '21: The most important thing that I have learned from my mentor is confidence. Lara assured me that I was qualified for the position I was applying for. Her support allowed me to succeed in my interviewing process and training period at Dana Farber Cancer Institute.
Lara Novak '11: I think the Connect program is a wonderful way to connect alumni with students who are looking for guidance on how to pursue their goals. I wish I had someone in the field to connect with as an undergrad to answer logistical questions and brainstorm feasible next steps. I think alumni giving back to the college and helping current students is instrumental in preparing the next generation for success. It is rewarding to be part of the process.
Kayla Milofsky '21: The Connect program gave me knowledge from an alumna who went through the same process that I am currently going through: completing the prerequisites for PA school, finding an opportunity that includes direct patient care experience, and completing the applications for PA school. My mentor has been an incredible outlet throughout this process. She helped me get my job as a clinical assistant at DFCI, where she also works. After Trinity, I will be working at DFCI in Boston as a clinical assistant in the Breast Oncology Unit. After I complete 1,500-2,000 hours of direct patient care experience, I will apply to graduate school to become a physician assistant.