Back to News
Class of 2020 Makes the Most of Virtual Tools for Career Success
Alumni
posted
by Tess Dudek-Rolon
Trinity College graduates often talk about the power of Trinity's alumni network. As the Class of 2020 joined the ranks of 28,000 other alumni in May, this network became even more critical to support these graduates in a difficult job market brought on by the COVID-19 pandemic. The Trinity College Center for Student Success and Career Development did not hesitate to leverage the power of the Trinity community through the Bantam Career Network and the new 2020 Connect program.
2020 Connect
"Given the pandemic, the Class of 2020 was obviously facing one of the most challenging job markets in modern history," said Joe Catrino, executive director of student success and career development.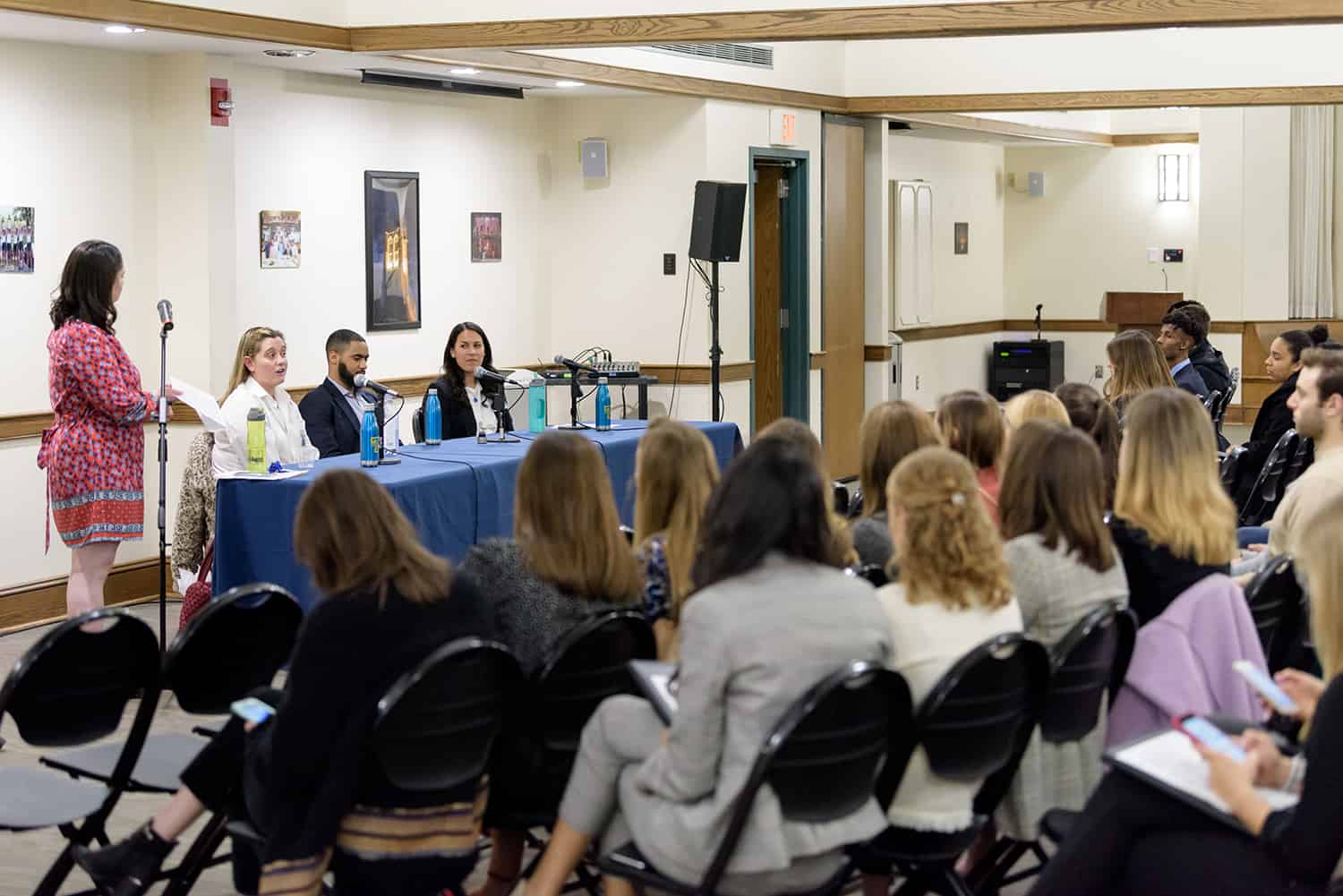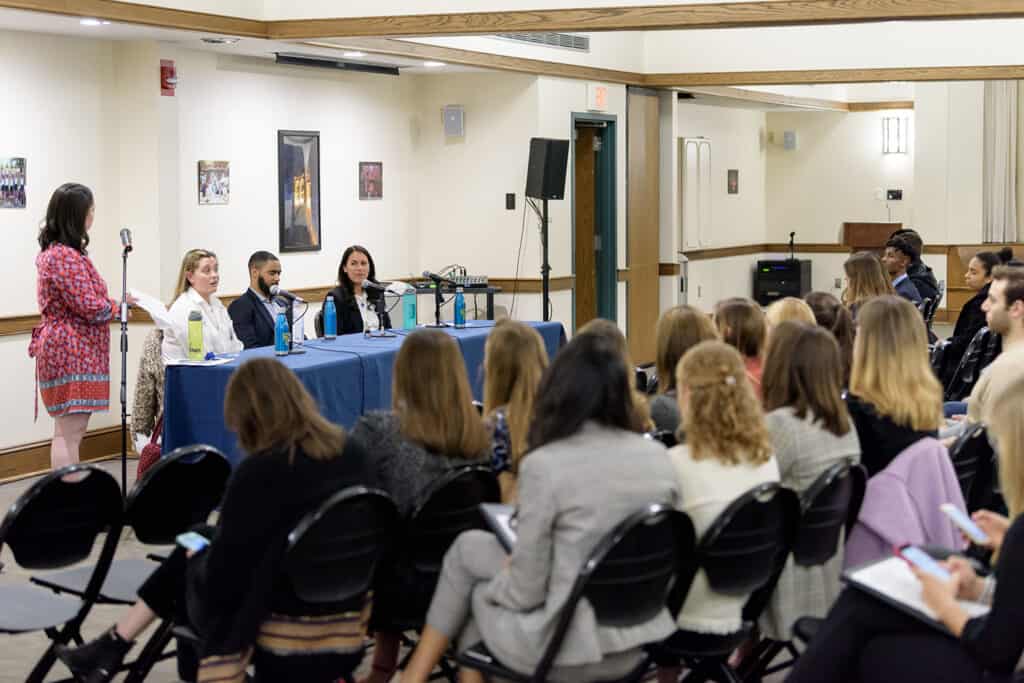 To bolster career resources for new graduates, staff members Severn Sandt, assistant director of strategic partnerships and outreach, and Emily Merritt, senior assistant director of career and personal reparation, worked with the alumni community to develop a tailored mentoring program. Students needed one-on-one connection, help developing strategies, and feedback and insights on potential employers. "As we moved toward the month of May, it was clear that an unprecedented number of students could use this kind of support and we knew it would be difficult for our small staff to manage it," Sandt said.
Sandt and Merritt took their ideas to the Trinity College Alumni Association (TCAA), led by TCAA President Eric Estes '91 and the Alumni Relations team. Estes penned a letter to the alumni community encouraging them to volunteer to be mentors. As a result, more than 240 alumni volunteered to participate in the 2020 Connect program. The new program, which leveraged the Bantam Career Network (BCN) online career networking tool, helped 118 members of the Class of 2020 connect with career mentors in their fields.
'Calling in the Cavalry'
Each student and their alumni mentor spoke one-on-one to discuss career opportunities, interview strategies, and more. The program was designed to be four weeks long, with one meeting per week. The pairs could follow a sample structure around goal-setting, industry guidance, document reviews and practice interviews, or focus on areas that worked best for them. The meetings were in a deliberately tight time frame, with structured goals to help meet the needs of students who were graduating and immediately trying to jump into a difficult job market. "Over my six years in career development at Trinity, I have turned to the alumni community over and over when I have been faced with a difficult task and they have never disappointed me. It's like calling in the cavalry—they gallop in and do what needs to be done," said Sandt.
Khaoula Ben Haj Frej '18 jumped at the chance to become a mentor and participate in the 2020 Connect initiative. She works in clinical research in Boston and saw this as an opportunity to give back to the college. "Trinity has done so much for me. I have such a strong alumni network and I wanted to give back," Ben Haj Frej said. The 2020 Connect program put her in touch with Anna Kate Luddy '20, who was interested in clinical research. Though Ben Haj Frej had only graduated two years before her mentee, she was able to offer her perspective on a peer-to-peer level and share some of the strategies she used: "I told her to go after things she didn't think she qualified for, because there's so much you can learn on the job. I also told her to do things like negotiate her salary." Ben Haj Frej said that after so many alumni had helped her to get a position where she wanted to be, she wanted to do the same. "I felt useful, like I could give back. I really love Trinity and I love that sense of, 'You went to Trinity and I am going to help you.' I like that sense of community."
Luddy said the 2020 Connect program was invaluable in helping her land a position. "It was extremely helpful. I had applied for a couple clinical research program positions before I started the mentor program and I hadn't heard anything back from anyone. My mentor told me exactly what I needed to do, and I started hearing back from places," Luddy said. "She really supported me and helped me plan what to write for follow-up emails. The job I ended up accepting was one where she pushed me to follow up."
Rand Pearsall '78 also volunteered as a mentor for the 2020 Connect program. From his perspective, Trinity graduates have what employers are looking for, even if they are facing headwinds in the job market right now. "I think Trinity grads are smart, hard-working, passionate, and well-skilled with communication talent. They have the building blocks to be successful at almost any company," Pearsall said. "When I've hired, I've always looked for top liberal arts graduates because I know they have a great educational foundation."
Through 2020 Connect, Pearsall was able to offer his perspective to one student in personal sessions, and continues to use the Bantam Career Network to connect with students and graduates looking to network. As far as a tough job market goes, Pearsall isn't worried about Bantams entering the workforce now. "Trinity grads are good at not being blocked by negative factors in the economy. You're smart enough to hurdle them, or to go around them, and alumni can help offer perspective and guidance," he said. "Use this opportunity now to expand your network as aggressively as possible, meet people, and follow up with everyone. If you do that, you'll be very successful."
The Bantam Career Network
One tool Trinity alumni use to keep a personal professional network growing, even beyond the 2020 Connect program, is the BCN. Pearsall, for example, believes volunteering as a career mentor is the most important thing alumni can do for fellow Bantams. "We benefited from someone who came before us, and now it's our responsibility and our joy to put a hand out and lift someone up to step onto a path we were able to take," he said. "The Bantam Career Network has become a tangible tool to let us do just that."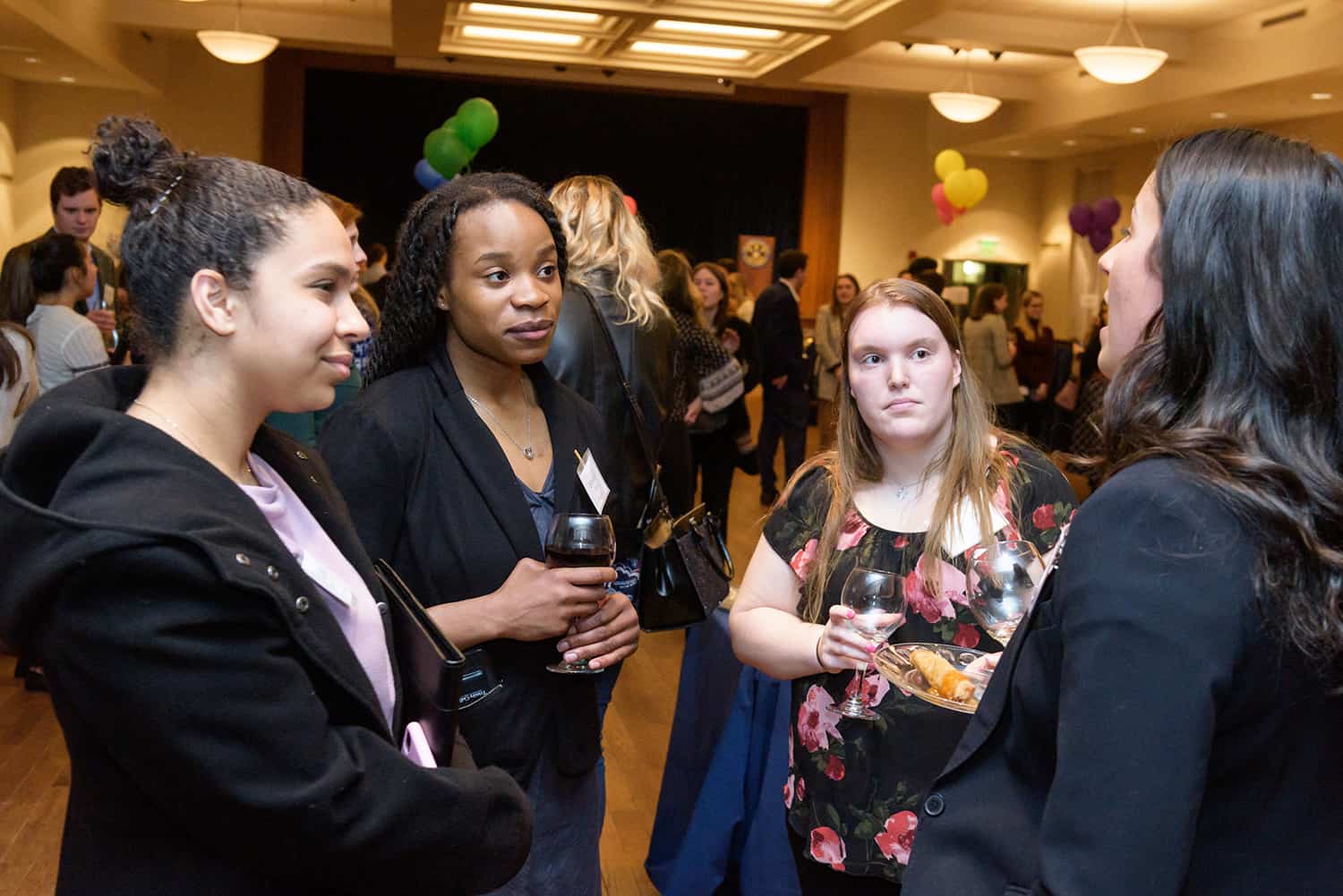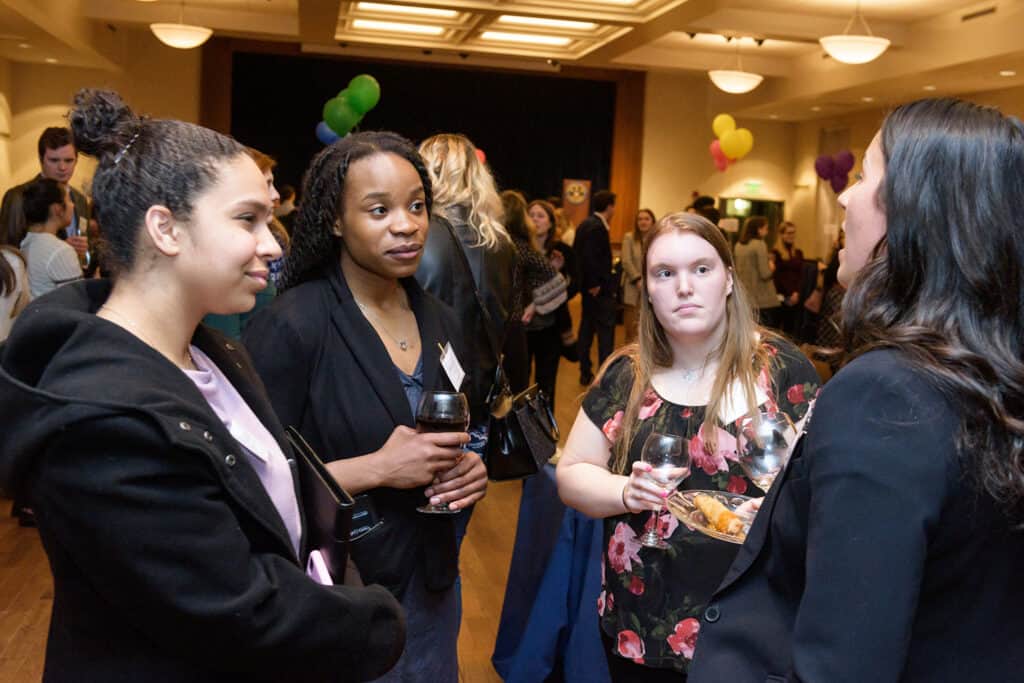 Through this online tool, students, alumni, and even parents can do what Bantams have done since the college's inception—make important connections to support ambitions. Emma Ghiglione '20 got in touch with Michelle Monti '89 to talk to her about her career in communications. "The BCN was a better resource than I had ever anticipated. I was stunned to see the willingness of alumni to help me find a job, even though they did not know me personally," Ghiglione said.
In fact, Ghiglione was able to use the input from alumni like Monti to edit her resume, develop ways to stand out in the applicant pool, and prepare for interviews. "Michelle became my mentor," Ghiglione said  "She was always extremely friendly, shared such valuable insight, and always motivated me when I was pessimistic and believed I would never get a job in such an economic climate."
Monti was happy to help when she heard from a Trinity senior interested in joining the communications field. "I gave her my best tip, which is to always end a networking call by asking for another contact," Monti said. "I suggested that Emma use the tip on me and joked that she shouldn't let me off the phone until I gave her the name of someone else who might be able to help her." Monti kept in touch with Ghiglione, and was pleased when she received an email that announced in all caps, "I GOT A JOB!" Thanks in part to the support from alumni on the BCN, Ghiglione is starting a new position as a marketing associate. Even though the two women graduated from Trinity decades apart, Monti said they had plenty in common: "We formed a quick connection; attending the same undergraduate school helps people find common ground rather easily."
Now that she's working, Ghiglione hopes she can one day return the favor. "I want to be able to help future and current Trinity students as much as I can, just like so many Trinity alumni did for me," she said.
To learn more about the Bantam Career Network and the 2020 Connect program, click here.