Back to News
Robotics Teams from around the Globe Compete at Trinity
Academics
posted
by Sophia Gourley '19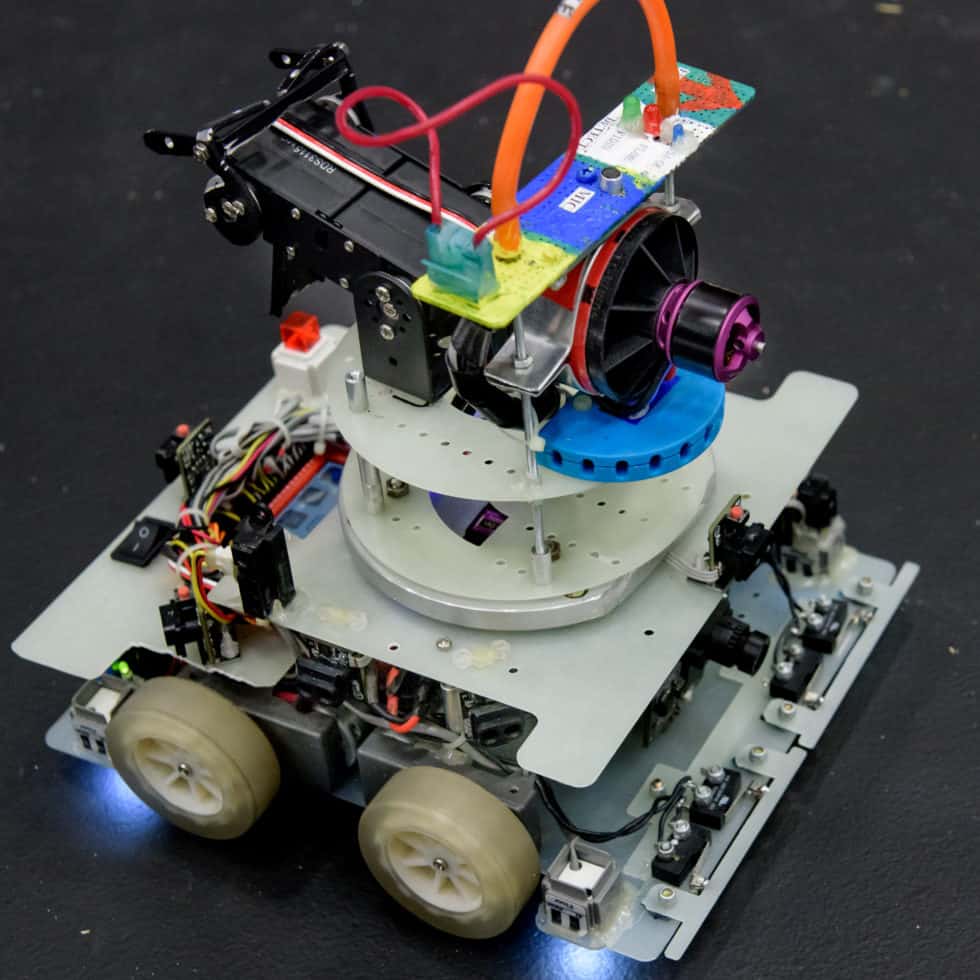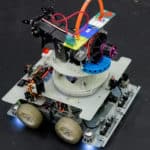 Hartford, Connecticut April 26, 2019 – A high school robotics team from Guangzhou, China, won the top prize at the 2019 Trinity College International Fire Fighting Home Robot Contest. With its colorful robot, "Cow_Beer," the team from Guangzhou Foreign Language School took home this year's Grand Performance Mastery Prize after competing against teams representing seven countries.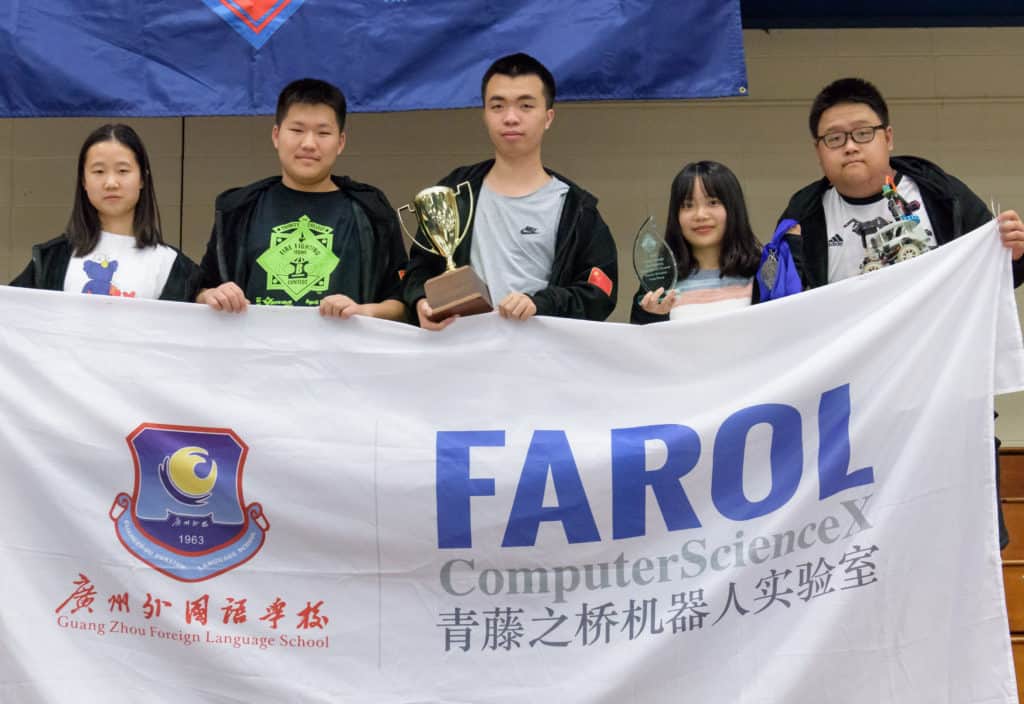 A total of 57 teams competed at this year's competition, which took place April 13 and 14 in Oosting Gymnasium at the Ferris Athletic Center. This was the 26th consecutive year of Trinity's contest, which advances robot technology and knowledge by using robotics as an educational tool. Engineers and robot enthusiasts of all ages came to Trinity from Brazil, Canada, China, Ethiopia, Indonesia, Israel, and around the United States for the competition
What makes Trinity's robotics competition different from others is that only autonomous robots are invited—intelligent robots programmed to operate independently and to respond in a particular way to outside stimuli; no remote controls are involved. First, second, and third place prizes are awarded to teams in different divisions whose robots successfully navigate a maze to extinguish a lit candle. Levels of complexity are added to this task, such as the "Search and Rescue" round, which entails the robots using a vision system to locate and rescue a baby doll before extinguishing the flame in the shortest amount of time.
Additionally, teams were given the opportunity to participate in the annual Versa Valve Challenge, which is supported by the event's sponsor, Versa Products Company of New Jersey. The company's CEO is Trinity alumna Jan Larsson '77. Awards were also presented for a required poster and presentation competition and for best scores on the written Robotics Olympiad exam.
President Joanne Berger-Sweeney, a neuroscientist by training, welcomed the participants at the competition's opening ceremony. "What a great opportunity this is to prove how small the world is and how much we have in common," Berger-Sweeney said. "We're making the world a bit smaller, where the best and the brightest can get together for a weekend of fierce but friendly competition," she added. Berger-Sweeney's remarks were followed by the lighting of the first flame by Dana Wensberg '18, a former robot contest competitor who returned as a volunteer this year.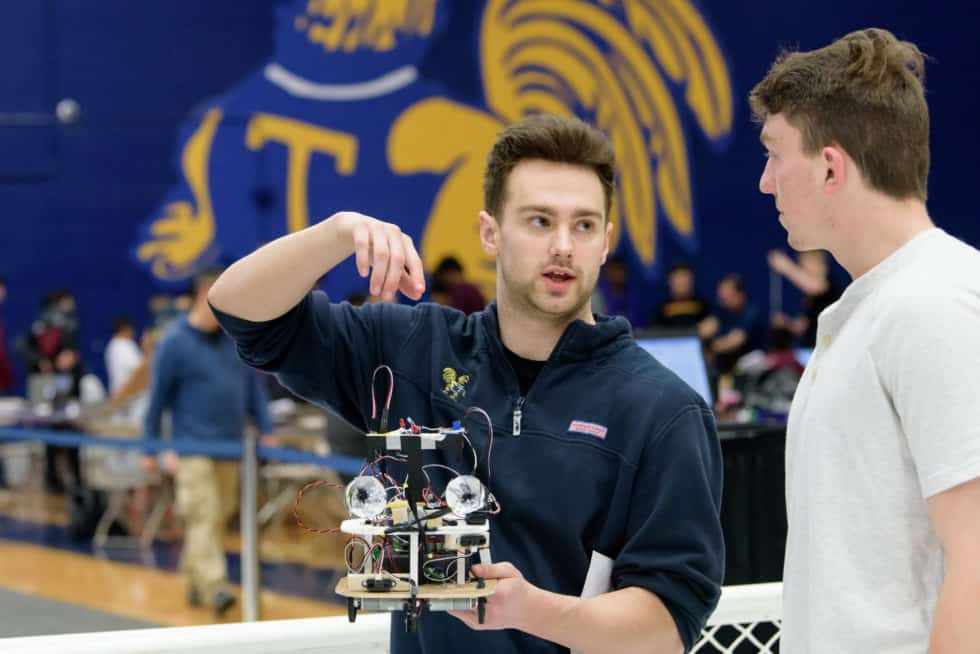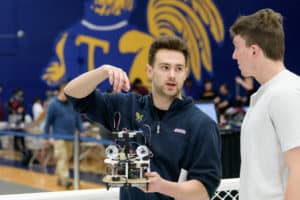 The 24 Trinity students enrolled in "ENGR 120: Introduction to Engineering Design" assembled into teams to enter robots into the competition. The course, in which many first-year students participate, is taught by Trinity alumnus and Assistant Professor of Engineering Kevin Huang '12.
Ike Njoroge '22, a student enrolled in ENGR 120, noted that he did not have the opportunity to take engineering classes in high school, so he found the robot contest to be an exciting challenge. "I decided to focus on the robot's software, as a way to experience something new and challenge myself," said Njoroge. "I've developed an understanding of how coding robots works, while seeing the mechanical and electrical aspects of the robot interact and take shape in the building process."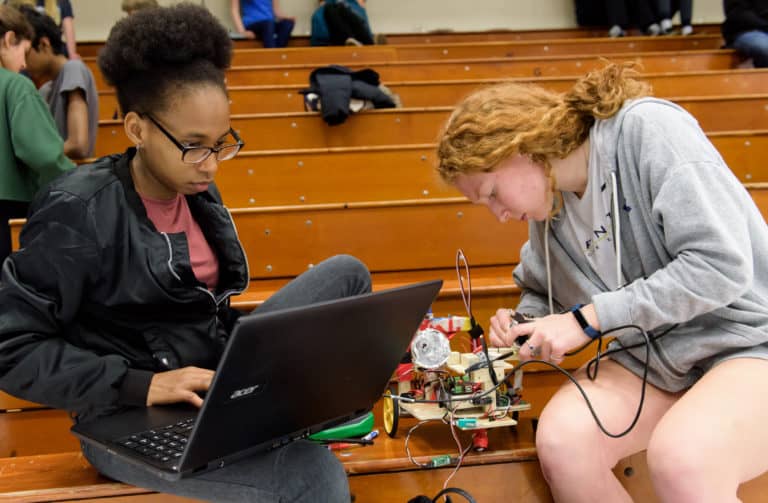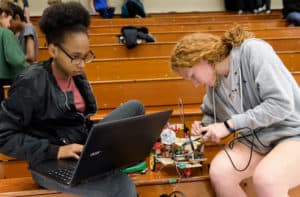 Another member of the class, Brenna Hoar '22, an aspiring mechanical engineering student, said, "I play soccer and hockey at Trinity, so being on a team is something I'm very familiar with. However, building this robot has taught me how to be part of a different kind of team. I learned how to collaborate with my two team members to complete a challenging task."
Four teaching assistants for ENGR 120 also participated this year. One of them, Winrose Mollel '21, said, "Creating a robot from scratch, then developing it to a final design that moves autonomously and performs the way it is supposed to is fascinating, fun, and educational. It takes patience and there can be moments when you feel like giving up; but you gain a sense of self confidence and motivation as you keep going."
One of Trinity's robots, "007," won the Level 1 North American Award, given to a North American team whose robot successfully completes three runs with the lowest score in Level 1. Another Trinity team, with the robot, "UNO," was a finalist in this year's poster presentation.
A complete list of the contest winners is posted here. To express interest in entering the 2020 contest, please contact Professor of Engineering John Mertens, contest administrator, at [email protected].
Explore the Gallery
2019 Trinity College International Fire Fighting Home Robot Contest
Explore the Gallery
2019 Trinity College International Fire Fighting Home Robot Contest