Back to News
New Trinity Social Justice Initiative Addresses Timely Topics
Announcement
posted
by Andrew J. Concatelli
The new Trinity Social Justice Initiative, launched in fall 2021, aims to increase the collaborative research and scholarly discussions of some of society's most pressing topics, including wealth inequality, mass incarceration, policing, gender violence, and systemic racism.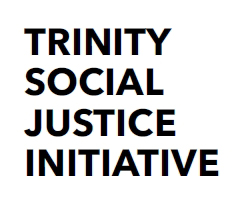 The initiative is led by co-directors Jordan T. Camp, assistant professor of American studies, and Christina Heatherton, assistant professor of American studies and human rights, the latter of whom began a fall lecture and conversation series on October 21 with "Grounded Ways of Knowing: Pedagogies of Place and the Trinity Social Justice Initiative." Plans for the initiative also include a webinar series featuring interviews with artists, activists, and scholars; research clusters; conferences; and the creation of a digital archive. [See sidebar below for more.]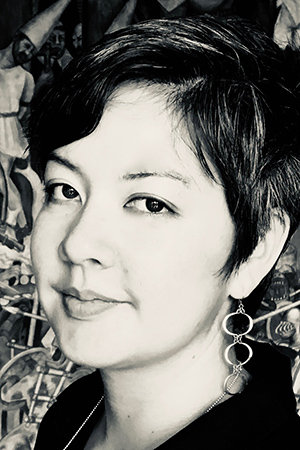 Camp and Heatherton have been collaborating since 2008, most recently co-editing Policing the Planet: Why the Policing Crisis Led to Black Lives Matter (Verso, 2016). Both have spent their careers studying and teaching about aspects of social justice. Camp's specialties include the public humanities, prisons, and social theory. Heatherton—who previously was a member of the Trinity faculty from 2014 to 2017—specializes in subjects including transnational social movements, race and class, and human rights. At Barnard College and Columbia University, they co-directed a number of public-facing initiatives together. They joined the Trinity faculty in summer 2021 with plans to lead the college's new Social Justice Initiative.
"The Social Justice Initiative grounds the questions of social justice in collaborative research," Heatherton said. "This work is already happening at Trinity; this initiative puts a structure in place to foster its growth."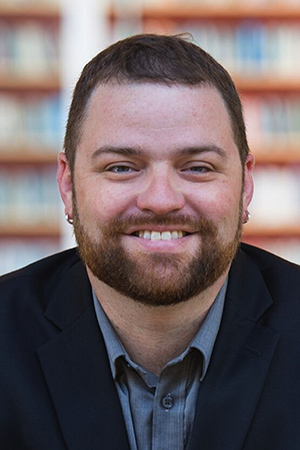 Camp said, "We were excited about the opportunity to join the faculty at Trinity College and launch this initiative in collaboration with partners across campus, not least of which is [Paul E. Raether Distinguished Professor of American Studies] Davarian Baldwin's Smart Cities Lab. We are able to join a conversation about social justice that has long been happening on campus—from students who have been protesting after the deaths of George Floyd and Breonna Taylor, to connections that scholars have already been making with communities in Hartford and throughout the region. Our work is a product of talking with students, colleagues, staff, and community members, all of whom will have active roles in the initiative."
Baldwin added, "After the social unrest of summer 2020, many schools leaned into the trendy theme of 'Diversity, Equity, and Inclusion.' But Jordan Camp and Christina Heatherton's proven track record of social justice scholarship, deep student mentorship, and broad public advocacy brings substantive legitimacy to Trinity's efforts. And I am more than thrilled to see how their partnership with my new Smart Cities Lab will ground social justice work directly within our campus community in ways that could serve as a national model for cultivating what I call 'urban citizenship.'"
Dean of the Faculty and Vice President for Academic Affairs Sonia Cardenas said that the Trinity Social Justice Initiative launches a new set of highly collaborative, cross-disciplinary public conversations. "From the first event, there was a palpable sense of energy and creativity—a sense of pushing boundaries and provoking new thinking," Cardenas said. "These scholars always place students at the center of the discourse, authentically so, and they make visible how research can inform real-world struggles. Their work promises to place Trinity at the cutting edge of liberal arts colleges, defining us as an institution that grapples with and advances social justice through the power of education."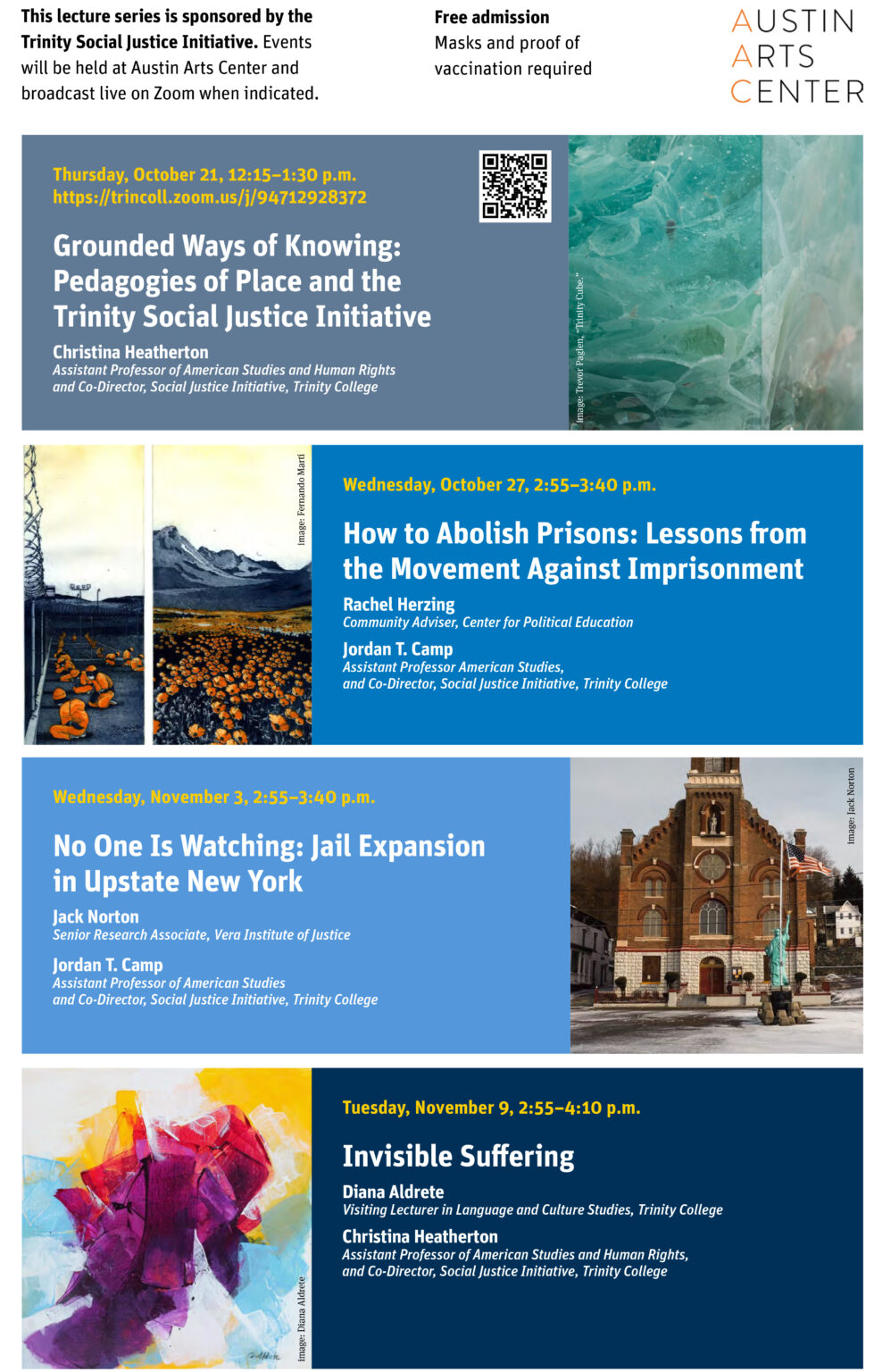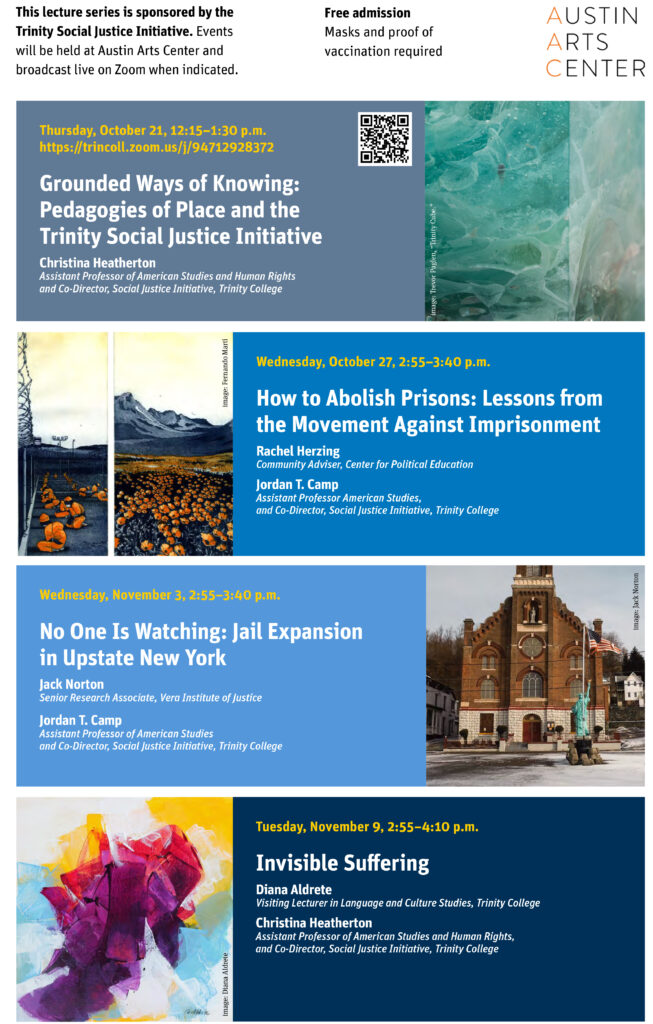 Heatherton and Camp said the Trinity community embraces the discussion of difficult topics. "It seems like there have been genuine efforts to address a number of issues on campus," Heatherton said. "We both got a sense of efforts to address things like racism, sexism, homophobia, and transphobia, in the curriculum and in the social life of campus. There is a lot of work to do, but we got the sense that it wasn't just talk—that there were real efforts to build on and wonderful people that we could build with."
Said Camp, "We bring experiences and insights that we've developed from doing this kind of work in other contexts. We see ourselves curating conversations between artists, activists, and scholars that can move the discussion of these issues from the classroom, campus, and conference circuit into the public sphere."
The timing of the launch of the Trinity Social Justice Initiative couldn't be more appropriate, according to Heatherton. "We're in the middle of a global pandemic, an economic crisis, and an upsurge of social movements. All the cracks of society are being intensified at this moment," she said. "There's nothing abstract about the things we're trying to address. We ground our conversations in this moment, in the kinds of crises that people are facing."
While some may see these topics as controversial, Camp stressed that the initiative is being carried out with a focus on academics. "Our mission is committed to grounding our social justice work in scholarly research," he said. "We are contributing to scholarly and public debates about systemic racism, structural inequality, and social justice, and we welcome that debate."
For more information about the Trinity Social Justice Initiative, click here or email socialjustice@trincoll.edu.
Read more about Trinity's Office of Diversity, Equity, and Inclusion and its mission here.
Upcoming Trinity Social Justice Initiative Happenings:
The final fall series lecture—"Invisible Suffering," featuring Visiting Lecturer in Language and Culture Studies Diana Aldrete and Heatherton—will take place at Trinity's Austin Arts Center on November 9.
A monthly series of online interviews will begin with Camp's conversation with Anthony Bogues, Asa Messer Professor of Humanities and Critical Theory, Professor of Africana Studies, and Director of Brown University's Center for the Study of Slavery and Justice, "The Black Radical Intellectual Tradition and the Critique of the Present," at a date to be announced.
A conference tentatively scheduled for fall 2022, "Education Must Be Defended," will be co-sponsored by Trinity's Smart Cities Lab and the Center for the Study of Slavery and Justice at Brown University.
The initiative's research clusters include "Entangled Histories: Race, Colonialism, and Indigeneity," "Education for Liberation," "Community Archives and Oral History," "Indigenous Studies Research," and a student-led research cluster.