Trinity College's Reunion Weekend celebration June 9–12 was marked with multiple milestones. Among the many highlights, members of the Class of 2020 returned for their long-awaited, in-person Commencement ceremony, which had been delayed due to the pandemic. Additionally, due in part to the collective generosity and efforts of returning alumni, Trinity surpassed the halfway mark of an overall $500 million fundraising campaign goal.
"It was incredibly heartening to see so many alumni return to campus both to celebrate Reunion with their classmates and to witness the Class of 2020's long-delayed but deeply moving graduation ceremony," said Vice President for Advancement Michael Casey.
"Seeing all of those generations of alumni, parents, and friends on campus together made it even more gratifying to know that we had just passed the halfway mark in our campaign, with $252 million in hand toward our $500 million goal," said Casey. "It demonstrates our community's deep pride and belief in Trinity as we prepare for next year's Bicentennial celebration."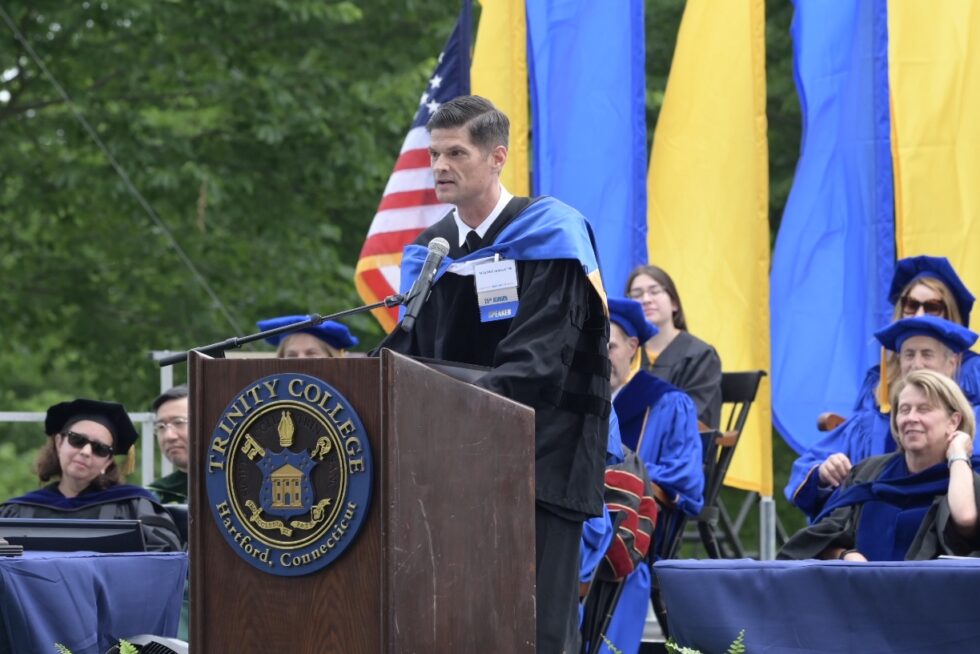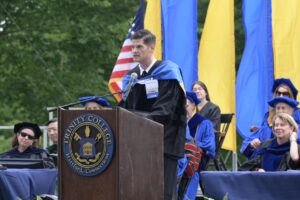 Academy Award-winning director and actor Will McCormack '96 delivered remarks during the Class of 2020 Commencement ceremony on Saturday. Later in the day, he spoke with alumni and guests following a private screening of his animated short, If Anything Happens I Love You, a poignant piece that explores the tragic loss of a child through a school shooting. The film won the 2021 Oscar for Best Animated Short Film.
In his Commencement remarks, McCormack said, "You're inheriting a world that needs you, one that cannot afford or survive cynicism. You're the Class of 2020. You have an asterisk, but your asterisk makes you beautiful. You're original. You're unexpected. You're strong. You know what it's like to get knocked down and get up again."
The Reunion Weekend festivities brought alumni representing 26 classes across seven decades of Trinity history to campus to spend time 'neath the elms. Together, staff, class alumni volunteers, and a tremendous number of campus partners transformed Trinity into a center of activity for alumni from classes ending in 1s, 2s, 6s, and 7s—from 1956 to 2017—and their families.
"We're thrilled that the members of the 2021 and 2022 Reunion classes were able to come together for a celebration like this, especially after several years of postponing festivities," said Michelle Deluse '12, M'16, associate director of alumni relations. "The Reunion Planning Committees have worked hard to plan the details of the weekend with us, and to see alumni enjoying the fruits of that labor was wonderful."
Collectively, the Reunion classes raised more than $56.5 million in gifts to support the college. Leading the way were the members of the Class of 1971, who contributed more than $7.5 million in celebration of their 50th Reunion.
"We are so grateful for these contributions," said Peter Duncan, '81 P'13, '14, who serves as co-chair of Trinity's comprehensive campaign with Kathryn George Tyree '86. "It has given us an incredible boost as we begin to broaden our fundraising efforts. Trinity has such tremendous, positive momentum, and we want to position the college for continued success as we prepare to enter our third century."
Alumni honors also were presented throughout the weekend. This year, alumni honorees were:
The Eigenbrodt Cup
Tom DiBenedetto '71, P'08, '12, '13, '15, '17
Peter Blum '72, P'12
Paul E. Raether '68 Alumni Achievement Award
Claudia Baio '86
Alumni Medal for Excellence
Whitney Gulden '16
Justin Maccarone Jr. '81, P'19
Yarel Silverio Marshall '96
Jorge Rodriguez '91
Ann Newman Selvitelli '91
Ellin Carpenter Smith '82, P'19
Matt Smith '82, P'19
The Gary McQuaid Award
Shakira Ramos Crespo '02
Peter Duncan '81, P'13, '14
The Kathleen O'Connor Boelhouwer '85 Alumni Initiative Award
Liz Elting '87
Outstanding Class Secretary Award
David Sample '71, P'06, '09, '15
John "Jack" Nelson '72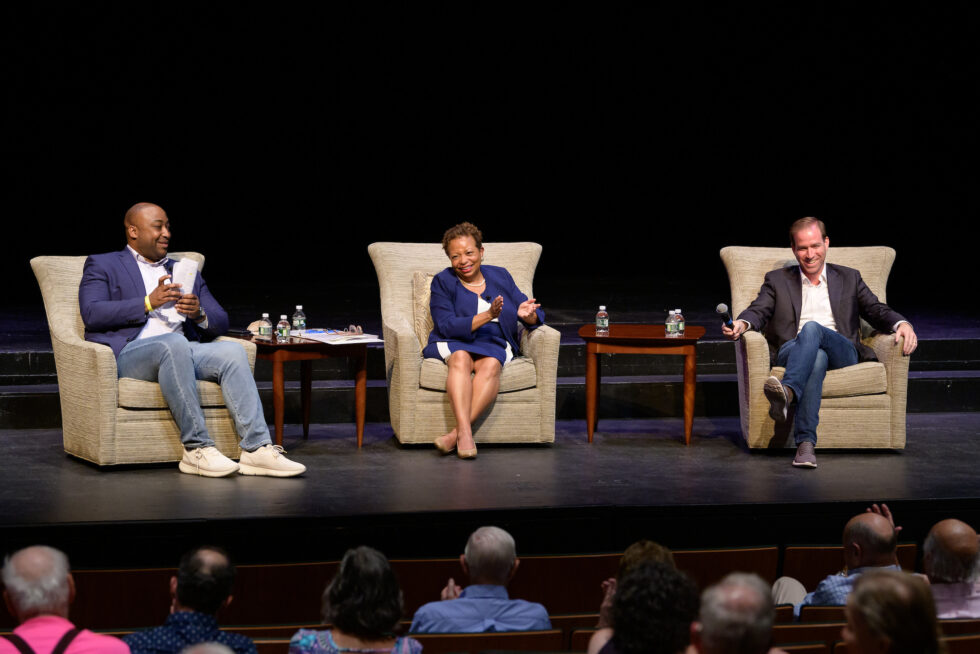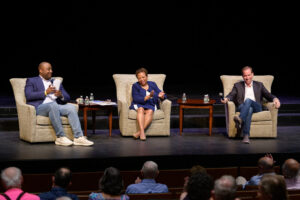 The weekend featured notable speakers from the alumni body and the Hartford community, including the keynote program on Saturday: "Liberal Arts in an Urban Setting: A Conversation with Trinity College President Joanne Berger-Sweeney and Hartford Mayor Luke Bronin," moderated by Paul H. Mounds Jr. '07, chief of staff at the State of Connecticut Office of the Governor.
Reunion Weekend was capped with an evening of fireworks over the Main Quad. Over three days of celebration, reconnection, and reminiscing, Reunion once again was a reminder of the lasting power of connections made at Trinity and of the accomplishments of its alumni.