Back to News
For Religious Studies' Getlin Lecture, José Cabezón Discusses "The Buddhist Sexual Body"
Academics
posted
by Marshall Montner '23
Trinity College's Department of Religious Studies hosted its annual Getlin Lecture, "The Buddhist Sexual Body," presented by José I. Cabezón, Dalai Lama Professor of Tibetan Buddhism and Cultural Studies at University of California, Santa Barbara, on Wednesday, October 6, 2021, at 4:30 p.m.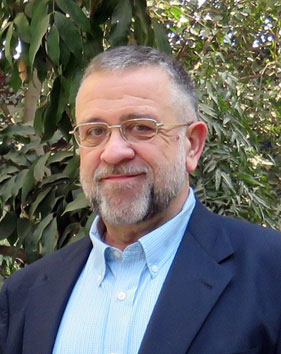 Cabezón's lecture, presented virtually via Zoom, centered on sexuality and the body in Buddhism, which he defined as a scholarly construct used "to analyze and make sense of the body as a phenomenon within religious studies." Said Cabezón, "[It is] the sum of the tradition's depictions of the body and sex and sexuality in texts, art, and practices that include, for example, ritual practices."
Cabezón prefaced his lecture by saying that he would draw upon his 2017 book, Sexuality in Classical South Asian Buddhism; however, he was pleased to have the opportunity with his Trinity audience to "view the material in a new light, through the lens of the body, in particular, which is something that I think doesn't get enough attention in the book itself." Cabezón went on to explore key aspects of Buddhist discourses on the body, including cosmology, the relationship of the body and sexuality, morality, and the ways in which the universe is structured spatially and temporally in the Buddhist tradition.
The event concluded with a Q&A session, during which all participants were able to ask Cabezón post-lecture questions.
Justin Fifield, visiting assistant professor of religious studies, noted that Cabezón's many fellowships and honors include a Guggenheim Fellowship and election to the American Academy of Arts and Sciences. Cabezón served in 2020 as president of the American Academy of Religion, the first scholar of Buddhism to hold that position. Additionally, Cabezón was a visiting assistant professor at Trinity College in 1987–88.
The Getlin Lecture was established in 1967, in honor of Michael P. Getlin '62, a religion major, who was the first Trinity alumnus to be killed in action in Vietnam that year. Getlin was awarded the Navy Cross for his bravery. Tamsin Jones, chair of the department of religious studies and associate professor of religious studies, said that the Getlin lecture series was made possible through memorial gifts received from Getlin's family, friends, and classmates in honor of his memory. "Since its inception, this series has brought an illustrious group of scholars to campus to engage in a discussion of religion and system in society," said Jones.
To learn more about Trinity's Department of Religious Studies, visit the department's website.