Back to News
Georgia Beckmann '21 Receives Fulbright Award to Teach English in Portugal
Alumni
posted
by Andrew J. Concatelli
The U.S. Department of State and the Fulbright Foreign Scholarship Board have announced that Trinity College alumna Georgia Beckmann '21 has received a Fulbright U.S. Student Program award to Portugal for the 2022-2023 academic year. Beckmann will support the teaching of English through the Fulbright English Teaching Assistantship program.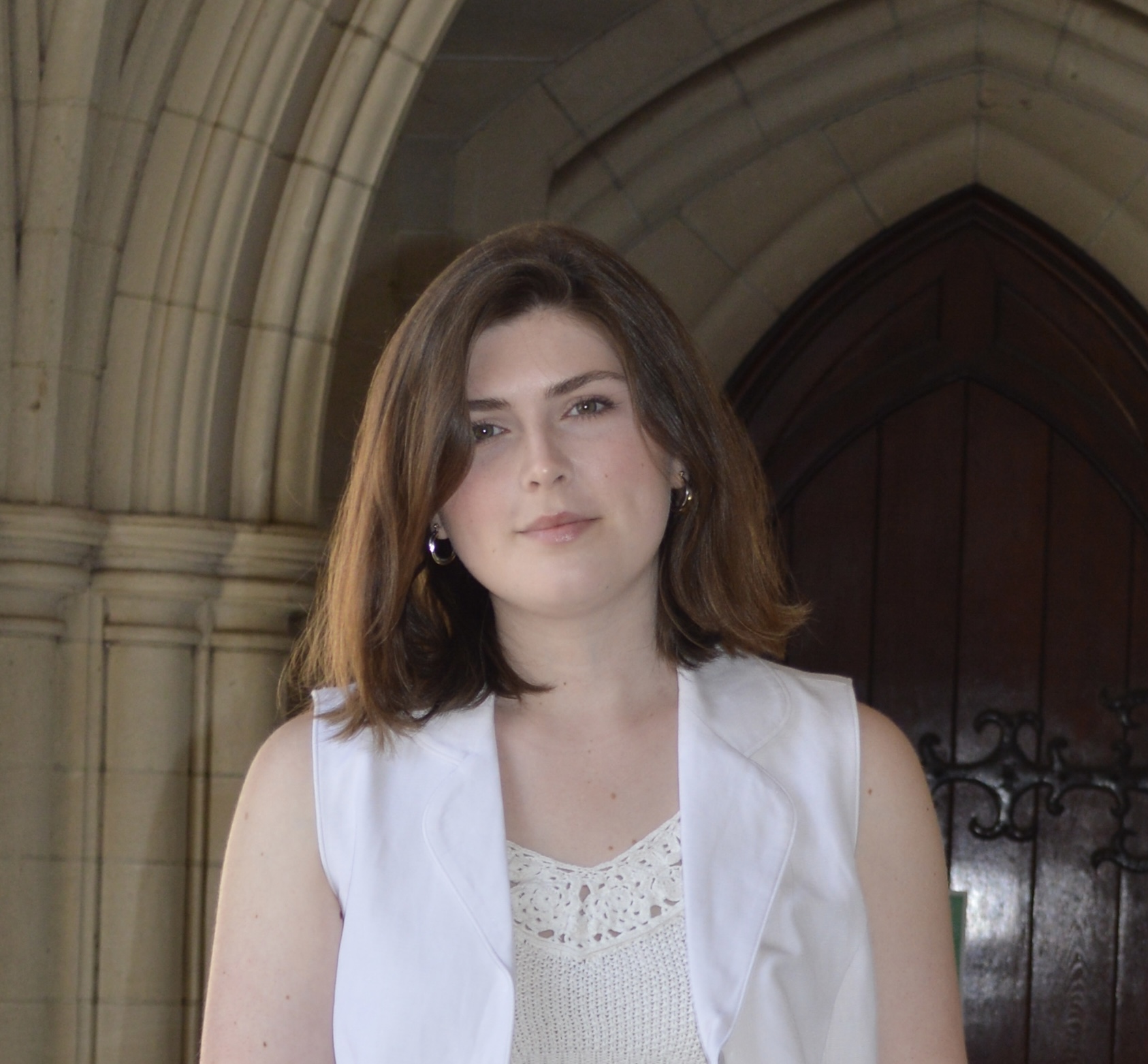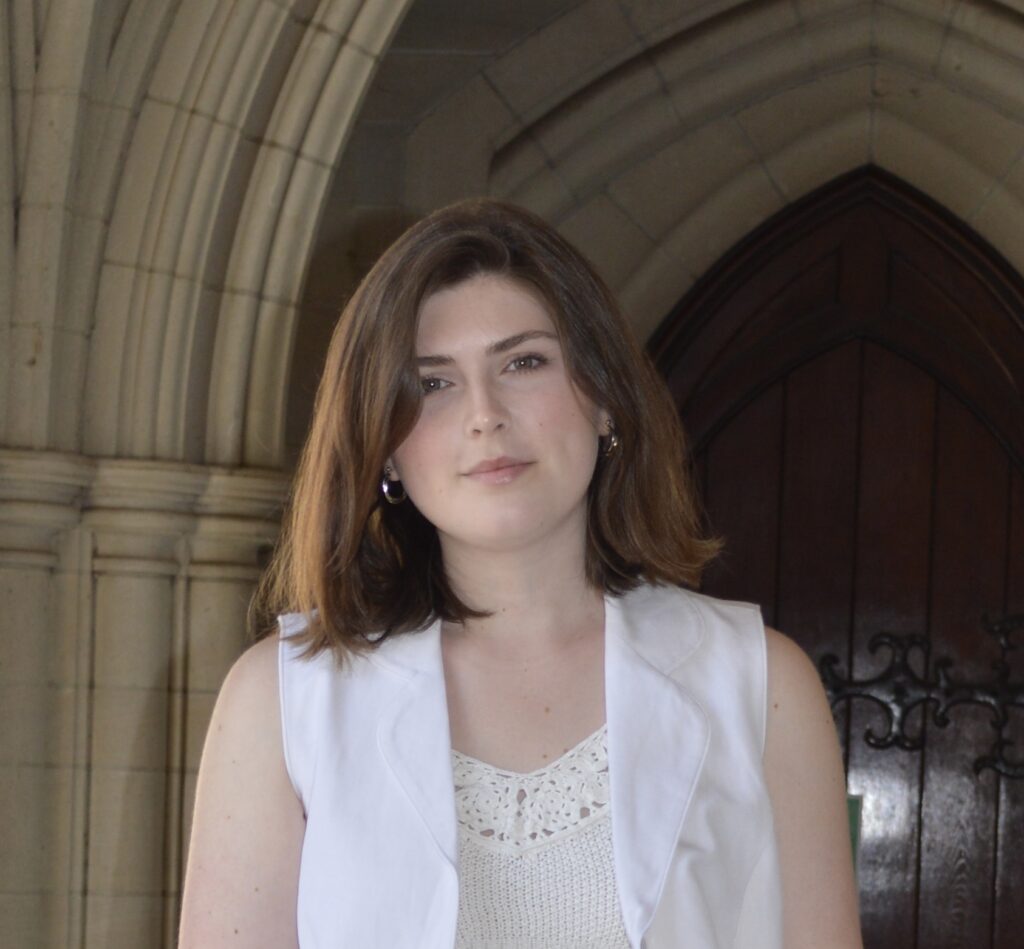 "My appointment begins October 1, 2022, with an orientation in Lisbon at the end of September," said Beckmann, who is from Somerville, Massachusetts. "I will be working at the Instituto Universitário de Lisboa, one of the institutes affiliated with the University of Lisbon. I will be teaching and working for the full academic year, through the end of June 2023."
Beckmann majored in theater and dance at Trinity, with a concentration in writing and directing. During her time at the college, she was a member of the Quirks a cappella group, a Spanish tutor, a global ambassador for Trinity's Office of Study Away, and editor of The Trinity Papers (2021). Since her graduation from Trinity, she has been working as a program assistant for the Trinity/La MaMa Performing Arts Program in New York City and as an assistant teacher for middle and high school English and math classes in Cambridge, Massachusetts.
"I was inspired to apply for a Fulbright ETA in Portugal by my desire to gain Portuguese fluency and to further develop my higher education teaching capabilities," Beckmann said. "Additionally, I was unable to study abroad during my time at Trinity, but have always wanted to participate in a long-term, immersive educational opportunity abroad. The Fulbright ETA in Portugal provides an opportunity to do this while simultaneously contributing to my professional trajectory and experience."

While living and teaching in Portugal, Beckmann hopes to gain fluency in the Portuguese language and expand her understanding of Portuguese culture. "I also want to learn about and immerse myself in the performing arts and theater scene in Lisbon," she said. "I hope to connect with local artists in Lisbon in order to collaborate and explore new facets of theater directing and playwriting."
Beckmann believes that this Fulbright ETA will equip her with skills and experiences that will prepare her for a graduate program in theater, with a research focus on translation studies. She said, "I hope to use this degree to teach at a collegiate level, so I look forward to having this unique opportunity to expand my skills and perspectives as an educator and artist."
The Fulbright student credits members of the Trinity Theater and Dance Department faculty—namely Associate Professor of Theater and Dance Barbara Karger, Associate Dean for Curriculum and Professor of Theater and Dance Mitchell A. Polin, and Associate Professor of Theater and Dance Michael Preston—with providing her with the critical thinking, self-determination, and confidence to pursue the Fulbright ETA grant. "I believe the skills and character built through my theater courses at Trinity will definitely play a large role in my flexibility, commitment, and openness as an ETA in Portugal," Beckmann said. "Additionally, [Assistant Professor of Language and Culture Studies] Rosario Hubert and her courses, 'Portuguese for Spanish Speakers,' 'Translation and World Literature,' and 'Brazil and Portuguese Language,' provided me with an essential foundation in my Fulbright journey. Not only did Professor Hubert's courses ground my Portuguese language skills and interest in translation, but her teaching style and dedication also served as a model for the kind of instructor I hope to be at Fulbright and beyond."
Of Beckmann, Polin said, "Georgia is a sophisticated academic and artist who is able to think critically about and question the world around her while becoming at ease with her own political and social agency."
Preston added, "Georgia is a wonderful playwright and actor that truly was a pleasure to work with. She was relentless in taking as much as she could from her Trinity experience, and I look forward to the discoveries that she will make in Portugal. I am sure that it will be a transformative experience and we all are extremely proud of her."
Hubert said that Beckmann always took a mature approach to the subject matter in her courses. "As a model liberal arts student, Georgia seamlessly brought her passion for drama and performance to discussions of world literature and translation," Hubert said. "Her attention to detail is rare at a time when learning is expected to happen fast and loud. And, above all, there was the personal touch; her love for learning always came with a note of appreciation and a genuine expression of awe for the newly discovered. She will thrive in Portugal and wherever her path takes her."
Beckmann added, "I'm immensely grateful for [former Director of Fellowships] Anne Lundberg and [Associate Director of Grants and Fellowships] Mark Hughes at Trinity for all of their help and support during the Fulbright application process. I can't wait to begin my Fulbright journey this fall."
The Fulbright Program is the flagship international educational exchange program sponsored by the U.S. government and is designed to increase mutual understanding between the people of the United States and the people of other countries. The primary source of funding for the Fulbright Program is an annual appropriation made by the U.S. Congress to the U.S. Department of State, Bureau of Educational and Cultural Affairs. Participating governments, host institutions, corporations, and foundations in foreign countries and in the United States also provide direct and indirect support. Recipients of Fulbright grants are selected on the basis of academic or professional achievement, as well as demonstrated leadership potential in their fields. The program operates in more than 160 countries worldwide.