President Joanne Berger-Sweeney has announced the appointment of four new trustees to the Trinity College Board of Trustees. All four of the new trustees are alumni, and one is the parent of an alumnus. They are:
Eric Estes '91 of Providence, Rhode Island
John S. Gates Jr. '76, P'13, of Hobe Sound, Florida
Jeffrey B. Hawkins '92 of Chestnut Hill, Massachusetts
Kelli Harrington Tomlinson '94 of Atherton, California
 Read more below:

Eric Estes '91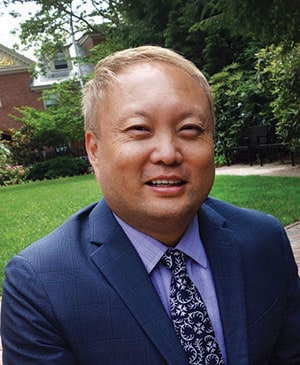 Eric Estes is vice president for campus life at Brown University, where he oversees a division of 18 departments with more than 450 staff members. He also has a faculty appointment in American studies. Prior to Brown, Estes spent 12 years at Oberlin College and Conservatory, serving the last five years as vice president and dean of students. He also was a faculty member in comparative American studies and history and served as an associate dean in the College of Arts and Sciences, an associate dean in Student Life, and the longest-serving director of the Multicultural Resource Center in its more-than-20-year history. Before Oberlin, Estes taught at Duke University. He was a Fulbright scholar to Germany and has received fellowships and grants from the Mellon and Ebert Foundations, the German Historical Institute, and the Deutscher Akademischer Austauschdienst.
Estes earned a B.A. with honors in history from Trinity and an M.A. and Ph.D. in history from Syracuse University. He has been a member of the Trinity College Alumni Association Executive Committee since 2014 and now serves as its president.
Estes resides in Providence, Rhode Island.
John S. Gates Jr. '76, P'13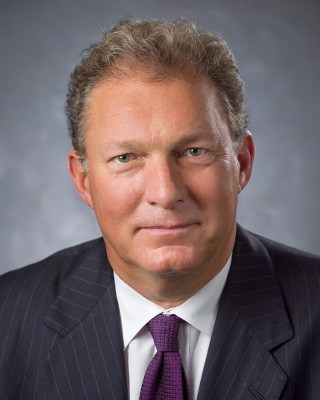 John S. Gates Jr. is chairman and CEO of PortaeCo, LLC, a private investment company, and executive chairman of Tradelane Properties, a warehouse/industrial investment company focused on acquiring and redeveloping logistics assets in Chicago and the Midwest. After starting his career as an assistant to Governor James R. Thompson of Illinois, he joined CB/Richard Ellis. In 1981, he co-founded the Chicago office of Jones Lang Wootton (now Jones Lang LaSalle), a global commercial property investment firm. He co-founded CenterPoint Properties Trust in 1984 and served as co-chairman and CEO for the next 22 years. During that period, CenterPoint became the nation's first publicly traded Industrial Real Estate Investment Trust as well as the largest private property owner/developer in the Metropolitan Chicago Region. In 2007, a year after selling CenterPoint, he began three years as chairman of the Reform Board and chairman of the Finance Committee of the Metropolitan Pier and Exhibition Authority. From 2010 to 2014, Gates was chairman of the board of the Regional Transportation Authority (RTA), which oversees all rail, bus, subway, elevated, and other forms of public transit in the six-county metropolitan Chicago area.
Gates earned a B.S. in economics and philosophy from Trinity. He previously served on the Board of Trustees from 2008 to 2016.
Gates and his wife, Eloise "Weezie" Gates, reside in Hobe Sound, Florida, and Chicago. They have three sons, including Edward "Ted" Gates '13.
Jeffrey B. Hawkins '92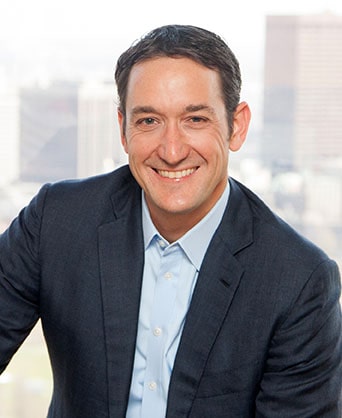 Jeffrey B. Hawkins is a managing director and the deputy managing partner of Bain Capital Credit, the $40 billion credit arm of Bain Capital, one of the world's leading multi-asset alternative investment firms. Bain Capital Credit invests across the full spectrum of credit strategies, including leveraged loans, high-yield bonds, distressed debt, private lending, structured products, nonperforming loans (NPLs), and equities. Founded in 1998, Bain Capital Credit has grown into a global organization of more than 400 employees operating from a network of 11 offices around the world.
Hawkins is involved in a number of philanthropic activities and currently serves as a trustee of Buckingham Browne and Nichols, the Dana Hall School, and the Boston Public Library and as chair of the Boston Public Library Fund. Hawkins received a B.A. in Soviet studies from Trinity and a J.D. from Harvard Law School.
Hawkins and his wife, Christa, reside in Chestnut Hill, Massachusetts, with their four children.
Kelli Harrington Tomlinson '94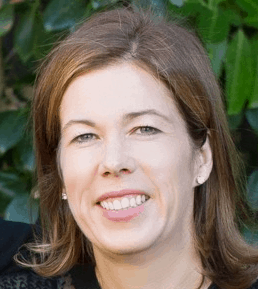 A native of California, Kelli Harrington Tomlinson focuses her time in the nonprofit sector as director and co-president of the Tomlinson Family Foundation. She is chair of the Board of Trustees at The Girls' Middle School, a progressive, STEM-focused girls' school in Palo Alto, California. Tomlinson also serves on the boards of the Berkeley Repertory Theatre, Challenge Success, and The Art of Yoga Project. She and her family are partners at the Silicon Valley Social Venture Fund. She is a member of the Common Sense Media Bay Area Council and the Peninsula Bridge Parent Advisory Board. Her primary interests include progressive education, education equality, and theater.
Tomlinson graduated from Trinity with a B.A. in political science. She worked as the assistant director of the Trinity in San Francisco Program from 1998 to 2001.
Tomlinson and her husband, Steffan C. Tomlinson '94, reside in Atherton, California, with their two children.
A full listing of the Trinity College Board of Trustees can be found here.