Back to News
'Fostering Play in Cambodia' with Davis Projects for Peace Grant
Alumni
posted
by Hamna Tariq '20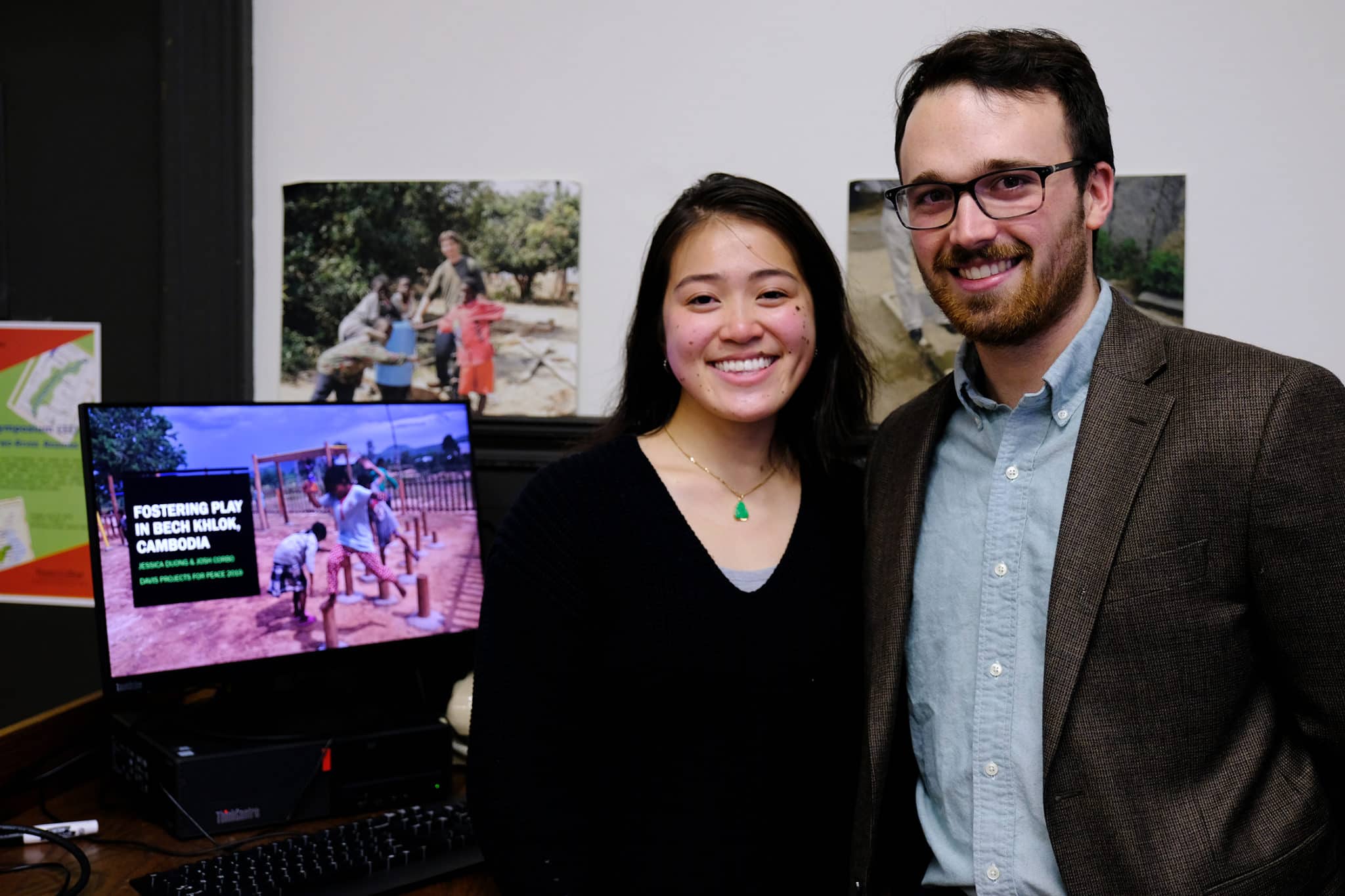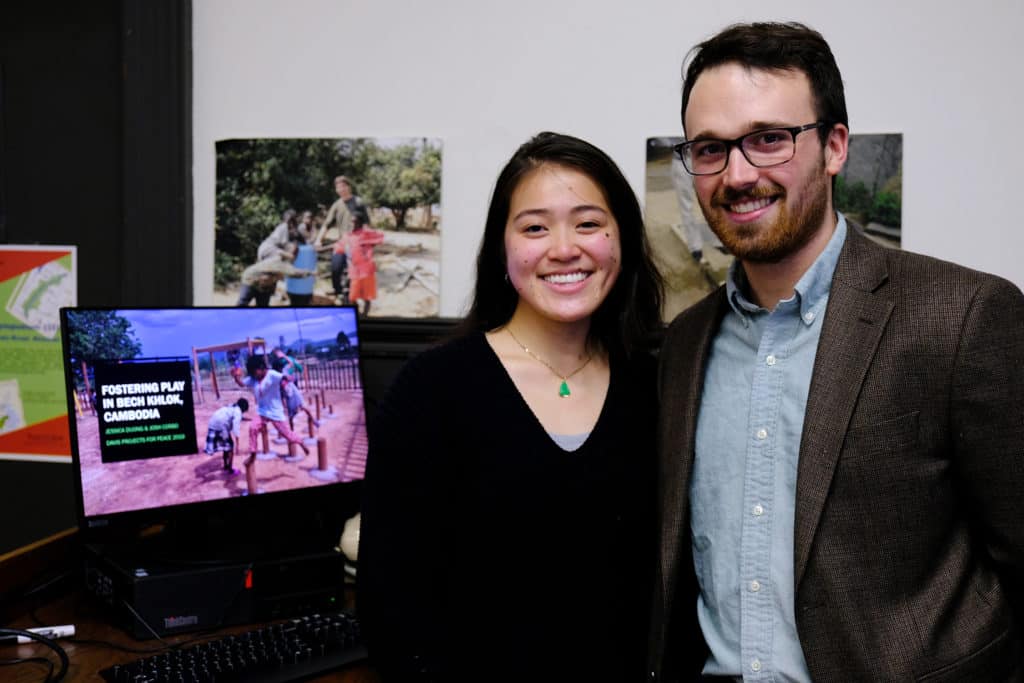 Soon after they graduated from Trinity, Jessica Duong '19 and Joshua Corbo '19 set out to rural Cambodia last summer to build a playground and facilitate a soccer workshop for under-resourced children in the village of Bech Khlok.
The "Fostering Play in Cambodia" project was supported by a $10,000 grant from Davis Projects for Peace, through which undergraduates at the American colleges and universities in the Davis United World College Scholars Program design grassroots projects for building peace around the world. Since 2007, Trinity students have developed Projects for Peace focused on topics like encouraging interfaith understanding, providing access to medical services, and improving lives through art, technology, and education. To learn more about this program and its history with Trinity, click here.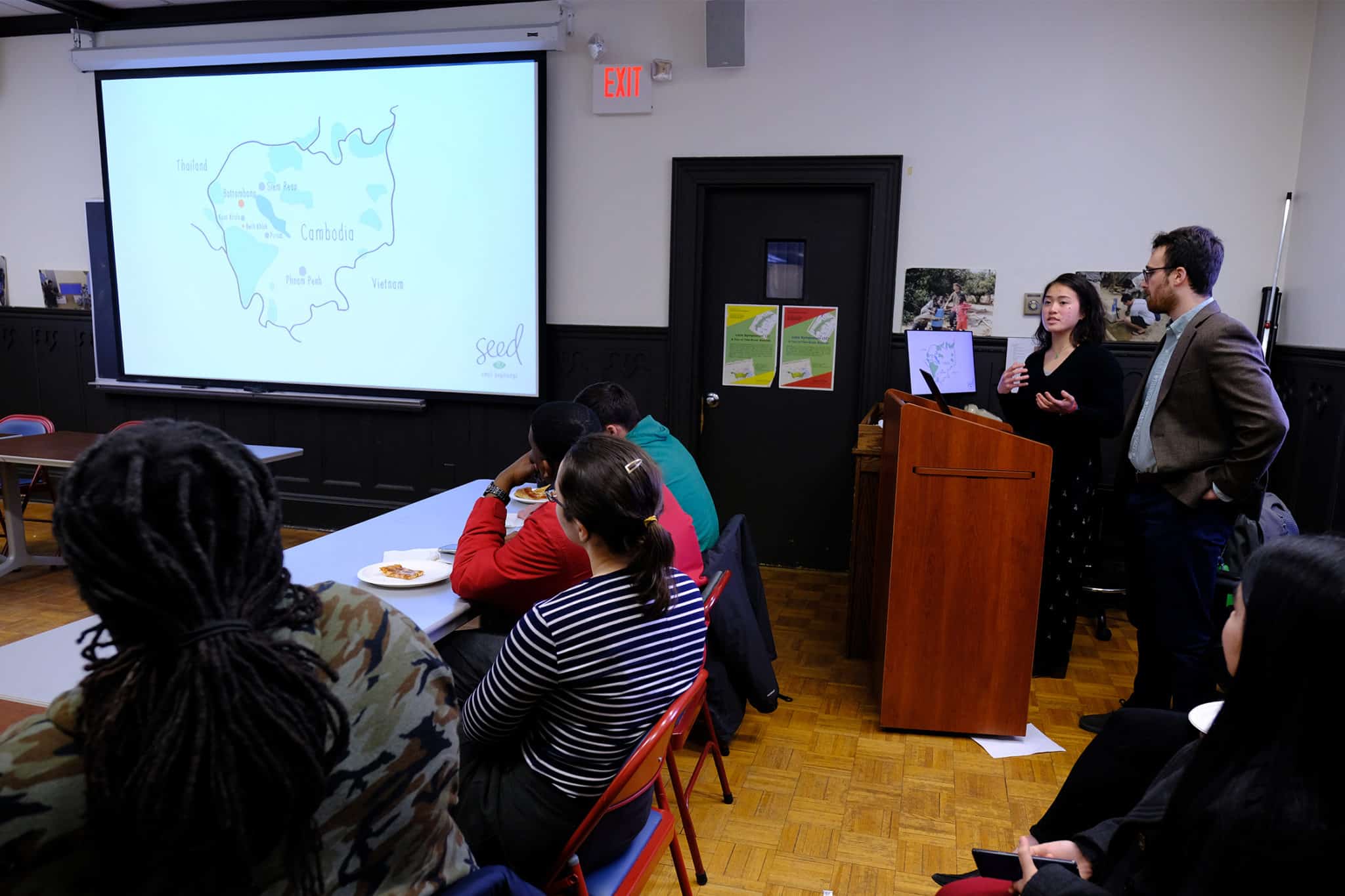 Duong and Corbo returned to Trinity on February 18 to speak about their experience as part of the Global Vantage Point Lecture Series, sponsored by Trinity's Center for Urban and Global Studies (CUGS). Duong, a chemistry and history major interested in teaching, decided to collaborate with Corbo, a biology and history major passionate about soccer, to create a sustainable development project in rural Cambodia. In spring 2018, Duong met a woman in Switzerland who ran Seed of Small Beginnings, a nonprofit organization that contributes to the reduction of poverty in Cambodia by helping underprivileged communities build sustainable neighborhoods. The organization has supported bottom-up initiatives such as the provision of safe drinking water, books, and classrooms. The nonprofit recruited local residents and built a school in the village to provide sufficient and easily accessible education to the children.
"The residents wanted a better future for their children and wanted to see the community prosper," said Duong. The manager of Seed of Small Beginnings also wanted to build a school playground and soccer field in the village, and that's where Duong and Corbo came in. "Everything aligned serendipitously. Josh and I decided to use our respective skills to bring our idea to fruition," said Duong. The Trinity alumni built a locally-sourced playground and facilitated a soccer workshop for the village children that was run by SALT Academy, a nonprofit that teaches life lessons and necessary skills through the medium of sports.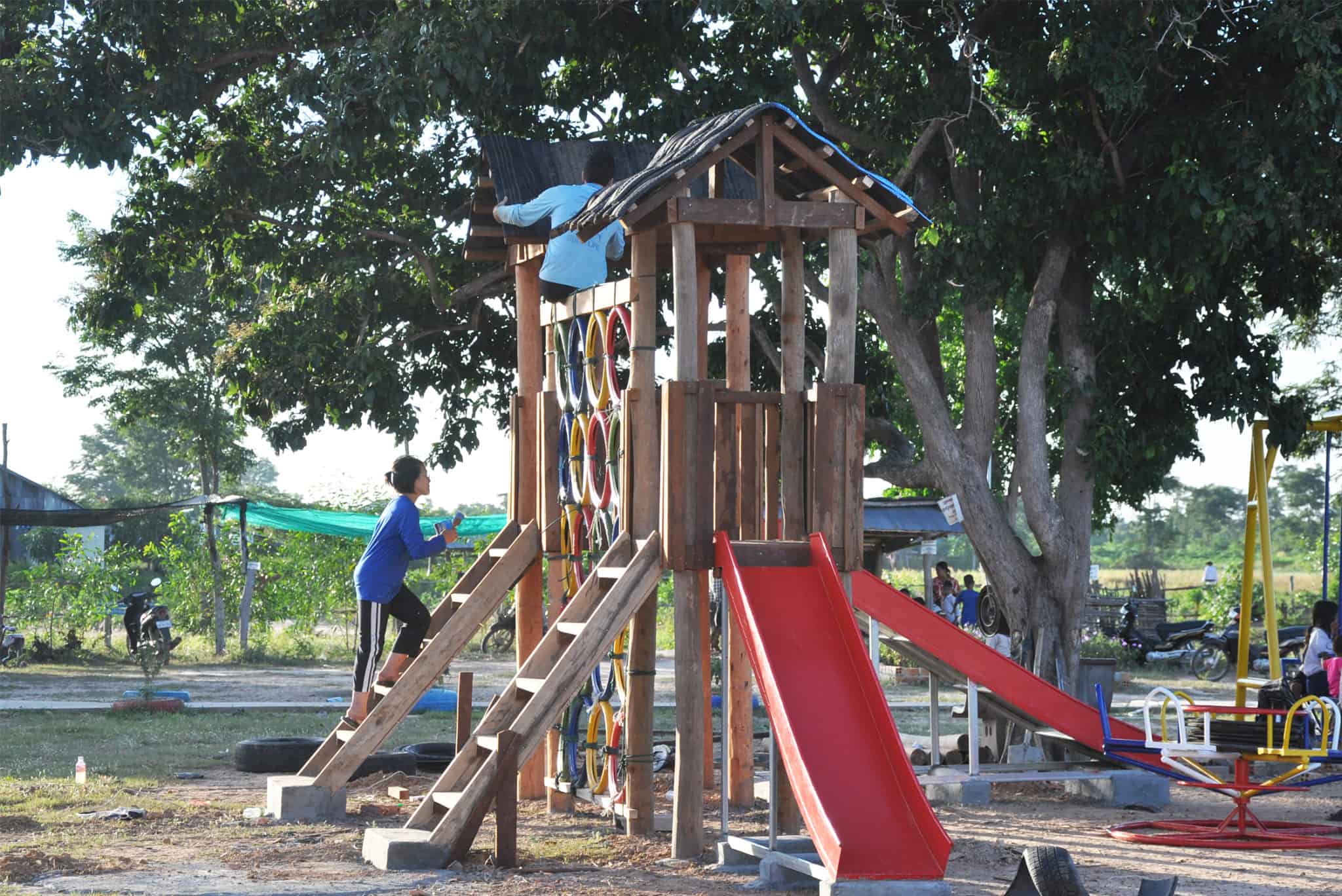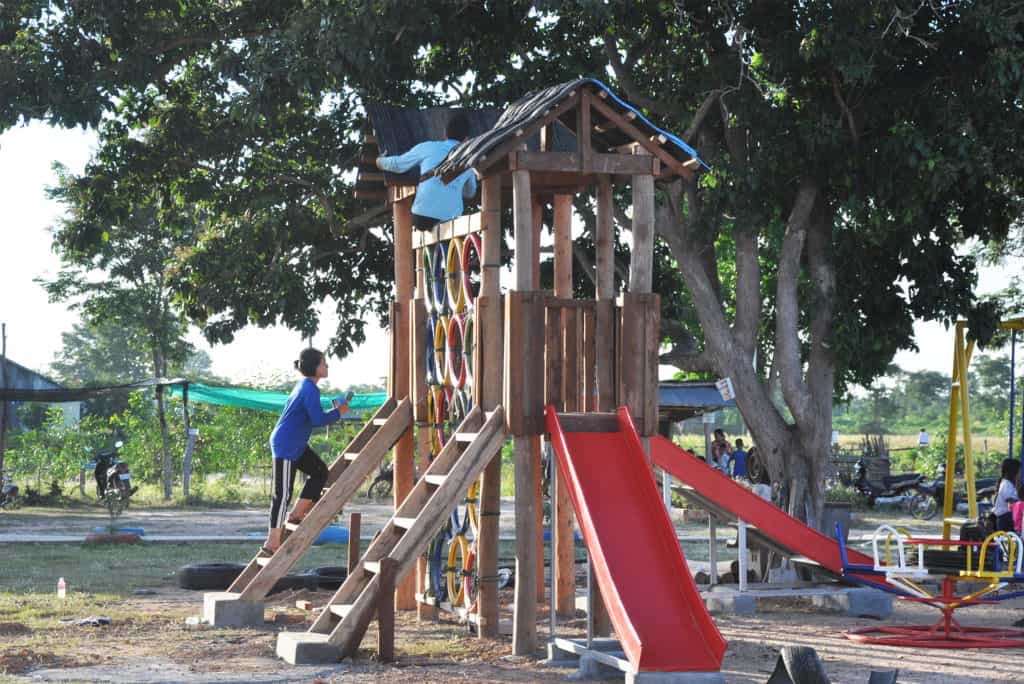 Duong and Corbo anticipated supporting Bech Khlok's school system by improving school grounds and play facilities. However, building a sustainable playground from locally-sourced raw materials in rural Cambodia was a laborious task. "There was widespread, uneven shrubbery where we planned to construct the playground and soccer field. The nearest city was hours away and the village was inaccessible by car. Besides, we only had two weeks to execute our idea," said Corbo.
Furthermore, communication proved to be a hurdle, as Duong and Corbo could only communicate with the local residents with the help of their translator; they could only work early mornings and early evenings because it was scorching hot; and they had never constructed a playground with basic building tools before. Fortunately, the local residents were more than willing to help. "They provided us with all the material we needed and aided us with construction efforts. They also hand-built a picket fence around the playground for the children's safety," said Corbo.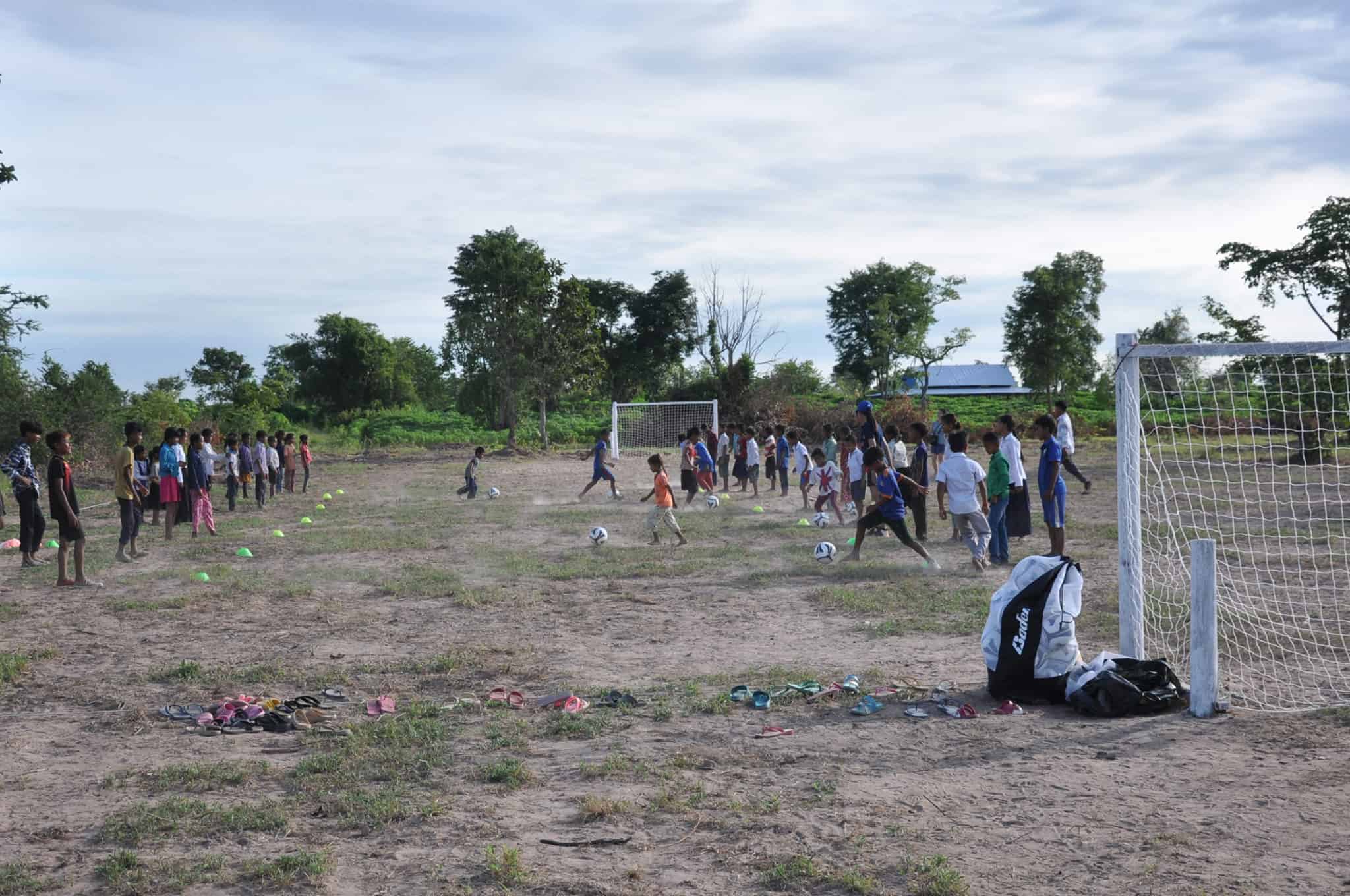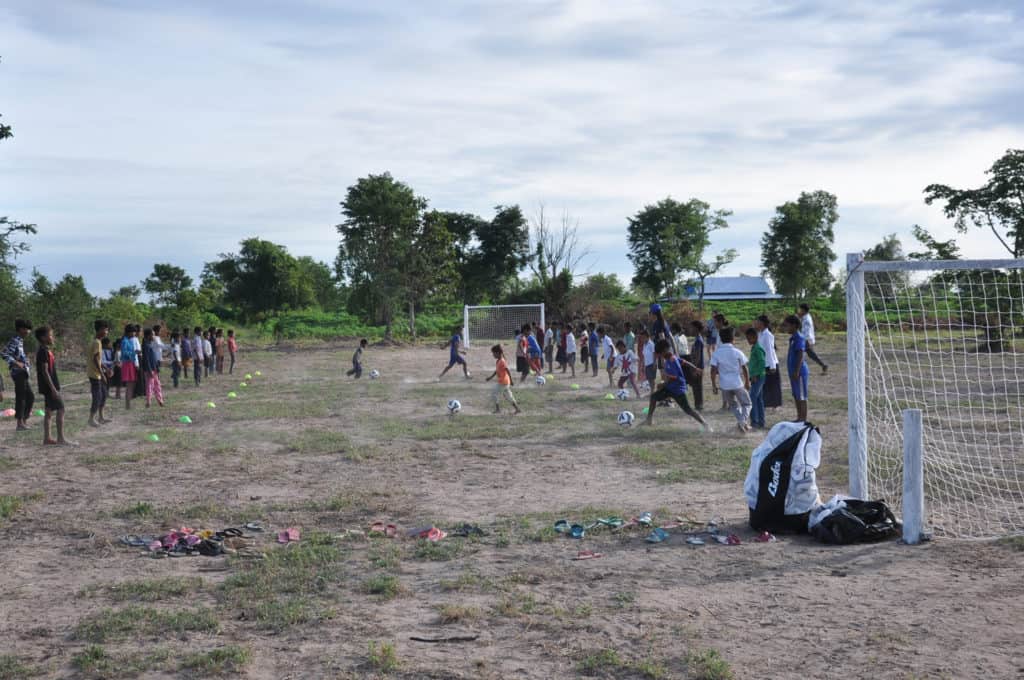 Both grant recipients were overjoyed at the result of their strenuous efforts. Not only were they able to support local construction workers and assist in the sustainable development of Bech Khlok, but they also succeeded in building community by fostering play. "We wanted to develop the community by increasing social interactions amongst the locals of the region," said Corbo.
Duong said that the playground will be maintained by Seed of Small Beginnings. "We wanted to build something long-lasting in a space where people genuinely wanted to see development. I am glad we were able to do just that," said Duong.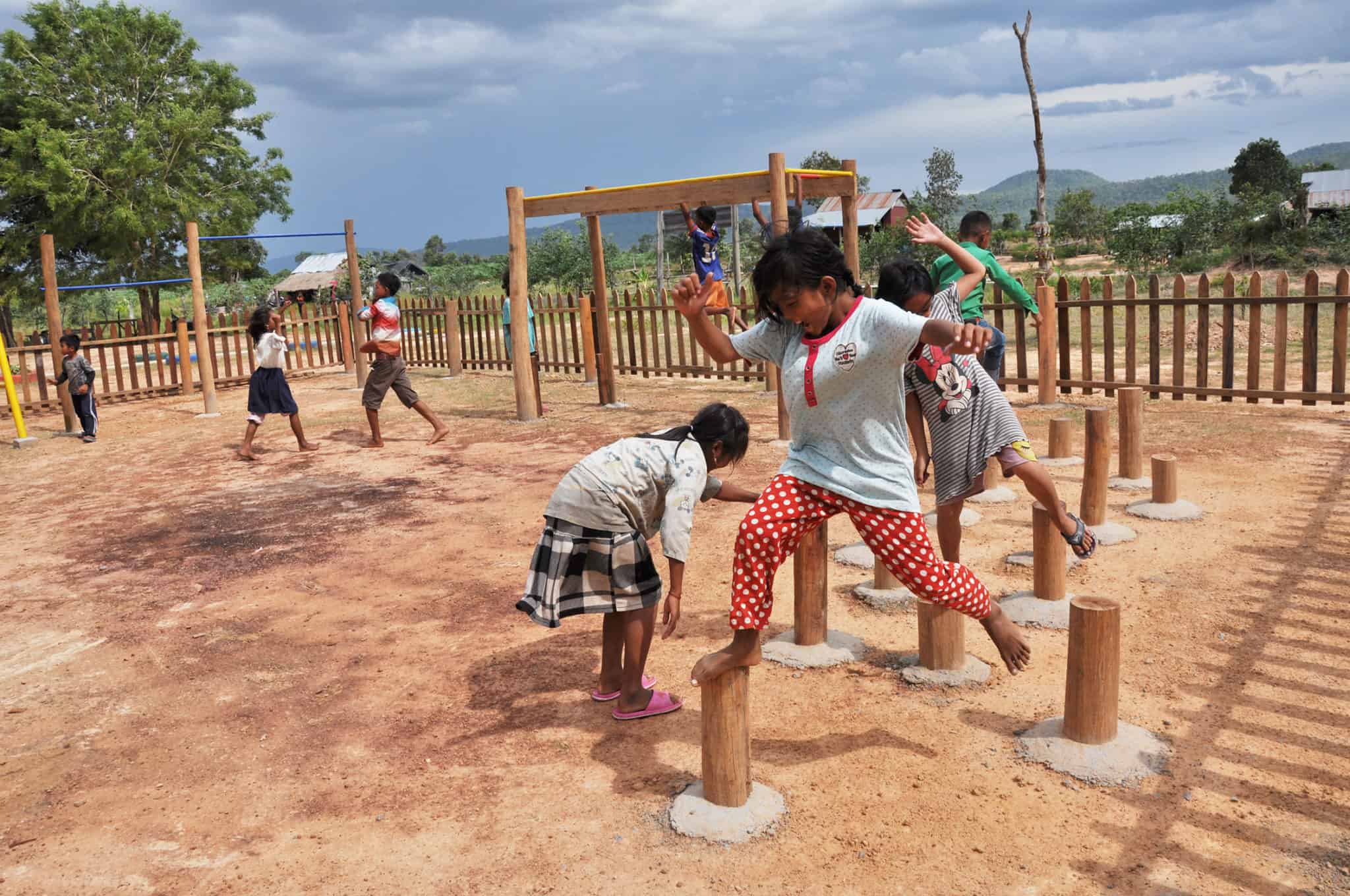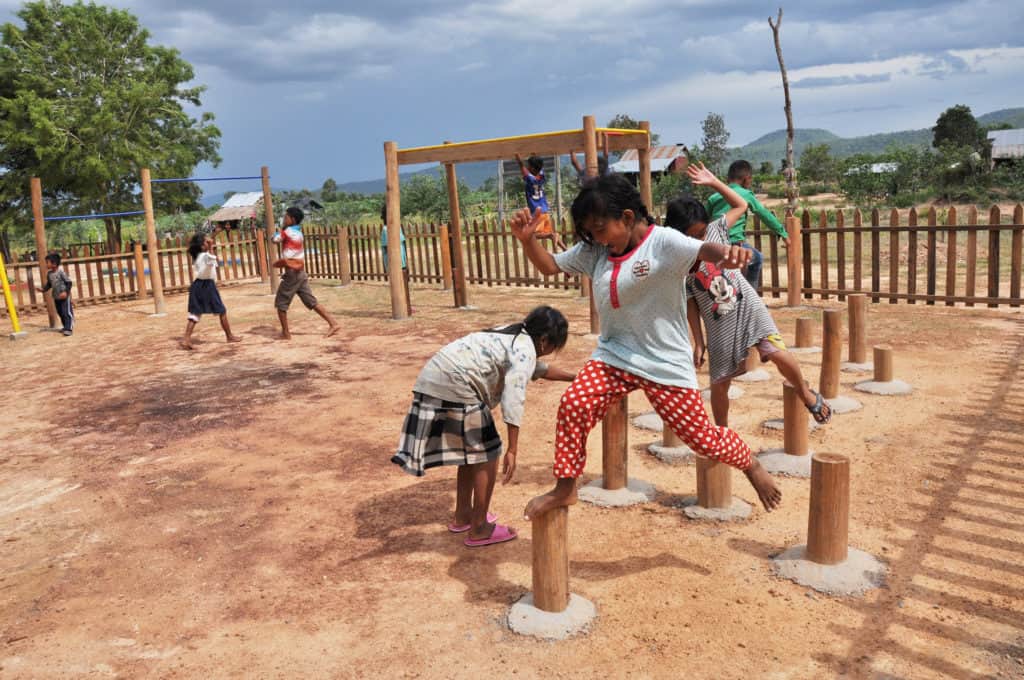 Paul E. Raether Distinguished Professor of Urban International Studies Garth A. Myers, director of CUGS, said that in an increasingly interconnected world, the links between places keep growing, making it imperative that people understand one another. "Davis Projects for Peace offer a few select Trinity students great opportunities to practice engaged global citizenship, building harmony and understanding in both directions," Myers said. "The projects help students to learn sensitivity and humility as they come to appreciate the nuances of a particular setting and project by listening to and learning from the local community."
In their final report for Davis Projects for Peace, Duong and Corbo wrote, "We define peace as efforts directed towards the betterment of communities. Thus, improving school grounds, which in turn supports the school system, coincides with and encourages peacemaking."
For a complete list of the spring 2020 Global Vantage Point Lecture Series events at CUGS, click here.