Back to News
Engineering Students Receive Grants from NASA Connecticut Space Grant Consortium
Academics
posted
by Hannah Lorenzo '24
Trinity College engineering majors Kevin Clark '23 and Ananya Swamy '23 recently received student project grant awards from the NASA Connecticut Space Grant Consortium (CTSGC).
Working on their senior capstone projects this year, the students have the opportunity to develop innovative engineering projects with the help of their group members, project advisers, and now the added support of NASA grant funds. The CTSGC is a federal program that provides funding and internship opportunities for students and faculty in Connecticut. 
As the representatives for their projects, Clark—a physics and engineering major with a concentration in mechanical engineering—and Swamy—an engineering major with a concentration in computer engineering—submitted their grant proposals in October 2022. Clark received a $1,500 grant for his group's project, "Geothermal Energy Systems," and Swamy received a $1,075 grant for her group's project, "Muscle Activation Visualization System for Microgravity Environments." 
The engineering senior capstone course serves as a culminating experience for students to gather all of their knowledge and skills from their time at Trinity to produce a professional design or research project. With the support of their professors leading the course and advising each project, the students learn how their engineering studies in the classroom translate to fieldwork.   
Geothermal Energy Systems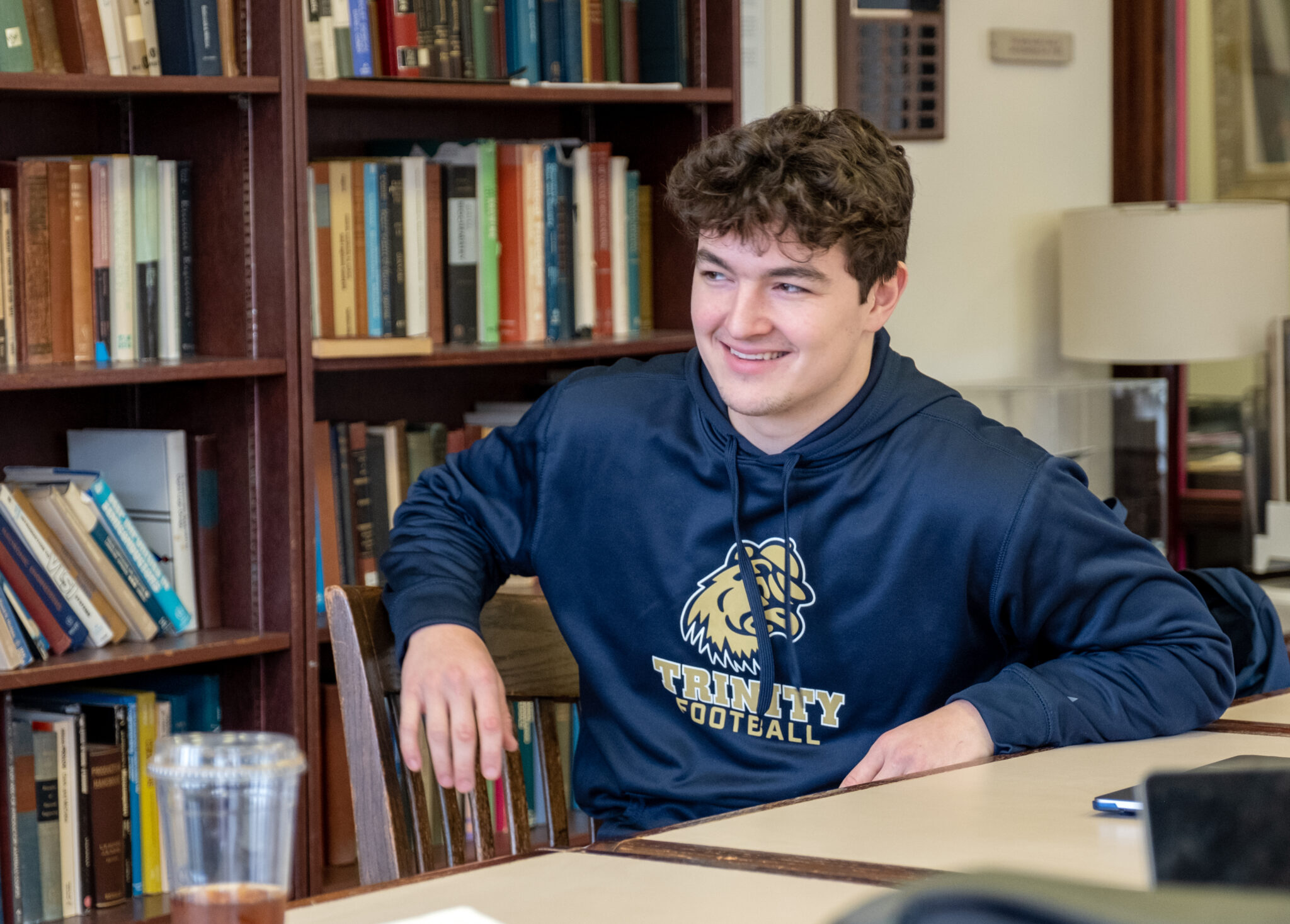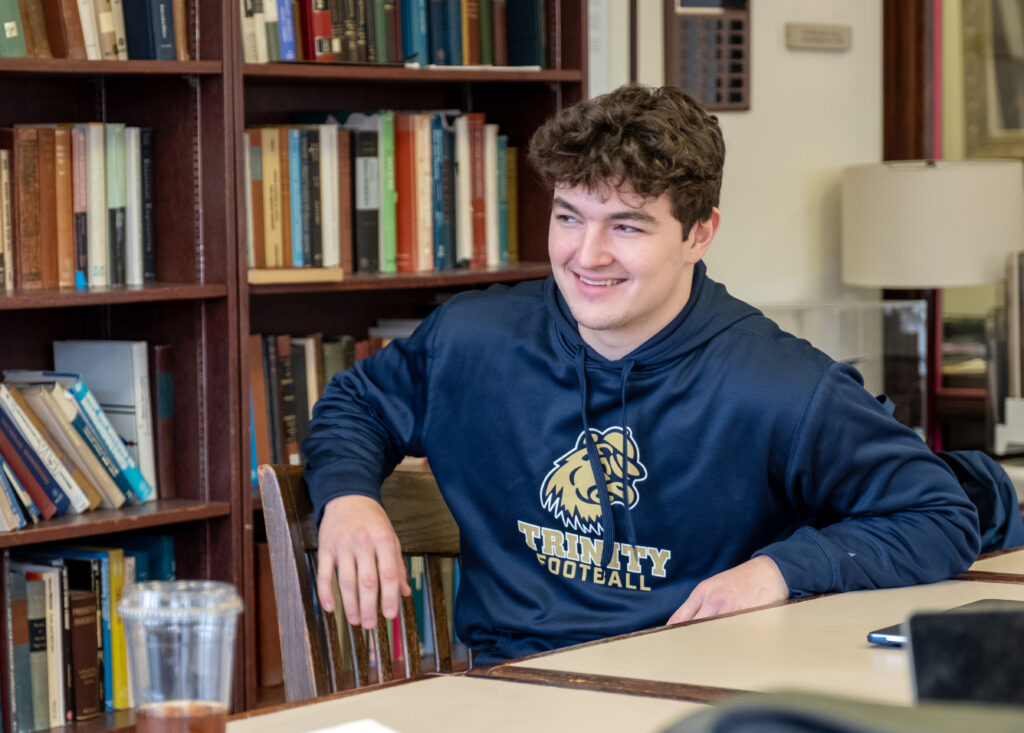 Clark is working with two other students—Maalik McPherson '23, physics and engineering major with a concentration in mechanical engineering; and Eric Sinson '23, engineering major with a concentration in mechanical engineering—to create a clean geothermal heating and cooling system that utilizes the consistent temperature of the ground a few feet below the surface. In the starting phases, Clark and his teammates spent much time connecting their coursework on thermodynamics and heat transfer to the actual design of their work.
Clark's project centers around clean energy that can be produced in a feasible, efficient manner, and how the students can implement their project in real-life applications with the allocated funding given to them. 
"Our objective really was to make supplemental heating-cooling that would be a really low cost; and also, green energy doesn't need outside power," Clark said.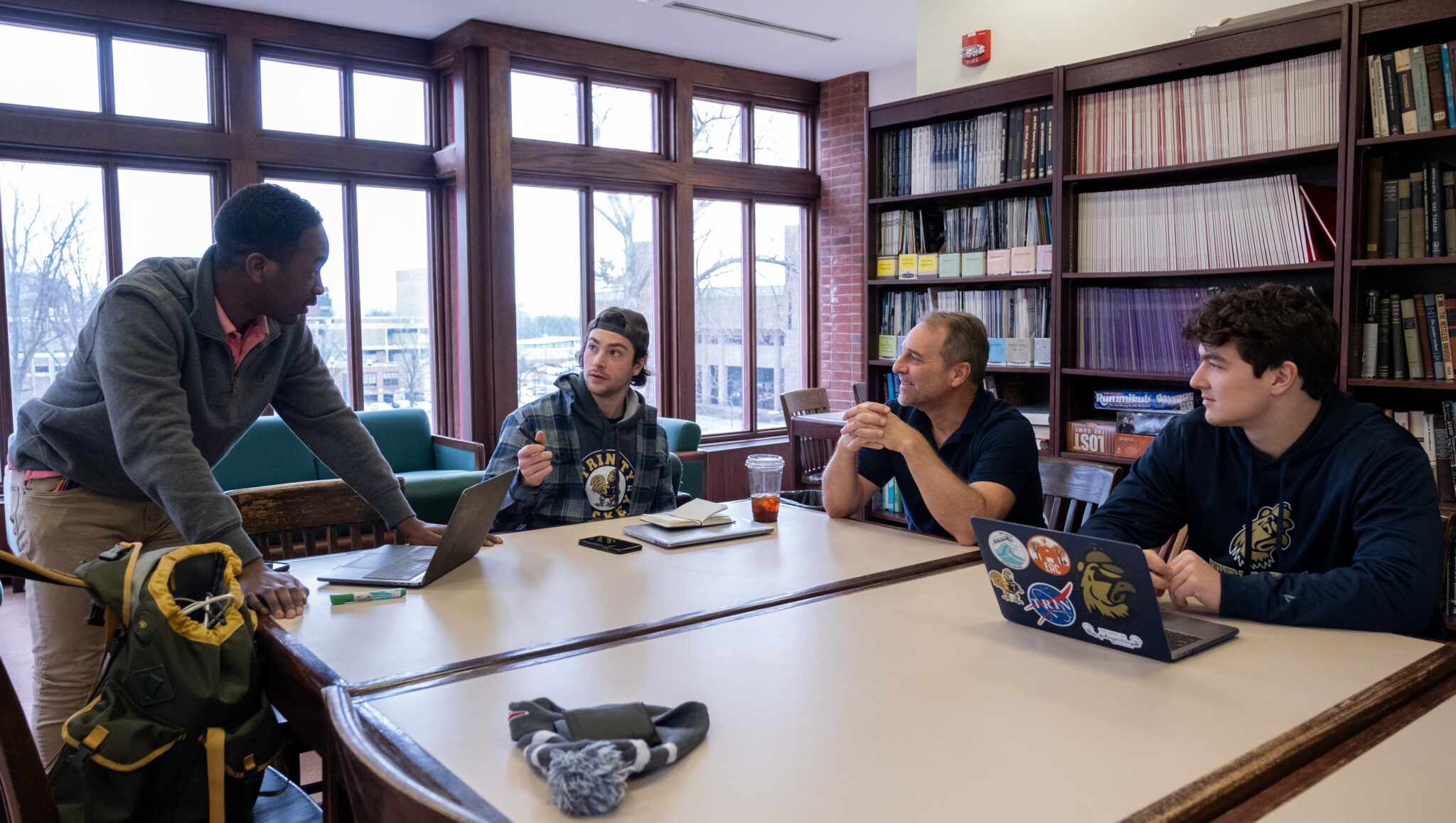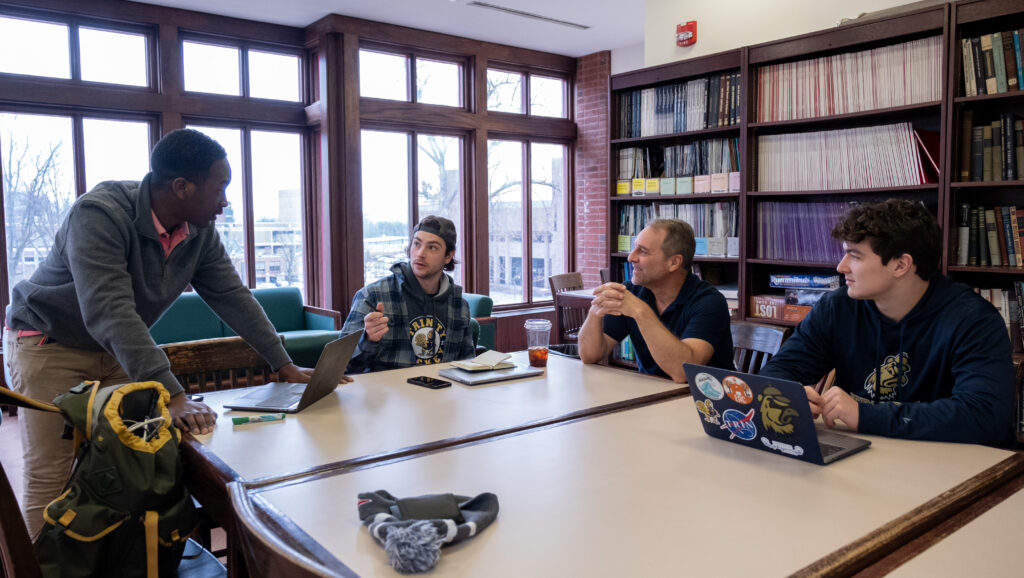 Professor of Engineering John Mertens is the project adviser for Clark's group, which meets on a weekly basis to discuss progress, questions, and areas for improvement. According to Clark, Mertens supports them through his expertise in thermodynamics, heat transfer, and energy actions, and encouragement in his feedback. Sinson added, "I like him because he's very blunt, so if we're wrong, he tells us we're wrong, and he pushes us to get it right." 
The student project grant will expand the students' budget for their project. Mertens said, "Part of the problem is they're trying to build an affordable, complicated system. So, they have to go out and find appropriate components that they could purchase and then adapt to their system."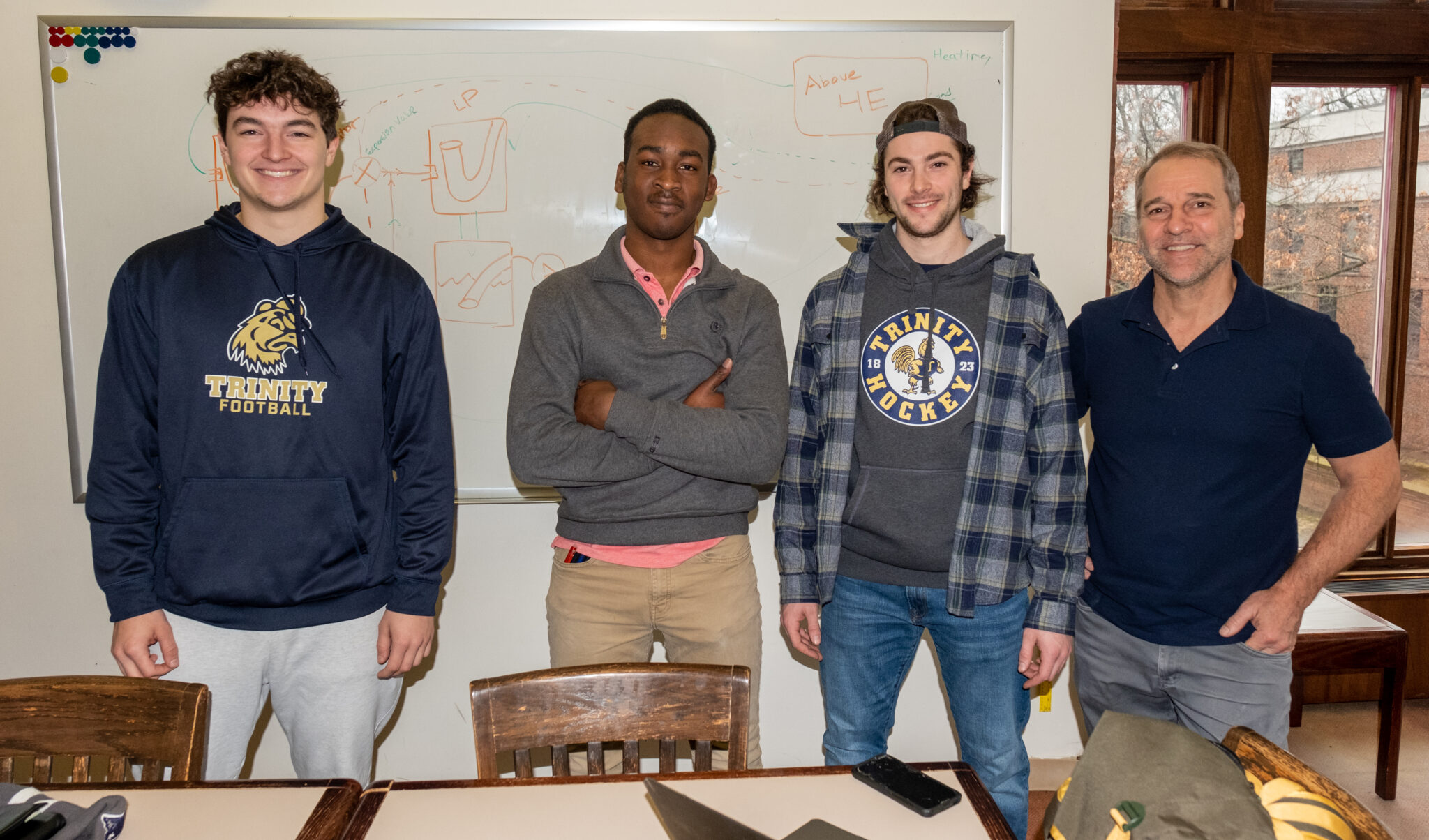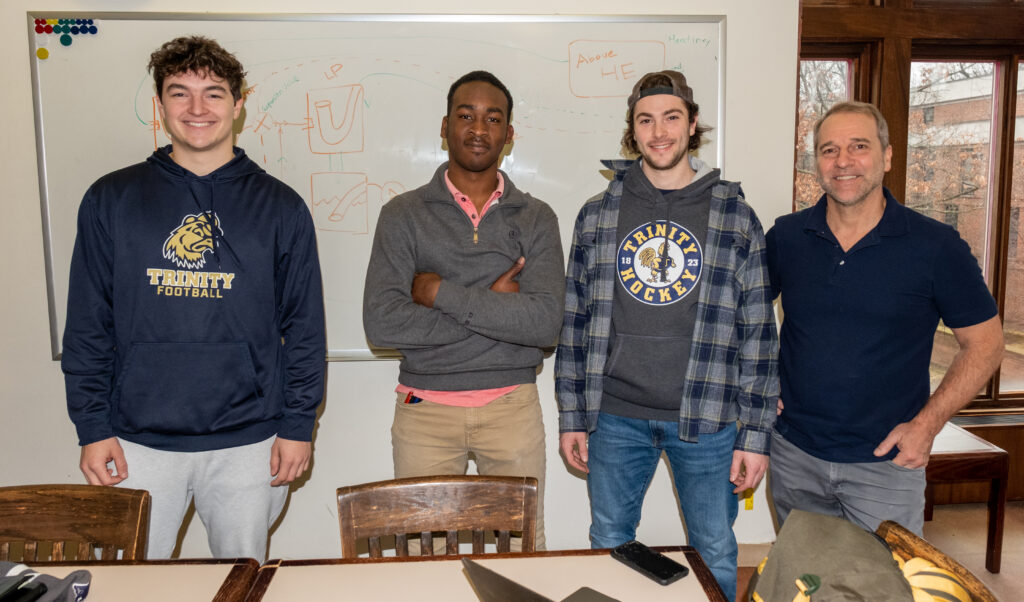 In the spring, Clark and his teammates plan to purchase the components required for their project to develop a small-scale geothermal heat pump. McPherson said, "That's something that's applicable to residential homes and larger buildings. We think that this project hits that niche of being sustainable and renewable."
Mertens said of the research and design work by these students, "In addition to them learning a lot and building a system that would work, I think they're actually going to measure some parameters that nobody's ever measured before, regarding maximizing the efficiency of the heat transfer in the ground."
Muscle Activation Visualization System for Microgravity Environments
Swamy's project team includes Scarlett Gillette '23, an engineering major with a concentration in mechanical engineering; Alisyn McNamara '23, an engineering major with a concentration in mechanical engineering and an architectural studies minor; and Ireland Rowan '23, a physics and engineering major with a concentration in mechanical engineering.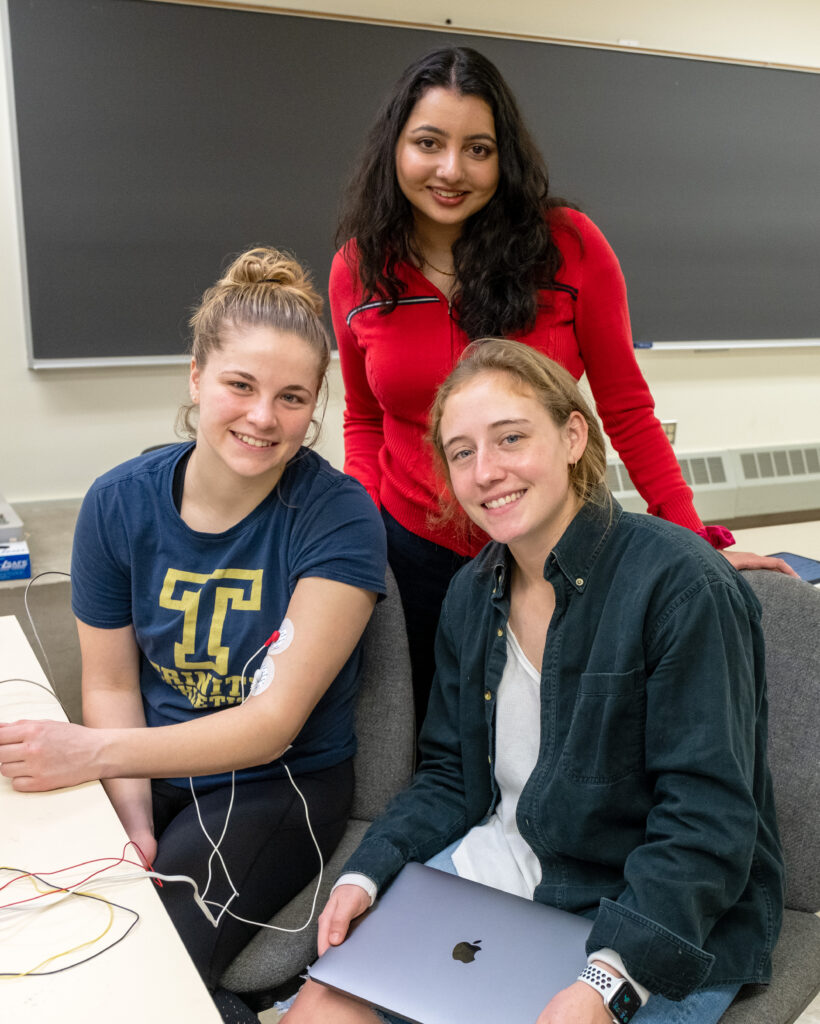 "It was really great working with other women in STEM. We were really intentional about that group, and we work really well together," Swamy said. "The professors gave us weekly guidance on our project, but we had to be pretty self-motivated to get through building a prototype."
Using surface electromyography (sEMG) sensors and LED lights, the project can provide accessibility in studying the muscle activation and muscle atrophy of astronauts in microgravity environments.  
"When they're in space, their muscles aren't activated as much, which means that they kind of deteriorate over time, so NASA has to be very intentional about the exercise that astronauts do," Swamy said. "The results of our project, which includes real-time muscle activation feedback, may help astronauts experiencing muscle atrophy."
Swamy's project adviser, Assistant Professor of Engineering Clayton Byers, works with Assistant Professor of Engineering Kevin Huang '12 in merging their knowledge of mechanical, computer, and electrical engineering to organize these intersections in the project.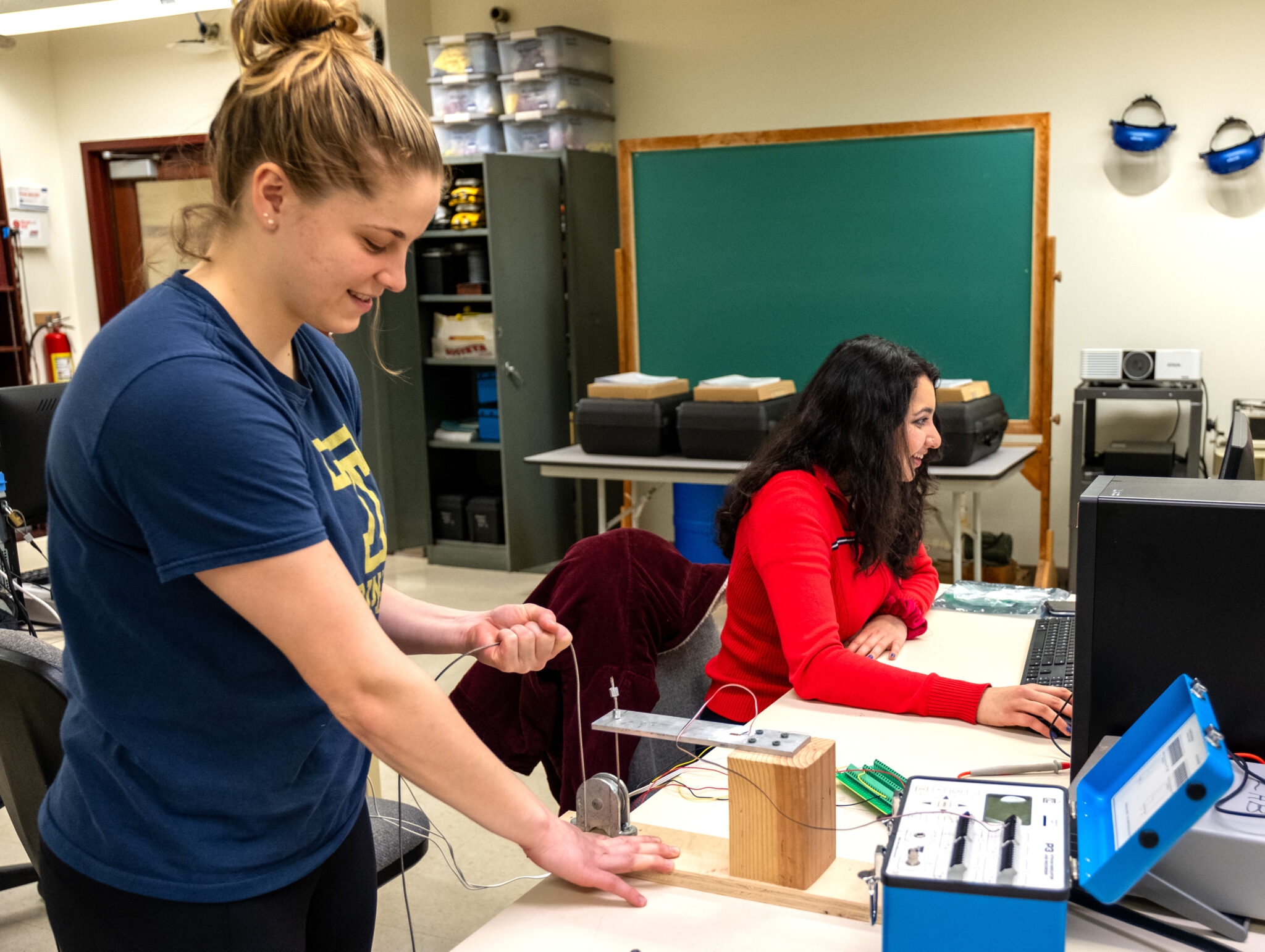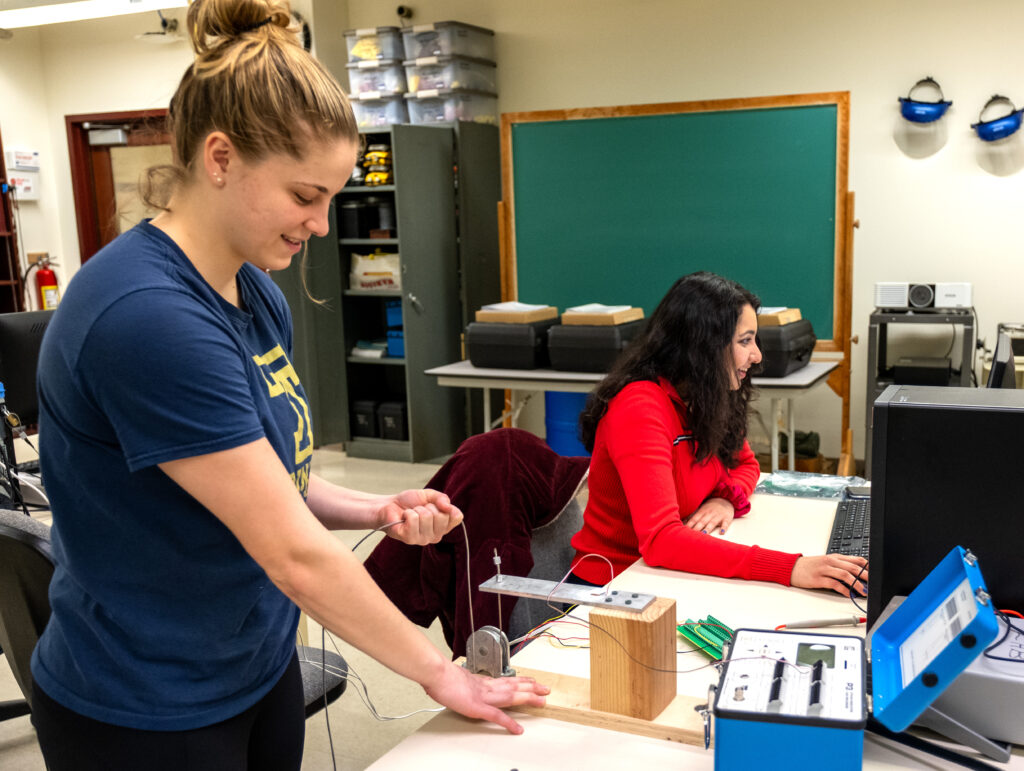 As the campus representative for the CTSGC for Trinity College, Byers said that encouragement is given to all students and faculty to apply for the grants, especially for funding for student project technologies and materials of higher quality and cost. 
"It's one thing to buy the $20 sensor off of Amazon, and it's another thing to buy the $250 sensor from a specialty provider that is much more accurate, so the grant gives them a little bit more leeway in pursuing better results," Byers said. "All of our senior projects get a budget, but this just gives them that much more."
Byers said that engineering students develop professional skills of all kinds. "I did a lot of work in the classroom to help students be more engaged public speakers and more effective writers who are able to convey their information, whether it's technical or not," Byers said.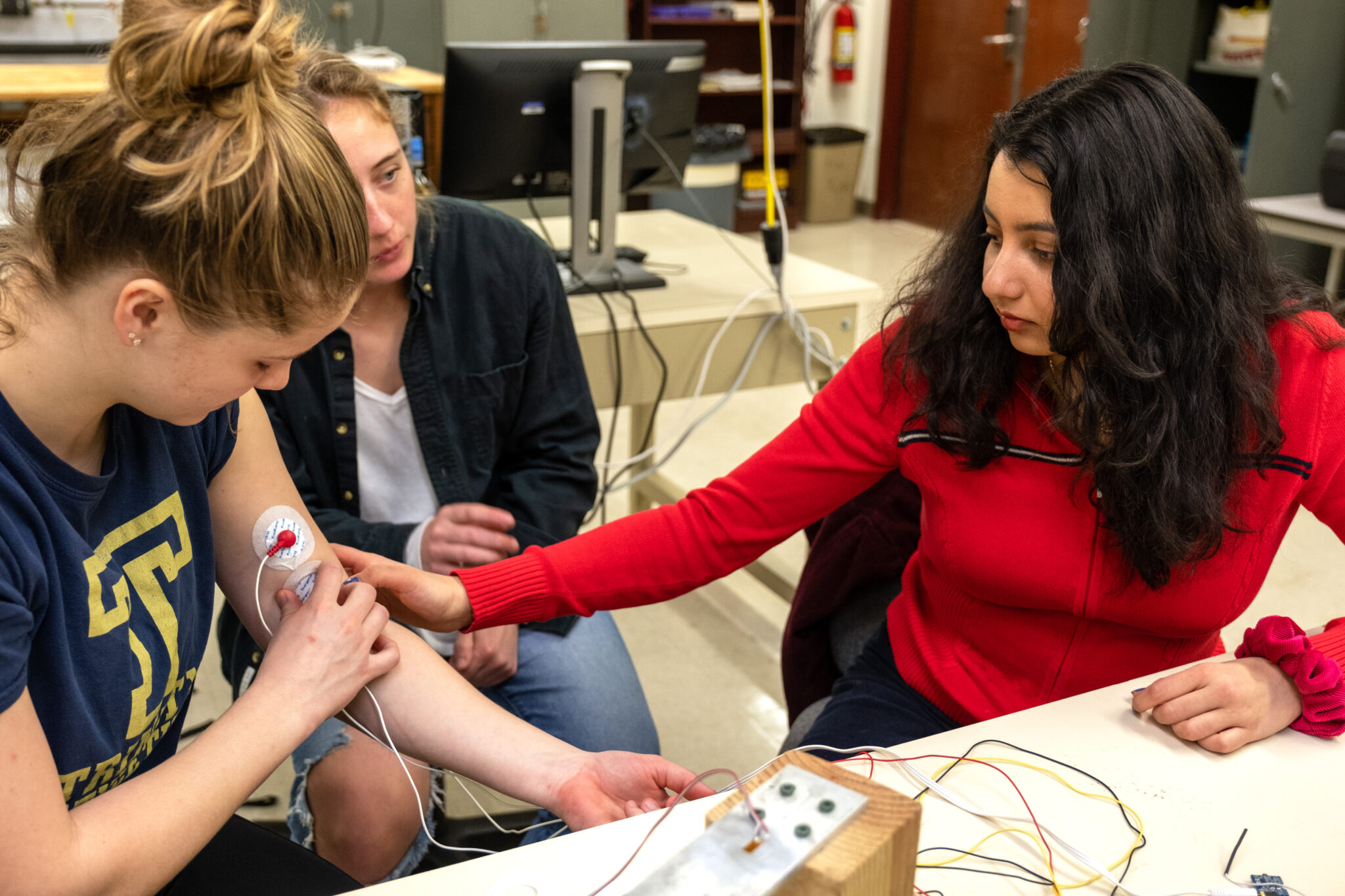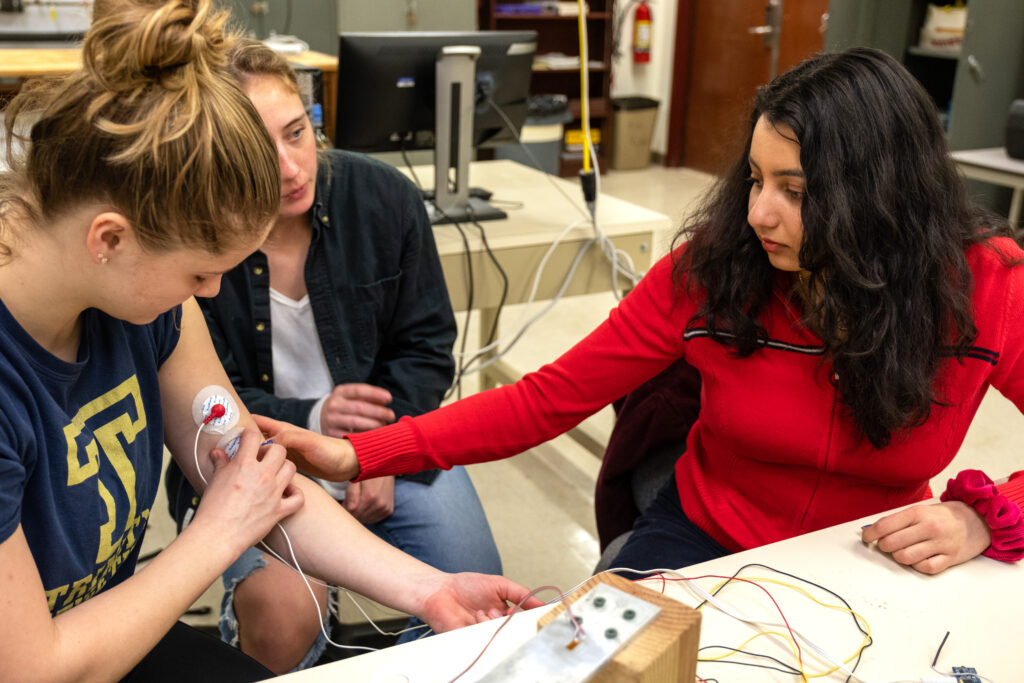 Writing a grant proposal became a key factor in Swamy transitioning this project from paper to space. "She had to put together this application, write the narrative, describe the technical details, and convince the consortium who reviews these applications that not only is this a good project, but it's relevant," Byers said. "She did that, and that's why she won that award; it's a very high reflection of her work."
Swamy reflected on the role her project could play in future studies on human muscle research. "When people see their visual feedback from their muscle activation, we'll be able to understand, in real time, how much force they are applying, and then we'll have a better understanding of muscle activation, which can also apply to broader applications," Swamy said. "Going forward, I definitely want to work in technology, building something that's cutting edge, that affects people, and makes a positive impact on them."