Back to News
Author Paul Tough Discusses 'Social Mobility through Education' at Trinity
Trinity Community
posted
by Emily Wickles '20
Paul Tough, the author of The Years that Matter Most: How College Makes or Breaks Us, came to Trinity College recently for a conversation with Angel Pérez, Trinity's vice president for enrollment and student success, and Matthew Rivera '20 about the ways higher education in America can both help and hinder young people in search of better opportunities. "What motivated me in this book is looking at why there is such inequity in higher education," Tough said.
Members of the greater Hartford education community joined Trinity students, faculty, and staff in the Washington Room during Common Hour on November 5 for the panel discussion called "Social Mobility through Education: A Conversation with Paul Tough," which was moderated by Trinity President Joanne Berger-Sweeney. Panelists also answered questions from the audience, both pertaining specifically to Trinity's vision and about higher education admissions in general.
For his new book, Tough analyzed the admissions process at a variety of higher education institutions, including Trinity. He found that in today's academic climate, it is difficult for low-income and first-generation students to gain admission to elite institutions. Tough saw this inequity in many forms, leading him to seek out institutions aiming to change the system. Tough said, "One way of dealing with inequities is pretending they don't exist, and that is what most universities do." The panelists discussed the reasons for these inequities, what it is like to be a young person within this system, and what is being done at Trinity to change it.
Pérez came to Trinity in 2015 looking to help level the playing field, in part by admitting more high-achieving students with diverse backgrounds. While sharing his own experiences as a student, Pérez said that he personally understood what it was like to be given a chance, which is what he feels all students deserve. "If I can share a story and inspire young people to share their story, it is all worth it," said Pérez.
Today, Trinity has the highest number of first-generation and low-income students in its history. Pérez and Tough discussed this outcome as a communal effort between Berger-Sweeney, the Board of Trustees, and students. Trinity wanted to transform the student experience and Tough cited that as the reason he is optimistic about Trinity's future. Tough said, "Trinity stands out to me because it is taking a long view approach to an immediate problem, like inequity in the student body and financial aid problems."
In addition to researching and understanding Pérez's admissions practices, Tough interviewed Rivera for the book. Rivera spoke during the panel discussion about his personal development at Trinity and the development of Trinity's campus culture. Rivera said, "It is impossible for me to talk about my growth without talking about the growth of the college, such as the amount of resources Trinity provides in the spaces where students are." These resources for student support include a first-generation student pre-orientation program, a Student Emergency Fund, and the Center for Student Success and Career Development.
Rivera added, "College is fundamental to identity formation, as it requires you to meet in the middle and be confident in your abilities." Berger-Sweeney and Rivera both highlighted Trinity as a space for students to develop their support networks. Since being on campus, Rivera founded two different groups: Brotherhood, a space where men of color can come together and talk about the experiences in their everyday life; and Faith Circle, a space for discussion about an individual's life and faith journey.
Eve G. Pollack '20, a Student Admissions Associate who asked the panelists a question at the event, later noted that Trinity was one of the first colleges to address admission inequity by making its application test-optional in recent years. "Other elite institutions are following our lead and going test-optional themselves," she said. "Another great change I have seen is that many more first-generation college students are attending Trinity and taking advantage of all that Trinity, as a small liberal arts college, has to offer."
While talking about Trinity's progress, Pérez said, "The problem may not be entirely solved, but there is a forthcoming movement to solve the issue."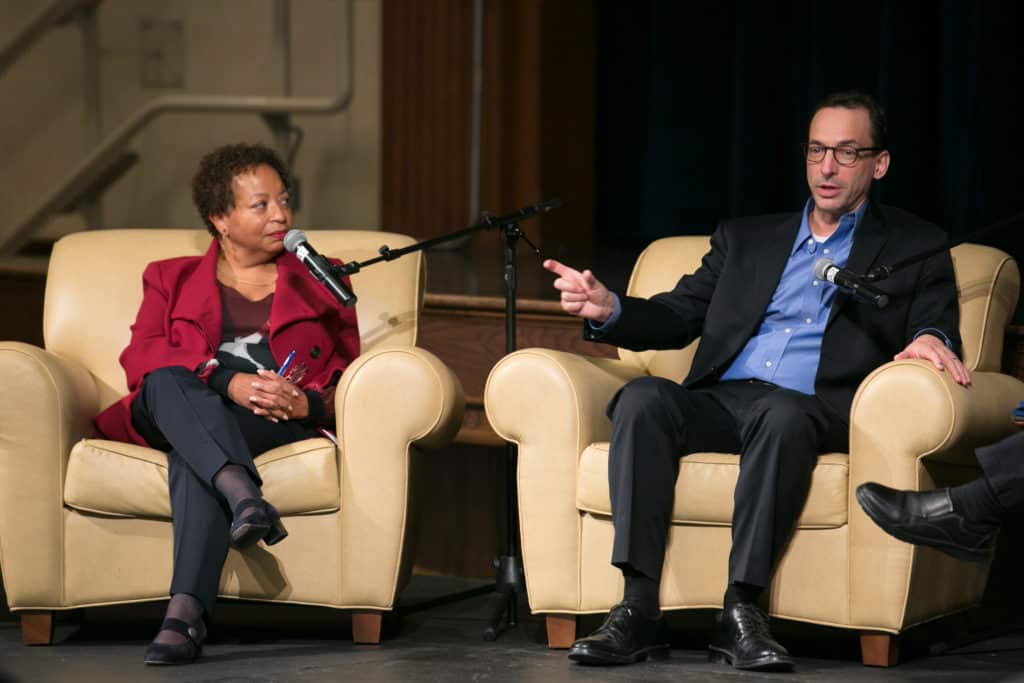 Berger-Sweeney added, "Administrators, trustees, faculty, and students have helped lift this community as a whole."
The increased awareness of admissions has started the conversation about systemic inequities and potential solutions, and Tough explained that transparency within the admissions process could change society's perception of it. Tough said, "Thinking of Trinity has made me hopeful and seeing what Angel is able to do with his constraints, and Matthew's personal development, makes me optimistic."
To learn more about Trinity College admissions and financial aid, click here.
Click here to read an excerpt of Tough's book published in The New York Times Magazine in September that focuses on Pérez and Trinity.
Click here to read Berger-Sweeney's op-ed, "How Trinity College is creating an inclusive future," published in the Hartford Courant in October.
A video of the entire conversation is below: