Back to News
Athlete A Maggie Nichols Helps Trinity College Students 'Take Back the Night'  
Trinity Community
posted
by Hanifa Darwish '22
Content Warning: This article contains discussion of sexual assault.
This year's "Take Back the Night" program at Trinity College featured special guest Maggie Nichols, an elite gymnast who was the first to report sexual abuse by former USA Gymnastics team doctor Lawrence (Larry) G. Nassar. Nichols is featured in the documentary film Athlete A, as she was called to protect her identity during the investigation.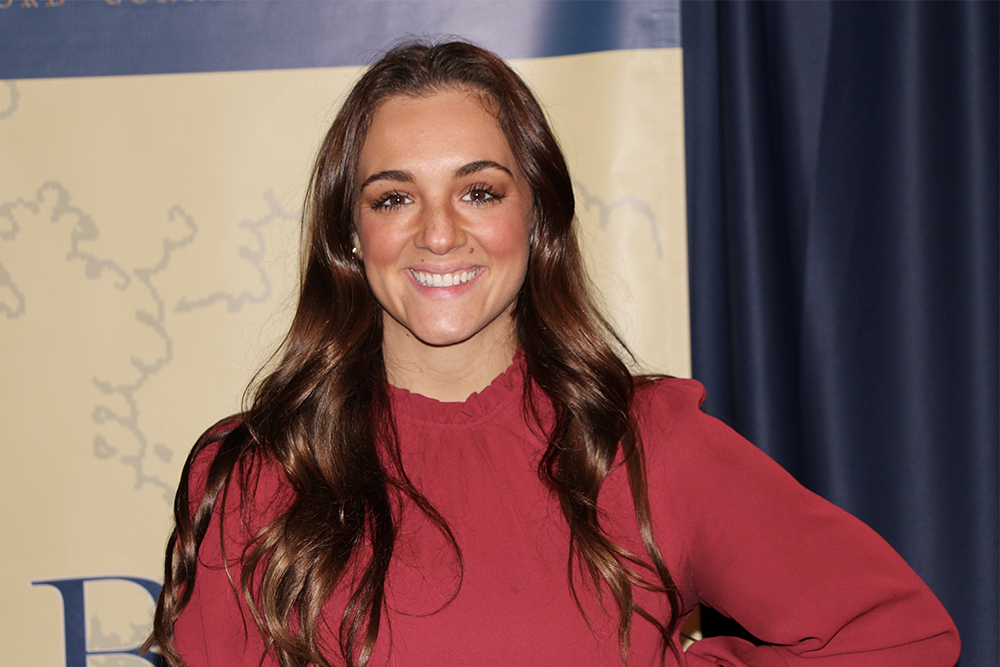 The April 5 event in the Washington Room of Trinity's Mather Hall was organized by Students Expecting Consent (SECS), a student organization of the Women and Gender Resource Action Center (WGRAC). Guests could choose to attend the event in person or virtually.
"Take Back the Night" marches and rallies have been happening in the United States since the 1970s. Originally, they were held for women, by women, to unite against fear and violence. Trinity's recent event and many others like it, however, are more inclusive, with people of all genders joining in solidarity as survivors and allies.
The program with Nichols was preceded a few days earlier by a showing of Athlete A, directed by Bonni Cohen and Jon Shenk. The 2020 film spotlights the sexual abuse of hundreds of young athletes by Nassar and the subsequent cover-up, and includes interviews with those working to hold USA Gymnastics and Nassar accountable. Convicted of federal and state charges, Nassar is currently in federal prison.
Nichols devoted most of her life to making the Olympic gymnastics team. Like other Olympic hopefuls, she had given up almost everything to achieve this goal. She was on the road to the 2016 Olympics in Rio de Janeiro, but she said her dream was shattered after she reported being sexually abused by Nassar. Nichols, who met with Trinity student-athletes and others over lunch as well as addressing a large "Take Back the Night" crowd, said, "My message for Trinity students and everyone else is to continue to talk about [sexual abuse] and continue to spread awareness and educate those around us, especially on campus. Always know that you can use your voice to make a change."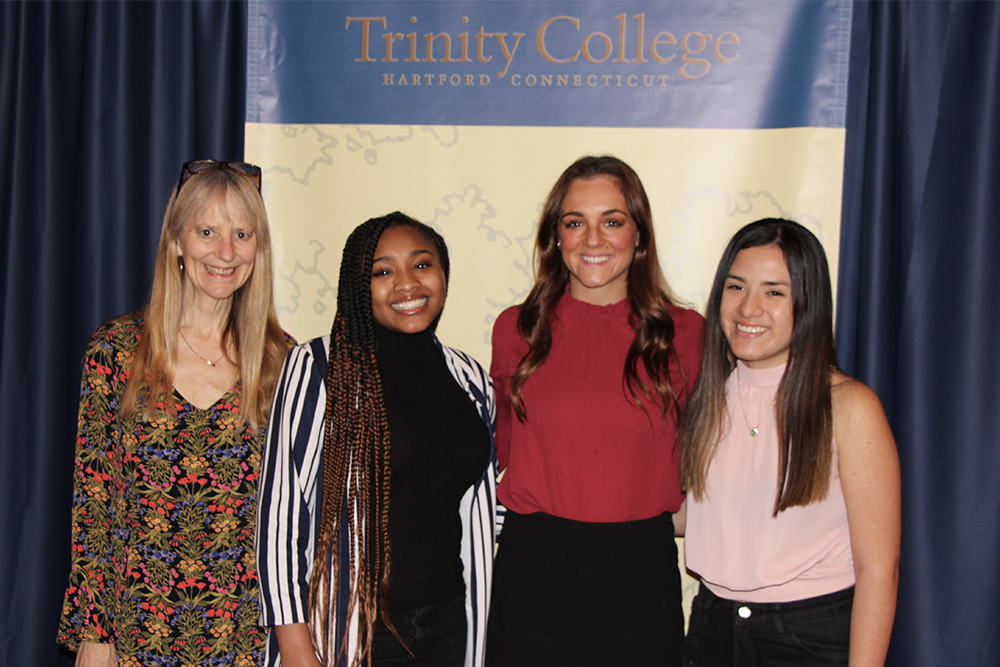 This year's "Take Back the Night" was organized by the two co-coordinators of SECS, Luz Cumpa- Gomez '24 and Micaela Rufus '23. Cumpa-Gomez, an international student from Peru who majors in neuroscience, expressed a hopeful perspective about the event. "With 'Take Back the Night,' I hope we create a safe space for survivors," she said. "I hope survivors leave Maggie's talk feeling empowered, knowing that it is their choice if and when to share their own story. I hope they leave knowing that they are all extremely strong, even when they don't feel like it. I hope they leave knowing that they are not alone."
Rufus, majoring in public policy and law with a minor in philosophy, said, "I helped organize this event because I am a survivor, and I am dedicated to preventing and bringing awareness to the issue of sexual assault." Rufus has been working with WGRAC as SECS co-coordinator since her first year at Trinity.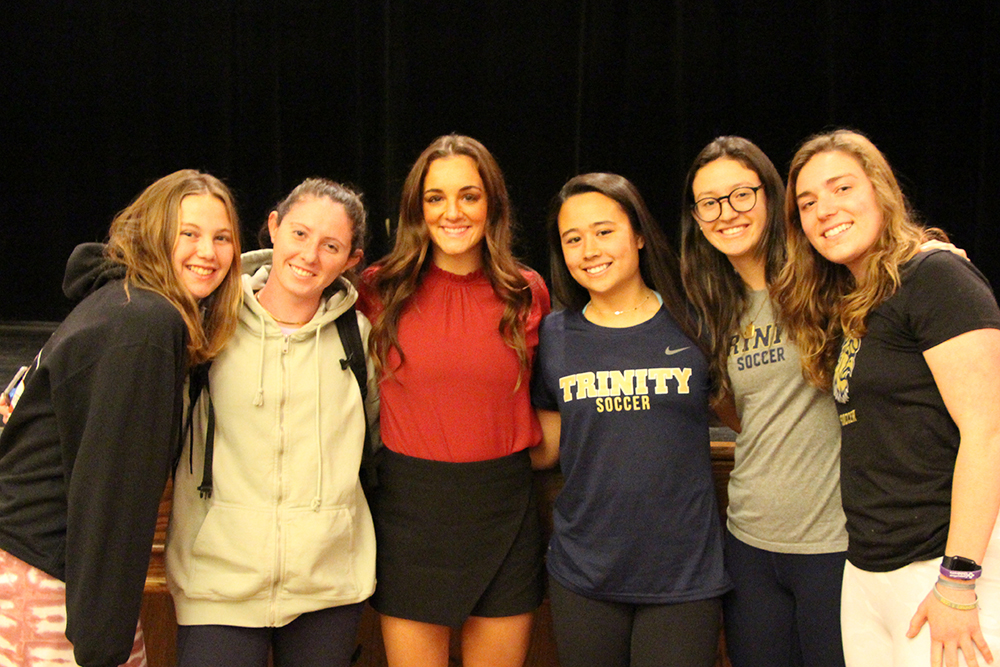 At a Common Hour discussion when students could meet with Nichols earlier in the day, Rufus said that the conversation made her feel empowered. "[Nichols'] unique experience confirmed that survivors can preserve their identity outside of being a survivor. As a two-time survivor of sexual assault, I have battled with the fear that survivorship would take over my identity if I came forward publicly," Rufus said. "Because of Maggie, I now know that I am more than just a survivor; I am also a scholar, leader, sister, and friend. She explained that, as a survivor, she is still an elite gymnast, daughter, and friend. This support system and these roles helped her with her healing journey. I appreciate her for having the courage to share her experience, and that in itself was empowering, as well."
Trinity College President Joanne Berger-Sweeney, who spoke at "Take Back the Night," expressed gratitude to Nichols, the coordinators of the event, and everyone else who showed up to be part of a shared fight against violence. Berger-Sweeney said, "It matters to me as a woman, as a mother, and as president of Trinity College. We must acknowledge that sexual violence occurs on this campus and do everything we can to end it. Events like this are part of the solution, and so are the prevention education efforts we have undertaken and the many individuals and offices that serve as important resources."
Berger-Sweeney then reminded the audience of the 50th anniversary of the passage of the Title IX of the Educational Amendments of 1972, a landmark piece of legislation for gender equity. She added, "In response to the demands and issues raised on the @trinsurvivors Instagram account over the summer of 2020, Trinity retained a law firm to reexamine Trinity's Policy on Sexual Harassment and provide recommendations to the college to help shape our work to end sexual misconduct on campus. I am glad to be able to say that of the four overarching recommendations provided by the law firm, we have completed and/or made significant progress in all areas. This includes the hiring of a full-time Title IX coordinator, as well as four deputy Title IX coordinators, the creation and implementation of a comprehensive complaint management system for Title IX and bias incidents, and the implementation of mandatory sexual harassment prevention and education training for all first-year and sophomore students and all staff."
She continued, "While I acknowledge that more needs to be done, I am also proud of the progress we have made as a community to ensure a safer learning, working, and leading environment for everyone who sets foot on this campus. We will continue to improve so that we can best support survivors, hold perpetrators accountable, and in every way possible make clear that sexual violence and sexual misconduct will not be tolerated at Trinity College."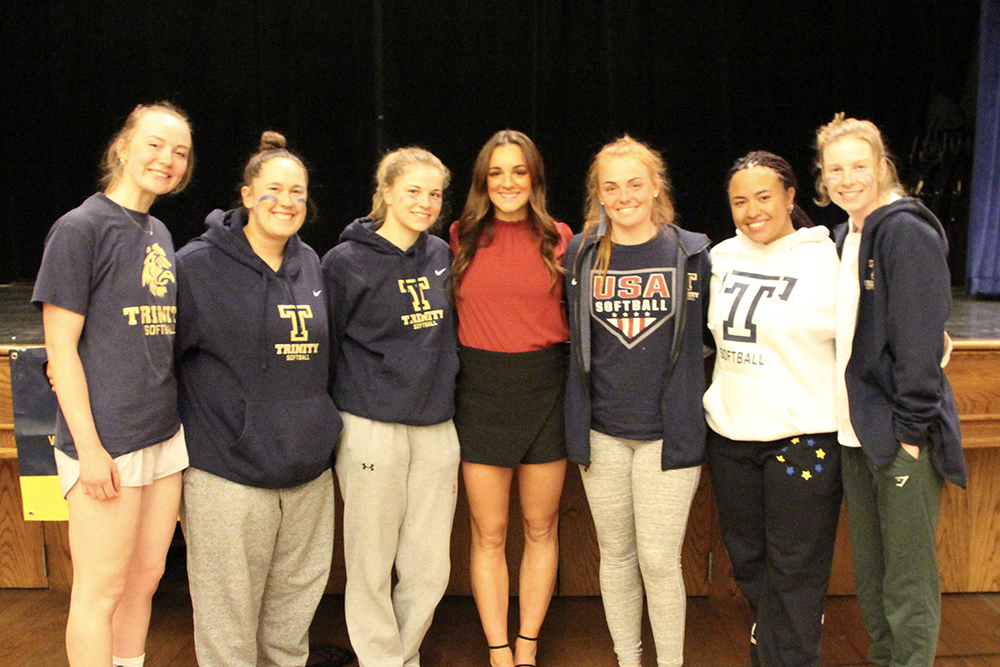 In a statement, Laura Lockwood, the director of WGRAC and the coordinator of Trinity's Green Dot Violence Prevention Strategy, added, "Hosting elite gymnast Maggie Nichols as our esteemed guest speaker for 'Take Back the Night' serves to empower those who may fear retribution or shame for reporting incidents of sexual violence and harassment. This is especially important for our non-majority students. Maggie Nichols gives voice and agency to all campus members who seek to end the silence surrounding these issues." She continued, "With a campus culture that believes survivors and works hard to prevent and end all forms of sexual violence, more survivors and bystanders will feel emboldened to come forward. Perpetrators rely on the campus silence and the fear of reporting as a shield from potential consequences."
The audience also heard from the Campus Advocate of YWCA Sexual Assault Crisis Services, Sophie Kulowlski. She explained the varied resources available to victims and survivors, including the 24-7 free state hotlines in English and Spanish, which are fully confidential.
To prevent sexual misconduct and harassment, WGRAC staff, along with Trinity's Green Dot Violence Prevention Strategy Team, offers bystander intervention and sexual misconduct educational workshops to all campus members. For information, contact Laura.Lockwood@trincoll.edu, and visit the Green Dot site.
For a list of upcoming Sexual Assault Awareness Month (SAAM) programs, visit the calendar page on the WGRAC website.
To report an incident of sexual harassment or misconduct, contact Trinity's Title IX coordinator at titleixcoordinator@trincoll.edu, or consult the Title IX website for Your Rights Your Options, which lists reporting options and support resources on- and off-campus.
To review the Trinity College Policy on Sexual Harassment, click here. For workshops on the policy and Title IX, contact titleixcoordinator@trincoll.edu.
Students seeking support may contact the Counseling and Wellness Center at 860-297-2415, WGRAC at 860-297-2408, or the 24-Hour Crisis Hotlines at 1-888-999-5545 (English) or 1-888-568-833 (Spanish).