Back to News
A Trinity Student's Summer as a Seventh-Grade Teacher: 'One Thing You Say Can Change Their Lives'
Xavier Mercado '24 got his first taste of teaching during high school, when he served as a National Honors Society tutor. Mercado always knew that he loved being in the classroom and supporting his peers, so he worked closely with his teachers to learn more about the field of education.
When he arrived at Trinity, Mercado was able to explore his interests further, majoring in English and educational studies. As a Posse Scholar, he used that organization's website to find summer opportunities in teaching. For two summers, Mercado has led a classroom through the Breakthrough Collaborative, which promotes education equity and trains college students for careers in education.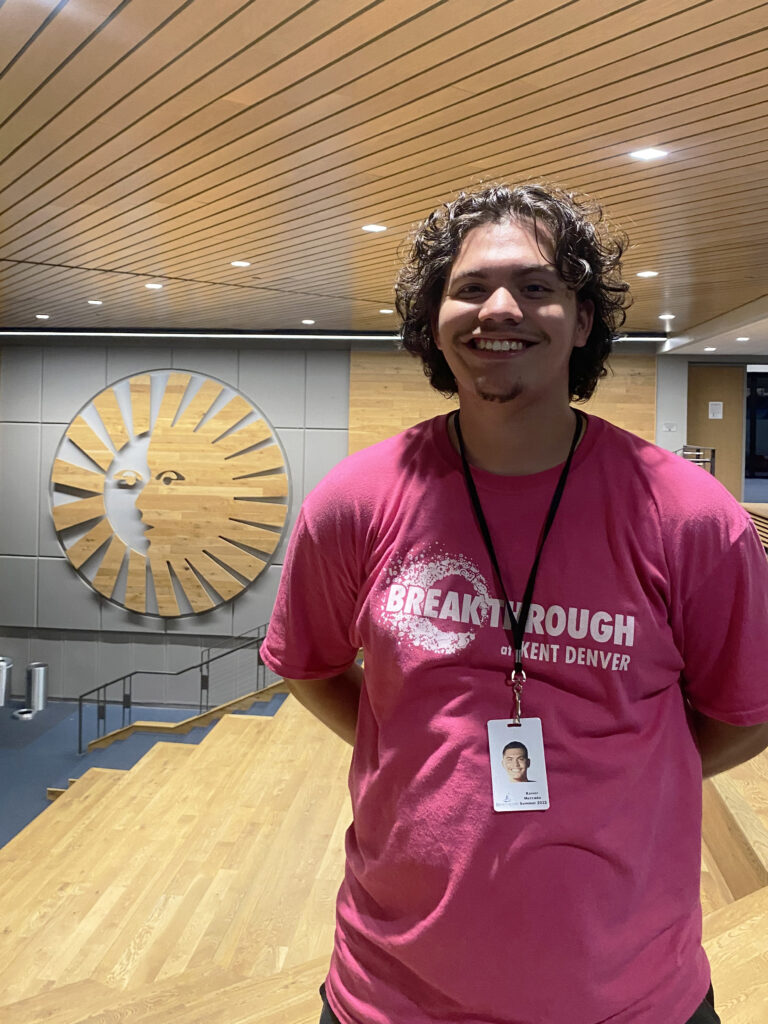 Working closely with Trinity Assistant Professor of Educational Studies Elise Castillo and Breakthrough Collaborative at its Kent Denver location, Mercado is sharing his love of creative writing this summer by leading a class of seventh-grade students in Colorado. Inspired by his own classwork, he is focusing on diversity in the classroom, putting knowledge into action.
Mercado is one of five Trinity students who received Weingarten Cross Cultural Internship funding from a college donor this summer, allowing them to pursue internships with cross-cultural components.
Mercado's day starts early, prepping for buses of students to arrive from the Denver area. Staff meetings, two periods of teaching, and extracurricular activities keep Mercado busy; even during mealtimes, he is interacting with students. "We have breakfast and lunch with our classes every day, working to build those connections," Mercado said.
For his course, Mercado selected the book, The House on Mango Street, by Sandra Cisneros, which is set in Chicago, Mercado's hometown. The 1984 novel is about a young Chicana girl, a character with whom Mercado thinks his students can identify. Inspired by one particular section of the book, "My Name," Mercado's students will identify the person that people tend to see them as, and who they truly are.
Mercado shared that in his courses at Trinity, especially in the Educational Studies Department, he has learned about the importance of responsible teaching. "What can go on in some English courses can fail to include different perspectives," Mercado explained. Learning from different perspectives at Trinity is influential, as Mercado preps his daily class plans. Many of his students are Latinx, something Mercado wants to focus on in each lesson.
Castillo, his adviser, is also helping Mercado learn throughout the summer, just like his students. "I send reflections about what is going on and I am doing readings she assigns," Mercado said, noting Castillo's emphasis on teaching with intention.
This summer, Mercado said that he is putting his classroom knowledge into action, testing what he has learned thus far, and what he still must learn. After graduation from Trinity, Mercado hopes to be back in an urban classroom, as an English teacher for a diverse community of students.
In his life, Mercado has experienced first-hand the impact teachers have on students, first from the perspective of a student, and now from that of a teacher. He has established bonds with the students who he said understand that they are lucky to be in the Breakthrough classroom and see him as a mentor. "One thing you say can change their lives," Mercado said.