The Academy of Lifelong Learning offered seven events for the 2020-2021 academic year, thanks to the expertise of ten faculty members across the College, in chemistry, the earth sciences, political science, public policy, history, and music. These events attracted robust participation from Trinity alumni and members of the public. Videos are available below.
2021 Events and Videos
Faculty Grant Success: A Conversation with Professor Lindsey Hanson, Chemistry
A conversation with Professor Lindsey Hanson about her major NSF grant, the field of nanotechnology, and how she has "flipped" her undergraduate lab during COVID.
Click HERE to watch the interview.
Helping Connecticut Homeowners: Analyzing Concrete Foundations with Professors Christoph Geiss and Jonathan Gourley
Over the past decades pyrrhotite-containing aggregate has been used in concrete to build basements and foundations in northeastern Connecticut and south-central Massachusetts. The sulphur in the pyrrhotite reacts to several secondary minerals, and associated changes in volume lead to a loss of structural integrity. As a result hundreds of homes have been rendered worthless as remediation costs often exceed the value of the homes and the value of many other homes constructed during the same time period is in question as concrete origin and potential future structural issues are unknown.
Trinity College professors Christoph Geiss and Jonathan Gourley have developed a reliable and affordable test for pyrrhotite, and have analyzed over 400 homes in Connecticut and Massachusetts. They will talk about their work and how the results of their ongoing studies may be used in the future to assess pyrrhotite risk to homeowners.
2/18/2021  Watch Now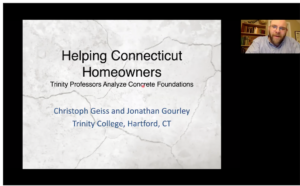 The Storming of the Capitol and the Future of American Democracy 
Panel Participants:
Cheryl Greenberg, Paul E. Raether Distinguished Professor of History at Trinity College
Susannah Heschel '73, H'10, Eli M. Black Distinguished Professor of Jewish Studies at Dartmouth College and Trinity College Trustee
Kevin J. McMahon, John R. Reitemeyer Professor of Political Science at Trinity College
2/4/2021  Watch Now
2020 Events and Videos
Presidential Election Series
 Why Cities Lose: A conversation with Garth Myers (Urban Studies) and Sean Fitzpatrick (Public Policy Grad/Urban Studies) conducted by Abby Williamson (Political Science/Public Policy and Law) about how political structures in the United States disadvantage its urban centers.
10/19/2020   Watch Now
Pandemics, Polarization, and Presidential Politics: Co-sponsored with TIIS. This panel, with Rachel Moskowitz (Public Policy and Law) and Kevin McMahon (Political Science) will explore various aspects of this year's presidential race, including questions such as: Will factors that have mattered most in the past apply to the race this year? How closely should we pay attention to public opinion polls? Will President's Trump handling of the Covid-19 crisis ultimately determine the victor in this race? Will the Supreme Court issue and the pending Senate confirmation of Amy Coney Barrett change the conversation of the campaign? What strategies are the two candidates employing and how might theymake a difference when all the votes are counted?
10/22/2020  Watch Now

Red State/Blue State:  A conversation to help those living in more Democratic Blue states to understand the political situation on the ground in more Republican Red states. Trinity's Kevin McMahon (Political Science) will moderate the discussion with Pearson Cross (University of Louisiana, Lafayette) and Randall Adkins (University of Nebraska, Omaha). Professor Cross is an expert on Louisiana politics. Professor Adkins is the editor of several books on congressional elections and an expert on perhaps the important congressional district for the 2020 presidential race (Nebraska-2).
10/28/2020  Watch Now
Behind the Scenes with the Organist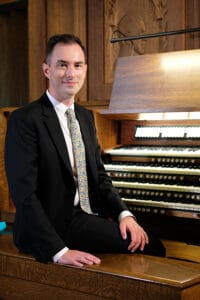 An exclusive post-concert discussion with renowned organist Christopher Houlihan '09, Trinity College's John Rose College Organist-and-Directorship Distinguished Chair of Chapel Music, and Adjunct Professor of Music, ex officio.  This is in partnership with "Vierne at 150," an online organ festival presented by Trinity Chapel Music and the Department of Music.
10/8/2020