Welcome to the new Trinity College Academy of Lifelong Learning (Trinity-ALL), where we highlight the outstanding work of our faculty as teacher-scholars and share their work with the wider community.


Welcome from the Directors
For years, Trinity-ALL has offered short courses in the Hartford area, taught by exceptional Trinity teachers.  Now, we are expanding our reach to our global Trinity community, with a diverse range of online activities including talks, webinars, interviews, and short courses.  We are excited to offer a program that shares the breadth of our faculty's expertise while continuing our commitments of the past.
Kevin J. McMahon
Co-Director, Trinity Academy of Lifelong Learning
John R. Reitemeyer Professor of Political Science
Director of the Graduate Program in Public Policy
Jennifer Regan-Lefebvre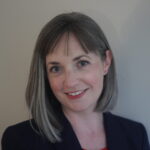 Co-Director, Trinity Academy of Lifelong Learning
Professor of History
2022 EVENTS: ENVIRONMENTS
This year's theme is Environments.  We have invited Trinity faculty to share their perspectives on the world around us.  These talks will run 30-40 minutes, followed by questions from the audience.
For 2020-2021 events and media, click here.
The Russian Invasion of Ukraine with Professor Sam Kassow '66 and Dr. Sven Holdar  (Watch a recording of the event here) 
Tuesday, March 15, 12:15-1:15pm (Common Hour) 
In response to the invasion of Ukraine, the Academy of Lifelong Learning presents a Common Hour talk with two region experts.  The talk will be moderated by Professor Kevin McMahon, John R. Reitemeyer Professor of Political Science, Trinity College.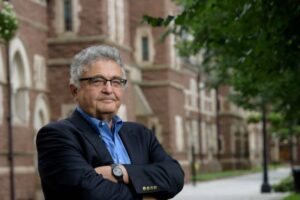 Samuel Kassow '66 , Charles H. Northam Professor of History at Trinity College, is the author of many studies on Russian and Jewish history including Who will write our history: rediscovering a hidden archive from the Warsaw Ghetto, which was translated into eight languages and made into a film: as well as Volume 9 of the Posen Anthology of Jewish Culture, published by Yale in 2019. He was part of the scholarly team that planned the POLIN Museum of the History of Polish Jews in Warsaw and is currently engaged in a project organized by Yad Vashem in Jerusalem to write a history of the Holocaust in Poland. He has been a visiting professor at several universities including Harvard, Toronto and Dartmouth. Professor Kassow holds a Ph.D. from Princeton.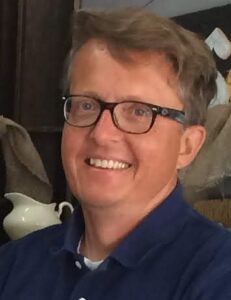 Sven Holdar is a political geographer (Ph.D., Colorado) who spent seven years in Ukraine, first with the Civic Education Project in Donetsk and Kiev, and then with the European Commission in Kiev. He also taught in Russia for two years and worked for four years in both Armenia and Georgia with the OSCE. He has written on the regional differences in Ukraine and has travelled extensively across the country. He is currently the CEO of Americana AB in Stockholm, Sweden.
Light, Color, & Visual Perception: Neuroscience and Perception with Professor Michael Grubb (Watch a recording of the event here)
Thursday, March 3, 7:30pm on Zoom.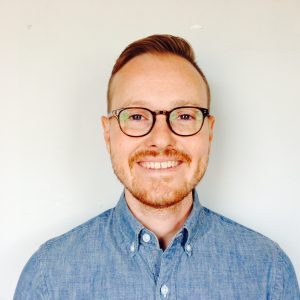 Trinity College pioneered undergraduate teaching and research in neuroscience and this talk offers an introduction to the science of color perception. Michael Grubb's research addresses how we perceive the physical world in which we are embedded.  Every waking moment our senses are bombarded with information, far too much for the brain to process and render for conscious awareness.  We overcome this challenge by selectively attending to the world, that is, by prioritizing the processing of some kinds of sensory information, at the expense of others, in ways that facilitate goal-directed behavior.  In this talk, he will introduce the science of how we perceive light and color.  The talk will be moderated by Professor Jennifer Regan-Lefebvre.
Michael Grubb is assistant professor of psychology in the Psychology Department and the Neuroscience Program and 2020 recipient of the Hughes Award for Teaching Achievement.  Professor Grubb received his Ph.D. in Experimental Psychology from New York University. After finishing his doctoral training, he remained at NYU as a postdoctoral researcher in the Center for Neural Science and was a visiting assistant professor at NYU–Shanghai. His doctoral work utilized psychophysical methods and focused on the effects of selective attention on visual perception in typically developing populations and in individuals with autism spectrum disorder. He directs the Perception Lab on campus. His work has been funded by the National Science Foundation.
Human-Wildlife Conflict in Pakistan: An Anthropological Perspective  with Professor Shafqat Hussain (Watch a recording of the event here)
Wednesday, February 16th, 7:30pm on Zoom.  As profiled in the Trinity Reporter.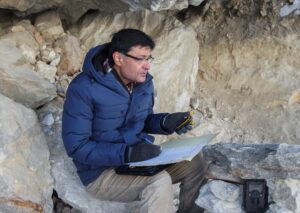 Following the downgrading of the snow leopard's status from "endangered" to "vulnerable" by the International Union for Conservation of Nature in 2017, debate has renewed about the actual number of snow leopards in the wild and the most effective strategies for coexisting with these enigmatic animals. Evidence from Pakistan and other countries in the snow leopard's home range shows that they rely heavily on human society—domestic livestock accounts for as much as 70 percent of their diet. Maintaining that the snow leopard is a "wild" animal, conservation NGOs and state agencies have enacted laws that punish farmers for attacking these predators, while avoiding engaging with efforts to mitigate the harms suffered by farmers whose herds are reduced by snow leopards. Based on ethnographic field, I argue that characterizing this conflict as one between humans (farmers) and wildlife (snow leopards) is misleading, as the real conflict is between two human groups—farmers and conservationists—who see the snow leopard differently.  The talk will be moderated by Professor Jennifer Regan-Lefebvre.
Shafqat Hussain is George and Martha Kellner Chair in South Asian Studies and professor of anthropology at Trinity College, US. He is the author of Remoteness and Modernity: Transformation and Continuity in Northern Pakistan (2015) and The Snow Leopard and the Goat: Politics of Conservation in the Western Himalayas (2020). He holds a PhD in Anthropology and Environmental Studies from Yale University.
GET IN TOUCH
Academy of Lifelong Learning
Trinity College
300 Summit Street
Hartford, CT 06106