Engineering Interns Help Redesign Space Suit
Two Trinity College engineering majors have been working on a system that will help keep astronauts alive in space.
A summer internship at Collins Aerospace in Windsor Locks, Connecticut, gave Maria Boucher '20 and Katherine Bullock '20 the opportunity to help redesign Collins' portable life support system (PLSS) for its next generation space suit. Over the course of 10 weeks, Boucher and Bullock created a working demonstration of the PLSS, which was featured at a United Technologies event on Capitol Hill in Washington, D.C. The students were supported by Trinity's Engineering Department and mentored by Professor of Engineering John D. Mertens and Assistant Professor of Engineering Clay Byers.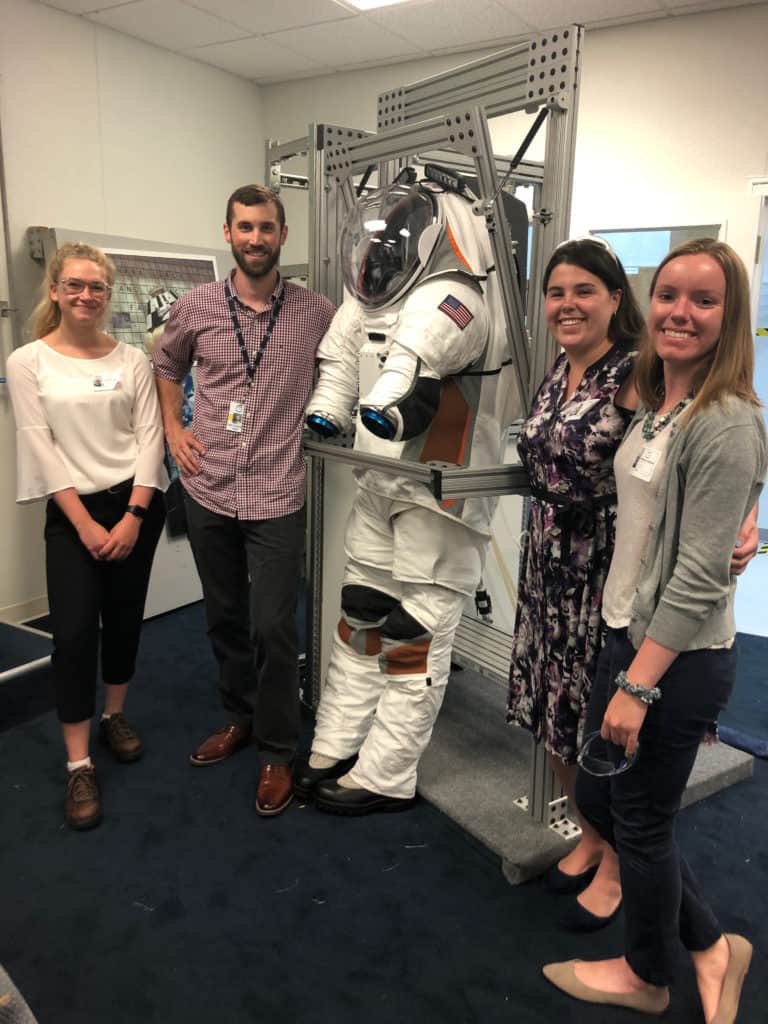 The Engineering Department works closely with Trinity's Center for Student Success and Career Development to advertise internships available to engineering majors. Mertens encouraged Boucher and Bullock to apply for the NASA Connecticut Space Grant Consortium Internship program, which led to them both being hired by UTC Collins Aerospace for summer 2019. The two students have continued their partnership with UTC Collins Aerospace through their senior design project for this academic year. Bullock, who is studying biomedical engineering, said, "We are working on redesigning the feedwater supply assembly (FSA), which supplies the thermal cooling loop with water and eventually cools the astronaut."
The skills Boucher and Bullock learned in Trinity's classrooms and labs translated to their design project. Boucher, who is studying mechanical engineering, said, "I haven't felt unprepared at all throughout any of this internship. I think Trinity does a really good job of incorporating communication and writing skills. My boss at Collins was always very impressed with how precise and specific the language I used was and how clear the reports were."
Bullock added, "You want to be able to understand a team dynamic and run a project. The distribution and depth of study at Trinity has really helped me communicate with people."
Boucher and Bullock do not think this is the last design project they will be completing. "This internship has impacted my overall Trinity experience because I am much more confident in my technical and communication skills and where I want to go with them post graduation," said Bullock.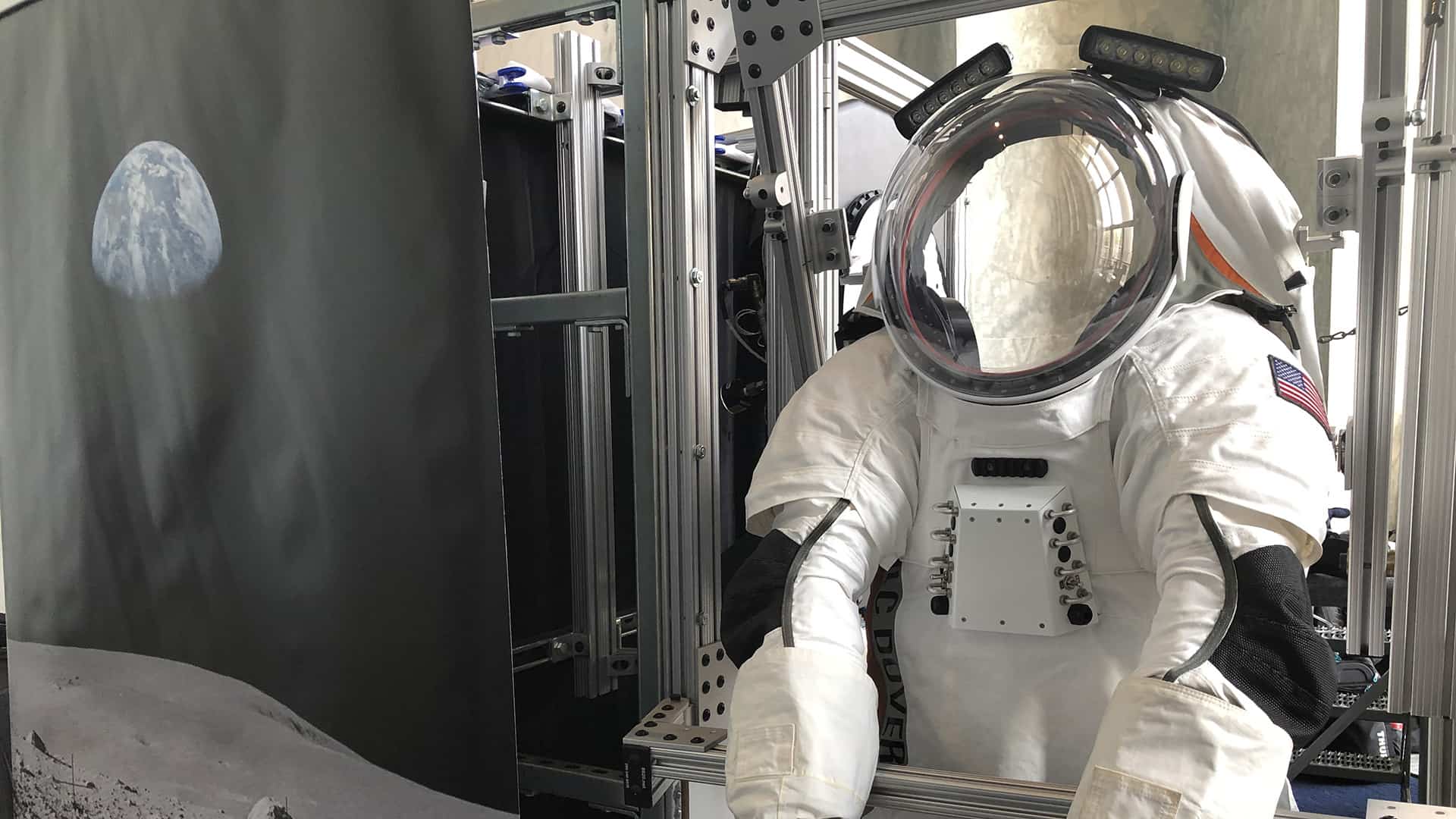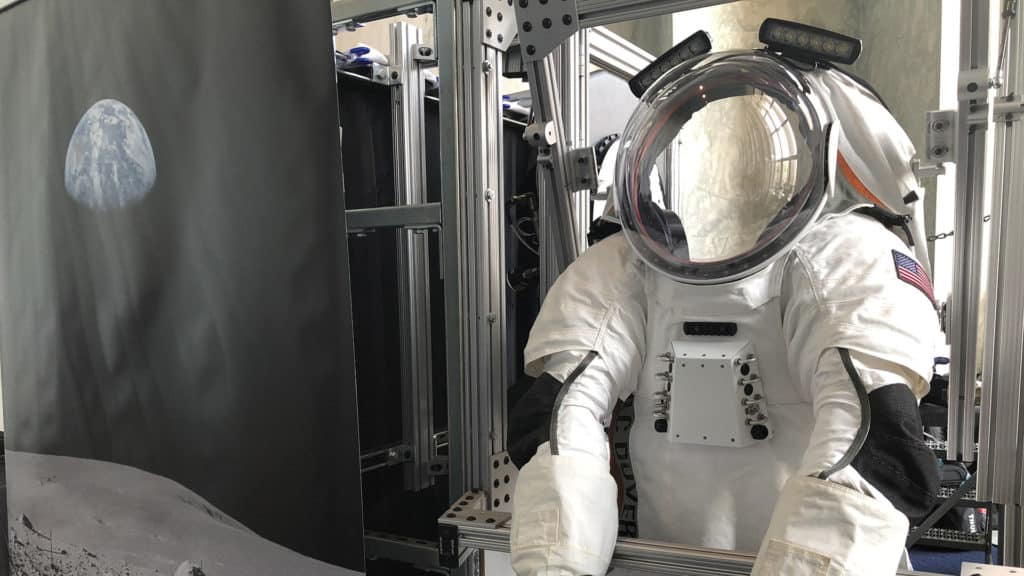 "I have always been interested in getting a Ph.D., but I want to take a break for two or three years and continue working at a company before I start pursuing something specific," said Boucher.
In addition to taking fundamental courses, students in Trinity's Engineering Department are encouraged to weave courses that hold a personal interest—like mechanical and biochemical engineering—into their schedules. Mertens, who has been teaching at Trinity for 30 years, said the department's scope is quite wide and develops well-rounded students. "Engineering isn't just design, science, analytics, and mathematics," he said. "It is also communication, creative thought, organizing, and working with team members. The more diverse students' experiences are, the better they will be as engineers."
Within the classroom, Byers and Mertens encourage students to step out their comfort zones and collaborate with one another. Mertens said, "If students have not had a lot of experience with design work in labs, it can be intimidating. We put them in that situation early in their first few years so they are forced to deal with problems where there is no right answer or guaranteed success. That whole experience prepares them for internships."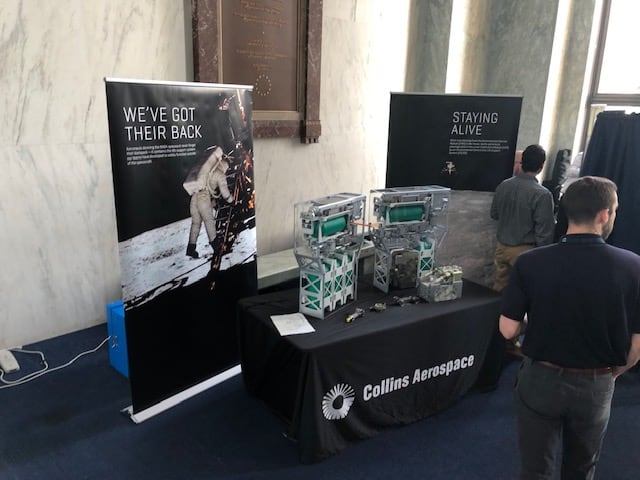 Byers added, "In having the ability to comfortably jump into a situation that is outside your expertise, one is able to be valuable in the workplace."
Non-engineering students at Trinity can also participate in extracurricular activities in the department, including a robotics study team and with the Professional Chapter of Engineers without Borders, which provides potable water to people in Ethiopia.
Research and internship opportunities play large roles in preparing students for their future. Students are encouraged to develop a resume and complete an interest survey in their junior year at Trinity. Mertens said, "I encourage students to do both academic research over the summer and a corporate industrial internship, so they have a taste of both worlds."
Byers said that he hopes students graduate from Trinity knowing the education they received forms a strong foundation. "We give them the tools they will forever use, and they must be willing to constantly learn," he said.
Watch the video below to learn more about Boucher and Bullock's internship and engineering at Trinity.
Written by Emily Wickles '20
Engineering Life in Space