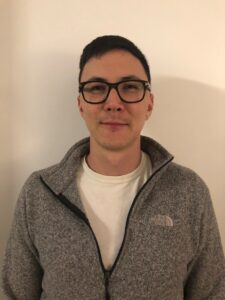 Every year, each Trinity department nominates one senior with an exemplary academic record to receive the President's Fellow prize. This year, the economics department nominated Thomas McKinney. Thomas, age 34, is part of Trinity's Individualized Degree Program (IDP) which welcomes students who are aged 24+ or self supporting. He was born outside of Boston, but has lived in San Francisco, Florida, Taiwan, and has spent the last seven years in Connecticut.
Thomas works in the family business, which is a website that manages rare books. His father first started collecting from auction houses and collectors in the 1990s, and Thomas manages all the advertising. He plans to continue managing the business and is thinking of attending business graduate school or pursuing graduate work on economic history, a field he is passionate about.
Thomas particularly enjoyed three classes at Trinity. He felt connected to the 'labor economics' course because he had previously delivered pizza, and worked in sales at Hewlett Packard, among other work experiences. He thought the 'planet earth' course in the history department was particularly interesting since it was taught in three parts by three different professors. Finally, Thomas also enjoyed the history course on the Samurai where he learnt about he way the Samurai lived, and realized there were many misconceptions and false portrayals about them in popular culture.
Trinity and Connecticut has provided much more than an academic degree for Thomas. He is getting married in June to the woman who was the reason he first moved to Connecticut seven years ago, congratulations!