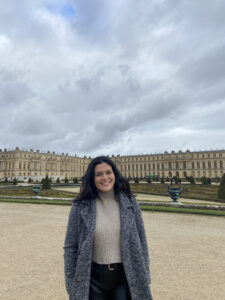 Majo Martinez '22 is a senior urban studies and math double major– a unique combination. Coming into Trinity, Martinez was thinking about becoming a mechanical engineer, but it wasn't sparking passion in her. Growing up in Cali, Colombia and Austin, TX to now living in Hartford, CT, she has had a lot of experience in cities. The first classes she took in urban studies were Latin American Cities and Geography of Transport with Professor Julie Gamble. She could see her own experience in growing up in cities, especially Latin American cities, reflected in the courses, and they inspired her to become an urban studies major. She took up math because she has always loved doing math and wanted to continue her studies in STEM. Martinez enjoyed what liberal arts means at Trinity, as she was able to explore and bring together her passions in the best balance.
Martinez is now finishing up her capstone on the relationship between her two majors– math and urban studies. Her inspiration for this project came from her interest in urban ecology, especially in transportation, and from a math class she took about intersecting vertices. Martinez said, "I think there is more math involved in urban studies than people would think. Calculating urban density and growth – we need math for that." Using a program Professor Myers suggested to Martinez called Space Syntax, she has been looking at different network systems within the urban ecology, specifically where people interact. The program includes mappings of walking and bike routes in many different cities. Using the software, she is looking at where vertices are created in urban space, showing which spaces have agglomeration, meaning they are perhaps the most accessible. Martinez will be presenting her findings of tracking walkability and accessibility of spaces through a lens of math on May 2nd, 2022.
Beyond her urban studies and math majors, Martinez participated in the Liberal Arts Action Lab. Her group conducted a research project on displacement from Hurricane Maria that brought many Puerto Ricans to Hartford. The project results were a set of guidelines for both institutions and affected people for steps to take in future natural disasters. They interviewed institutions, like the city council, and families who had immigrated to understand what each group can offer and what resources they can provide or access.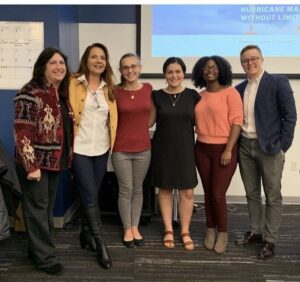 Other courses she has taken across her career at Trinity, such as the Geographies of Transport class, have further allowed her to work on urban research. In this course for example, they stood at a street corner in Hartford–any street but a main, high traffic street–and observed the behaviors of people across different street areas. Martinez has taken advantage of what Trinity has to offer, and as a result has conducted multiple ethnographic research projects in Hartford during her time here.
Martinez also studied abroad in Madrid, Spain where she experienced and saw European urban life for the first time. Throughout her time there, she compared the city to Latin American and North American cities from her own insight, finding the city in Spain to resemble more of the urban life in her home of Cali, Colombia.
Next year Martinez is putting her best foot forward into the world in a strategy position at Accenture Consulting in Chicago, IL.