Celebrating 40 Years of Music
Robert Edward Smith, the longtime composer in residence of the Trinity College Chapel, has served the institution for more than four decades. The July 10 Summer Music Series concert will include the premiere performance of his piece, "Trio d'anches."
It was in 1978 that the college's chaplain offered Smith the position, prompting him to travel from New Jersey to Hartford to hear the Trinity College Chapel Singers perform. So magnificent were the sights and sounds of the Chapel and the campus that Smith was instantly convinced to move to Hartford to pursue this opportunity.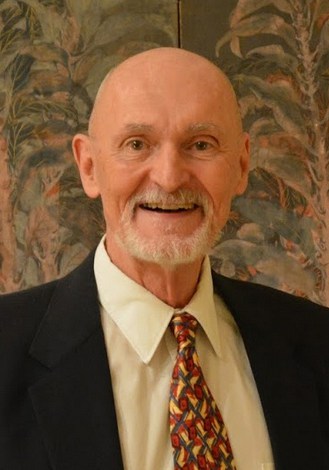 As a new resident of Hartford, Smith (right) worked as a freelance harpsichordist in addition to his role at Trinity, and later taught harpsichord and continuo realization at the University of Hartford's Hartt School from 1992 to 2011.
As composer in residence at Trinity, Smith provided original and adapted choral and instrumental music for various occasions at the Chapel. John Rose, former college organist and director of chapel music at Trinity, often relied upon Smith for his quick, masterful turnarounds, sometimes providing him with as few as five days' notice that a piece of music was required.
"Sometimes events are planned suddenly," Smith explained, "and sometimes they are even important events, meaning you can't be too fussy or slow about getting the piece done."
One important contribution Smith made to the Trinity community was his moving adaptation of the alma mater, "'Neath the Elms." In the infancy of his career, Smith was tasked with creating an arrangement of the song that, in Smith's words, "shifted texture and harmony to align with the mood of each verse." This arrangement was first performed by the Chapel Singers during the Commencement of 1979 and continued to be performed at the ceremony for several decades.
Smith said that he delights in writing music for specific groups, identifying and being mindful of their skills and strengths when composing for them. The Rev. Allison Read, current college chaplain and dean of spiritual and religious life at Trinity, commended Smith's ability to write music especially for the Chapel Singers. "I have so deeply appreciated the beauty of Robert's music and the attention he has given to compositions particularly well-suited for our collegiate choir," Read said.
Smith's legacy also includes the Chamber Music Series, which he directed from 1996 to 2018. This series originated in 1974 and today features regional, national, and international chamber music ensembles. "There were some programs that were so beautiful that I think people stopped breathing, so as not to miss even a note," Smith said of the accomplished musicians who performed at the series while he served as director. He added that when a production is of this caliber, you can even remember the gestures the artists made as they performed.
The series is offered at no cost to attendees, enabling all members of the Trinity and greater Hartford communities to experience and enjoy world-class talent. The accessibility of these performances is especially gratifying to Smith, who noted that people also travel from neighboring states to partake in the series.
Beginning on July 3, this year's Summer Music Series—of which the Chamber Music Series is a part—will be overseen by college carillonneur Ellen Dickinson, who succeeds Smith as its director.
For more information about Smith and his music, visit his website here.
Written by Emily Dowden '18