Bantam Pride Across the Pond
Bantam pride made its way across the pond recently when Major League Baseball held its first regular season games in London. The special London Series on June 29 and 30 saw the Boston Red Sox face off against the New York Yankees, with both teams far from home.
Boston Red Sox President and CEO Samuel H. Kennedy '95, H'19, who was Trinity's 2019 Commencement speaker and one of the honorary degree recipients, helped host a group of 75 Bantams who gathered to watch a game at London Stadium.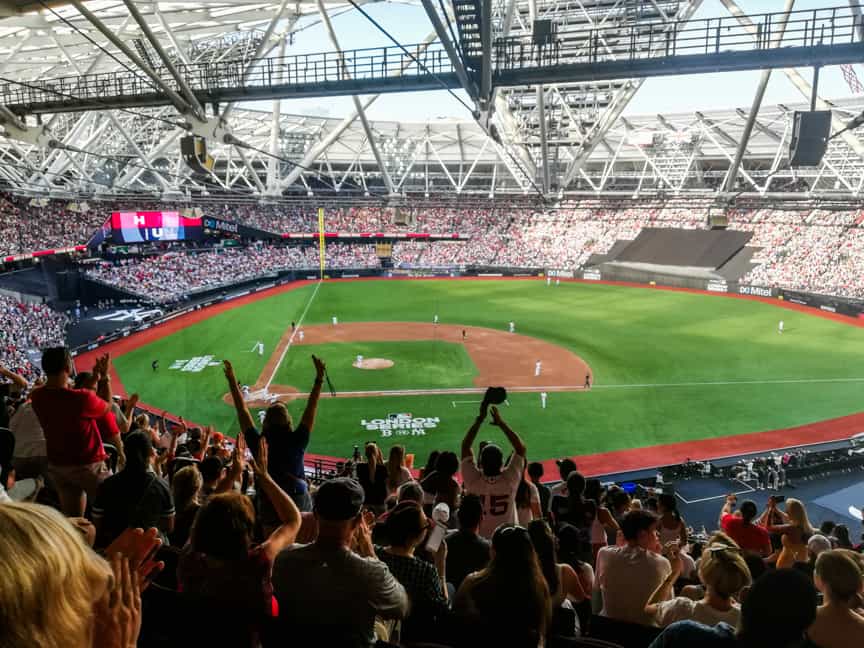 The game was not the only activity on the schedule for the Trinity contingent. On Thursday, June 27, a spirited Trinity reception at the Royal Thames Yacht Club was hosted by Patricia Wick Christias '96. At the event, Trinity College President Joanne Berger-Sweeney was joined in comments by Christias and special guest Lord Michael Howard, Baron Howard of Lympne.
On Friday, June 28, Bantams were treated to behind-the-scenes tours of Westminster Abbey and the Houses of Parliament. A Trinity Pride double-decker bus transported Bantams to a group dinner at The Ivy, then around the city for a "London after Dark" tour.
Saturday morning, June 29, began with a Trinity breakfast and briefing session titled, "An Insider's Look at the Historic Game." This was an opportunity to celebrate the Red Sox and the Liverpool Football Club, the 2018 World Series champions and the 2019 UEFA Champions League winners, respectively. Kennedy, Elissa Kovas '93, and Billy Hogan '96, executive director of Liverpool Football Club, joined Berger-Sweeney in a discussion about professional sports followed by a Q&A session. The Trinity group then enjoyed a pre-game gathering as Kennedy's guests at "MLB Central" inside the London Stadium Complex before heading to their seats for the game.
While the Red Sox were defeated in both of the weekend's games, all was not lost: Bantams had the chance to enjoy camaraderie during their eventful visit to London, and maybe even catch a glimpse of Prince Harry and Meghan Markle, the Duke and Duchess of Sussex, who also attended the game.
Explore the Gallery
Bantams in London
Explore the Gallery
Bantams in London