Back to News
537 Degrees Awarded at Trinity College's 193rd Commencement
Announcement
posted
by Andrew J. Concatelli
"Recognize, cherish, and nurture the relationships you have forged here, and embrace those that will come your way. Your lives will be so much richer for it," Boston Red Sox President and CEO Samuel H. Kennedy said to the 537 graduates at Trinity College's 193rd Commencement on Sunday, May 19. "Life is indeed a team sport. I urge you to help each other, look out for each other, and care for each other."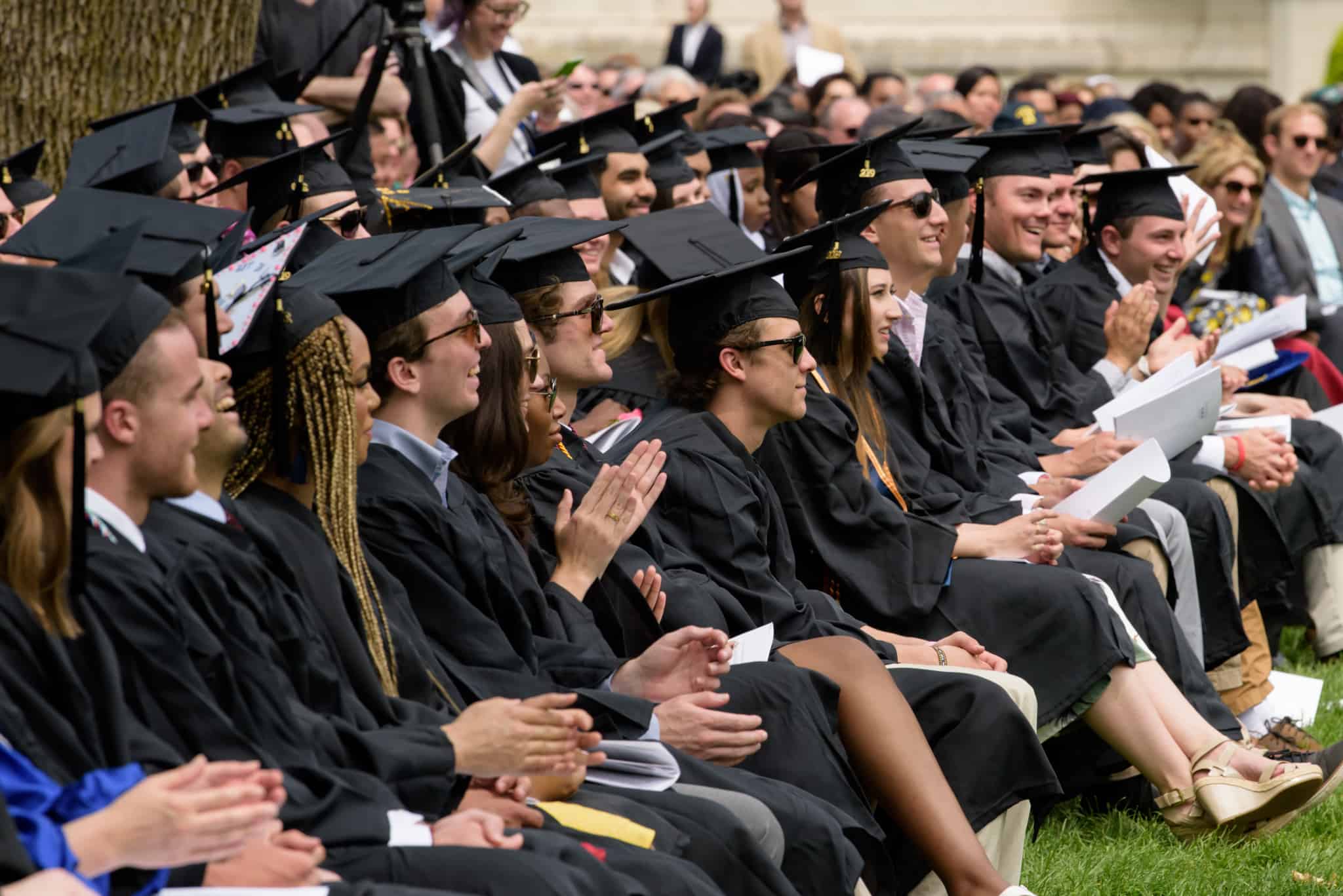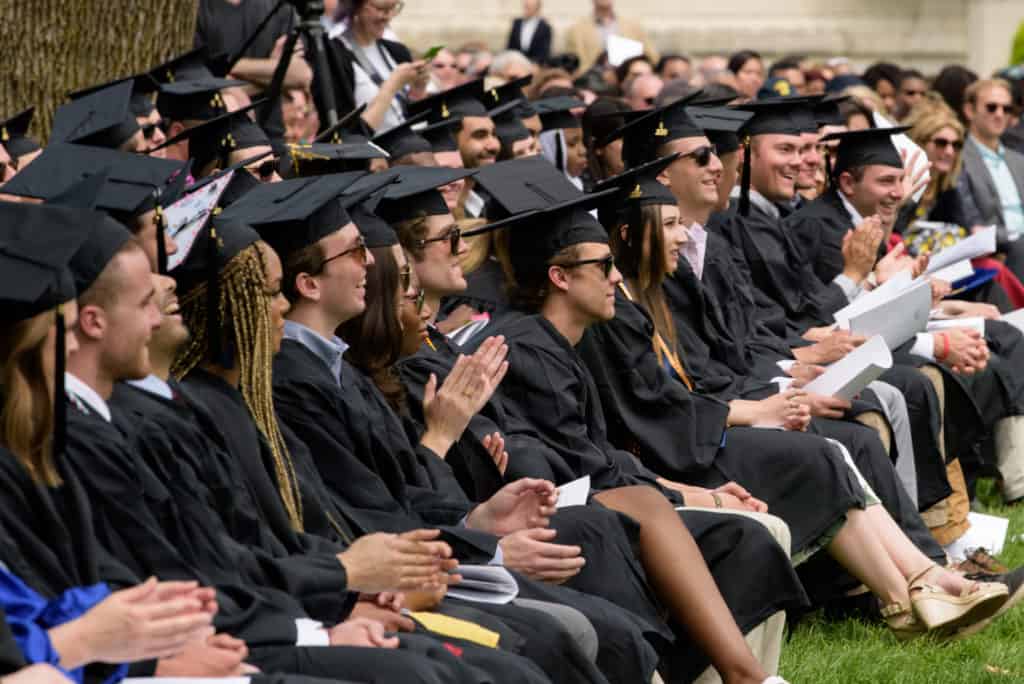 A crowd of about 5,000—including family members, alumni, faculty, staff, students, administrators, and other guests—gathered on the Main Quadrangle in front of Trinity's historic Long Walk buildings to witness 506 undergraduates and 31 graduate students receive their degrees. Among the undergraduates, 354 received bachelor of arts degrees and 152 were awarded bachelor of science degrees. Seven of the undergraduate degree recipients were Individualized Degree Program (IDP) students.
During his Commencement address, Kennedy—a Trinity alumnus from the Class of 1995 and member of the baseball team for a year of his time on campus—gave examples of the relationships that helped to shape his career and inspire his current team's achievements, which include the 2018 World Series championship. "When you truly recognize and cherish the value of those relationships, you create opportunities and establish a culture that allows miracles to happen—like, say, a Trinity College benchwarmer becoming the president and CEO of the Boston Red Sox," he said.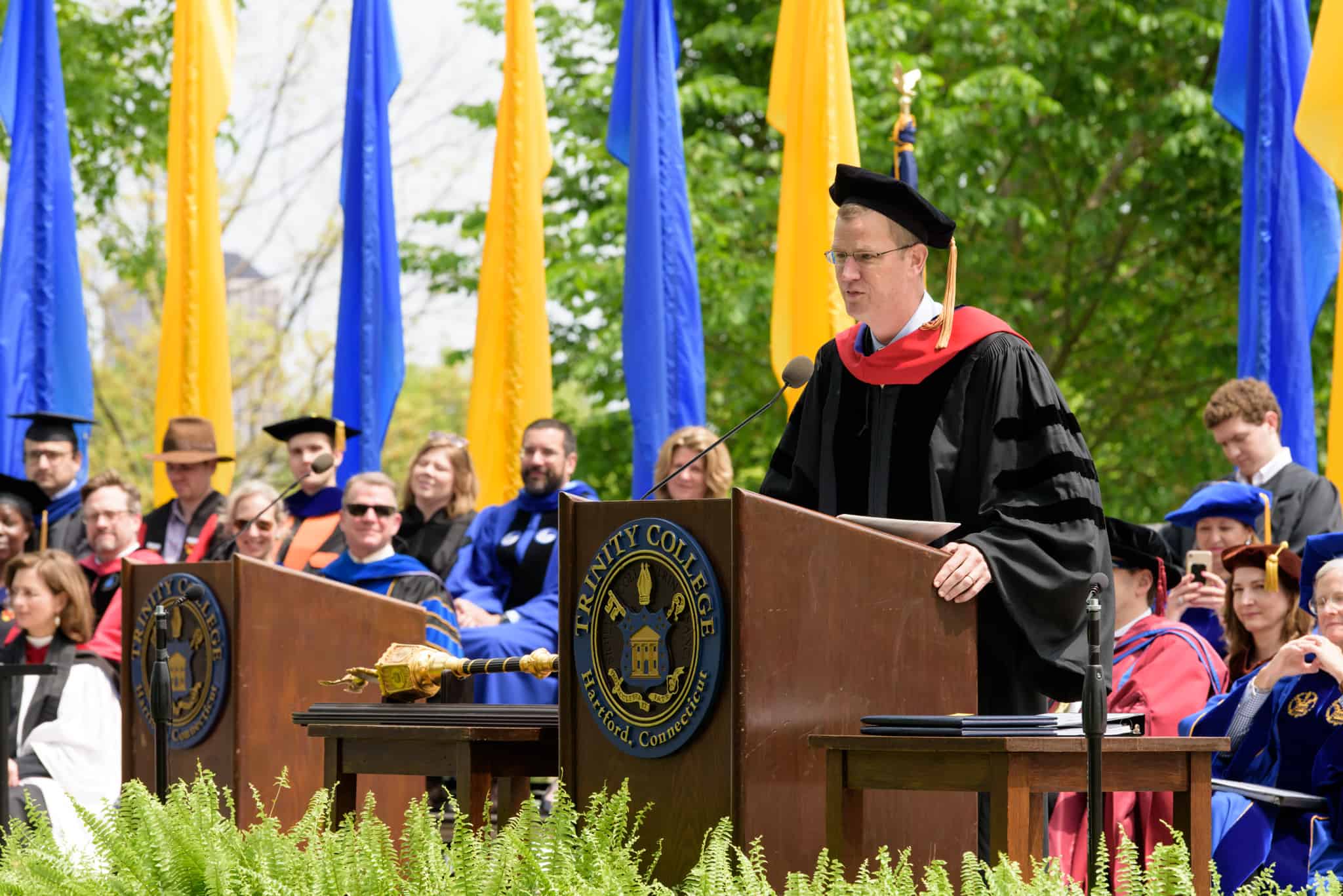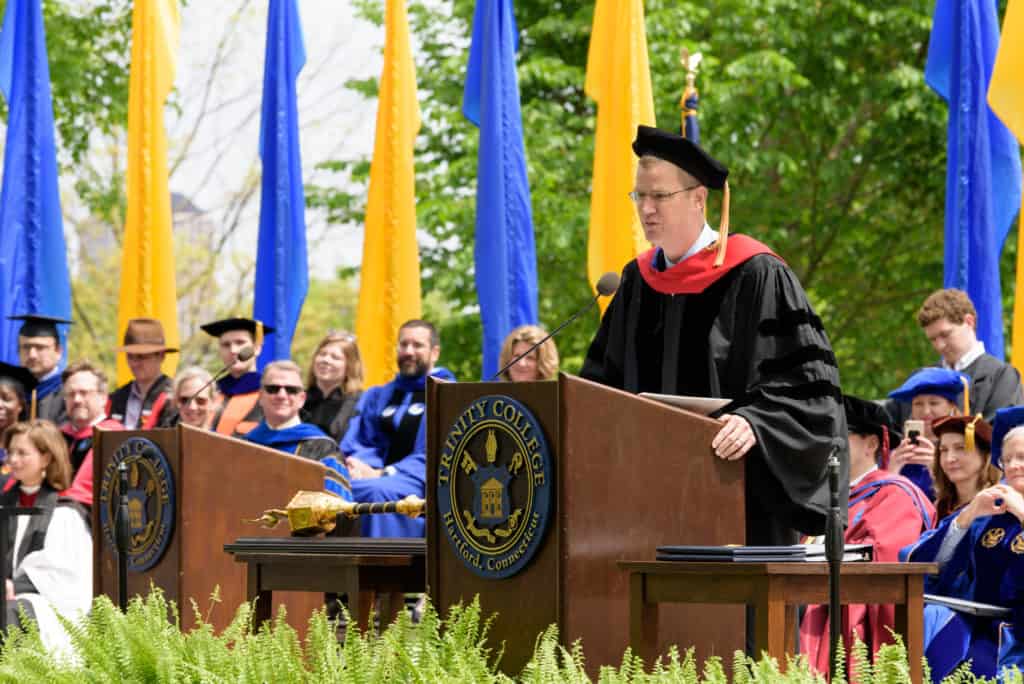 Kennedy ended his address by announcing a surprise gift: tickets for each graduate and a guest to attend the Red Sox home game on Memorial Day. "There's no better place on the planet than Fenway Park to build relationships," said Kennedy, who received a standing ovation from the crowd. "Your name is on the list. Tell them Sam sent you." Click here to read his full address.
Earlier in the ceremony, Kennedy received an honorary doctor of humane letters degree in recognition of his distinguished career in Major League Baseball and for his charitable work with the community and on behalf of children. Honorary degrees also were presented to West Hartford native Nancy Beth Lublin, the founder of Crisis Text Line, and, posthumously, to Bruce N. Whitman, who was a pioneer in the aviation industry and a 1955 Trinity graduate. To read more about the honorary degree recipients, click here.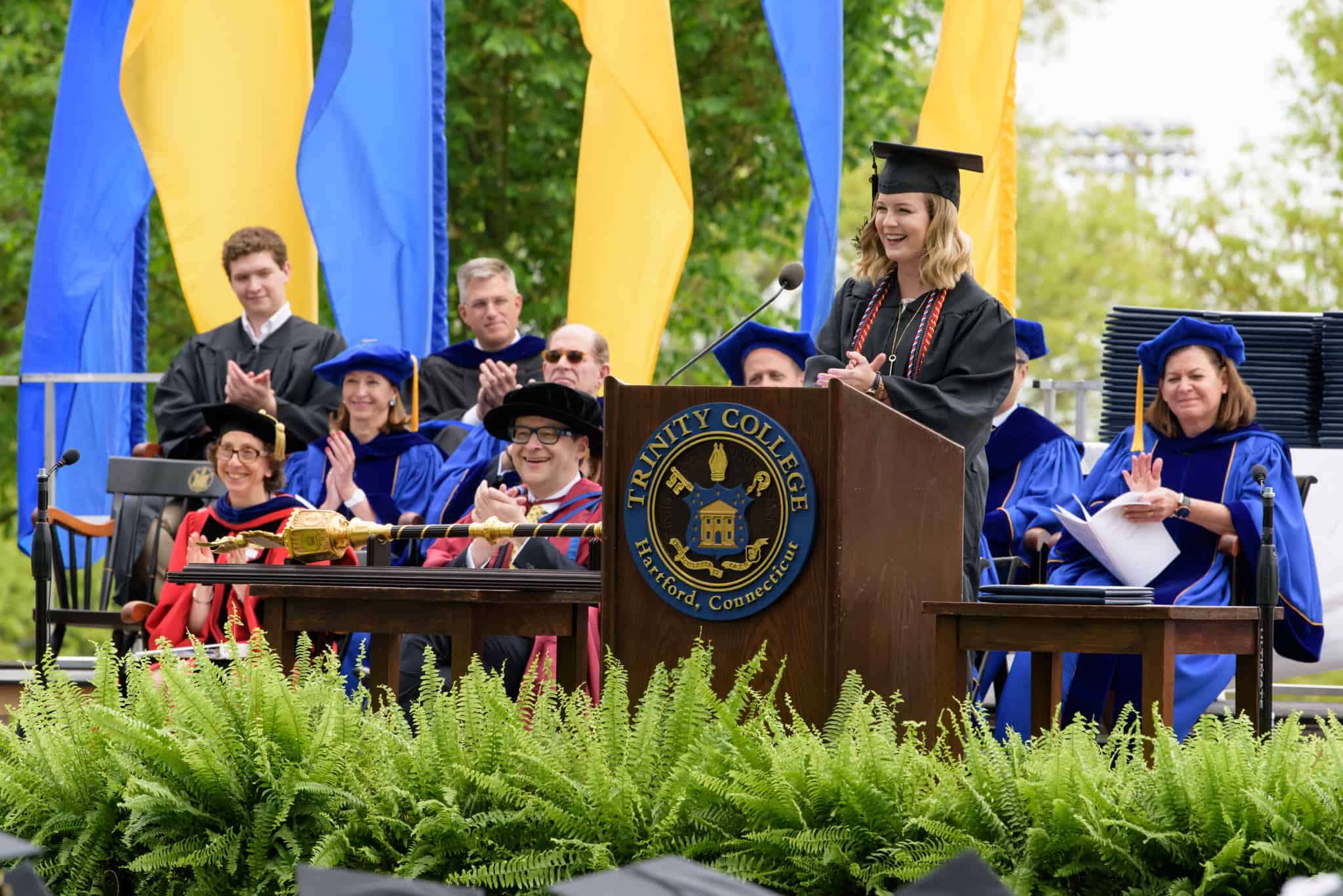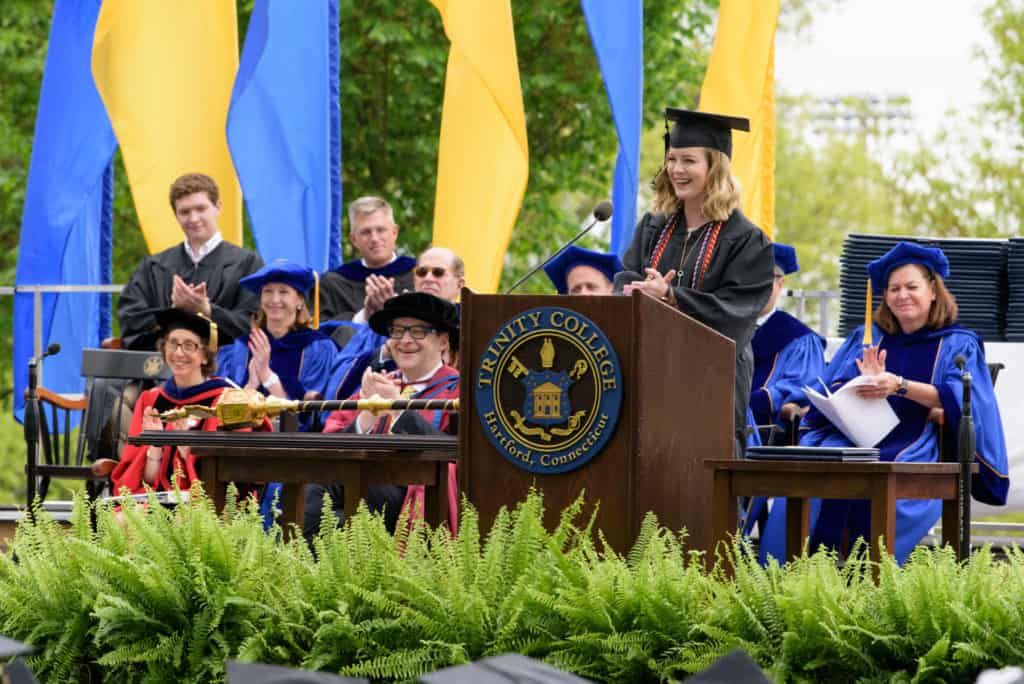 Brooke Mocarski LePage, the Class of 2019 graduate who was selected as the student speaker, said that she was especially honored to speak during the year that celebrates 50 years of coeducation at Trinity. LePage attended the Women's March in downtown Hartford in January and saw T-shirts that read "The Future Is Female," but, she said, "I dislike sitting around waiting for the future to maybe one day include women. It is in these moments that I wish my T-shirt read 'Make the Present Female.' Rather than a hope or a wish for change, this phrase is a call to action." LePage challenged her classmates to speak a little louder, stand a little taller, and take serious consideration in each interaction. "This is your call to action to be entrepreneurs, teachers, poets, and financiers and to realize that you need to be an advocate and educator in each one of these roles," LePage said. "This is your call to action to speak for those who cannot always speak for themselves and be brave enough to spark social change like our dear trustees once did 50 years ago." Read her full remarks here.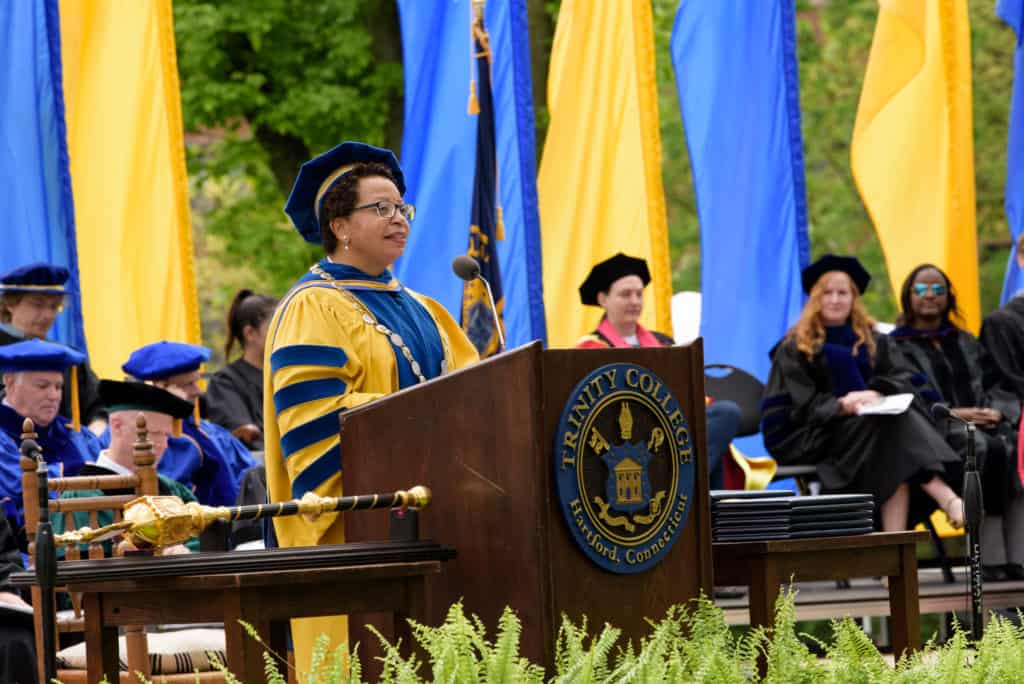 Before delivering her charge to the graduating class, Trinity College President Joanne Berger-Sweeney led a moment of silence to honor the life of Chase Hyde, a member of the Class of 2019 who died in fall 2018. "His death was a profound loss for his family, friends, and our entire community, and his absence is felt deeply," Berger-Sweeney said. "In a ceremony yesterday, we paid tribute to Chase by engraving his name on a brick on the Lower Long Walk. Chase's name will endure there, along with the names of his classmates, and his memory will live on."
Berger-Sweeney said that each member of the Class of 2019 had been given the gift of a Trinity education. "You have been given teachers, mentors, and coaches who care deeply about you and have pushed you to be your best self. You have learned to be problem finders, not just problem solvers," she said. "What will you choose to do with this gift of a Trinity education? How will you empower others? How will you transform the world? I will forever treasure the gifts you've given to me, and I can't wait to see what you do with your gifts." To read her full remarks, click here.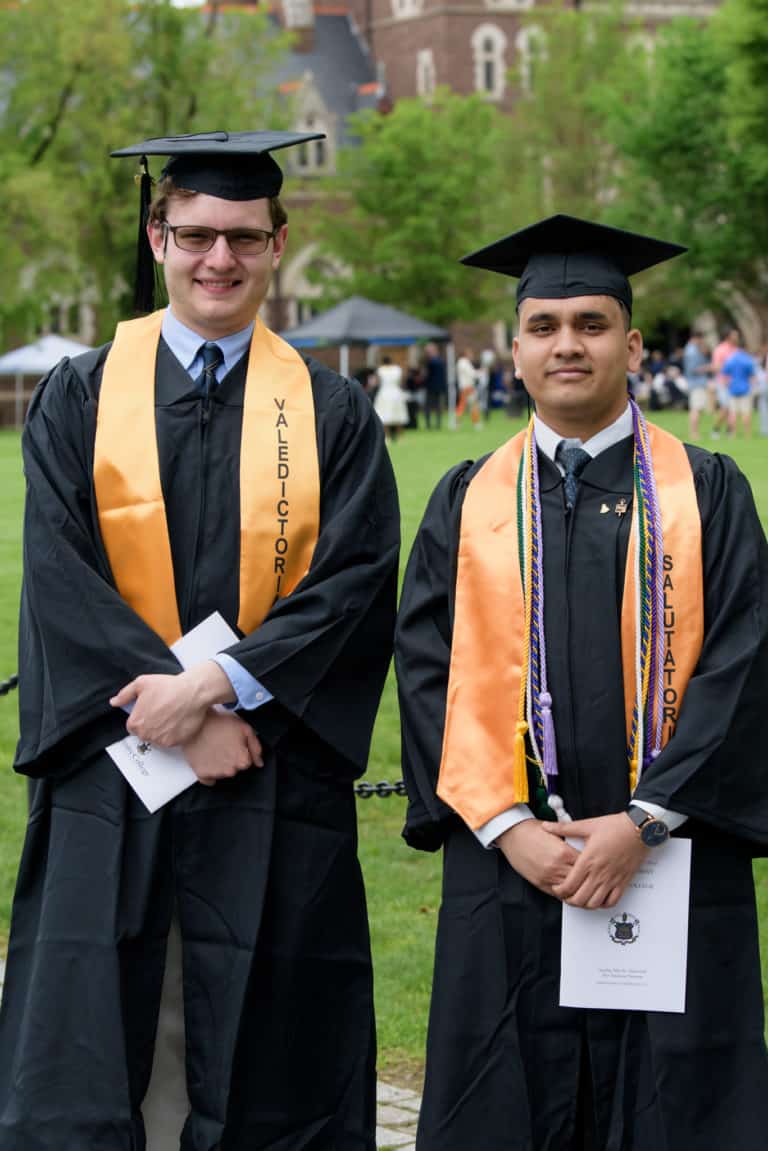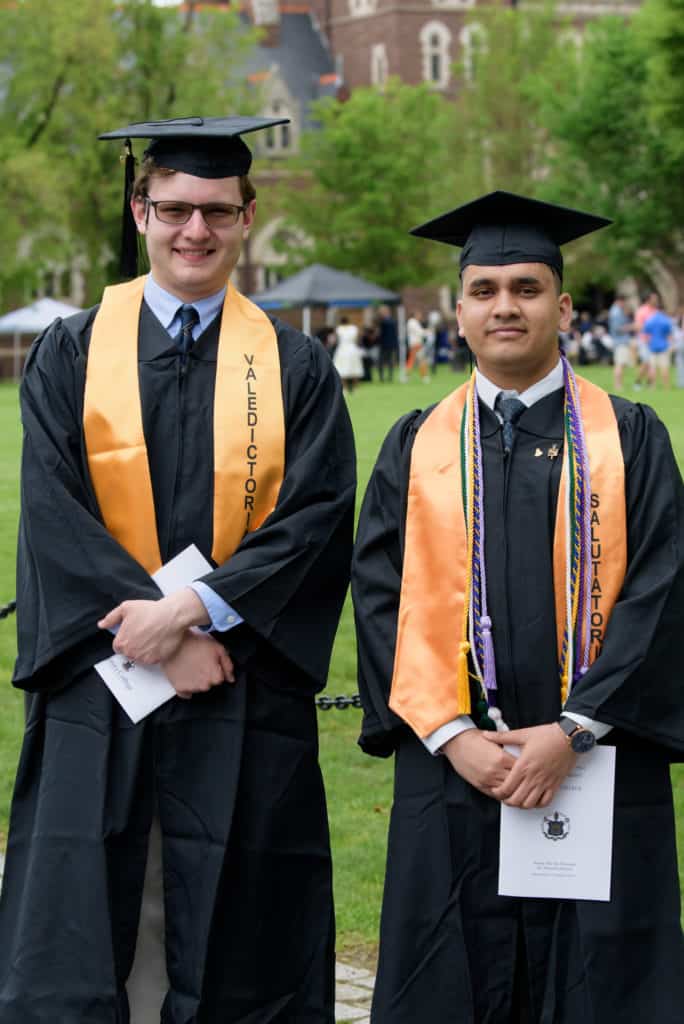 The valedictorian and salutatorian of the Class of 2019 were recognized for their achievements. Garret Richard Forst, of Ohio, had the highest grade point average in the class and was named valedictorian. Forst earned a bachelor of arts degree summa cum laude with dual majors in history and in urban studies, the latter of which was completed with honors. The salutatorian was Aashwin Basnet, of Nepal, who earned a bachelor of science degree summa cum laude with dual majors in mathematics and in physics, the latter of which was completed with honors, and a minor in religious studies.
On behalf of the Board of Trustees, Board Chair Cornelia P. Thornburgh '80 presented awards for faculty, staff, and student excellence. The Trustee Award for Faculty Excellence went to Timothy Curran, professor of chemistry. The Trustee Award for Staff Excellence went to Marcia Phelan Johnson, budget director. The Trustee Award for Student Excellence went to Class of 2019 graduates Vianna Iorio and Simran D. Sheth.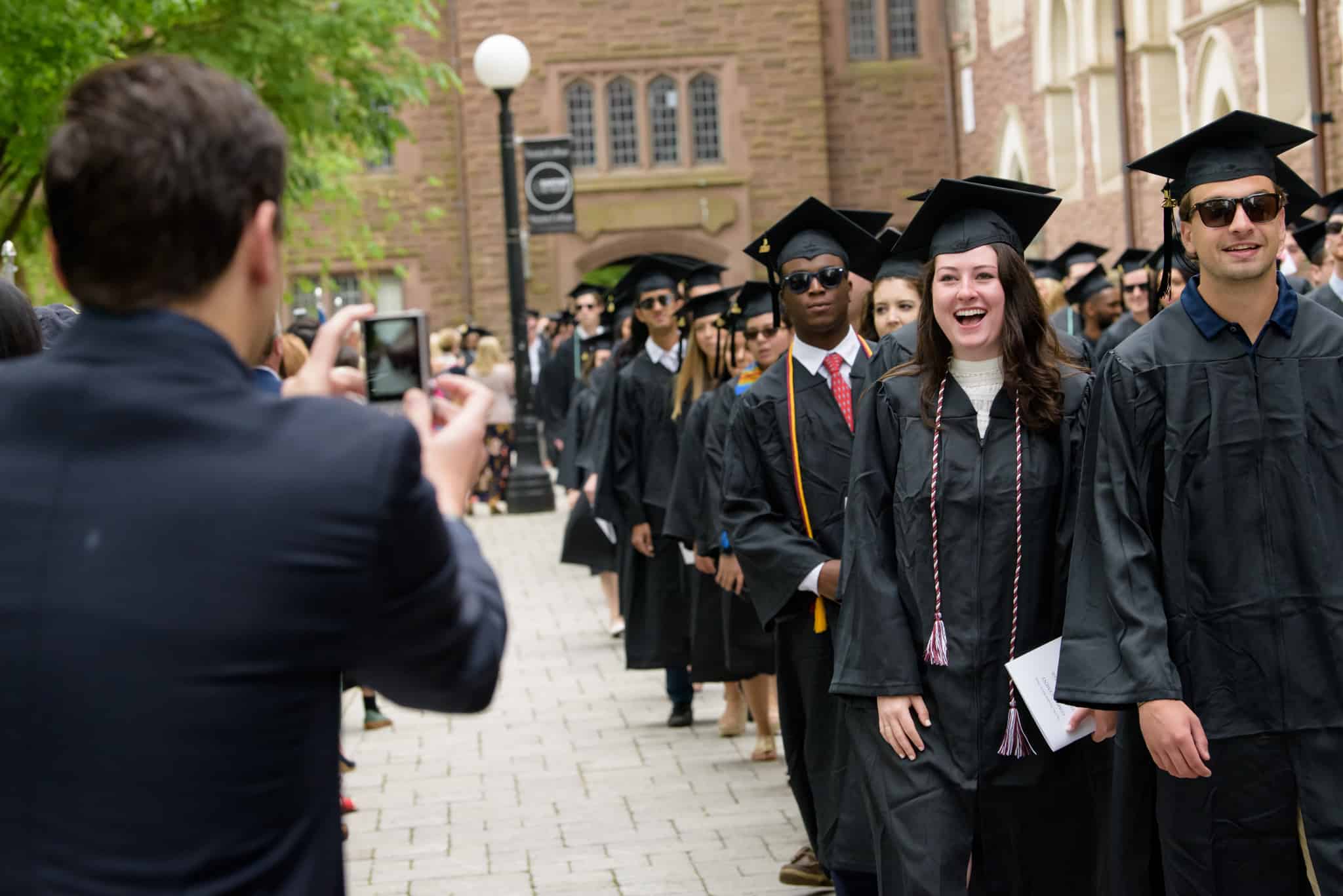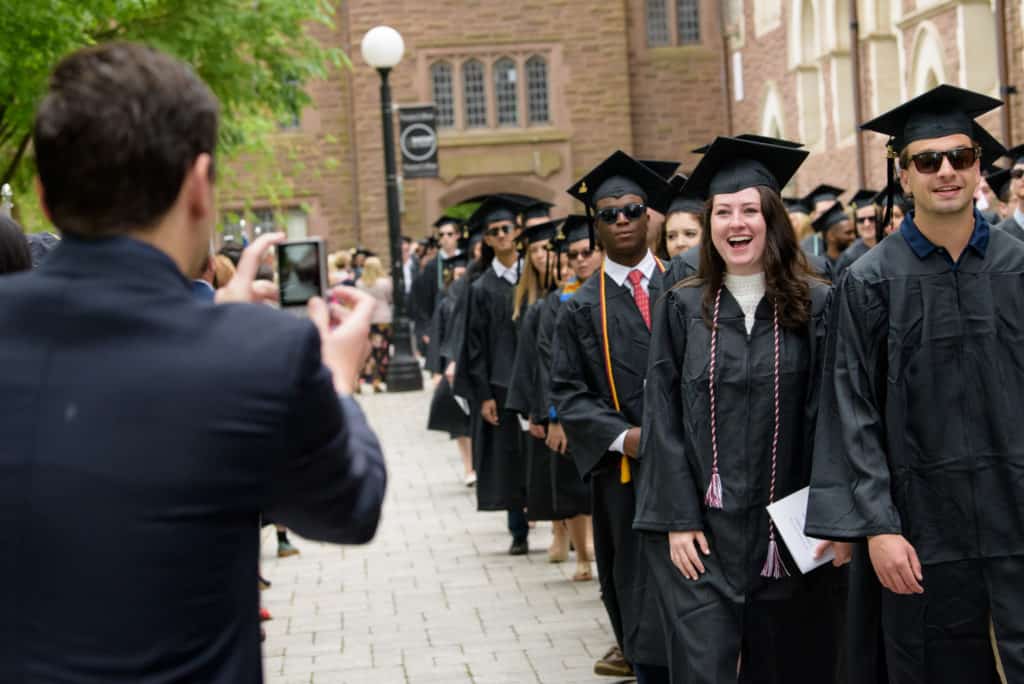 Dean of the Faculty and Vice President for Academic Affairs Tim Cresswell honored several members of the faculty for their dedication to the academic life of Trinity. Adrienne Fulco, associate professor of legal and policy studies, was awarded the Thomas Church Brownell Prize for Teaching Excellence, given to a senior faculty member who consistently performs exemplary work. The Dean Arthur H. Hughes Award for Achievement in Teaching, given to a faculty member who has taught for fewer than nine years, was presented to Michelle L. Kovarik, assistant professor of chemistry. Pablo Delano, professor of fine arts, was presented with the Charles A. Dana Research Professorship Award. Lin Cheng, associate professor of engineering, and Abigail Fisher Williamson, associate professor of political science and public policy and law, each received the Charles A. Dana Research Associate Professorship Award.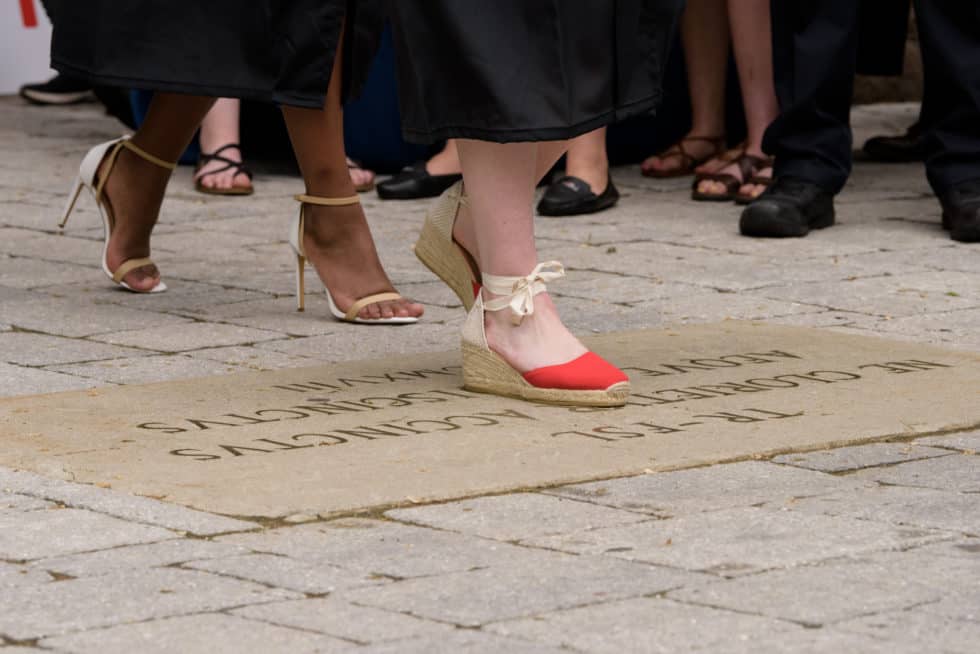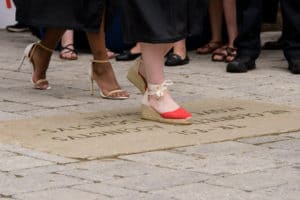 Download the full Commencement program here.
To watch a recording of the ceremony online, click here.
To watch a video celebrating Trinity College's Class of 2019, click here.