July 2, 2019
Announcement: Adrienne Amador Oddi Named Dean of Admission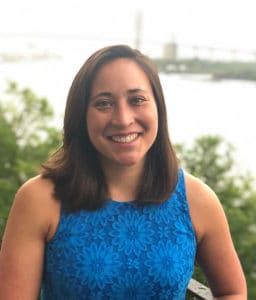 Trinity College is pleased to announce the appointment of Adrienne Amador Oddi as Dean of Admission. A national leader in the admissions field, Oddi will join Trinity from Berry College in Georgia, where as Director of Admission she leads a team in developing and meeting strategic enrollment goals. She brings both breadth and depth to the role at Trinity, having served in admissions positions also at Kenyon College and the University of Rochester.
Widely regarded as an ethical leader with a deep passion for all aspects of this work, Oddi has built strong relationships with secondary schools and college counselors across the nation and around the world. She also serves the enrollment field in numerous leadership roles, including as a faculty member for the Southern Association for College Admissions Counseling Dry Run and as a board member for ACT Council. A graduate of the College Board's Enrollment Leadership Academy, Oddi is actively engaged in broader conversations on access to education through groups such as Admissions Counselors Cultivating Equity and Peace Today (ACCEPT) and College Horizons, a national nonprofit that supports higher education for Native American students.
Oddi earned a bachelor's degree in mathematics from Kenyon College and a master's degree in educational policy with a focus on quantitative research and evaluation from The Ohio State University. An NCAA All-American swimmer at Kenyon College, she has developed a lifelong passion for working with scholar athletes, holding numerous athletic liaison positions throughout her career and serving as a swim coach in her spare time.
The role that Oddi will assume at Trinity is a new one, created from a restructuring of roles within the Division of Enrollment and Student Success. With increasing responsibility for elevating Trinity's profile and building support for student financial aid, the Vice President will continue to provide focus and oversight of divisional strategic recruitment initiatives. The Dean of Admission will be a critical partner with the Vice President in advancing the enrollment operation, managing all aspects of student recruitment and engaging in long-term admissions planning and evaluation and resource management. Together with division leadership, Oddi will cultivate and lead a recruitment plan that supports the college's evolving integrated strategies for admissions, retention, and career development.
Oddi will begin in her new role at Trinity College in August. We look forward to welcoming her!