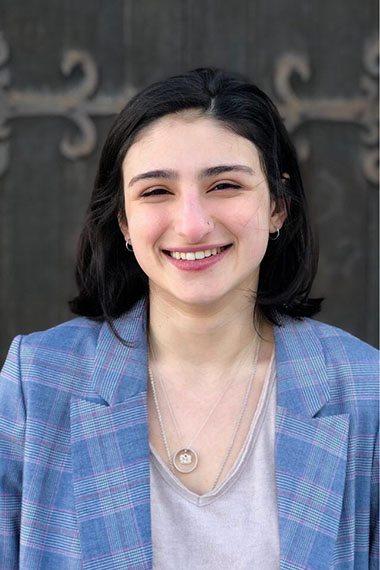 Hometown: Tbilisi, Republic of Georgia
Intended Major: International Studies
Why did you choose Trinity?
I came to the U.S. from an extremely small country – Georgia. Georgia is a place where everyone knows each other and the sense of community is still very prevalent. My high school resembled Trinity in the sense that it was not as big and I got the opportunity to get to know my peers and teachers. I was looking for something similar where I could explore different interests instead of sticking to one subject. Trinity's liberal arts education and approach to academics was a great fit for me, as I had the opportunity to explore before I decided to concentrate in one area. A good example would be doing the Cities Program, which was one of the reasons I chose Trinity, as I have never learned about Urban Studies and I wanted to gain more knowledge about my city and different city dynamics around the world. Having small class sizes and engaged professors, I realized I could get the most out of my education at Trinity.
Did you attend an admitted student event and how was it helpful? If not, how did you take advantage of opportunities to connect with Trinity before arriving on campus?
I attended Passport to Trinity after I got accepted and it was definitely one of the best steps I took in my college process, as I got to experience Trinity through physically being on campus and shadowing my host. My host was amazing, so I did not feel uncomfortable asking her questions. This gave me an honest, inside look into Trinity and made me even more inclined to accept my offer.
Tell us about your First Year Seminar or Gateway program experience. How have these programs shaped your academic journey?
I applied and was admitted to the Cities Gateway Program. I had never thought about Urban Studies too seriously, as I never had the opportunity to study this subject in high school. However, after finishing the first semester of the program, I knew I wanted to continue with this academic focus and now I'm thinking about minoring in Urban Studies. This program reshaped my understanding of city dynamics and now I see everything in a different light, especially when I go back home.
How have you become involved on campus and in Hartford?
I am a Multicultural Recruitment Intern and I try to attend different club meetings on campus, according to my interests. Through the Cities Program, I've engaged with Hartford by exploring different opportunities the city has to offer. I got to use the bus for the first time which can be a challenge when you are not familiar with the place. The Cities Program also helped me get rid of the stigma and stereotypes that Hartford carries by knowing the facts and the history of the city.
What has been the most valuable takeaway during your first year of college?
My most valuable takeaway during my first year would be realizing that it is important to challenge yourself and get out of your comfort zone sometimes. It might be scary to try new things or take classes that do not directly align with your interest, but the outcome might be surprising. The feeling you get while learning something completely unfamiliar and new is extraordinary and gives you more insight academically and personally.