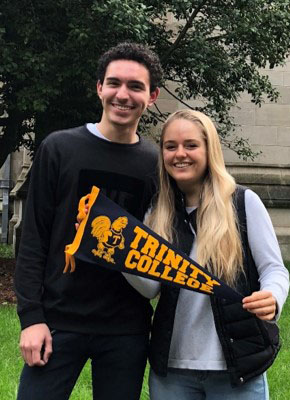 Hometown: Chicago, Illinois
Intended Major: Human Rights with a concentration in prisons and justice & Sociology
Why did you choose Trinity?
I chose Trinity because of its relatively small size. I love that Trinity allows me to form connections with my professors in a way that many other larger colleges and universities do not. I was also interested in what it meant to be part of a liberal arts school. I spent a lot of time in high school trying to decided what I'd major in and do with my life, and by coming to Trinity I was given the time and support to explore my options.
Did you attend an admitted student event and how was it helpful? If not, how did you take advantage of opportunities to connect with Trinity before arriving on campus?
I attended a lunch for admitted students in downtown Chicago, which was a great opportunity to get to meet new students of my graduating class, but also to talk to some of the admissions personnel. I still have a great relationship with this group and it's awesome to know a staff member and have friends going into your first day. Never feel that you are alone because it's more than likely that everyone is feeling just like you.
Tell us about your First-Year Seminar or Gateway program experience. How have these programs shaped your academic journey?
I applied and was selected to join the Community Action Gateway and it has been an amazing experience. The Gateway focuses on community involvement and how nonprofits affect the environment we live in. I have now worked with two different nonprofit organizations and learned so much about Hartford's history. Being part of this group has affected me in many ways, but the biggest has been deciding that I wish to minor in Community Action and work at the nonprofit that gave me the opportunity to come to Trinity College – The Posse Foundation.
How have you become involved on campus and in Hartford?
Getting involved on campus is very easy; whether it's through sports, clubs, Student Government, or even creating your own group. Personally, I have become involved with two different clubs that talk about diversity on campus and volunteer work. I am also involved with one of the cultural houses on campus, La Voz Latina (LVL). When I leave campus, I tend to go to Broad Street (just a block away) with friends to eat, shop, and explore. The city isn't something to be scared of at all, but rather an opportunity to explore and take your mind off schoolwork. My Gateway has helped me become familiar with Hartford. My classmates and I were given the opportunity to explore and go out for food, but also given assignments to describe how we felt about the experience. Overall, it was a great assignment and I encourage every student to partake.
What has been the most valuable takeaway during your first year of college?
The most valuable takeaway from my first year is the importance to make friends and not get dragged into the stereotypical college life that may cause you to lose focus. The homework is challenging and time-consuming, but you also have time to socialize. Dedicate that time for your real friends and especially for yourself. Self-care is important and taking time for yourself will enable you to love your college experience.