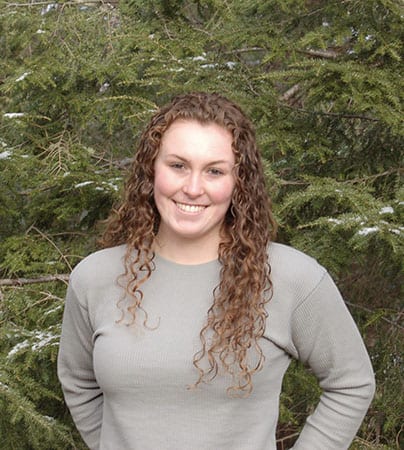 Hometown: Worcester, MA
Intended Major: Biology and Anthropology
Why did you choose Trinity?
The feeling of "home" and sense of community that I received when I walked onto campus were the solidifying factors for my decision to attend Trinity. I knew that this school was the perfect fit for me after I attend a campus tour, and knew I had to say "yes" immediately. I loved the fact that I would be able to cultivate close relationships with my professors and classmates, since creating connections with people is genuinely important to me. I knew that I would thrive academically, socially, and personally at Trinity, and couldn't wait to step foot onto campus last fall.
Did you attend an admitted student event and how was it helpful? If not, how did you take advantage of opportunities to connect with Trinity before arriving on campus?
I did not attend an official admitted student event before coming to Trinity, but I did attend a campus tour where I was able to visualize myself walking from class to class, eating meals with friends in the dining hall, and studying in the library. On my tour, I met another admitted student who is still one of my close friends to this day. I also joined the Facebook group for the Class of 2022 and was able to introduce myself and learn about my fellow peers, some of whom I see on a day-to-day basis. I highly encourage accepted students to visit Trinity before classes begin in the fall to meet your classmates and professors, in addition to exploring your campus. You will not regret it!
Tell us about your First Year Seminar or Gateway program experience. How have these programs shaped your academic journey?
My first-year seminar was a fantastic experience of diving into a specific topic that my peers, professor, senior mentor, and I all had interests in. A small class of only 15 people allowed us to become close with each other and our professors as well. Our small class allowed for group discussions where everyone could participate and address subjects that we often weren't comfortable discussing. The seminar's title was "Curiosity and Madness in English Literature", and we focused on works spanning from Hamlet to post-modern poems. My senior mentor and I became very close, and I truly appreciated her advice about academics, social life, and how to succeed at Trinity. My first year seminar often arranged times to meet outside of class just to get to know each other better. My professor required us to take advantage of the numerous resources on campus, such as the Writing Center and the research librarians when we began writing papers and conducting research. My first-year seminar opened up many doors for me at Trinity, and I am forever thankful for this experience.
How have you become involved on campus and in Hartford?
Since my arrival at Trinity, I have joined the Women's Swimming and Diving Team, became Secretary of the French Club, started working for the Admissions Tour Guide program, and was selected to be an Orientation Leader for incoming first-year students. Being involved on campus has helped me cultivate relationships with students from different cultures and communities. I love walking around campus and seeing new and old faces every day. Hartford's urban location offers plenty of opportunities for both undergraduate and post-graduate students. Hartford Hospital is only a few blocks away, and as an aspiring medical student, I hope to gain experience in the field of my interest before or after I graduate. My friends and I frequently explore the different cultural districts in Hartford and discover new places such as a Colombian market or a Thai restaurant in the most inconspicuous places in the city. By trying new foods and meeting different people from backgrounds all over the world, we are establishing connections within the community as well. I am incredibly grateful for Trinity's urban location and believe it is one of the distinguishing factors that makes Trinity unique.
What has been the most valuable takeaway during your first year of college?
My most valuable takeaway from my first year of college is the importance of time management. My first priority is my academics, and as a student-athlete and employee on campus, creating a schedule and managing my time to the best of my ability has allowed me to thrive in my first year. Time management is also intertwined with communication with faculty. I take initiative by contacting professors for appointments outside of office hours to ensure my understanding of the material, and to demonstrate my determination to succeed academically. Developing my organization skills have helped me adjust to Trinity and its academic and athletic rigor.