Hometown: Indianapolis, Indiana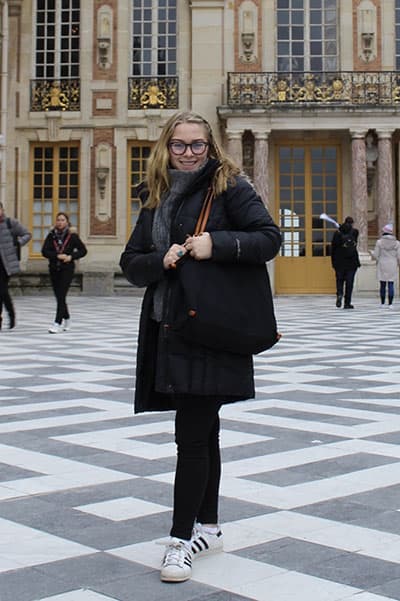 Intended Major: Human Rights and Psychology
Why did you choose Trinity?
I chose Trinity because I knew that I would be encouraged to excel in all of my aspirations, whether that is academically, socially, or in extracurricular activities. I loved the diversity of the student body, and it was obvious that there was not a way to describe a "typical Trinity student" Every student contributes their own background, personality, and knowledge about the world. All student activities offer more personality to the campus itself. It is so easy to get involved at Trinity, and the opportunities really are endless. It is just up to you to cultivate those passions with the help of your classmates and professors.
Did you attend an admitted student event and how was it helpful? If not, how did you take advantage of opportunities to connect with Trinity before arriving on campus?
I did not attend an admitted student event, unfortunately. The closest event to me was in Chicago, and I was unable to attend. But I did keep in frequent contact with my admissions representative, who was so eager to answer my many questions about my upcoming year at Trinity. The availability of the Admissions Office really made me feel valued before I had even stepped foot on campus. I also emailed back and forth with a couple studio art professors, and they were very helpful in reaching out to me and informing me about the many opportunities on campus to pursue an artistic interest. Staff and professors showed an interest in me before my first day at Trinity, and that has continued since being here.
Tell us about your First Year Seminar or Gateway program experience. How have these programs shaped your academic journey?
The Art of Food Culture with Professor Chloe Wheatley was my favorite class during my first semester. Not only was the material engaging, but it was apparent how much my thinking patterns and writing style were strengthened in one semester alone. Professor Wheatley was so attentive to each individual student and appreciated everyone's contributions in class. She brought to the surface all of our differences and similarities alike, and celebrated those in our writing. My first year mentor, also played a crucial role in my seminar experience. He went above and beyond to help my entire class feel acclimated to the school. He hosted dinners for our seminar as well as catered movie nights. He was always available to answer everyone's questions and he was so helpful in registering for second semester classes. It is obvious that people here want to support one another so that everyone can be their best, and my first-year seminar is the best example of that.
How have you become involved on campus and in Hartford?
Part of what really attracted me to Trinity was its unique location in a city like Hartford. Hartford offers so many opportunities to students that exist just blocks from campus. It has been very important to me to observe faculty and staff working to integrate Trinity into the greater community. I knew that I wanted to get involved in the community so that I could better know the city I'd be living in for the next four years. Shortly after arriving to campus, I met with Dean Selders to discuss volunteer opportunities in the greater Hartford area. I also love that Trinity has academic classes unique to Hartford. These are classes, such as Analyzing Schools and Hispanic Hartford that I could not find anywhere else. I plan to participate in these courses in my coming years here, and it is so encouraging that students are urged to get off of campus to expand their academic experience. Even going out to dinner in Hartford with friends has helped me to get to know the area. I love being in a city that offers so many activities for students to enjoy and contribute to.
What has been the most valuable takeaway during your first year of college?
I have learned how to find myself at Trinity. I knew who I was coming here, and I knew who I wanted to be. I wanted to pursue my passion for social justice and the arts, and I have done both. I knew that I wanted to find a group of people with whom I could be myself, and I have finally found that as well. I wanted to be comfortable at Trinity to foster my own, unique experience. All of these aspirations have already been accomplished and I know that I have so much more to look forward to. The resources are all in front of us, and it is our responsibility to reach out and use them to our best efforts. Nobody can make your college experience for you other than yourself, so I am happy that I have already made a strong foundation for myself here. I have stepped out of my comfort zone and become involved, but I had to make the effort to do so.