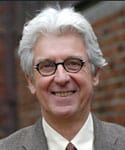 Thomas Chappell, an English major at Trinity College, is a socially conscious entrepreneur, environmentalist, and author. A resident of Kennebunk, Maine, he is founder, chief executive officer, and president of Ramblers Way Farm, an American-made, sustainable wool apparel company. In 1970, Chappell and his wife, Kate, P'89, '92, '97, '06, co-founded Tom's of Maine, which went on to introduce several environmentally friendly products, including the first nonphosphate liquid laundry detergent and the first natural toothpaste. Tom's of Maine is now a division of Colgate-Palmolive Co.
Chappell, who holds a master of theological studies degree from Harvard Divinity School, has had a lifelong interest in the responsibility of the corporation to society and is the author of two books on business ethics, The Soul of a Business: Managing for Profit and the Common Good and Managing Upside Down: Seven Intentions of Values-Centered Leadership.
In 1991, Chappell was honored by Trinity with an Alumni Achievement Award, and, in 2006, the College awarded him an honorary doctor of humane letters degree. He serves on the Information Services and Facilities Subcommittee and the Comprehensive Campaign Subcommittee.
Four of the Chappells' five children are Trinity College alumni: Christopher Thomas Chappell '89, Sarah Chappell Armentrout '92, Eliza Lyford Chappell '97, and Luke Chappell '06.