Uniting Youth in South Sudan Through Soccer
Ukuch Gabriel Ligol '19 uses 'Projects for Peace' grant to encourage partnership and cooperation in region torn by tribal wars
Ukuch Gabriel Ligol '19 returned to his home country of South Sudan last summer with a plan to help build peace in the region by bringing together young members of combative tribes for a soccer tournament. Ligol, a Trinity student who was the recipient of a Davis Projects for Peace grant, spoke about his experience implementing this program at the October 16 Global Vantage Point Lecture Series sponsored by Trinity's Center for Urban and Global Studies.
An electrical engineering major interested in community development and sustainability initiatives, Ligol secured a $10,000 Projects for Peace grant last semester along with his two partners, fellow college students Wek Maluil Wek from Arizona State University and Emmanuel Chol Kon from the University of Rochester. The Projects for Peace program is an invitation to undergraduates at the American colleges and universities in the Davis United World College Scholars Program to design grassroots projects for building peace around the world. The target for Ligol's project stemmed from his concern for the youth of South Sudan. He explained in his presentation that a lack of job opportunities and formal education has left South Sudanese youth vulnerable to exploitation by warring politicians. "They recruit youth to fight their wars. The violence these youth are exposed to, and the hatred among tribes and ethnic groups that escalated due to the division caused by war, is the reason we decided to do this project," Ligol said.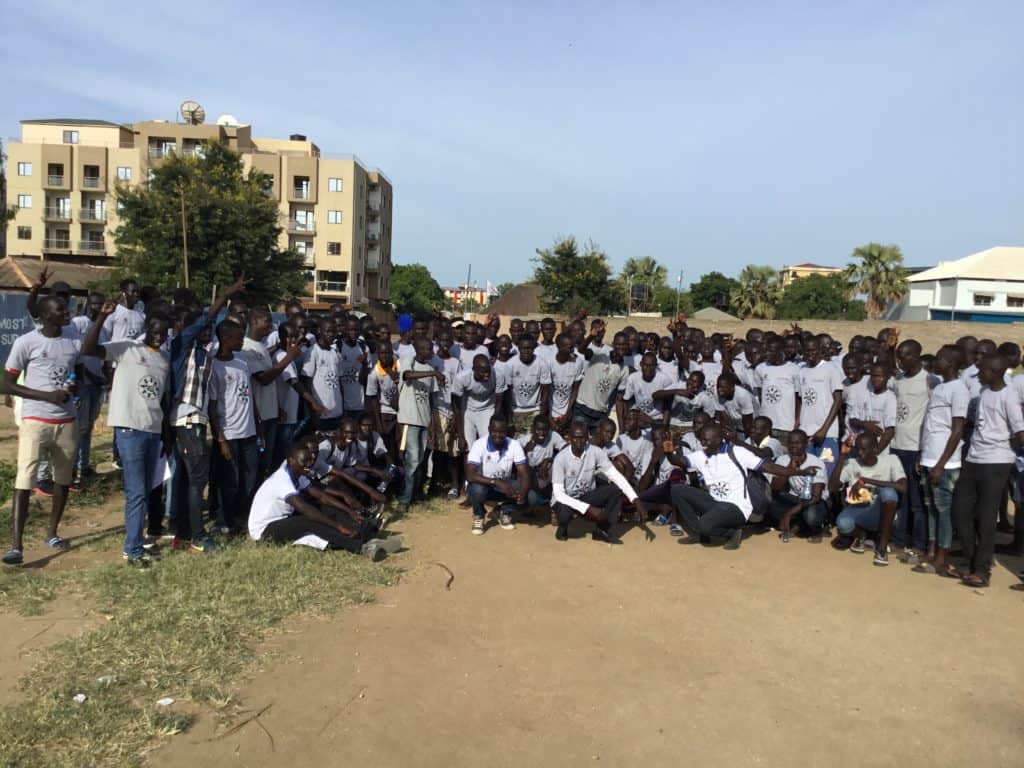 As a way to unite the youth and get them involved in the ongoing peace-building and reconciliation process, Ligol and his partners chose to host a friendly soccer tournament. "We wanted to bring youth from different tribes or ethnic groups together and enable them to showcase their talents," he said. "We wanted them to work together as a team to win the tournament." Ligol wanted to create awareness and empower the youth to reject negative notions of tribalism. He said that he hoped to create a community with improved relations, where the youth keep a mindset of partnership and cooperation, even after the tournament ended.
Ligol first contacted the National and State Ministry of Youth, Culture, and Sports for an approval to implement the project. After that, he selected eight teams that applied to participate in the tournament. In a country that is home to more than 60 different tribes, it was important to create 20-person teams including players from at least three different tribes each, he said. "We didn't want one single tribe to play together, so we mixed them up," Ligol said. "We wanted the players to be unfamiliar with their teammates at first so they could form friendships." Participants ages 18 to 22 years old were selected. "This is the most vulnerable age, the age that many people are recruited in the army," he said.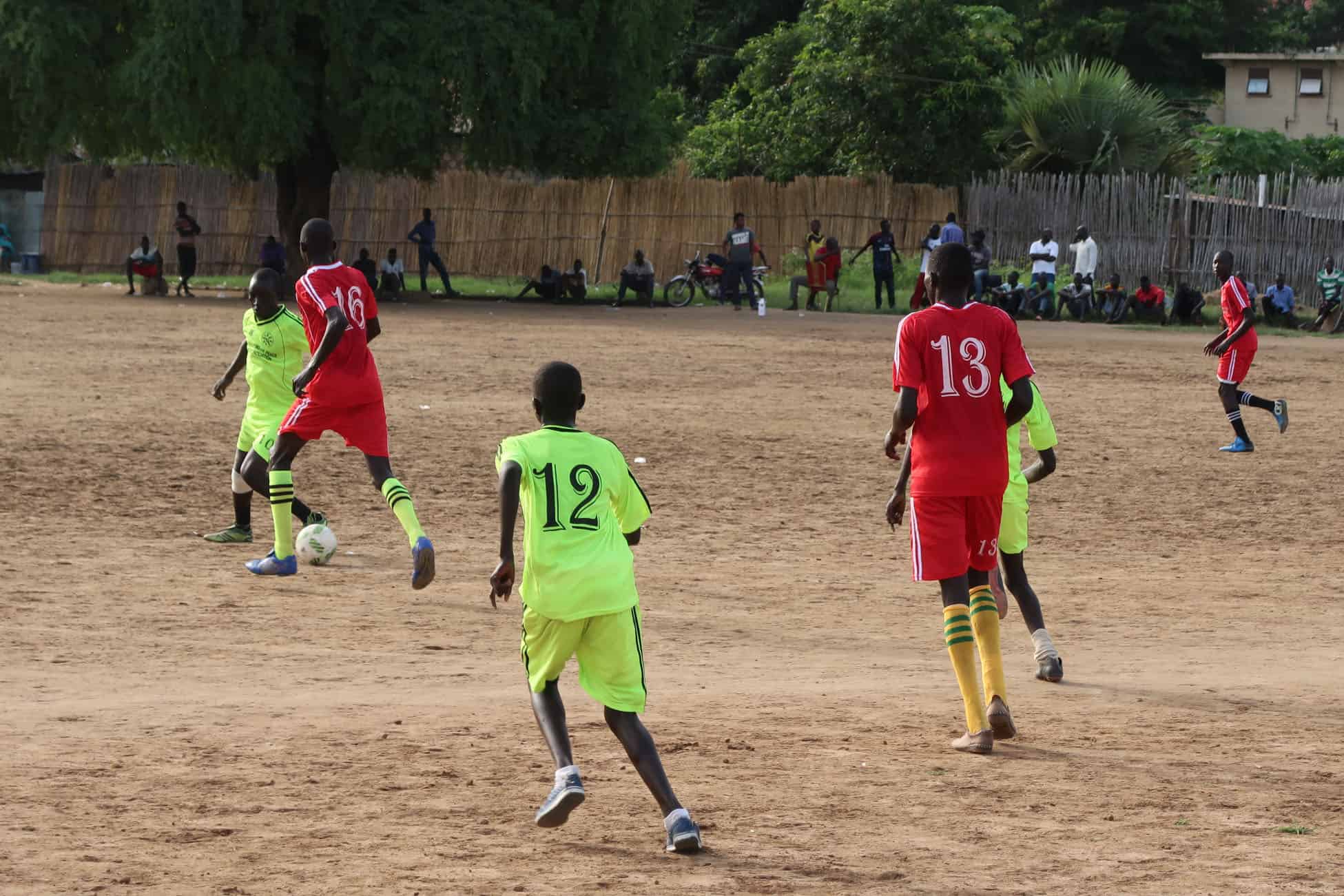 Ligol and his partners conducted two days of training, which included conflict resolution exercises. He said, "We designed games representative of politics that were purposefully meant to challenge the participants to work together." Throughout the training process, Ligol and his partners stressed the importance of peace and unity; coaches were brought in and rules and regulations were put in place to discourage fighting. He even met with the former national coach of the South Sudan football team for support and to guide him and his partners on how to work through logistical challenges.
Ligol and his partners teamed up with Juba Referees Association and EmpowerKids South Sudan, which holds workshops to empower youth to engage in the peace and reconciliation process. Ultimately, the tournament turned out to be a great success, Ligol said. It was advertised on the radio and national television, and some players actually ended up being recruited to a nationally renowned football academy. Ligol noted how important the tournament was, not only to the participants, but to himself: "I gained new skills in conflict resolution and peace sustainability. I made new connections and met new people I never thought I'd meet, who told me how much they appreciated the tournament."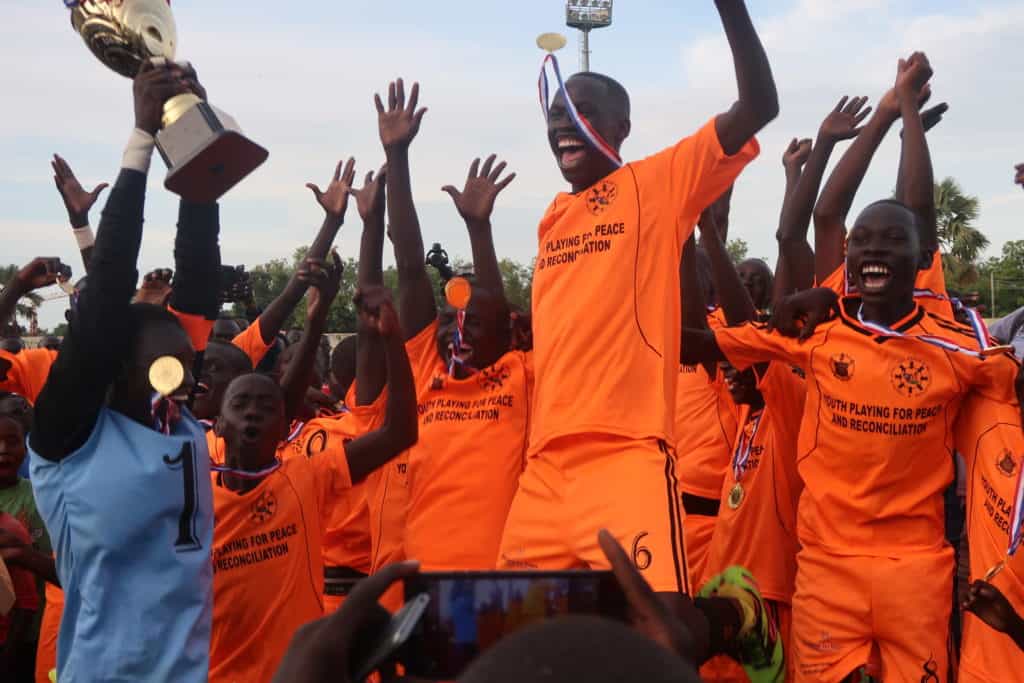 The Davis Projects for Peace program is administered at Trinity by the Center for Urban and Global Studies (CUGS). Since 2007, Trinity students have developed projects that focus on building community, encouraging interfaith understanding, providing access to medical services, and improving lives through art, technology, and education. To learn more about this program, click here.
In addition to Ligol, two other Trinity students presented their work during the October 16 Global Vantage Point Lecture Series. Grossman Research Grant recipient Laiba Bahrawar '21 presented on "Economic Sustainability of the Kalash in Pakistan." Her research focused on the 21st century Kalasha economy and the problems the indigenous group faces. Emma Ghiglione '20 was a Levy Research Grant recipient and presented on "A Greener Paris." Her research focused on how Parisians are using public amenities that Paris has introduced in an effort to reduce pollution. For a complete list of this fall's Global Vantage Point Lecture Series events, click here.
Written by Grace Culver '19
Photos by Pell Thuok 
In the header image: Trinity College student Ukuch Ligol '19 passes the microphone to Juba State Minister of Youth and Sports, the Hon. Salah Rajab Bunduki. The minister gave advice and words of encouragement to the youth.