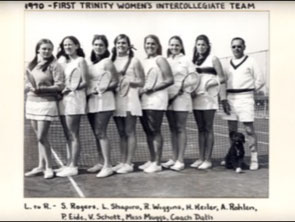 Tennis was Trinity's first varsity sport for women in 1970, quickly followed by field hockey and squash in 1971
The U.S. Women's Intercollegiate Squash Racquets Association was founded by Trinity in 1972
In 1975, Trinity formed a Title IX Compliance Committee to conduct a mandatory evaluation of the athletic program from faculty, students, and staff, which led to locker facility upgrades, the hire of another full-team female coach, new uniforms, additional sport offerings, and equal coverage of women's sports in the Trinity TRIPOD
In the first five years of Title IX, Trinity women won or tied almost 75 percent of their matches in their five varsity sports (tennis, field hockey, squash, lacrosse, basketball)
NCAA final four in field hockey the first year NESCAC allowed participation in 1993, and again in 1999 and 2021
First National Team Championship in women's squash (Howe Cup) in 2002. The team went on to win 2 more national titles in 2003 and 2014.
First NCAA Championship by a women's program was in women's lacrosse in 2012, runner-up in women's lacrosse in 2013, 2014, 2015, 2016
NCAA Championship in women's rowing in 2014
NCAA Final Four in women's lacrosse in 2017
Addition of women's golf in 2018. Trinity now sponsors 15 women's varsity sports and 15 men's varsity sports.