Support of Historic Proportion
Trinity College receives a $12.3 million bequest from an alumnus of the Class of 1898.
In 1914, Trinity College was at a crossroads. Facing a significant deficit, the college convened a committee to examine Trinity's finances and recommend a path forward. Charles Guilford Woodward, Class of 1898, served on that committee, which came up with two options for the Board of Trustees: cut expenses by eliminating faculty positions and reducing the number of students receiving scholarships, or raise money from alumni and parents who believed in the power of a Trinity education.
The trustees chose to invest in Trinity. And Woodward put his own money where his mouth was, establishing a trust that would support both Trinity students and his family during their lifetimes and that would grow into an endowment that, today, 68 years after his death in 1950, has provided Trinity with an extraordinary gift: an unrestricted bequest of $12.3 million.
Woodward's initial bequest included the contents of his economics and sociology library and a trust that provided annual scholarships for Trinity students. The remainder went into a trust for his niece Helen G. Waterman and her children for life. Now, with the passing of the last of his great-nieces, Woodward's charitable trust was recently augmented by more than $80 million, and Trinity is the beneficiary of the largest portion of this charitable trust.
The gift is an inspiring and powerful story of the enduring dedication of Trinity alumni, says Michael Casey, Trinity's vice president for advancement. "Charles Woodward established a trust that would support his niece and her children for the next 68 years before growing into an endowment that will support Trinity students and faculty for an eternity," Casey said. "Notably, the gift was expressly directed to serve as unrestricted endowment. That's more than just good planning. That is a demonstration of deep and unequivocal confidence in the core values of an institution that he clearly treasured."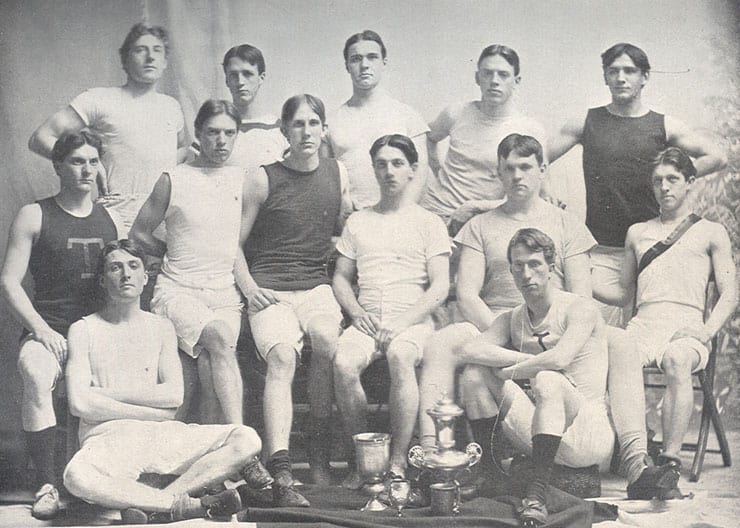 Woodward, a Hartford native, came to the college that his father, P. Henry Woodward, had attended and served as a trustee. A standout on the track team who studied economics and sociology and was a member of the Psi Upsilon fraternity, the younger Woodward was an active member of the Association of Alumni of Trinity College upon his graduation. As he built a career as a financial statistician at Connecticut General Life Insurance Company, he remained engaged with Trinity, serving as a member of the Board of Trustees from 1917 until his death.
Woodward's bequest comes as many more recent alumni are expressing similar confidence and support in Trinity. Several commitments in recent months, combined with the Woodward bequest, total more than $20 million in new support.
"We are enormously grateful for the leadership and dedication shown by these individuals," Casey said. "They see Trinity's strength and forward momentum toward our bicentennial in 2023, and they want to be a part of Trinity's incredibly bright future."
Woodward, through his work a century ago and his generosity to the college, is now at once a notable part of the college's history and its future.