Student-produced walking tour highlights Hartford's Frog Hollow
By Andrew J. Concatelli
Illustration by Jillian Goeler
A project designed to preserve the rich history and diverse culture of Hartford's Frog Hollow neighborhood has taken shape over the past two years, with Trinity College students in multiple programs playing a leading role in this community-centered work.
"Nuestra Historia: History, Culture, and Art in Frog Hollow" is a website offering a self-guided bilingual walking tour and oral history archive exploring the people, places, and moments that represent the diverse, largely Spanish-speaking neighborhood.
The project is based mostly on personal interviews conducted and archived by Trinity students as part of a collaboration with the Southside Institutions Neighborhood Alliance (SINA). Frog Hollow lies just north of the Trinity campus, which is located in the Barry Square neighborhood.
The walking tour's website—which features 28 "stops"—incorporates recordings of firsthand stories from residents and others with knowledge of the neighborhood.
"There is depth to the people's history of Frog Hollow that isn't widely known," says Logan Singerman, director of community partnerships and policy analyst at SINA, which is a long-running partnership of Connecticut Children's Medical Center, Hartford Hospital, and Trinity. "This project came out of conversations with residents who wanted to bring their history to life."
A "Frog Hollow Heroes" mural project carried out in 2021 by SINA, the Park Street Library @ the Lyric branch of Hartford Public Library, and the nonprofit RiseUP for Arts was designed to be accompanied by a bilingual walking tour that tells the people's history of the neighborhood. But, says Singerman, "We didn't know exactly how to make this happen, so that's where the Trinity partnership came in."
Liberal Arts Action Lab
In fall 2021, Singerman brought the idea for an oral history-based walking tour to Trinity's Liberal Arts Action Lab, where Hartford community partners propose semester-long research projects to pursue in collaboration with students and faculty from Trinity and Capital Community College.
"The essential question was, 'What is the people's history of Frog Hollow, as told by people in the neighborhood?' Camilo Ruiz Sanchez [then a postdoctoral fellow in the Action Lab] and the students did a wonderful job conducting interviews and creating an initial database," Singerman says.
One student on the Action Lab team, Emeline Avignon '24, says the research involved visiting people and places she wouldn't otherwise know. "I learned there are a lot of people doing really hard and interesting work and that so many people care a lot about the Hartford community and making a future in Hartford," she says. "I felt more connected by meeting so many community members and learning about their businesses and roles in Hartford's history."
Joshua Jacoves '23 says that the project combined aspects of his major in anthropology and minor in community action. "I find storytelling to be one of the most effective ways to communicate," he says. "Through this project, I learned how to help tell the story of a community I've now spent four years living in and how to represent their voices through the lens of oral history."
Other Trinity students on the Action Lab team were Catherine Doyle '23, Kristina Kendall '23, Lily McMahon '24, and Sophia Sczurko '23.
Community Action Gateway
Work on the Frog Hollow project continued in spring 2022 in Trinity's Community Action Gateway program, which offers first-year students the opportunity to engage with Hartford through community-based research and social change projects. Supervised by Singerman and Trinity Director of Community Learning Erica Crowley, students Jules Bourbeau '25, Jenissa Leilany Cortes '25, and Jeremias Vazquez '25 gathered additional interviews in Spanish and researched possible online platforms to house the walking tour.
"The 15 students in the Community Action Gateway are each matched with a project for a community partner organization for the semester, working in small groups," Crowley says. "Our students who partnered with SINA built on the work of the Liberal Arts Action Lab and on what the organization wanted. They could see their role in a longer-term project."
To Cortes, this experience had personal significance. "Ever since I was a little girl, I have been curious about my family history and how to preserve it," she says. "I wanted to be part of the process of honoring Frog Hollow voices and histories to empower the community, especially since I am Latina, and the Frog Hollow neighborhood is a predominately Latino community. This project helped me connect with Hartford and develop skills that can connect to recording my own family history."
Public Humanities Collaborative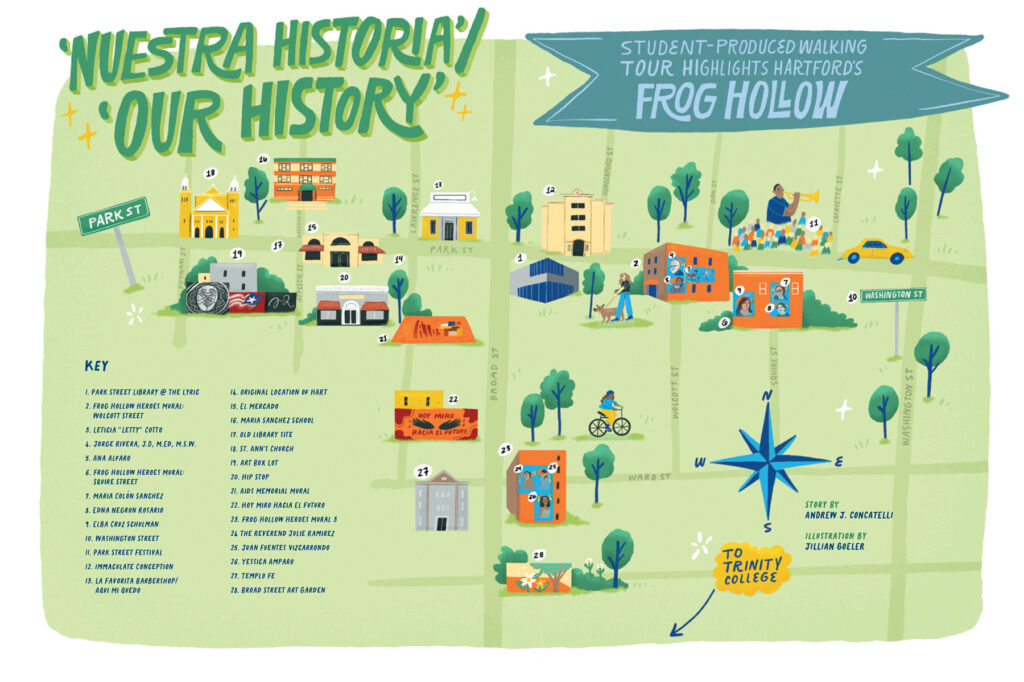 Maxwell Norteman '23 and Isabelle Sayas '23 spent summer 2022 organizing the ongoing project's recordings, photos, and other information into tour stops and building a pilot of the online walking tour. This work was done through Trinity's Public Humanities Collaborative, a summer research opportunity that brings together students, faculty, and individuals and organizations in Hartford to work on public humanities, which is the study of how people interpret stories of human experience.
"It was an honor to be able to tell stories of people who have had such an incredible influence on the community and the city," Norteman says. "The tour highlights important places, art installations, and the compelling history that has taken place here. I hope that our work will lead Trinity students to explore the history and culture in Frog Hollow and throughout Hartford."
Singerman notes that the tour forms a big "T," with Park Street Library as the hub. It runs west to east along Park Street between Putnam and Washington and south down Broad Street toward the Trinity campus. "We have some more content for the Learning Corridor and Trinfo.Café that we could add in the future," he says.
The categories for the different stops are neighborhood heroes, places, art, and voices of Frog Hollow. "The tour is made for anyone who lives in, works in, or visits Frog Hollow," Singerman says. "It gives the feel of a neighborhood hero showing you around. For example, one stop is about bilingual education champion Edna Negron Rosario, as told by her own daughter. It's a powerful thing to hear real people telling you what has happened here."
The students tested the tour by walking the route and following along online with their phones. They fine-tuned it during the 2022–23 academic year, and it was set to be made public midyear, Singerman says.
'Collaboratively Designed'
"This project literally would not have happened without Trinity's students," Singerman says. "This started as just an idea. The students were curious, and they showed a humility and a level of awareness as they went into the neighborhood. They listened well and uncovered beautiful stories. The students really left their mark on this project and did an exceptional job; the final product itself shows that."
Crowley notes, "Every step of this project was collaboratively designed. The continuous thread here has been the students. They created something that will have meaning to the whole neighborhood, far beyond Trinity and SINA."
This multi-semester undertaking is just one of the ways in which Trinity's Center for Hartford Engagement and Research (CHER) builds mutually beneficial connections with the city. CHER, which was created in 2018 to bring together the College's community engagement programs, works to strengthen partnerships between Hartford's diverse communities and students, staff, and faculty at the College. "Being part of Hartford is understanding Hartford—knowing this community that we're a part of," Crowley says. "Trinity has a role to play in uplifting voices and stories that are of significance to residents."
Singerman hopes that the tour encourages people not only to look back at the past but also to reflect on the present. "There are so many topics this tour brings up—education, housing, the media and how neighborhoods are portrayed, the immigrant experience—and they are not just history; they are happening now."
To learn more about the walking tour, please visit Nuestra Historia: History, Culture, and Art in Frog Hollow