Paving a Path for Future Scholars
Bantam Elias Kagabo '20, a biomedical engineering major from Rwanda, has a "deep love" for education, and he's working to turn his ideas for educational access in rural parts of Rwanda into action with plans for a youth mentoring program.
Kagabo recently attended Clinton Global Initiative University (CGI U) in Chicago and had the opportunity to present his project, "Equal Access to Education for Transformation (EAET)," in front of other young scholars and entrepreneurs. Kagabo answered questions about his CGI U experience, including how being vocal about his ideas afforded him the opportunity to pave a path for future scholars.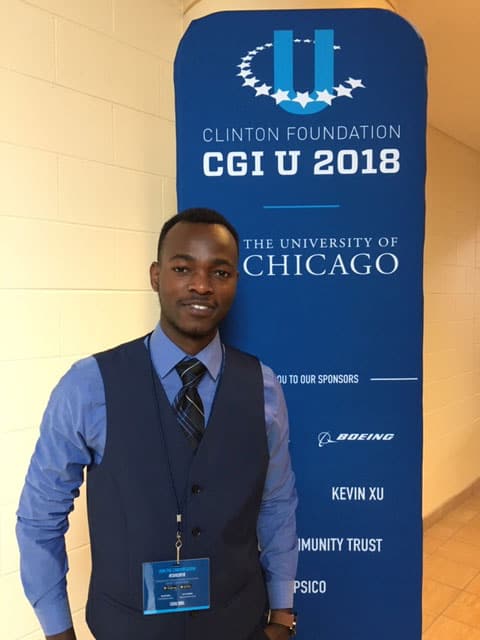 How did you get invited to attend CGI U?
I was nominated by Dean of Student Success and Career Development Dr. Jennifer Baszile. While researching the best practices for access and retention for first-generation college students as an intern in Trinity's Office of Enrollment and Student Success, I happened to talk with Dean Baszile about my deep love of education, and how I consider it a human right. My specific passion for education is keeping young girls in school, which is a big issue in a town where I grew up in Rwanda. Dean Baszile encouraged me to write my ideas down. I started to do more research and became more inspired, and as a result, prototyping of my mentor project started in the summer of 2017. I applied to CGI U in April 2018 after I had heard that Dean Baszile nominated me.
What is the purpose of Clinton Global U?
Clinton Global Initiative University is a program that brings together young people who have committed to take action and make a difference in their communities by providing students with plenary sessions, working sessions, networking sessions, and challenges. CGI U has five focus areas: Environmental and Climate Change; Peace and Human Rights; Education; Poverty Alleviation; and Public Health. Hosted by former U.S. President Bill Clinton and his daughter Chelsea, CGI U helps students turn ideas into action.
What is the goal of your project?
EAET promotes education access to adolescent girls from rural neighborhoods of Rwanda. We help people escape a cycle of teenage pregnancies, early marriage, and sexual violence by providing an education for them, and by training them and their parents about the importance of education, reproductive health, and entrepreneurship.
What did you learn from your experience at CGI U?
I attended numerous sessions, including networking sessions, where I had the opportunity to present my project and hear about other commitments from other students from around the world. I learned about strategies to build a staff, manage finances, recruit, organize, and retain an engaged volunteer team. In addition, I explored measurement and evaluation methods that will enhance the quality and effectiveness of my commitment project, and inform my future efforts. I'm grateful for the connections that I made and the mentors who will help me further my project. And of course, I had fun meeting the 42nd president, Bill Clinton, and the former secretary of state, Hillary Clinton.
Now that CGI U is over, what are your next steps?
One of the first things that I'm going to do is to expand my project's team. I'm going to recruit more members to get involved in order to maximize outcomes. The second task is going to be raising funds and experimenting with the sustainability of the project''.
How can other students get involved with CGI U?
As long as you have identified a pressing challenge in your community, then you can talk to people and make connections. That's how I was nominated. You can also find more information about CGI U here: http://bit.ly/CGIU-About