Back to News
'Women at the Summit' Panelists Discuss 'Coeducation in Context'
Trinity Community
posted
by Katie Cort '19
As part of its Women at the Summit programming celebrating 50 years of coeducation, Trinity College recently hosted a panel discussion that featured first-person accounts of the transitional academic year of 1969 to 1970 from the perspectives of students and faculty members.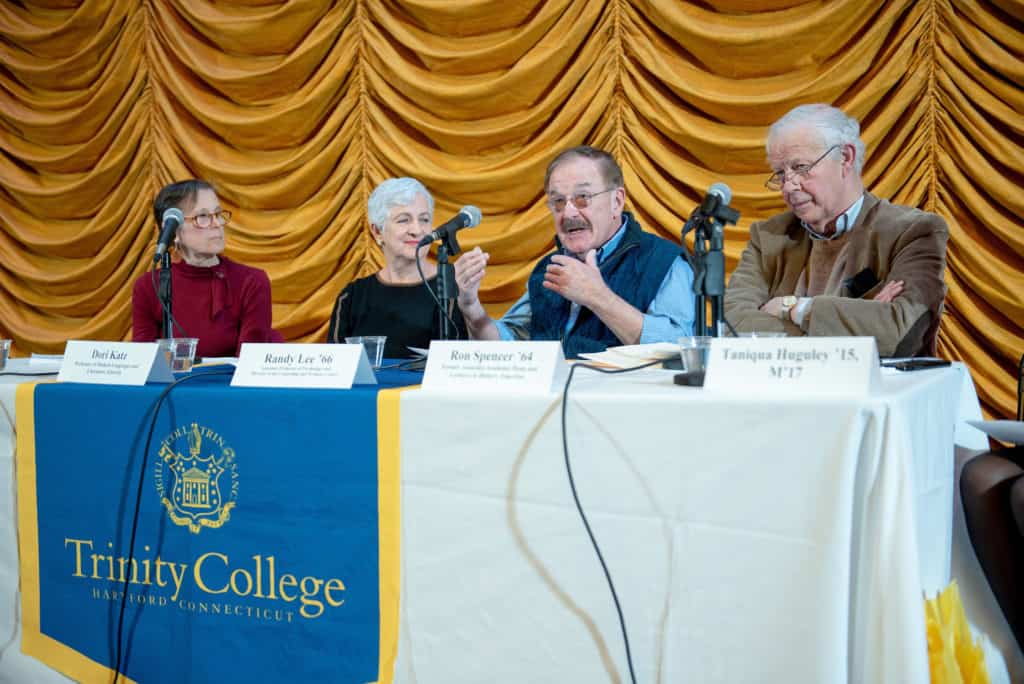 The panelists at the February 14 discussion, called "Coeducation in Context: 1969-1970," included: Judy Dworin '70, professor of theater and dance, emerita, and the first woman to receive a bachelor's degree from Trinity; Ron Spencer '64, former associate academic dean and lecturer in history, emeritus; Randy Lee '66, associate professor of psychology and director of Trinity's Counseling and Wellness Center; and Dori Katz, professor of modern languages and literature, emerita, and the first female faculty member to receive tenure at Trinity. The discussion—which was moderated by Taniqua Huguley '15 M'17, one of Trinity's inaugural Trinsition Fellows—covered topics including the climate in which coeducation began, social activism at the time, and the impact of the arrival of women on a previously all-male campus.
Dworin began by explaining what drew her to transfer to Trinity from Smith. "I came because of the newly introduced Dance Program, but the experience of being at Trinity also provided the opportunity to engage what I had been learning at Smith through the new open curriculum," she said. "For example, I was able to go into an inner city in Hartford to start a dance program for first, third, and fifth grade. To have a professor in the Education Department be so engaged with that idea through an independent study was inspiring to me."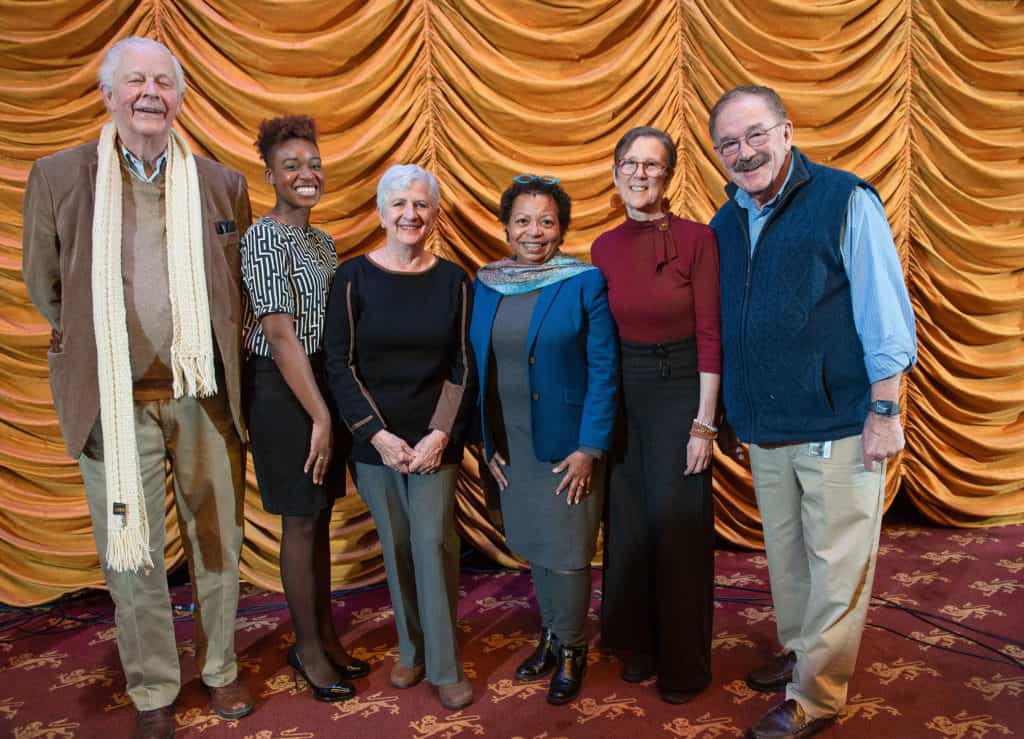 Huguley asked Spencer to offer some historical perspective about the era in which this transition to coeducation occurred. "One of the things that impressed me most about Trinity as a student and as a faculty member is that in some ways Trinity is very conservative, but happily in 1968 to 1969, when it became very important, Trinity rose to the occasion," he said. "Sometimes it takes presidents and trustees years to agree on minor things, but in a matter of few months, they decided this place was going to be coeducational. The only thing more important than the adoption of coeducation in the entire history of the college was its founding in 1823."
Lee discussed student life and how the shift to coeducation impacted student psychology. Lee said that the first employees of the Trinity College Counseling Center consisted of two men. Today, Lee said the majority of the counselors are now women. "The presence of women on campus did change the dynamic on campus," Lee said. Lee also mentioned an example of working with Dworin to develop a dance therapy class to support student wellness. "[Dworin] and I taught a course in 1973 in dance therapy. She handled the dance piece, and I handled the psychology piece. We hired a dance therapist who came from Yale to get us moving," he said.
Katz discussed what it was like to begin teaching at Trinity in 1969, the first year of coeducation. She said that she was asked to serve on many committees because everyone wanted a woman's voice represented. Katz said, "Most of the communications were through letters, and my mailbox was always stuffed, addressed to 'Mr. Katz.'" Her office was in Seabury Hall, where there were no women's bathrooms. "We had to go to Mather if we wanted to use the facilities," she said. However, Katz added, "As more and more women came, things really changed."
This discussion was part of a series on Trinity's campus celebrating 50 years of coeducation called Women at the Summit. Three semesters of programming and special observances will focus different aspects of coeducation: Yesterday, Today, and Tomorrow. Along with this series, the Watkinson Library launched an oral histories project and is collecting stories shared by members of the Trinity community.
The next "Women at the Summit" event will be a discussion with tennis champion Chris Evert on Friday, March 1, at noon in the Washington Room of Trinity's Mather Hall. To kick off Women's History Month, Evert will join Trinity Field Hockey Coach Anne Parmenter for a wide-ranging conversation about the evolution of women's roles in the world of sports and in society overall.
Watch a video of the panel discussion below.
See more photos in the gallery below.