For 19 years, Trinity College has hosted visiting lecturers for The Patricia C. and Charles H. McGill III '63 Annual Distinguished Lecture in International Studies. This year, Sisonke Msimang, author and head of oral storytelling at the Centre for Stories in Australia, travelled across the world to share her unique perspective on the late Winnie Mandela for her talk, "Winnie Mandela and Her Husband: Gender and Power Global Iconography." Msimang has just completed an ebook titled. The Resurrection of Winnie Mandela.
For many sitting in McCook Auditorium at Trinity College on March 27, Winnie Mandela may not have been as familiar as her husband Nelson Mandela, the late South African president and winner of the Nobel Peace Prize. However, Winnie Mandela, an activist and icon in her own right, has a complex legacy with a lesson for contemporary times, according to Msimang.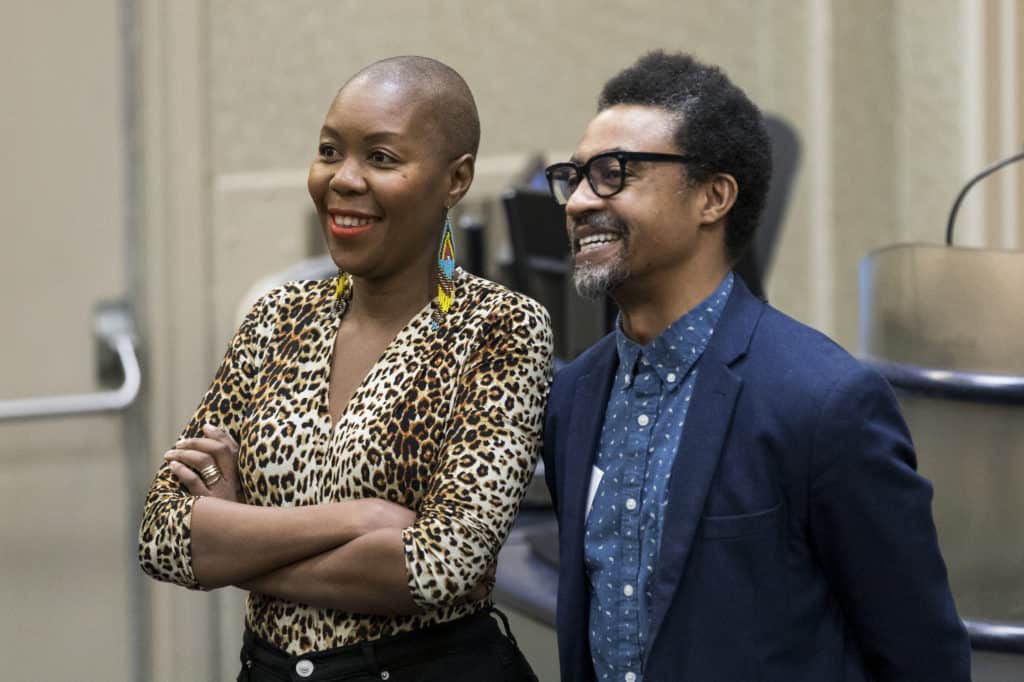 The speaker began the discussion of Winnie Mandela by first reflecting on her recent experience leading a storytelling group for Muslim women in Australia. The group gathered shortly after hearing of the Christchurch massacre at two mosques in New Zealand. While they were still processing this trauma, Msimang described the group's outlook as resilient and resolved. The women affirmed that "love is the only thing that serves as an antidote to fear" in the face of tragedy, hardship and hate.
With this backdrop, Msimang urged the crowd at Trinity to reconsider Winnie Mandela, outside of the shadow of her husband, and beyond the controversies of her later life. Msimang described the immense love between the Mandelas and how that love sustained Winnie over her husband's 27-year imprisonment. However, she also positioned Winnie Mandela's story in relationship to centuries of South African history, putting her complex story in context.
Msimang explained that Winnie and her husband were foils of one another, both essential for the South African story. Nelson Mandela was the South Africa's "shining light," remembered for his generosity of spirit after spending nearly three decades behind bars. Simultaneously, Winnie, at once an incredible beauty, a stylish woman of high society, and later, a radical, became his "dark shadow," Msimang said. She continued her resistance against apartheid while her husband was imprisoned, enduring her own imprisonment, banishment, and struggle. Msimang acknowledged that the shift South Africa took following Nelson Mandela's release and the end of apartheid meant recognizing that, "In order to build, you have to have reserves of both anger and generosity."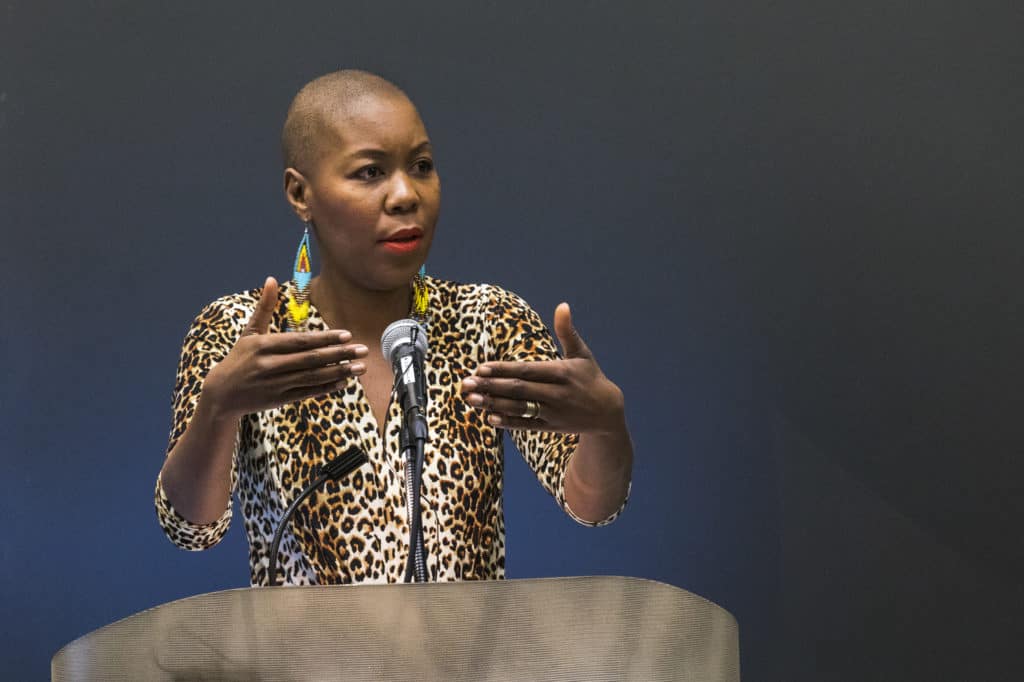 As South Africa considers Winnie Mandela's legacy within this dichotomy, a new generation of women are attracted to her beauty, her rage, and her refusal to apologize for her actions, Msimang said. They identify with her persistent resistance, and her fluency in the powerful language of anger.  In light of tragedies like the one in New Zealand, Msimang suggests this language is one everyone learn to use in balance with the generosity that helped guide South Africa into lasting peace.
Student Akanksha Salunkhe '21 felt the power of this message and of Winnie Mandela's story. Reflecting on Msimang's talk, Salunkhe said, "Overall, I just liked the talk because it was very feminist inclined and it also brought into light the intersections within culture and race and their effect on women. It's important that people realize this when they talk about human rights, activism or feminism." Salunkhe found that the story of Winnie Mandela was an important reminder of "the power of love," and the importance of including "love in institutions including politics, as a very feminist approach."
The equal emphasis on power and love was key to Msimang's reflections on Winnie Mandela's life. The speaker urged those in divided political environments to "look outside large, deadlocked, western democracies, and look south to places where hatred has been overcome by pragmatism, kindness, and yes, love."
The McGill International Studies Fund was established in 1996 with a gift from Patricia C. and Charles H. McGill III '63. The gift helped secure a matching grant from the National Endowment for the Humanities. The fund supports the appointment of visiting humanities scholars, primarily international scholars, in the academic areas of international studies that include African studies, Asian studies, Latin American studies, Middle Eastern studies, global studies, and Russian and Eurasian studies.
A video recording of this lecture is available below. For more photos, click here.