Back to News
Volume, Velocity, Variety: Memorial Wassong Lecture Brings Big Data Together with Global Culture
Academics
posted
by Tess Dudek-Rolon
Data. It's a word that in some ways seems incompatible with our ideas of culture and creativity.  Dr. Lev Manovich, professor of computer science at the Graduate Center, CUNY and director of the Cultural Analytics Lab, works hard to prove data science and culture belong together. That's partially why he was excited by Trinity's own melding of these topics, evidenced by the CCAN building—"I was surprised to see you have a building that brings together neuroscience and the arts—amazing!" Manovich visited Trinity College on April 29 to deliver the 2019 Shirley G. Wassong Memorial Lecture in European and American Art, Culture, and History.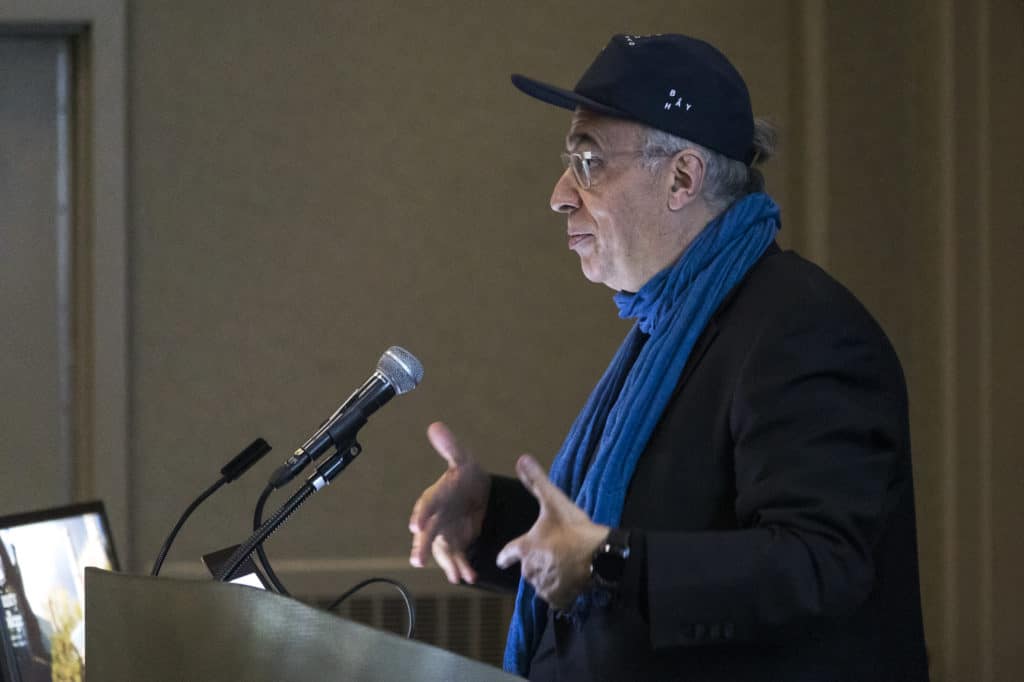 It is fitting that the interdisciplinary aspect of Trinity's campus and liberal arts curriculum is appealing to Manovich. His own work applies principles of big data to analyze cultural phenomenon and falls somewhere between science and culture studies. Big data is data that is beyond the normal capacity of recording methods like spreadsheets and is typically characterized by the "three Vs"—volume, velocity, and variety. As he explained, with the advent of the internet, social media, and broader sharing worldwide, there is a glut of cultural information and data that is expanding faster than any other period of time. Whether it's a Facebook post or an Instagram story, millions of users are contributing to that massive amount of data available globally. Each digital action creates a cultural artifact and contributes to the mass of big data available.
Data science, which can help to process this information, can change the way we understand art, culture, fashion, and more. As Mitchell Polin, Trinity associate professor of theater and dance, explained, Manovich provides a template for the ways in which data can effectively move across a variety of disciplinary areas. "Using large data sets, his work suggests new possibilities for the ways that we are able to examine and visualize a variety of cultural sites to reveal new perspectives and revelations on a global scale," Polin said.
Manovich describes his approach to digesting this information as somewhere between digital humanities, which mostly analyzes historical artifacts by professional creatives; and computer science, which analyzes contemporary artifacts and behaviors of ordinary people like social media posts, images, video, online and physical behaviors, by billions of "normal" users. "We can use digital tools to see it—not with your eyes—but to do a cultural geography of contemporary culture," Manovich said. The tools take a broad view of human creativity and behavior to understand patterns of cultural behavior.  "We don't make any new discoveries—but often, things we took for granted aren't true," he added. Manovich used the example of artwork—often defined as either representational or abstract. Instead, he said, analyzing the real patterns of a massive data set of artwork can reveal distinctions within these categories that bring together otherwise disparate features of art. Trends reveal commonalities that often tell a story of common shared beyond the obvious, long-recognized elements.
Manovich's studies elevate the seemingly mundane contributions of modern culture as part of a larger story about the human experience. In doing so, Manovich encounters a paradox. Although scientists can map themes, focusing on what is common, reducing it can blind consumers of the data to the things that are most interesting. Analyzing big data related to culture ignores one historical truth: the most enduring voices, images, and cultural artifacts often buck trends and resist broad societal movements.
Ultimately, Manovich finds humanity both in the pulse of patterns from thousands, millions of "artifacts" mined from big data. He also finds the beautiful outliers that defy categorization. This dichotomy is the rhythm of humanity and culture: that which is the same, and that which is absolutely different are equally important.
To see an example of one of Manovich's projects, visit www.selfiecity.net.
For more photos from this event, click here.
Support for the Wassong Memorial Lecture in European and American Art, Culture and History comes from a fund established in 1996 by Joseph F. Wassong, Jr., '59, in memory of his wife, Shirley, and augmented with gifts from family and friends. The annual lecture features members of Trinity's faculty and guest scholars in alternating years. The lecturers are from various academic disciplines, and their topics range from antiquity to the present day. This lecture is hosted by the Trinity Institute for Interdisciplinary Studies.