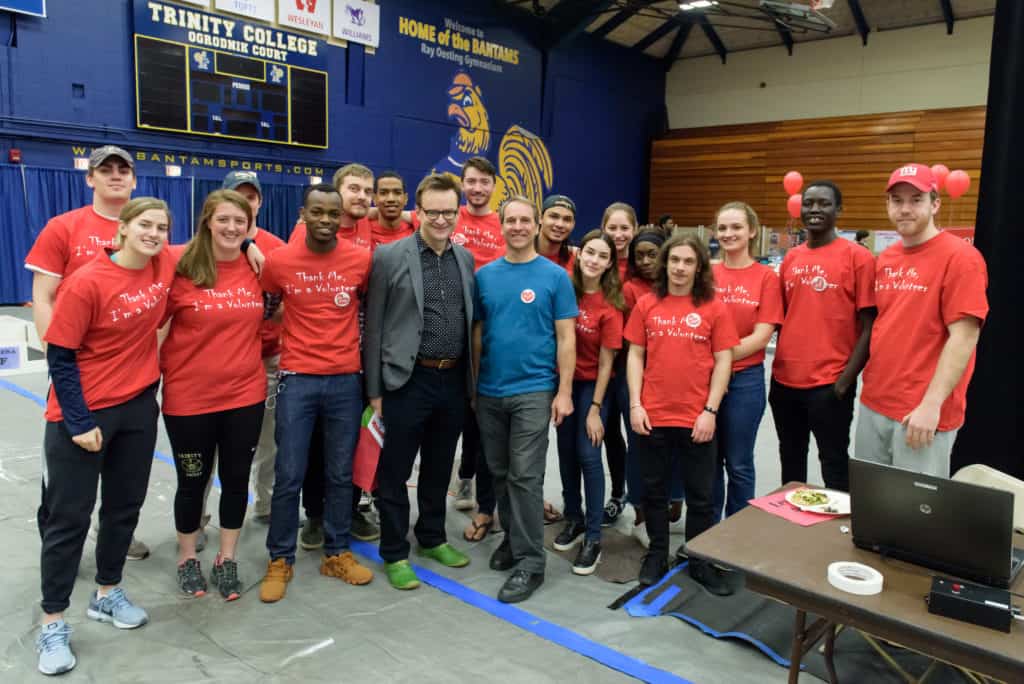 Hartford, Connecticut, April 2, 2019 – Trinity College will welcome teams from around the world to Hartford for the Trinity College International Fire Fighting Home Robot Contest April 13 and 14. This internationally recognized competition, now in its 26th year, showcases the engineering talents of robot enthusiasts and engineers of all ages, with participants having spent months designing and building their robots to prepare for the competition.
More than 50 teams are registered to participate and will travel to Trinity's campus from around the United States as well as from Brazil, Canada, China, Ethiopia, Indonesia, and Israel. Middle school, high school, and advanced-level teams (including undergraduate, graduate, and professional roboticists) will gather in the Oosting Gymnasium in Ferris Athletic Center, which will be transformed from a large open space to one filled with rows and rows of tables for participating teams to prepare their robots for competition and an area with mazes set up arena-style for the competition.
The competitors have been tasked with creating an autonomous robot that can respond to a fire alarm, navigate the course maze, locate a flame, and extinguish it. The competition has three levels of difficulty, including a "Search and Rescue" round where the robot must use a vision system to locate and rescue a baby doll before extinguishing the fire in the shortest amount of time. All robots must be able to operate independently, responding to external stimuli rather than being guided by a remote control.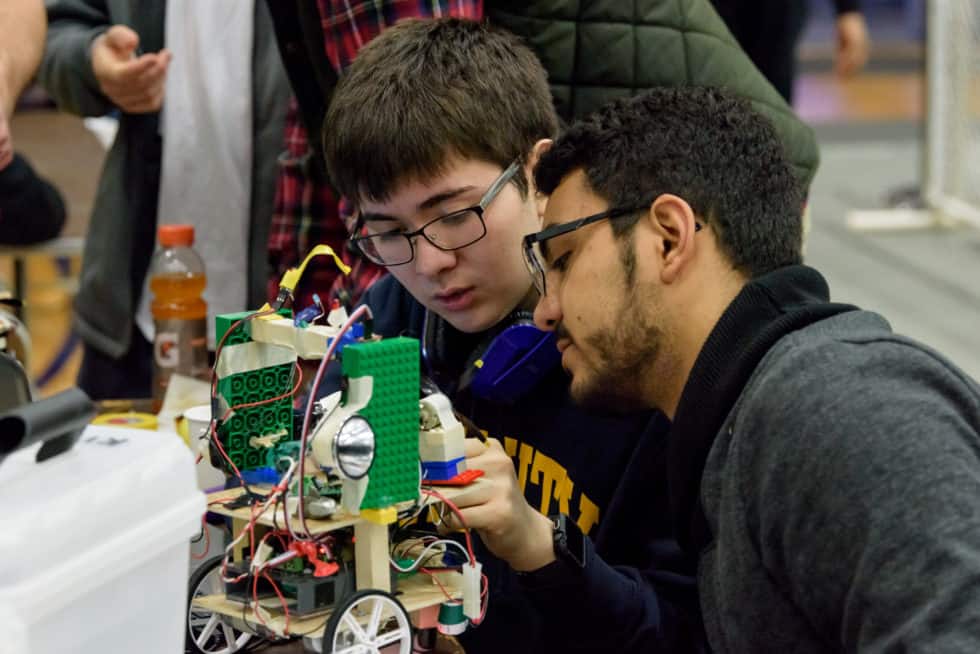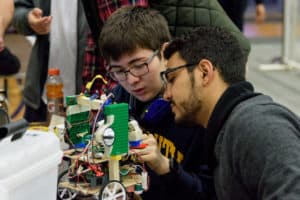 "We are excited about our 26th year of hosting students and robot enthusiasts from all over the world," said Professor of Engineering John Mertens, contest administrator. "Participating teams range from Hartford-area middle school students to the top high school robotics students from Israel to the most advanced mechatronics graduate students from Indonesia. We've incorporated advanced elements in the competition that reward the use of AI [artificial intelligence] and computer vision. It's an exciting time in robotics, and I'm looking forward to seeing how well our Trinity robotics students fare."
The contest, which is open to the public and free of charge for spectators, promotes creativity, teamwork, the understanding of and application of STEM (science, technology, engineering, and mathematics) subjects, and the sharing of ideas.
On Saturday, April 13, Trinity College President Joanne Berger-Sweeney will welcome the crowd at 12:25 p.m. before the competition gets started.
The principle sponsor of the two-day event is Versa Products Company, Inc. of New Jersey, whose CEO is Jan Larsson, a 1977 Trinity alumna. The Versa Valve Challenge offers a $250 prize in each contest division for the best robot using a Versa valve while completing three successful runs. Versa Products has manufactured pneumatic, hydraulic, manual, and solenoid valves since 1949. The other major sponsor of the contest is Trinity College. Event sponsor is the Connecticut Chapter of the Institute of Electrical and Electronics Engineers (IEEE).
Webstream coverage of the contest will be available on Saturday, April 13, from noon to 5:00 p.m. EST, and on Sunday, April 14, from 10:30 a.m. to approximately 4:30 p.m. EST. For the link to the webcast and for additional information, please visit: www.trinityrobotcontest.org.
Photos by Nick Caito.
Header image caption: 2018 teams from China celebrate their awards, including the Grand Performance Mastery Prize won by the "Black Cat" team.