Back to News
Trinity Students Work with Hartford Community Partners to Increase Voter Engagement
Academics
posted
by Emma Sternberg '21
First-year students enrolled in Trinity's Community Action Gateway program are working with Hartford organizations on increasing voter engagement leading up to the 2020 election.
The Community Action Gateway is a first-year seminar that takes place over two semesters and is designed for highly motivated first-year students who are interested in learning to create social change in their communities. This year, the Community Action Gateway students are learning how different community organizations envision social change by working with five community partners in Hartford.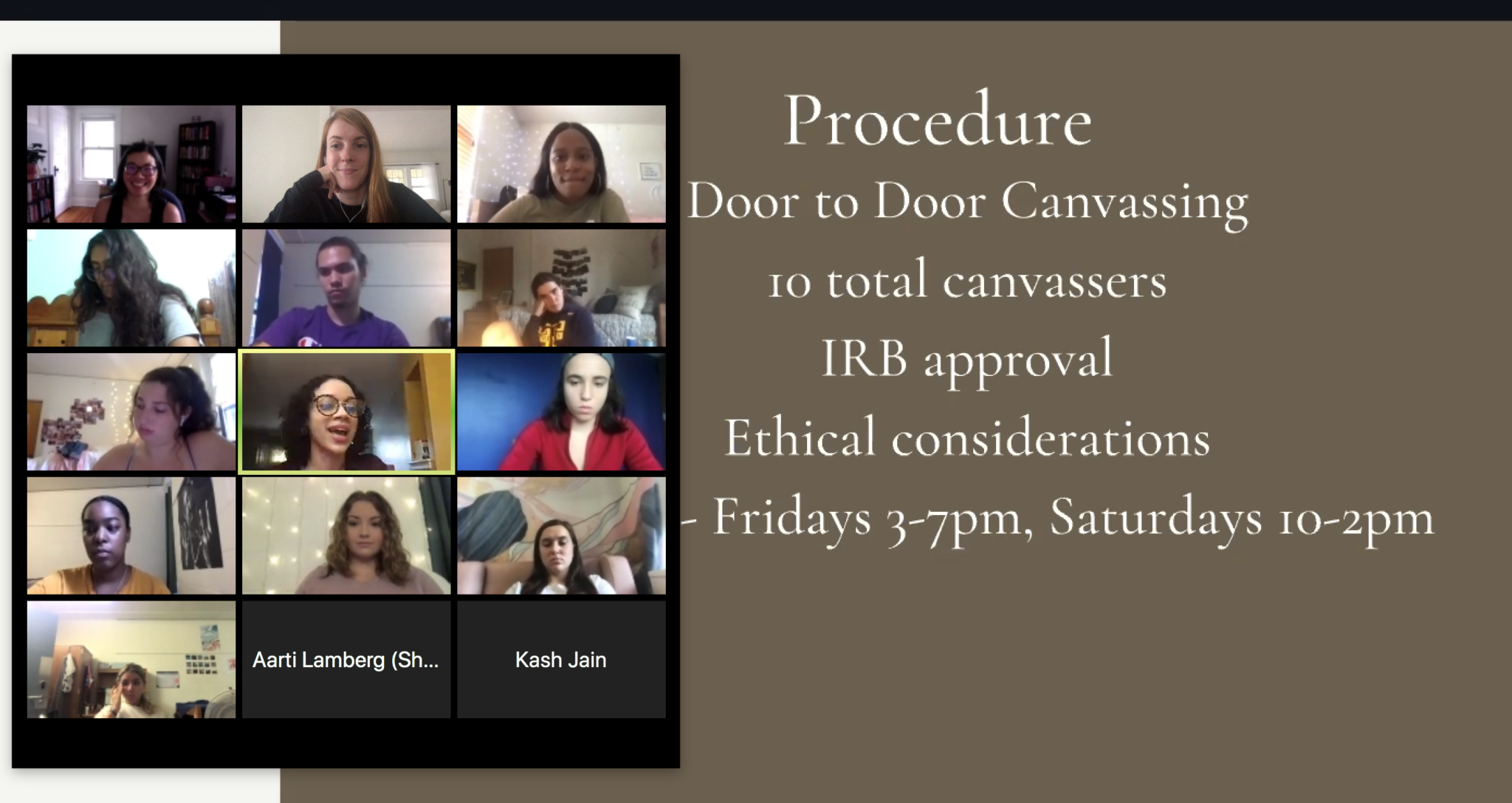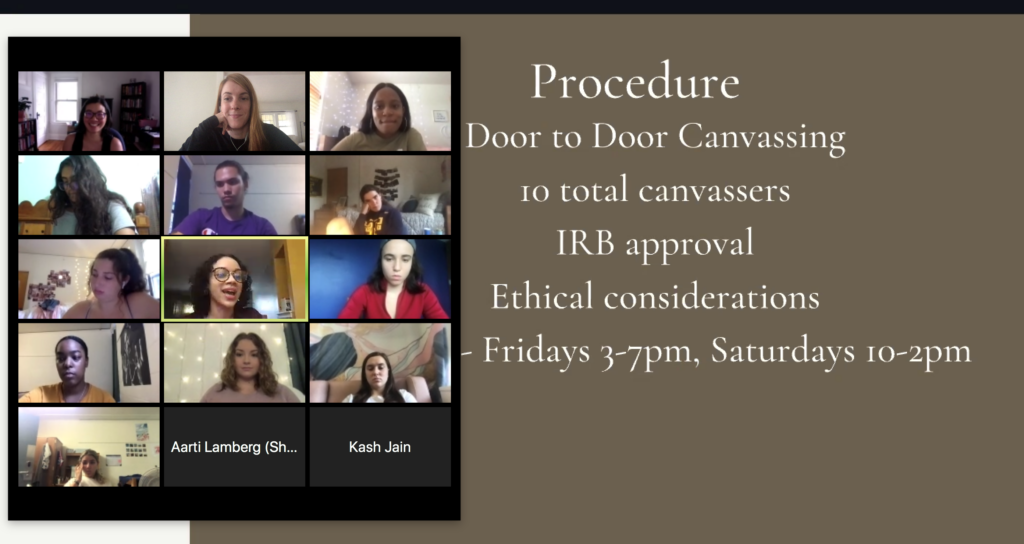 Director of Community Learning Erica Crowley advises the first-year students and has helped adjust the traditionally in-person program to be conducted remotely. "Small groups of students are working with five community partners to create up to six social media posts for the organization," said Crowley. She said her role is to help students establish partnerships with the organizations and to help them think about how community partners are using social media during the pandemic.
In the fall Community Action Gateway course, "Envisioning Social Change," Assistant Professor of Educational Studies Stefanie Wong helps students get to know Hartford. Wong said, "The course allows students to gain a deeper understanding of social inequity and systematic oppression and learn from and alongside community organizations in the Hartford area that are working to challenge inequities and work for social change."
Three of the five groups (detailed below) are working with community partners whose focus is on voting, especially in the upcoming 2020 election. Crowley said, "Understanding political power is very important, and I'm glad we have students working on 'Get Out the Vote'-style content, as well as content that helps people understand the ways voter disenfranchisement and suppression have occurred historically and persist today."
The Hartford Votes-Hartford Vota Coalition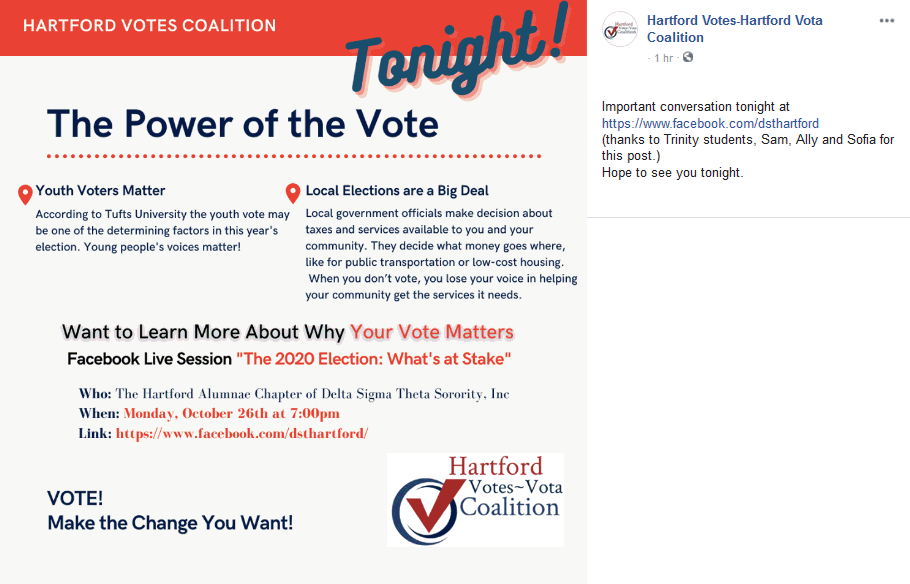 The Hartford Votes-Hartford Vota Coalition is a nonpartisan group of organizations with the common mission of increasing voter engagement in the city of Hartford.
Sandy Rodriguez, project co-lead, said that their goal is to help maximize voter engagement in Hartford, "particularly with marginalized or disenfranchised residents in the neighborhoods of the city, and those who may have barriers to being able to vote—i.e. language, transportation, lack of trust in the system."
Samuel Burg '24 is helping the coalition by producing social media posts that promote voting and relay important voting information such as polling locations. "This project has given me the opportunity to learn about what motivates people in Hartford to vote," said Burg. He added that he has learned how important it is to vote, especially at the local level. "While the national election gets the most attention, the politics of local governments have the most direct effect," he said.
Rodriguez said she wanted the Community Action Gateway students to internalize and to transmit the message of the importance of voting and civic engagement. "By getting involved in voter registration and voter education, we hope these students will stay engaged in their communities and in the democratic process for years to come," Rodriguez said.
Blue Ribbon Strategies (Unlock the Vote)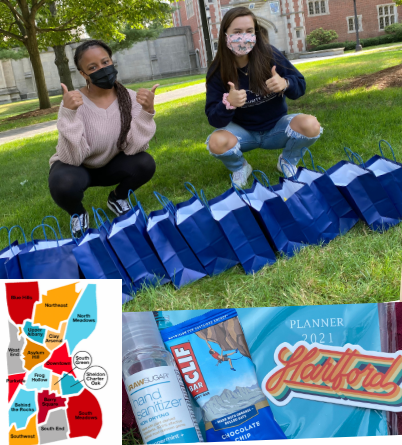 Blue Ribbon Strategies is a bicoastal consulting firm that supports individuals, organizations, elected officials, and others in their work in advocacy, public education, and political action with and within culturally diverse communities. They have worked on key issues in Connecticut such as the #UnlocktheVote legislative campaign to restore voting privileges to parolees, and they engage in advocacy for harm reduction centers in Hartford.
Alicia Anchondo '24 is a Community Action Gateway student working with Blue Ribbon Strategies (Unlock the Vote) contributing to their mission of helping people vote and abolishing felony parole disenfranchisement. Anchondo said, "There are about 3,500 people in pre-trial detention who have the right to vote but are not getting access to vote. There are also so many people on parole whose voice is suppressed because they are denied their right to vote."
Anchondo is creating social media posts for Blue Ribbon Strategies to highlight these statistics and help people have the opportunity to vote. "I hope people understand how much their vote matters and how it is a privilege to vote, since the voices of so many people are suppressed," she said.
Moral Monday CT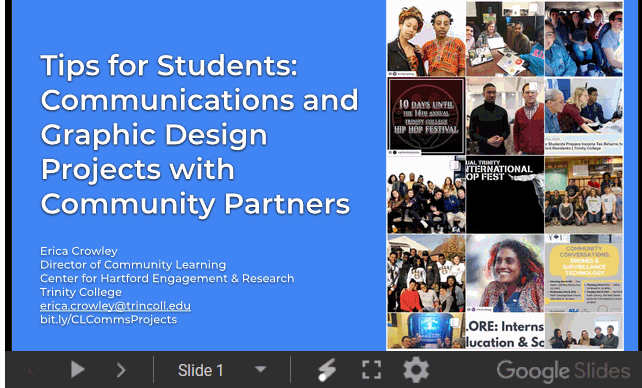 Moral Monday CT gathers voices in the struggle for freedom and justice for black and brown people. It is rooted in the social justice and civil rights movement and is a statewide Connecticut-based coalition of individuals and organizations brought together by the power of the Movement for Black Lives. Bishop John Selders is the co-founder of Moral Monday CT as well as Trinity's assistant dean of students and a former associate chaplain in the Office of Spiritual and Religious Life.
Community Action Gateway students Caroline Frederick '24 and Essence Smith '24 are partnering with Moral Monday CT. Frederick said, "The mission of Moral Monday CT is to support the humanity of oppressed and marginalized people through their faith values." She said they are achieving their mission through their creation of social media posts that encourage voting.
Smith added, "The community organization is a nonprofit, so all our posts are nonpartisan. Our goal is to give out the facts, so we have drafted posts that include registration deadlines, how to request a mail-in ballot, and how to safely vote in person."
Through her work with Moral Monday CT, Frederick said she has a greater understanding of the issues that are important to Hartford residents and the organizations that are working to create social change. In addition, she said, "I hope people learn that voting is the right way to be a citizen in this country. It is imperative that everyone vote in this upcoming election, because so much is at stake."
Wong said that she wants the Community Action Gateway students to understand the challenges and complicated nature of collaborative work with communities, but also to see how it can be done well when thought and reflection are put into it. She said, "I hope they see that there are lots of ways to be engaged in social change work and are able to consider ways they might be involved throughout their time at Trinity and beyond."
The deadline to register to vote in the November 3, 2020, election in the state of Connecticut is Tuesday, October 27. For more voter registration information, visit the website of Connecticut's Office of the Secretary of the State here.