Back to News
Trinity Students Hear Stories from Seth Meyers during Conversation at Connecticut Forum
Hartford
posted
by Andrew J. Concatelli
Several Trinity College students had the opportunity to attend the first event of The Connecticut Forum's 2019-2020 season, "A Conversation with Seth Meyers," held September 20 at The Bushnell Center for the Performing Arts in downtown Hartford. Trinity is among the Forum's Education Partners, which support open dialogue, lifelong learning, and the free and active exchange of ideas.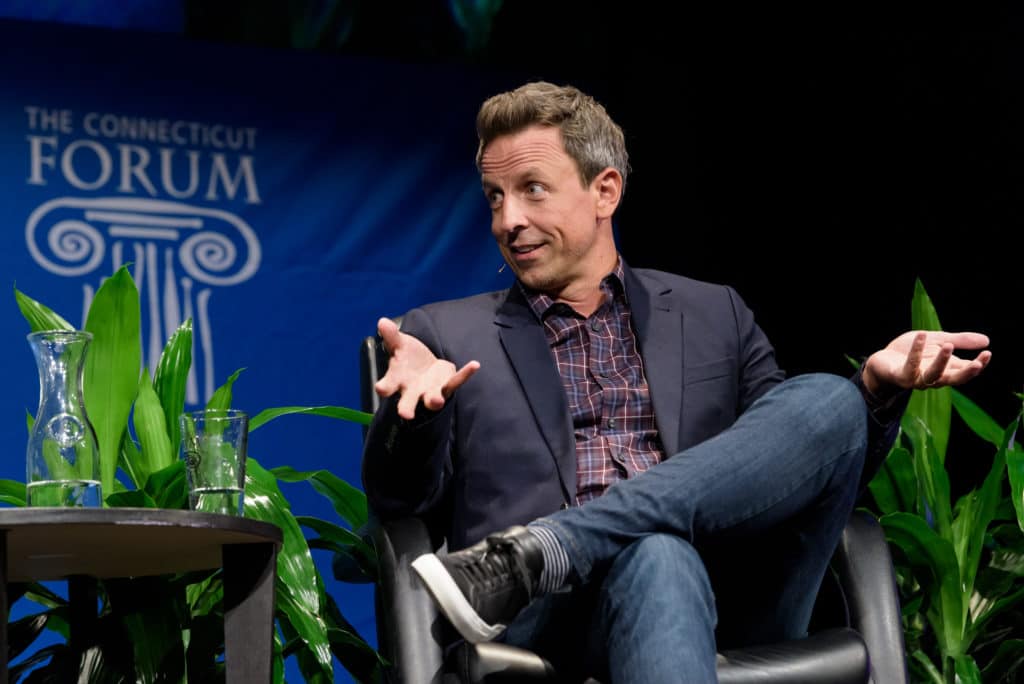 Best known as the host of NBC's "Late Night with Seth Meyers," Meyers is an Emmy Award-winning writer who has hosted the Golden Globe Awards and the Primetime Emmy Awards. Meyers began his TV career in 2001 at "Saturday Night Live," where he was a cast member for 13 seasons, head writer for nine seasons, and "Weekend Update" anchor for eight seasons. The conversation on stage at the Bushnell was guided by Sam Sanders, an NPR correspondent and host of the radio show and podcast "It's Been a Minute with Sam Sanders."
Meyers—whose comedy heroes include the Monty Python troupe, Steve Martin, and Richard Pryor—said that his family was supportive of his interest in comedy from a young age. "My parents thought comedy was a noble profession," he said. "They always talked about how good writing was. I'm doing something they value as a skill." Today, members of the Meyers family make regular appearances on "Late Night" at Thanksgiving. "Nobody wants to do a show on Thanksgiving, so the guests either have to be your family or people who hate their family," he said.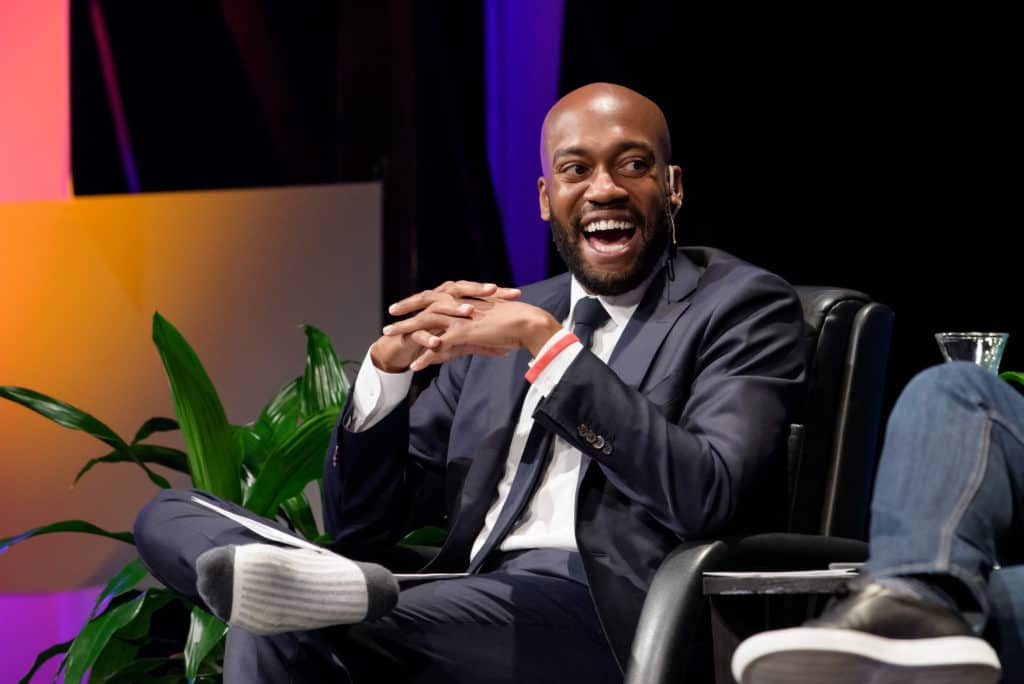 When Sanders asked a question about the difficulties of producing a daily comedy show in this era of fast-moving news, Meyers said that jokes or even entire topics can be dated before a show that is taped at 6:30 p.m. airs six hours later. "We did a whole piece on [former national security advisor] Michael Flynn, and by the time it aired, he was fired," Meyers said. In every episode of "Late Night," Meyers said, the writers aim to strike a balance between jokes and news: "We want to tell a story with jokes and we want to try to have a little catharsis with the jokes."
Many of the questions submitted by the audience had to do with "SNL." Meyers joked, "People ask if I miss 'SNL'; I just miss being that age." Meyers wouldn't name the worst hosts he ever worked with on the show, but among the best he mentioned Julia Louis-Dreyfus, Jon Hamm, and Justin Timberlake. "A good guest is someone who's willing to give themselves over to the process… and who has a versatility of skills," Meyers said.
Responding to the recent news of "SNL" firing a new cast member over his past use of racial slurs in his comedy, Meyers said that he believes comedians working during the time of social media "cancel culture" should still be able to say what they want, but that audiences should be able to react however they want. "I do think a show has the right to decide who works there," he said. "It's a constant reminder to comedians that you leave a digital trail of your work."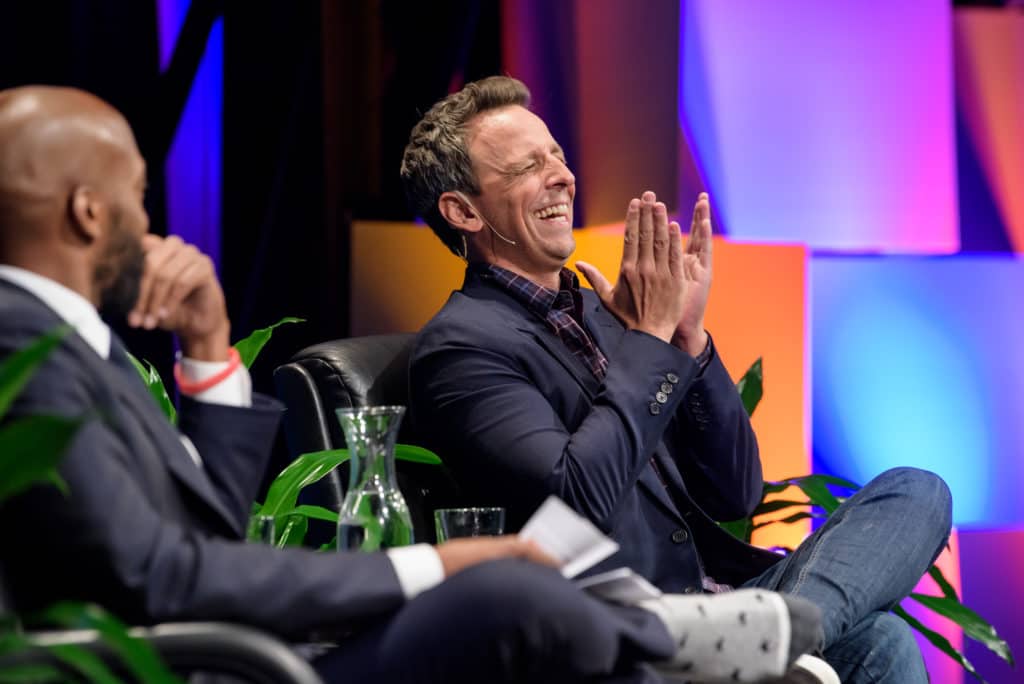 Claire Pritchard '20, who is double-majoring in biochemistry and theater and dance, was among the Trinity students who enjoyed hearing from Meyers at the forum. "I was surprised by how much his experience at 'SNL' sounded like college—staying up all night writing skits and going out with the cast after the show," Pritchard said. "I also thought his experience with episodes of his show becoming old news in just the few hours between filming and airing because of how swiftly things can change was interesting."
​Jyles Romer '20 added, "I loved when he talked about the segment, 'Jokes Seth Can't Tell.' Not only is it a hilarious idea, but it's simultaneously conscious of the power dynamics and privileges we have—whether those privileges are based on race, gender, or social class." Romer is double-majoring in psychology and sociology.
Giovanni Jones '21, who is pursuing a major in sociology and a minor in legal studies at Trinity, had never watched Meyers on television before seeing him live at the forum. "This was my first time seeing him in action and I'm glad to say I'm impressed," Jones said. "He was very personable and hilarious at the same time; I will definitely be watching more of his shows."
Trinity College will host the Connecticut Forum's upcoming special event, "A Conversation with Spike Lee," on November 9. The Forum's regular season continues November 22 with "Climate Crisis," followed in spring 2020 by "Debating Immigration" on March 19 and "Our Favorite Authors" on May 2.