Back to News
Trinity Students Get Real-World Experience with Support from Catalyst Summer Internship Fund
Student Life
posted
by Tess Dudek-Rolon
Summer means more than a break in classwork for Trinity College students. For many Bantams, it is a critical time to develop their professional skills and to network. The Catalyst Summer Internship Fund is available to help students take this important step by providing stipends as they complete unpaid or low-paid internships. Candidates can receive up to $3,500 to pursue full-time summer internship opportunities otherwise closed to them.
With this support, students like Erica Phiansunthon '21 and Cara Bradley '20 can make practical connections between the knowledge that is developed through a liberal arts education and the skills that employers demand. Phiansunthon and Bradley had two very different internship experiences that gave them each the opportunity to step into the professional world. Bradley's position was at the Connecticut Commission on Human Rights and Opportunities (CHRO) in Hartford, while Phiansunthon traveled to Morristown, New Jersey, to work at the Morris Museum.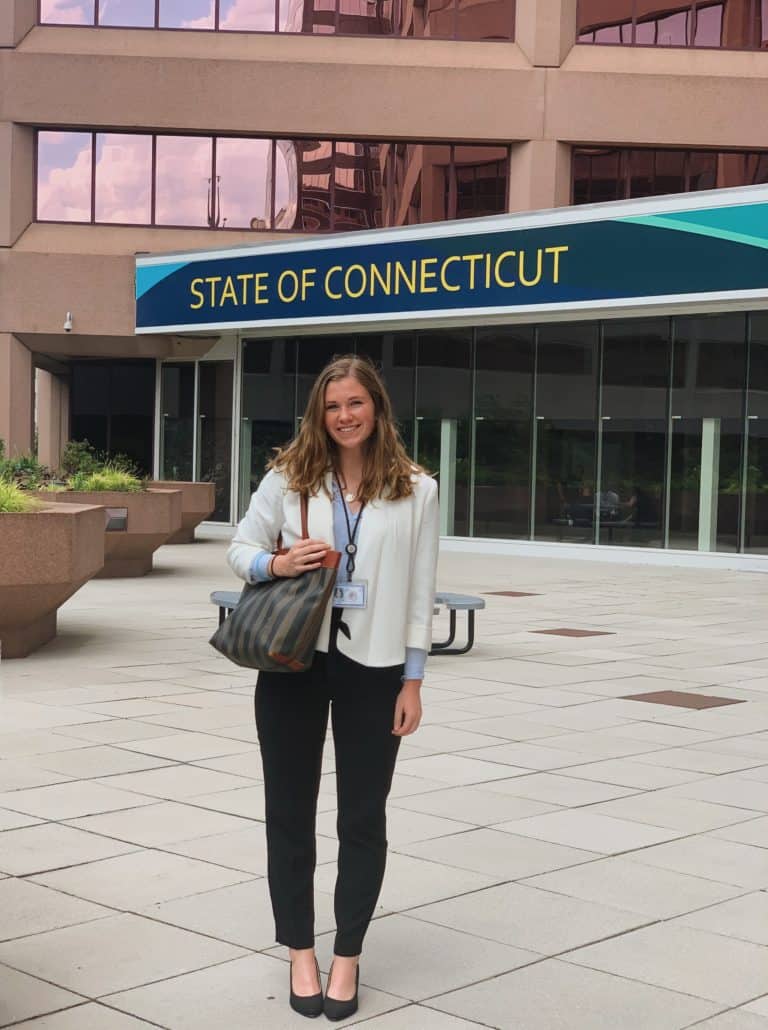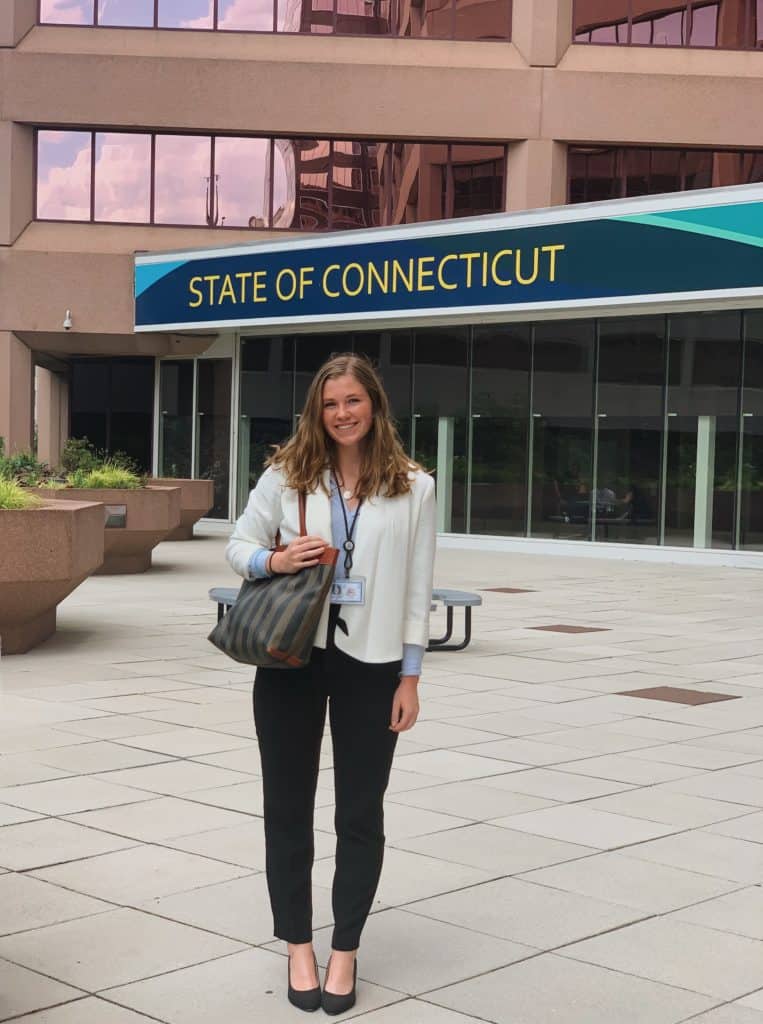 For Bradley, her internship gave her the chance to apply the knowledge she developed in Trinity's Public Policy and Law program. "I am planning on going to law school after college and wanted to get some experience in the legal field before I do so," Bradley said. "The skills I have learned this summer will absolutely help me on my career path moving forward: public speaking, legal writing, litigation practice, and more. I have also made so many professional connections at the CHRO, which will help me advance my career." She is working on a research project that explores whether Connecticut occupancy standards, which determine how many people may live in a rental unit, disparately impact low-income residents and families with children.
Bradley was supervised at CHRO by attorney Jody Walker-Smith '05, who was able to give her career guidance. "As a law major, I have learned so much in the classroom about the legal field and this was my first time being personally immersed in the area, which was so rewarding," Bradley said. This summer, Bradley had the opportunity to conduct two mediations on her own, in addition to a fact-finding investigation under the supervision of Walker-Smith.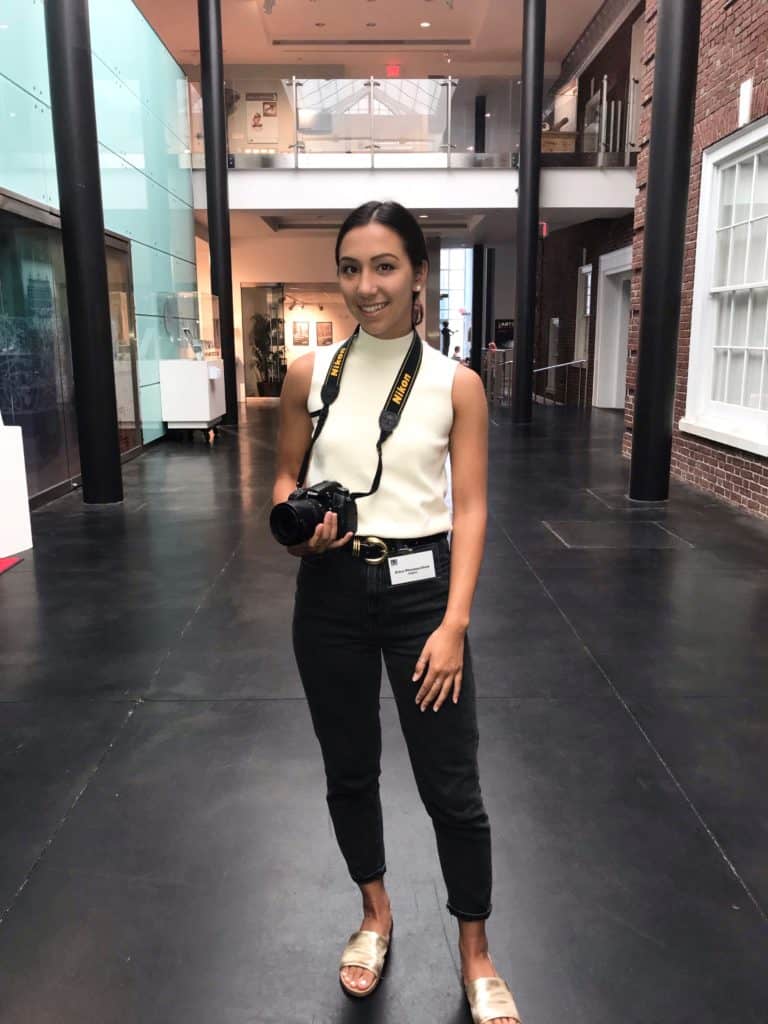 Meanwhile, Phiansunthon, a double major in psychology and economics, wanted to get experience in the marketing world. The internship at the Morris Museum felt like a good first step and linked to her studio arts minor. She worked with the museum's social media accounts—developing original content, learning key marketing skills, and attending events. In her position, Phiansunthon interacted with professionals at every level and serve clients, each with unique a perspective. "The museum is a not-for-profit organization that does things on a smaller scale compared to a big for-profit corporation," Phiansunthon said. "I wanted to learn the basics of marketing and have my first experience be in a more intimate setting. I enjoy taking photographs and film and seeing the positive feedback online when I post things that were my own ideas."
Phiansunthon learned skills that she can put to use in her future career, and part of her role working special events gave her the opportunity to connect with accomplished artists and professionals. Notably, she met photographer Bob Gruen, known for his shots of icons like John Lennon and Yoko Ono, and The Rolling Stones.
Other students who have benefited from the Catalyst Fund have completed internships offering a wide breadth of experiences, including at the United Nations, Pratt and Whitney, and the Cambridge Public Library. Students may receive Catalyst funding more than once during their time at Trinity, starting as early as the summer following their first year. This summer, 46 Trinity students held Catalyst-funded internships.
More information about how to qualify and apply for the Catalyst Summer Internship Fund can be found here.