Back to News
Trinity Students and Faculty Volunteer at STEM Conference for Girls
Student and faculty volunteers from Trinity and nearby colleges provided hands-on workshops involving science, technology, engineering, and math (STEM) for more than 80 sixth- through ninth-grade girls who came to Trinity's campus to participate in the AAUW of Connecticut's seventh annual Tech Savvy conference.
Programs throughout the daylong event on March 7 were presented by leaders and academics in the STEM fields and were focused on topics such as 3-D printing, forensic science, mobile app development, and brain structure, among others. Workshops also were provided for parents, including a college student STEM panel and a talk about financial preparedness for college.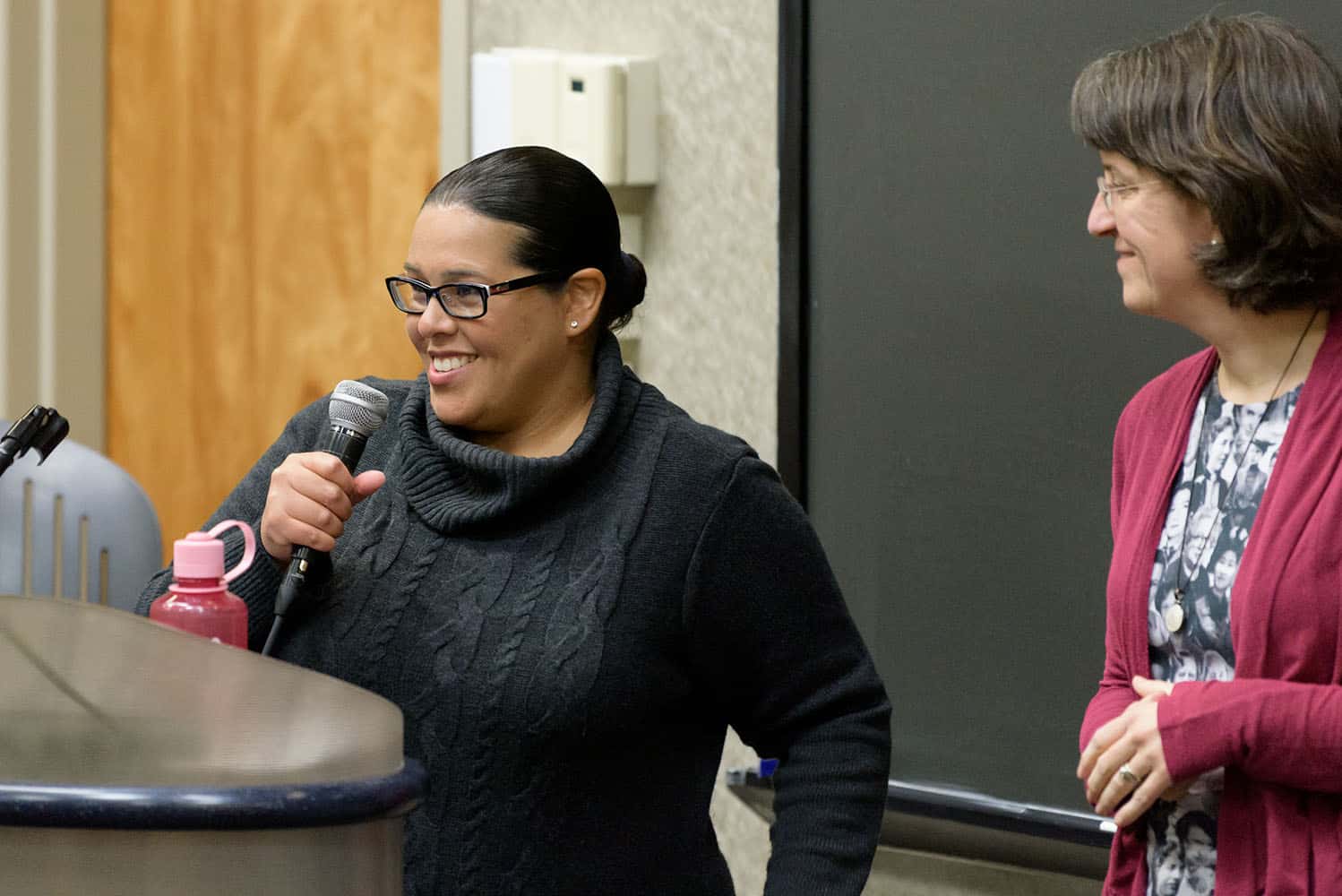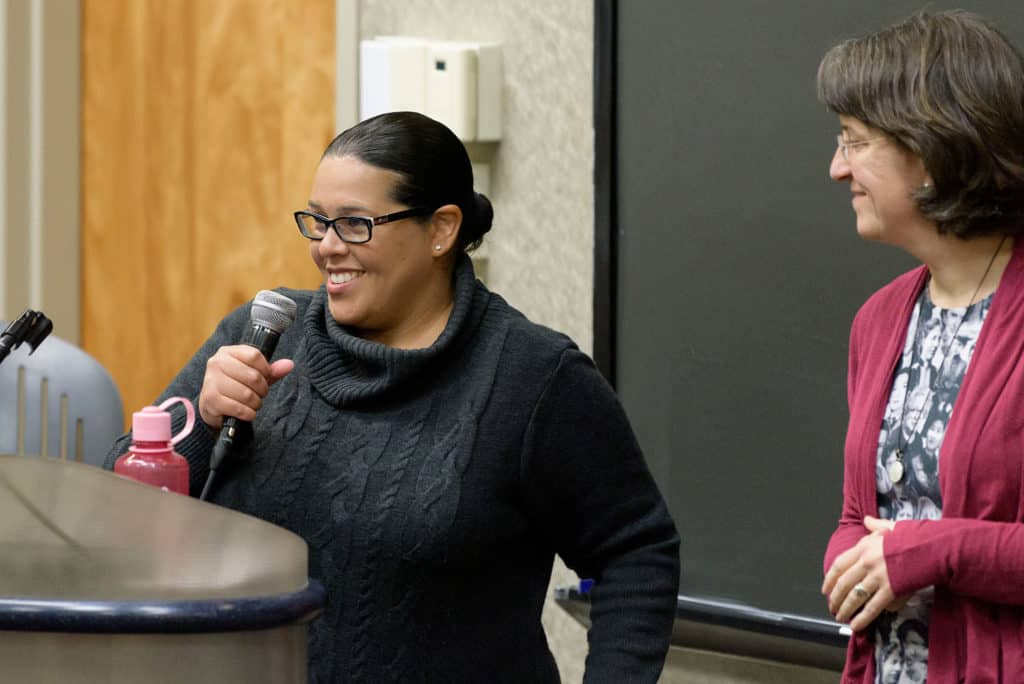 Alison J. Draper, the director for Trinity's Center for Interdisciplinary Science, has helped organize this conference for the past five years. Draper said that the roles of the student volunteers were "critically important" in creating an event that was rewarding for the girls who participated.
Draper hopes that conferences like Tech Savvy can be a resource for students of all backgrounds to explore pursuing a career in the STEM fields. "When we do Tech Savvy, we reach out to after-school programs in Hartford and around the area that really have their ear to the ground in terms of underrepresented populations," said Draper. "Not only are we addressing girls and the gender gap, but we are trying to address people who are underrepresented in science."
Eighty-three students from Trinity, the University of Hartford, Central Connecticut State University, and Western New England University volunteered to help organize and run the event's workshops, as well as to provide campus tours for the girls.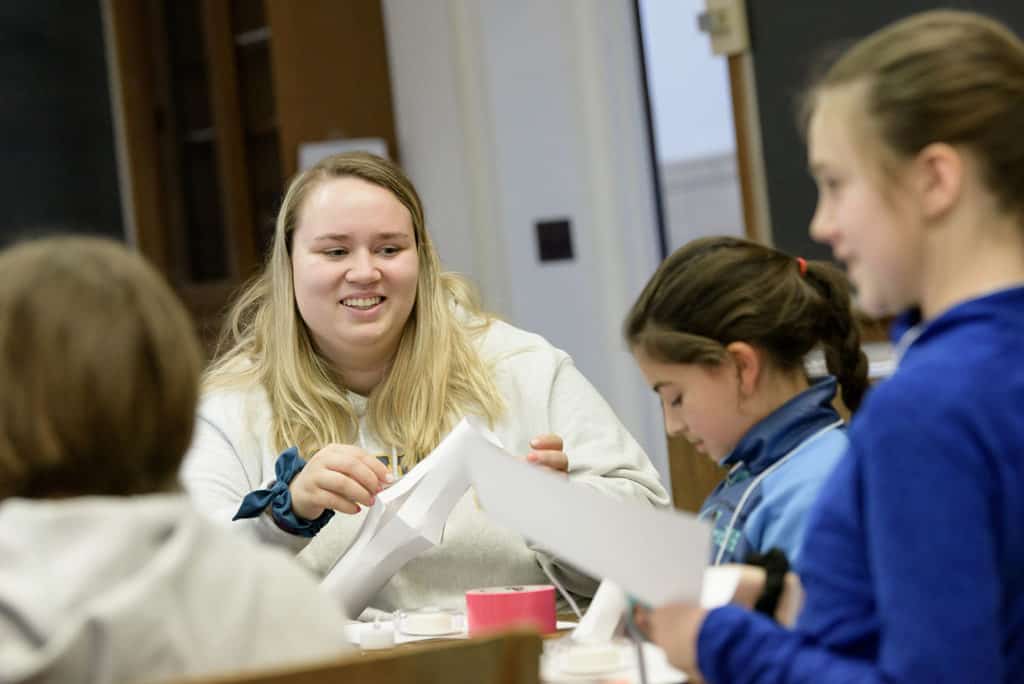 Natalie Bruno '20 is a neuroscience major on a pre-med track and has volunteered for Tech Savvy for four years. Bruno's parents are both physicians, which led to her being introduced to medicine at a young age. "Thinking about a STEM field can be intimidating sometimes because typically it's thought of as a male-dominated field," said Bruno. "When first going into some of those classes, like Biology 101 your first year, something that really helped me was finding a strong group of women that I felt supported in. Having that support system of being given the opportunity to say, 'You can do this,' and, 'This is an opportunity for you,' is such a great way to build confidence and continue on with that move towards equity in science."
Bruno helped Western New England University professor Andrea Kwaczala and members of the Society of Women Engineers to run the "Lantern Design Challenge" workshop. "This is a really accessible way for students to understand what a design project is," Bruno said. "Our goal was to create an idea before discussing them in groups and then have a goal to work towards."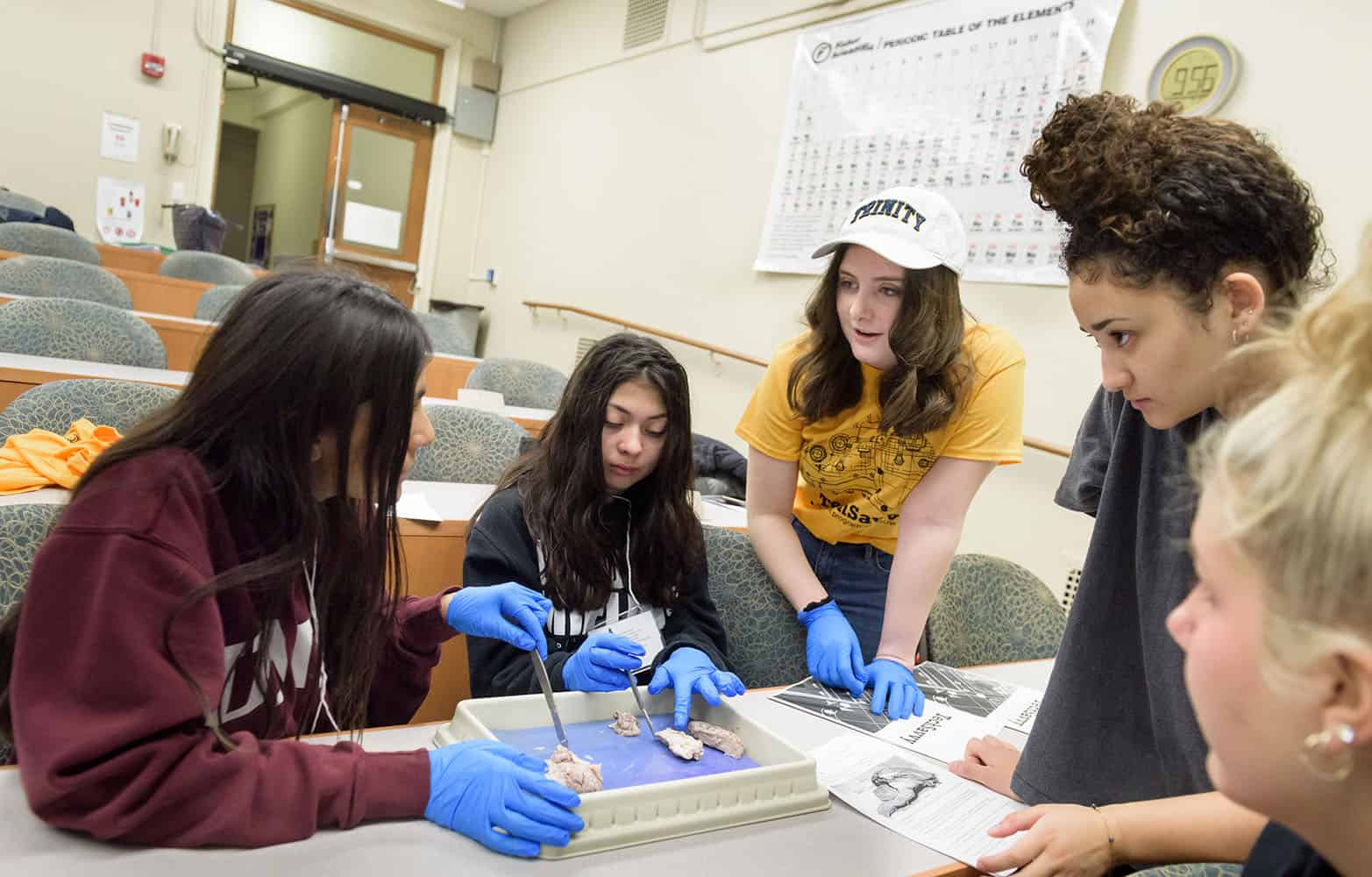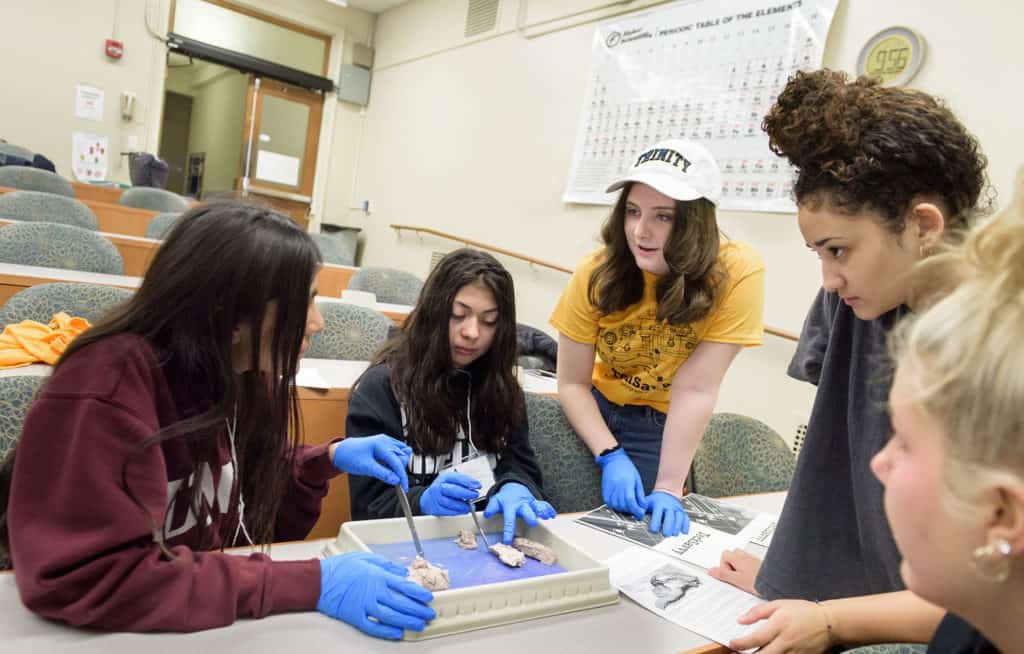 Katie Russell '22, a biology major, took the girls on campus tours and visited various facilities at Trinity including classroom lab spaces and a residence hall. Isabella Yung '22, who plans to double major in mechanical engineering and physics, worked with the girls during the "LEGO Mobile Robot Workshop." She wanted to share her experiences of being a woman pursuing a STEM major with girls who may pursue these fields in the future.
Like Bruno, Yung emphasized the importance of starting the conversation at a young age, even before they're introduced to hard sciences in high school and college. She acknowledged that challenges can be overcome with collaboration: "A big part of being in a science major is when you get stuck and when you have to stop and restart from scratch and think, 'Why did this happen?'" said Yung. "In this workshop and the other workshops, that was a very common thing. Sometimes they had to stop and restart despite all the progress they made and it was very frustrating. I think being in this environment taught them it won't always be easy going forward, but it's worth the effort put in."
In addition to the student volunteers, Tech Savvy featured 10 scientist workshop leaders, five professional women in STEM panelists, and four professional STEM women volunteers. The Petit Family Foundation provided the major funding for the conference, which was also supported by the AAUW of Connecticut and individual local donors.