Back to News
Trinity Student Pursues Passion for Fashion with Summer Internship in New York City
Academics
posted
by Hamna Tariq '20 and Andrew J. Concatelli
Hartford, Connecticut, August 14, 2018—Trinity College student Kristina A. Miele '19, from Reading, Massachusetts, has a paid summer internship at Xcel Brands, a brand management and media company in New York City, as part of its Business Development Team. As she pursues a major in mathematics and a minor in models and data at Trinity, Miele is the philanthropy chair of The Stella Society, an academic mentor at Hartford Magnet Trinity College Academy, the treasurer of The Grilling Society, a carillonist for the Trinity College Chapel, and a peer math tutor for the Quantitative Center. She will serve as the president of the Student Government Association in the upcoming 2018-2019 academic year. Below, Miele shares some thoughts about her summer internship: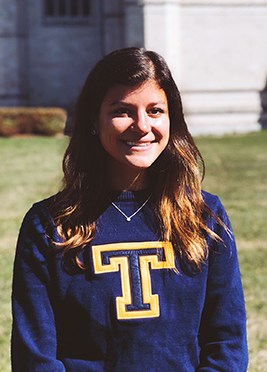 Why did you choose this internship?
I have always been interested in the fashion industry since I was a child. I had my own sewing machine and would try to make my own clothes, and I loved reading fashion magazines. As I got older, I really wanted to combine my love for fashion with my passion for analytical and mathematical studies. The internship allows me to learn more about the fashion industry and explore a career in the business side of fashion. Severn Sandt in Trinity's Center for Student Success and Career Development played a huge role in helping me get this internship. She was extremely supportive every step of the way and helped me perfect my résumé and prepare for interviews.
What are your daily responsibilities at Xcel Brands?
I work with the Business Development Team at Xcel and do a lot of work with licensing. I help write contracts to license our brands, reach out to potential licensees, organize and analyze information about our brands, and determine how much money our brands are making.
What do you find most challenging about this internship?
I have to be alert at all times and stay on my toes during this internship because it is really fast-paced. I am constantly starting new projects and have had to come up with an efficient system to remind myself to finish all projects in a timely manner without letting any fall through the cracks. Though this is challenging, it is also the best part of my internship. I am never bored in the office and look forward to going to work each day.
How is this internship experience useful to you?
This internship has helped solidify my decision to work in the fashion industry after I graduate. From this experience, I am gaining the knowledge and connections needed to be successful in this field. All of the people at Xcel Brands were great to work with. Every day I was engaged with smart, dynamic people, and I learned so much from them. My boss was an amazing mentor throughout my internship and will continue to be as I pursue my career.
How does it connect with your studies at Trinity?
I have used course material from my mathematics, economics, and accounting classes. I have also made use of my writing skills that I gained in first-year classes to draft emails and get across my point in a clear, precise, and persuasive manner.
How has this internship sharpened your skills?
This internship has opened my eyes to tons of information on how the fashion industry runs. It has also exponentially improved my Microsoft Excel skills, organizational skills, and writing skills, all of which will massively help me next year as the SGA president.